Whether it's a summer cookout or a simple lunch, Mexican black bean salad always makes every meal special. This vibrant and garden-fresh black bean salad is perfect for every BBQ party. Why don't you try having it as a side dish for grilled fajita kabobs? Mind you, that would be phenomenal!
But don't wait until your next family gathering to serve one of the best black bean recipes. You can make a normal dish festive with a bowl of black beans and other veggies tossed in yummy vinaigrette anytime you want, as we teach you how to make black bean salad with this quick and easy recipe!
What's In A Black Bean Salad?
Making this bowl of fresh and vibrant Southwest salad would be so fun and easy! It feels like you're an expert in the kitchen once you see all the colorful ingredients that suit each other on a serving plate. Besides, the taste is always a winner!
Being one of the healthy bean recipes out there, our Mexican black bean salad contains a bunch of nutritious ingredients. So what's in one of the best bean salad recipes? In this recipe, we're using canned black beans which is the most convenient way to have it. It tastes amazing too! Just don't forget to drain and rinse off the sodium. This will give you room to customize the taste to your liking.
Mexican style corn is also an impressive addition to this recipe. It's like tweaking your favorite sweet, savory, and vibrant Mexican corn salad. It's just even better because of the black beans, of course! Roma tomatoes give it a nice tangy flavor as well. Its fiery red color adds life to this salad too. We know that food must not just taste good but the looks come first sometimes. It's better to make them feel love at first sight and fall in love deeper at the first bite.
Combine all the ingredients and toss in a mixture of lime juice and olive oil. Easy steps to a bright-colored and succulent black bean salad. The outcome is so inviting! Also, expect a burst of flavors you will surely love!
Another great thing about this recipe is that you can keep it in the fridge for days and get it just when you need to munch on some delicious side dish. It makes any boring meal an exciting one!
Customizing Your Black Bean Salad
For some tips in making this recipe, make sure to drain all canned goods in this recipe. Salads are not meant to be soupy. Rinse the beans to remove too much sodium. Meanwhile, if you opt to use fresh beans and corn, that is totally fine. What this recipe offers is convenience with an incredible result so we used canned corn kernels. The taste is just as awesome!
Another ingredient is cilantro but if you don't like it in your salad, you can simply replace it with green onions. Also, green, red, and yellow peppers give this salad a nice crunch. It makes it vibrant and picture-worthy too!
One more thing, adding some heat to side salad recipes gives a kick of flavor. If you like your salad to be a little spicy, use a teaspoon of hot sauce. Add cumin to a more hearty and earthy flavor. For the dressing or vinaigrette, use fresh lime juice as much as possible. Add extra virgin olive oil to bind them together.
You can also add quinoa if you love to. It is fluffy and has a nutty flavor which is a great addition to our salad. Add quinoa and enjoy a delectable black bean quinoa salad!
What To Serve With Black Bean Salad
As much as this Mexican bean salad is great on its own, you can be a little creative and serve it in different ways. Serve our Mexican salad as a side for other classic Mexican dishes like savory chicken and rice burrito and delicious vegetarian-friendly black bean quesadilla. Healthy and yummy in one! Here's how you can make easy homemade tortillas from scratch for a perfect black bean-filled burrito.
Also, make yourself a tower of nachos with this black bean salad. It can be the perfect snack anyone could ask for! Our black bean side dish is an ideal dip for tortilla chips as well. You can also make lettuce wraps out of this recipe! Read on in our Recipe Notes just after the instructions to find out how. The possibilities are endless just like what they say!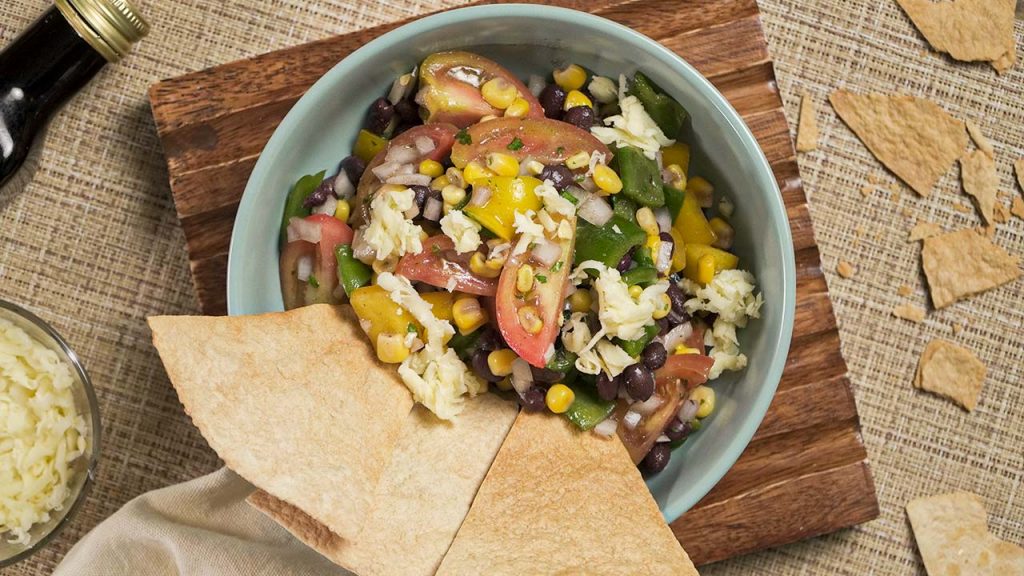 Mexican Black Bean Salad Recipe
How To Make Mexican Black Bean Salad
This easy Mexican black bean salad recipe is a way to go for a festive and delicious meal. The veggies and dressing complement each other and will make you get for more. One of the best recipes to serve for a crowd!
Ingredients
15

oz

black beans,

(1 can), drained

9

oz

corn kernels,

canned, drained

6

oz

green bell peppers,

deseeded and diced

3

oz

yellow bell peppers,

or red bell peppers, deseeded and diced

10

oz

tomatoes,

preferably Roma's, seeded and quartered

3

onions,

preferably white or green, (roughly 7½ oz total), chopped

2

tbsp

cilantro,

fresh, finely chopped

¼

cup

olive oil

2

tbsp

lime juice,

or lemon juice

1

tsp

ground cumin

1

tsp

hot sauce

salt and ground black pepper,

to taste
To Serve:
1

oz

tortilla chips

1

tbsp

Monterey jack cheese,

or any Mexican cheese of your choice, grated
Instructions
Combine all ingredients in a large mixing bowl, except for the salt and pepper. Toss to combine.

Refrigerate the bowl overnight or at least 2 hours before serving.

Before serving, adjust to taste with salt and ground black pepper.

Garnish with tortilla chips and grated cheese.
Recipe Notes
We suggest using about 1 ounce of tortilla chips and 1 tablespoon of grated cheese for the garnish. 

To make a wrap with your black bean salad, we suggest using iceberg lettuce for easy wrapping. This kind of lettuce has a better crunch as well. To do that, cut the bottom of the lettuce and gently peel off each layer. Fill each lettuce wrap with black bean salad and dig into your healthy salad wrap!
Nutrition
Sugar:

9g

:

Calcium:

66mg

Calories:

375kcal

Carbohydrates:

51g

Fat:

15g

Fiber:

14g

Iron:

4mg

Potassium:

882mg

Protein:

13g

Saturated Fat:

2g

Sodium:

161mg

Vitamin A:

1456IU

Vitamin C:

82mg
Nutrition Disclaimer
Frequently Asked Questions
How do I prepare a make-ahead black bean salad?
You can prepare a black bean salad ahead of time. It does not require cooking. In fact, it is best served cold. Just mix all the ingredients and keep in the fridge overnight or at least 2 hours before serving. Take it out from the fridge when you're ready to eat.
How long does black bean salad last?
This black bean salad recipe will stay fresh in the fridge for 3 to 5 days if properly stored. Don't leave it at room temperature for more than 2 hours to avoid spoilage. Discard it if there's a change in the appearance and odor. To prolong its shelf life for safety and quality, transfer the salad to an airtight container and store it in the fridge.
Are black beans healthy?
Yes! Black beans maintain bone health, lowers blood pressure, helps manage diabetes, and prevents heart disease and cancer among many others. Aside from black beans' health benefits, enjoy other health gains this salad has to offer. It has a lot of vegetables that are sources of vitamins and minerals good for the body.
How do I season canned black beans?
Cumin goes well with black beans. It adds richness to a lot of dishes. Cumin gives a warm touch to black beans which make this salad truly comfort food. The lime juice also makes a great impact on this dish.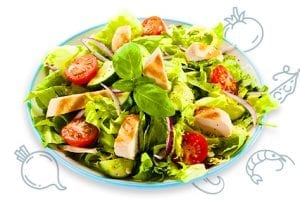 Conclusion
This is a total crowd-pleaser! If you're planning to entertain a bunch of people, you can never go wrong with this healthy Southwestern salad. Mexican black beans are one of the best Mexican side dishes. Go ahead and make yourself a healthy bowl of black bean and corn salad with flavors that are as vibrant as it looks!