Bring the taste of coastal New England to your table with this super simple Lobster Salad. If you're looking to switch things up in terms of your meals, this salad would definitely liven your week's meal lineup. Who could resist the richness of the lobster paired with a tart and creamy dressing?
Lobster salads come in numerous varieties, from the conventional Cobb featuring several types of lettuce, to salad rolls that can be eaten like a sandwich, to salads that incorporate herbs and even fruit with cooked lobster meat. Napoleon-style salads and the standard new lobster style salad can be the highlight of any lunch or supper. From a mango-infused lobster served in a hot-dog roll to filo dough-stuffed salad, the lobster offers numerous salad choices.
The traditional Cobb salads with lobster feature a combination of Romaine and watercress leaves topped with a combination of cooked lobster meat, fried crisp bacon and blanched green beans. In addition, tomatoes, avocados and Roquefort cheese are also used. The salad is topped off with hard-boiled eggs and a balsamic vinaigrette salad dressing.
Lobster salad rolls feature lobster salad tucked inside hot-dog rolls. The salad is made of a combination of cooked lobster meat, chopped celery and fresh scallions. It also features parsley leaves, mayonnaise and lemon juice and is finished to taste with Tabasco® and pepper. The rolls should be brushed with butter and lightly toasted in an oven before being topped with the lobster salad.
Meanwhile, the tarragon lobster salad is served alone or on a buttered and toasted hot-dog roll. Tarragon lobster salad is made from lobster meat, shallots and lemon juice, which is combined with mayonnaise and freshly-chopped tarragon. The salad may be made a day ahead of time and kept covered and chilled.
Lobster salad with mango emulsion features cantaloupe, canary melon and honeydew melon. It is mixed with radish seedlings and topped with shelled lobster, lemon juice and olive oil. The emulsion is made in a blender by blending olive oil, hazelnut oil and mustard. Mint, vinegar and mango are also added into the emulsified puree. The salad is topped with some radish seedlings and a few drops of Chinese chili oil and is served cold.
Fresh lobster salad features baby arugula tossed with a dressing of orange juice, extra-virgin olive oil, and shallots. Garlic and honey round out the dressing along with salt and pepper. The salad mixture is topped with a bean mixture, cooked lobster tail meat and thinly-sliced eggs. Diabetic lobster salad can be served on a bed of spinach or lettuce. It features lobster tail meat, mayonnaise and Dijon mustard. The salad also features plain yogurt, celery and bell peppers in addition to lettuce leaves, green onions and lemon juice.

Tip: Unless you have fresh lobsters to boil, make sure your lobster tail is thawed completely. This will help the lobster cook evenly and prevent the meat from sticking to the shell. The fastest and most efficient way of thawing the lobster tails is to place them in cold water for 30 minutes.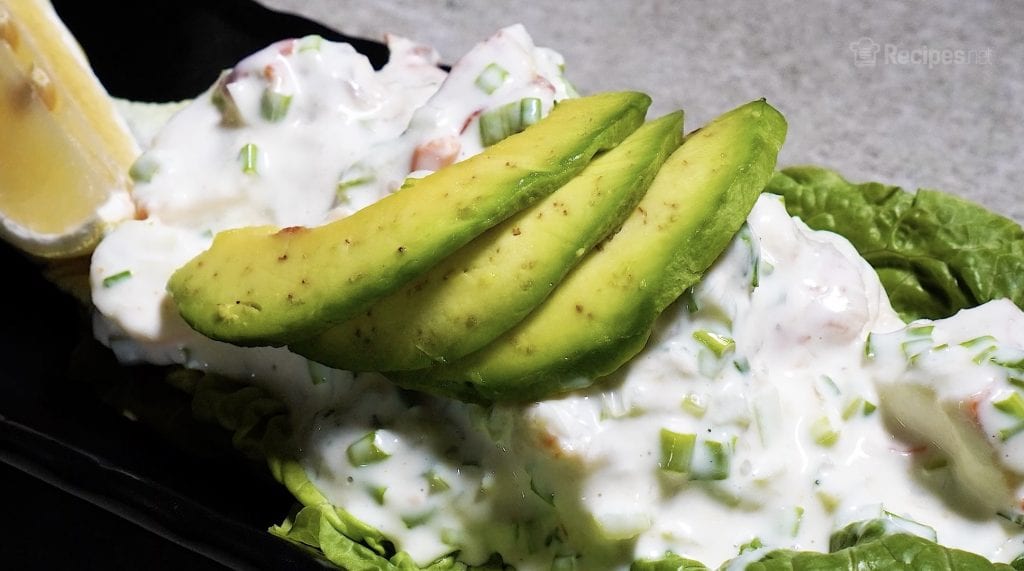 Lobster Salad Recipe
How To Make Lobster Salad
Fresh and simple ingredients make this lobster salad a crave-worthy summer delight.
Ingredients
12

oz.

lobster tail,

meat removed

2

tablespoons

lemon juice

¼

cup

mayonnaise

2

tablespoons

chives,

chopped

1

stalk celery,

diced

 kosher salt ,

to taste

Avocado,

sliced for serving

Lemon,

wedges for serving
Instructions
Begin by preparing the necessary ingredients for your lobster salad.

Combine all these ingredients, except for the lobster tails, in a mixing bowl.

Add ¼ cup of mayonnaise and 2 tablespoons of diced celery for an added crunch to the mayonnaise. As per usual, you can always substitute the mayonnaise with Greek yogurt if you're looking for healthier alternatives that don't skimp on flavor.

Add 2 tablespoons of lemon juice. This will help cut through the creaminess of the mayonnaise. If you've chosen to use Greek yogurt, cut lemon juice down to 1 tablespoon since the yogurt already brings a slight tangy flavor.

Throw in the chopped chives and season with kosher salt.

Add bite-sized pieces of lobster meat and stir all your ingredients. You want to make sure each piece is coated well with the dressing. Alternatively, you can add a pinch of cayenne pepper if you like more heat.

Serve on a bed of lettuce and top with slices of avocado and garnish with a wedge of lemon.
Recipe Notes
You can also steam the lobster- place a steamer basket in a stock pot and add a few inches of water. Cover pot and bring water to a boil. Once boiling, add your lobster tails and cover again. Cook the lobster tails until they turn a crimson and the meat is opaque and tender.
Go ahead and make an open-faced lobster salad sandwich. Preheat your oven to 375F and place a rack about 4 inches away from the heating elements. In a skillet, lightly toast a slice of rye or sourdough bread. Spread a generous amount of lobster salad on your toast. Top with a slice of tomato and sprinkle with mozzarella cheese. Place on a baking sheet and broil until the cheese is bubbly and lightly golden brown around the edges. For the best results, 2-3 minutes should do the trick
Nutrition
Sugar:

1g

:

Calcium:

143mg

Calories:

326kcal

Carbohydrates:

1g

Cholesterol:

228mg

Fat:

22g

Iron:

1mg

Potassium:

340mg

Protein:

29g

Saturated Fat:

4g

Sodium:

899mg

Vitamin A:

131IU

Vitamin C:

8mg
Nutrition Disclaimer
Frequently Asked Questions
How do I deshell lobster?
To deshell your lobster, take a pair of kitchen shears and cut straight down the middle of the lobster all the way to the fin. Use your thumbs to pry open the lobster, this will make it easier to remove the meat.
Can I make lobster salad ahead of time?
Absolutely! This lobster salad recipe can be made up to 4 hours ahead and served chilled.
What can I substitute lobster with?
Alternatively, you can substitute the glorious lobster with 1 ¼ pounds of sweet-plump shrimp (deveined and shelled). To cook your shrimp, you will need to prepare an ice bath. Add shrimp to a medium stockpot of cold water. Set over medium-high heat and cook until the temperature of the water reaches 170F. Stir occasionally, and make sure that the temperature does exceed 170F.
How do I boil lobster?
To boil your lobster, bring a large stockpot of salted water to a boil. Reduce the heat slightly and keep the water at a gentle boil (stronger than a simmer, but weaker than a rolling boil). Add the lobster tails and boil until the tails are bright red and meat is white and tender.
Each tail will take a minute per ounce to cook. Remove the lobster tails with a slotted spoon and allow the drain on paper towels.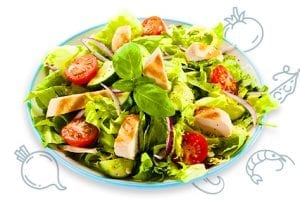 Conclusion
Having an indulgent snack doesn't have to be complicated. Imagine having this on a Friday afternoon after a long week. Everybody deserves some pampering, and what better way to pamper yourself. Whipping up this easy recipe with a few ingredients would leave you with more time to actually enjoy your decadent snack, if only we could eat lobster more often!
Comments
Thank you for great content. Hello Administ .

cami halısı

Comment is awaiting moderation.