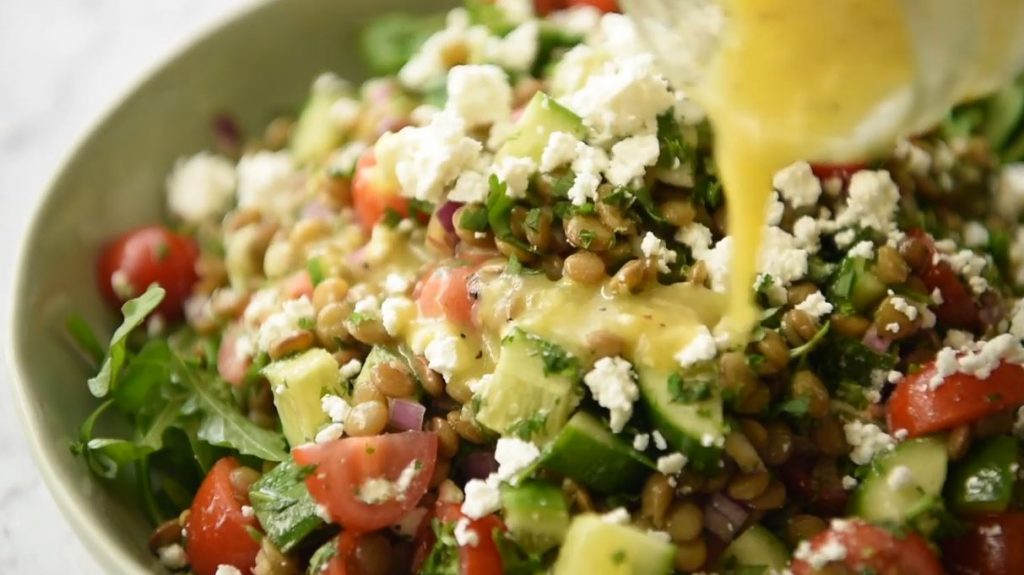 Lentil Salad in Tahini Dill Dressing Recipe
How To Make Lentil Salad in Tahini Dill Dressing
Whip up this flavorful lentil salad tossed in a zesty tahini dressing for your next tasty side dish! Assemble a mouthwatering batch in just under an hour.
Ingredients
For Salad:
1½

cups

black beluga lentils

1

bay leaf

½

tsp

fine sea salt

2

cups

carrots,

peeled, grated

¾

cup

fresh flat-leaf parsley

⅓

oz

fresh dill leaves,

¼ cup, tough stems removed, torn into small pieces

½

cup

celery,

about 2 ribs, chopped

½

cup

green onion,

thinly sliced

½

cup

pepperoncini pepper,

pickled, chopped

½

cup

havarti,

havarti dill, or mild cheddar, or crumbled feta, optional
For Tahini-Dill Dressing:
⅓

cup

extra-virgin olive oil

¼

cup

lemon juice

⅓

oz

fresh dill leaves,

¼ cup, tough stems removed

2

tbsp

tahini

1

garlic clove,

roughly chopped

½

tsp

fine sea salt,

or to taste

½

tsp

red pepper flakes,

to taste, optional

freshly ground black pepper,

to taste
Instructions
Lentils:
Fill a medium-to-large saucepan with water, leaving several inches of room at the top. Bring to a boil over high heat.

Sort through the lentils for debris, then rinse in a fine-mesh sieve under running water until the water runs clear. Set aside.

Once the water is boiling, add the rinsed lentils. Add the bay leaf and salt.

Set the timer for 16 minutes, then reduce the heat as necessary to prevent overflow and to maintain a lively simmer.

Once the timer has gone off, use a fork to scoop out a few lentils and test for doneness.

If the lentils aren't fully cooked yet, retest every 1 to 2 minutes until they are. Once cooked, strain off all the excess water.
Dressing:
In a food processor, combine the olive oil, lemon juice, dill, tahini, garlic, salt, red pepper flakes, and several twists of black pepper.

Blend until smooth, pausing to scrape down the sides and the bottom of the bowl as necessary. Set aside.
To Assemble:
Pour the lentils into a medium serving bowl, then discard the bay leaf.

Pour in all of the dressing, then stir to combine. Add the grated carrots, parsley, the remaining dill, celery, green onion, and pepperoncini peppers.

Wait to add the optional cheese until the lentils are just warm to not melt the cheese.

Stir to combine. Season to taste with additional salt, red pepper flakes, and/or black pepper. Add 1 tablespoon more of lemon juice or chopped pepperoncini, as needed.

Serve, and enjoy!
Recipe Notes
For better taste, let the salad rest for 20 minutes.
It keeps well in the refrigerator, covered, for about 4 days.
Nutrition
Calories: 

336.31kcal

Fat: 

15.51g

Saturated Fat: 

2.16g

Monounsaturated Fat: 

9.93g

Polyunsaturated Fat: 

2.80g

Carbohydrates: 

38.66g

Fiber: 

7.75g

Sugar: 

3.59g

Protein: 

13.82g

Sodium: 

362.85mg

Calcium: 

87.24mg

Potassium: 

623.11mg

Iron: 

4.78mg

Vitamin A: 

392.65µg

Vitamin C: 

28.62mg