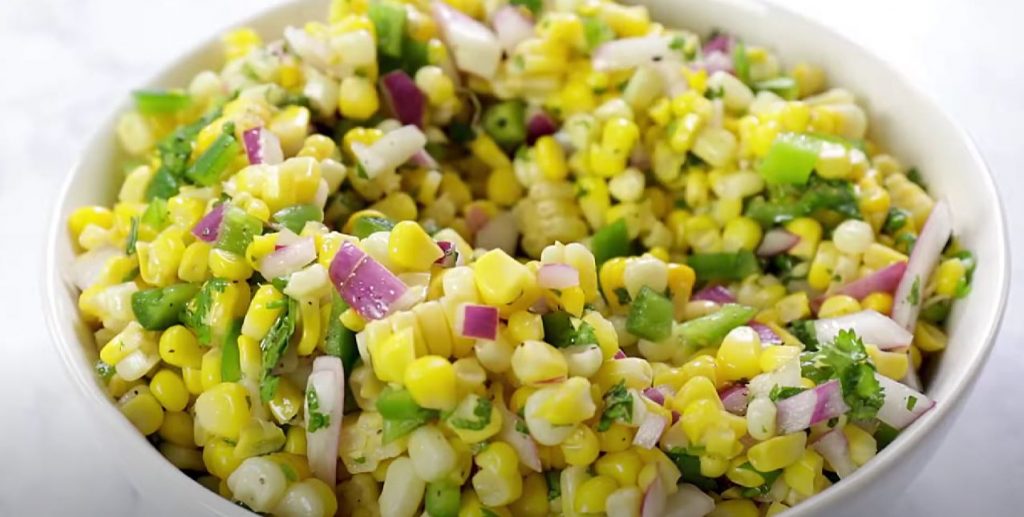 Grilled Corn Salad with Jalapeno Dressing Recipe
How To Make Grilled Corn Salad with Jalapeno Dressing
This grilled corn salad makes the best barbecue side with its sweet pineapple, and crunchy greens tossed in a mildly spicy roasted jalapeno dressing.
Ingredients
For Corn Salad:
For Jalapeno Dressing:
Instructions
Preheat an outdoor grill to medium-high heat and lightly oil the grate.
Place the jalapeno pepper and pineapple in the hot grill, then grill, turning occasionally, for 5 to 7 minutes, until the pineapple has grill marks and the jalapeno pepper is charred. Remove from grill.
Place the corn and halloumi cheese on the hot grill. Cook the cheese for 1 to 3 minutes, until browned on the bottom.
Flip and cook for 1 to 3 minute more, until browned. Remove cheese from grill.
Continue cooking the corn, turning occasionally, for about 10 minutes, until roasted on all sides. Remove from grill.
Place the asparagus on the grill and cook for 5 to 7 minutes, until slightly charred. Remove from grill.
Cut the pineapple slices into quarters and remove cores. Chop the pineapple, asparagus, and halloumi cheese into bite-size pieces, then place them in a bowl.
Add the black beans, red bell pepper, and red onion, then toss until salad is mixed.
Place the corn cob in a large bowl and holding the top, slice halfway down to remove the kernels from the cob. Go all the way around the cob and turn upside down to cut the remaining kernels.
Repeat with remaining cobs, then add the corn to the salad.
Remove the stem and charred skin from jalapeno pepper, then place jalapeno in a blender. Add the tomatoes, lemon juice, lime juice, olive oil, honey, garlic, and salt, then blend until the dressing is smooth.
Pour the dressing over salad, then toss to combine. Refrigerate for about 1 hour until flavors blend.
Serve and enjoy!
Nutrition
Monounsaturated Fat: 

4.52g
Polyunsaturated Fat: 

1.22g