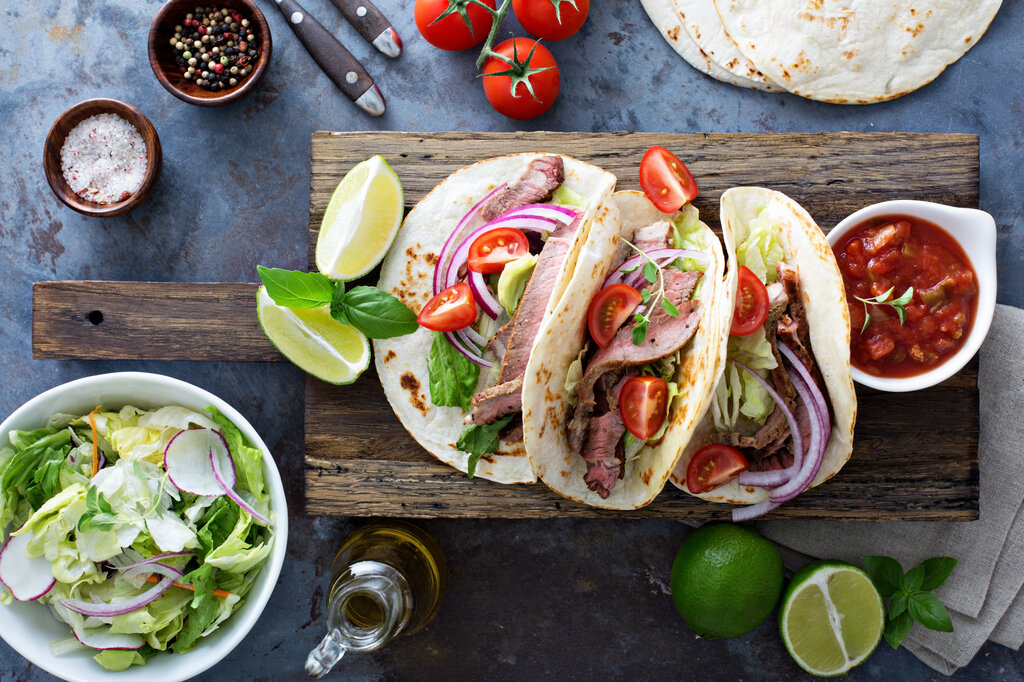 22 Leftover Steak Recipes For Easy Weeknight Dinners
In a pickle because you cooked a steak dinner that's far more than you could possibly eat? Don't throw the leftovers away just yet! There are slews of delicious leftover steak recipes that can transform leftover beef into something new and even more palatable. 
Scroll below and discover the best leftover steak ideas that will save precious beef cuts from going to waste. With a bit of creativity, you can finally use up those uneaten steaks in your fridge or freezer for days. From fajitas to burritos, here are some mouthwatering ways to repurpose leftover steaks, both raw and cooked:
---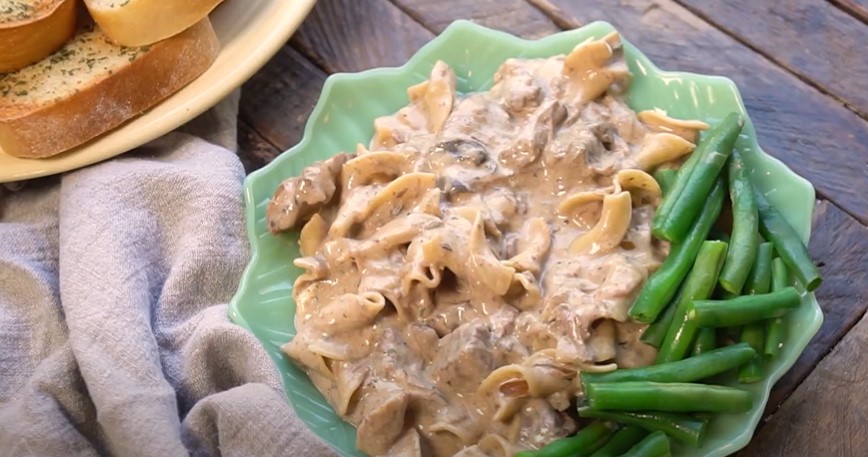 Got some leftover beef? Put them to delicious use with this crockpot beef stroganoff recipe. This melt-in-your-mouth beef smothered in a creamy, buttery sauce is pure comfort food at its best.
This recipe uses stewing beef, but scotch fillet steak and boneless rib-eye steak work well, too. It also requires red wine, Dijon mustard, and Worcestershire sauce. Traditionally, this dish is cooked on the stove. But, slow cooking it in the crockpot produces juicy and fall-apart tender chunks of beef and a deeper, more flavorful sauce. It will also taste magnificent when you stir in some sour cream and serve it on top of egg noodles. 
Recipe for Inspiration: Crock Pot Beef Stroganoff
Beef Stew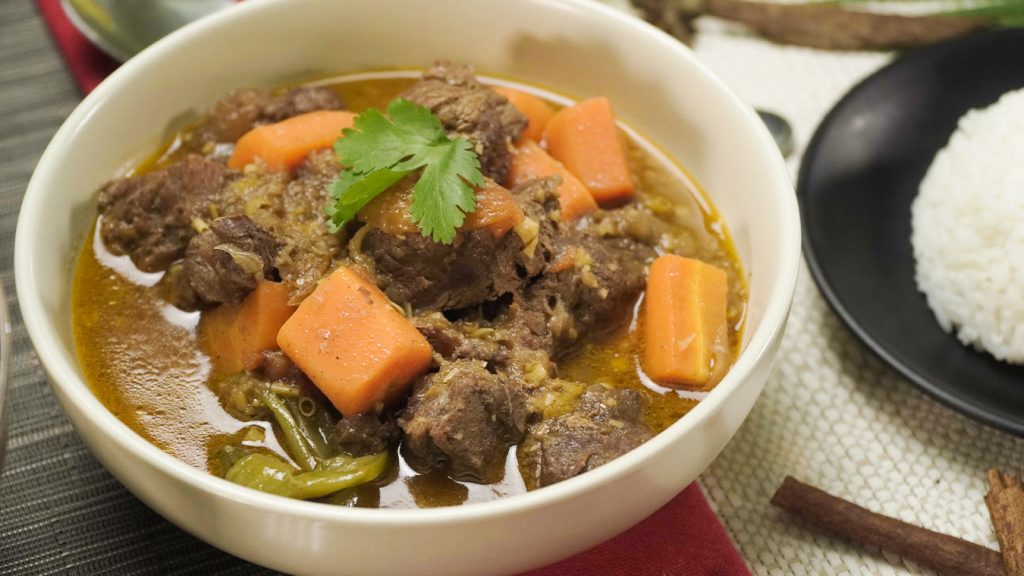 Using leftover steaks, you can actually bring Asian flavors to your dinner table tonight in the form of this Vietnamese beef stew recipe. Vietnamese Bo Kho consists of tender chunks of beef and various aromatics. This stew, promising easy preparation and intriguing flavors, is one of the best Vietnamese recipes you can make at home. 
To make this quintessential braised beef stew, you need a beef shoulder. Although, this might be the time to use up your leftover beef chuck. Meanwhile, the blend of lemongrass, green finger chilis, and anise pods brings spicy notes to the dish. Complete your Asian-style dinner and serve this beef stew with rice and Vietnamese baguettes. 
Recipe for Inspiration: Vietnamese Braised Beef Stew Bo Kho
Steak Sandwiches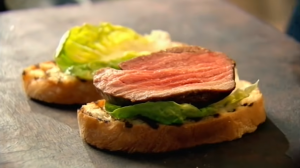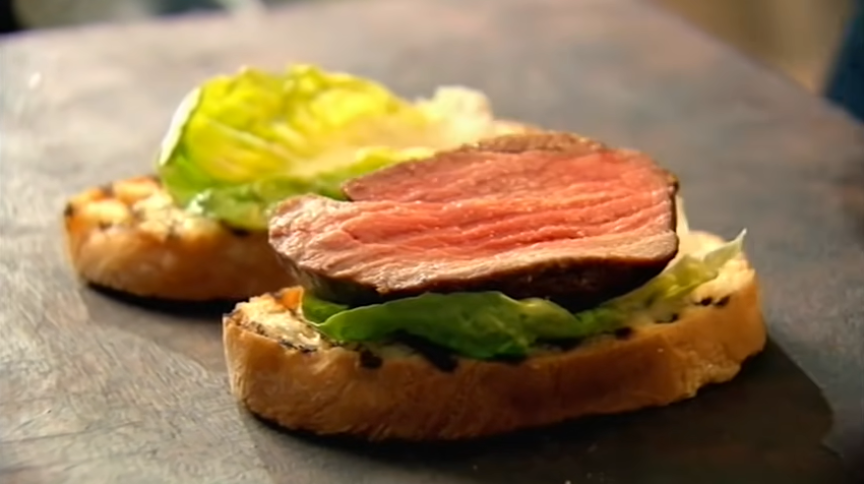 Are you wondering what to make with leftover steak? Take out your already-cooked steaks from your fridge and whip up some juicy steak sandwiches. They're perfect when you're in a time crunch and still need to put a decent meal on the table as quickly as possible.
Apart from the steaks, you also need ciabatta buns (or garlic baguettes, if you're in a pinch) and mushrooms. The rest of the ingredients are probably in your fridge already, including thyme sprigs, rosemary sprigs, and other seasonings. For the dish to have next-level flavor notes, incorporate Dijon mustard, arugula, and provolone cheese.
Recipe for Inspiration: Steak Sandwiches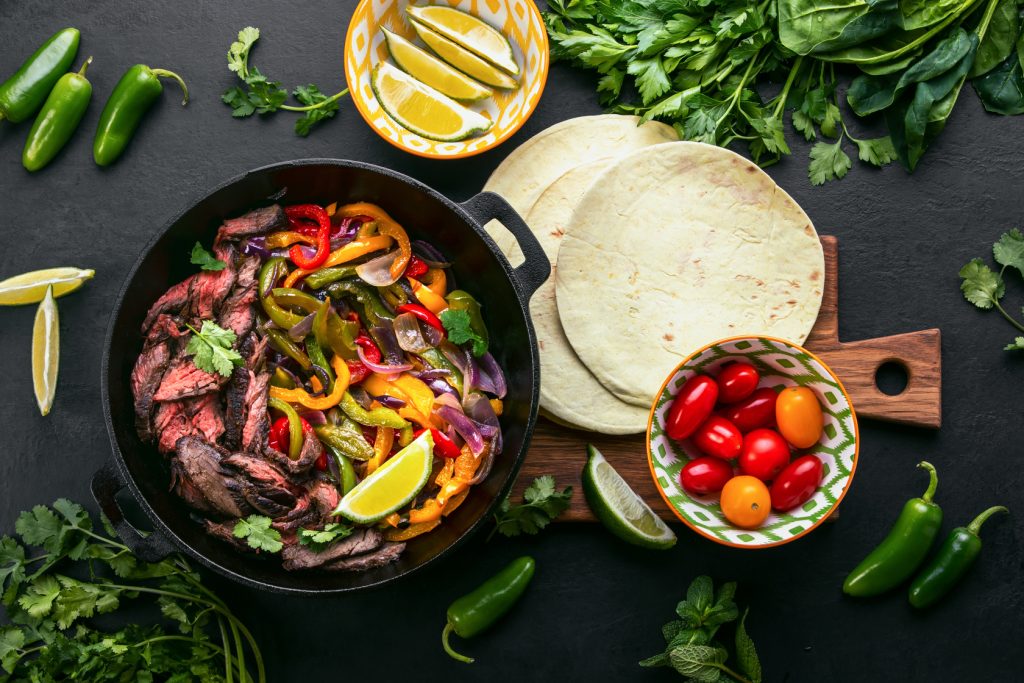 Did you buy or cook steaks that are far more than you need? Put your mind at ease! Your leftover steak will reach a new level of deliciousness when wrapped in a toasty fresh flour tortilla alongside colorful veggies, herbs, and Roquefort cheese. In this recipe, we use skirt steak because of its robust beefy flavor, but flank steak and sirloin flap will suffice just as well. Whatever cut you choose, marinating the meat will surely intensify its flavor. Easy as it is, you will have a sizzling steak dinner in less than an hour. 
Recipe for Inspiration: Steak Fajitas with Roquefort
Steak Tacos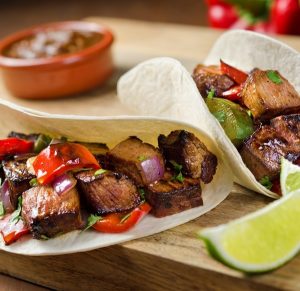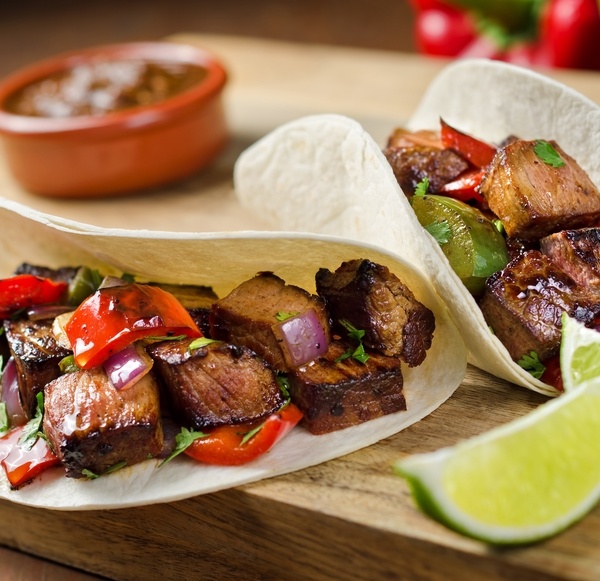 If you happen to have some leftover flank steak stacked in your refrigerator, use it to upgrade your next taco night! This easy steak tacos recipe brims with Mexican flavors that your guests will surely ask for seconds and even thirds of. This recipe features a well-balanced mixture of tender steak, flavorful cilantro lime juice, and various toppings. But the key to deepening its flavor lies in the marinade. We suggest marinating the steak for at least one hour using lime, orange juice, and spices. Easy and delicious, this recipe is one of the best leftover steak recipes you ought to try.
Recipe for Inspiration: Easy Steak Tacos
Beef with Broccoli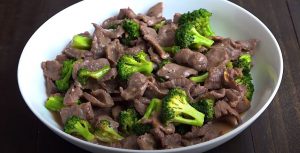 If you are searching for the easiest way to repurpose your leftover steak, this beef with broccoli is one to try. This classic Chinese staple features tender beef and crisp broccoli florets in a flavorsome ginger-garlic sauce. It is an excellent way to add extra nutrition to your steak meal.
With this easy recipe, you can instantly satisfy your Chinese food cravings without having to go out. Its inviting Asian flavor comes from the soy sauce, Shaoxing wine, and Asian sesame oil, perfectly recreating the palate of the restaurant version. When ready to serve, a bowl of rice would be a filling accompaniment. 
Recipe for Inspiration: Beef with Broccoli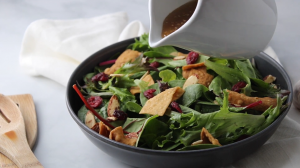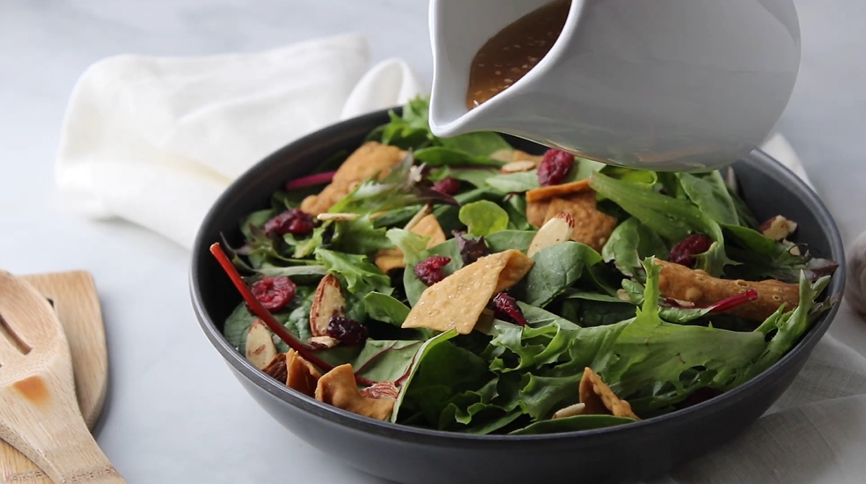 Currently in need of recipes for leftover steak? Just whip up a steak salad, and give it a flavor boost with an Asian-inspired vinaigrette. This recipe downright proves that salads don't have to be boring. With the magic of a flavorful dressing, steak salads can be everyone's new weeknight favorite too!
This easy recipe has all the components of a great steak salad, including well-seasoned meat, crisp veggies, and a tangy dressing. For a flavorful and creamy vinaigrette, you can start with miso, rice vinegar, Dijon, and maple syrup. Throw in some greens, carrots, radishes, and apples as well. 
Recipe for Inspiration: Steak Salad with Miso Vinaigrette
Beef Pot Pie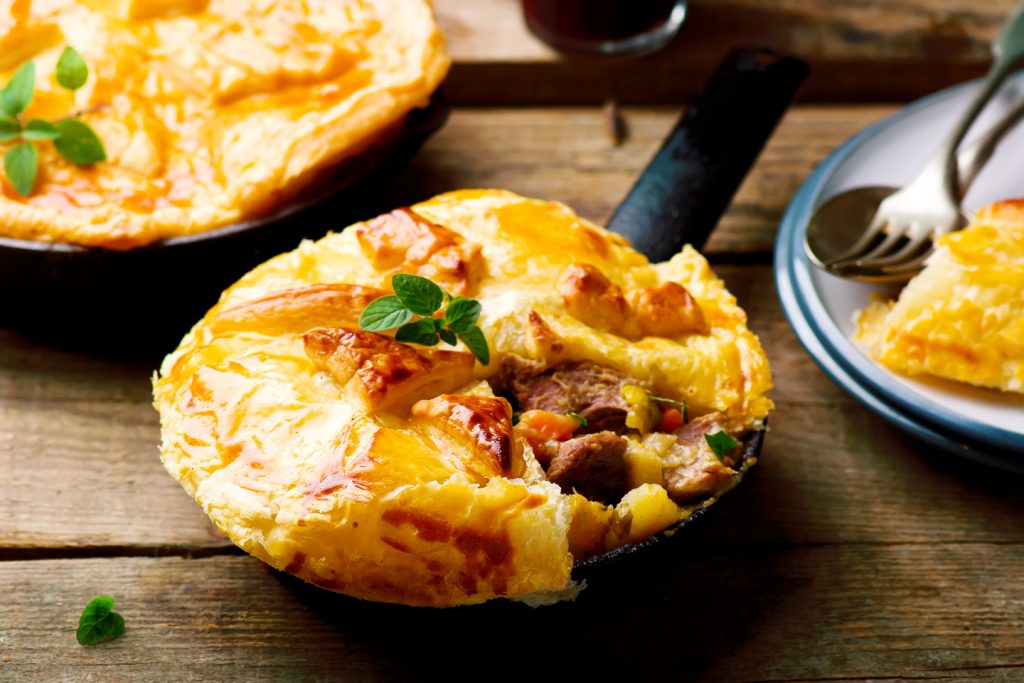 Once you have a bite of this yummy beef pot pie, you will find yourself purposely saving extra steak for this crowd-pleasing recipe. It boasts a tasteful blend of beef and veggies, making it one of the best leftover steak recipes for a healthy dinner.
Boneless beef sirloin, vegetables, and mushroom soup deliciously team up in this easy steak pot pie recipe. It also calls for Worcestershire sauce, crushed dried thyme, and vegetable oil. After cooking and combining the ingredients, top the mixture with a flaky, buttery pie crust. Then, bake the dish to perfection, until the crust turns to a golden brown.
Recipe for Inspiration: Beef Pot Pie
Steak Stir Fry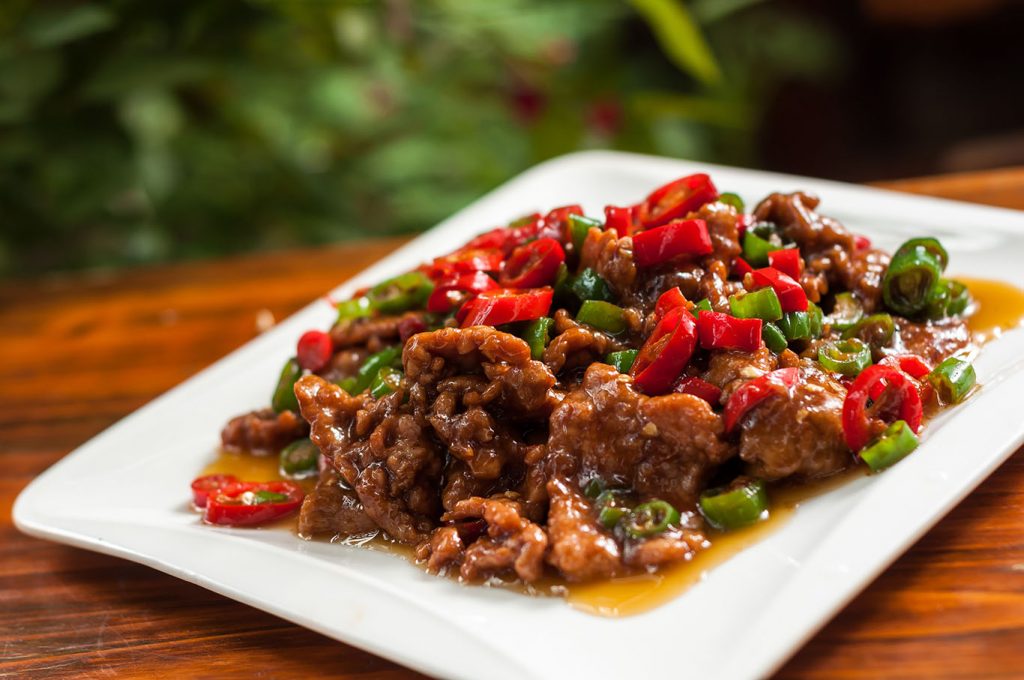 Think leftover slices of beef can no longer be of use? Well, think again! Try combining them with sautéed bell peppers and savory sauce, and you will have dinner like no other! Begin by sautéing red bell peppers and green bell peppers. Don't forget to season the thin slices of flank steak before cooking them. But all in all, it's the sauce (which consists of soy sauce, sugar, and cornstarch) that makes this stir fry stand out.
Recipe for Inspiration: Pepper Steak Stir Fry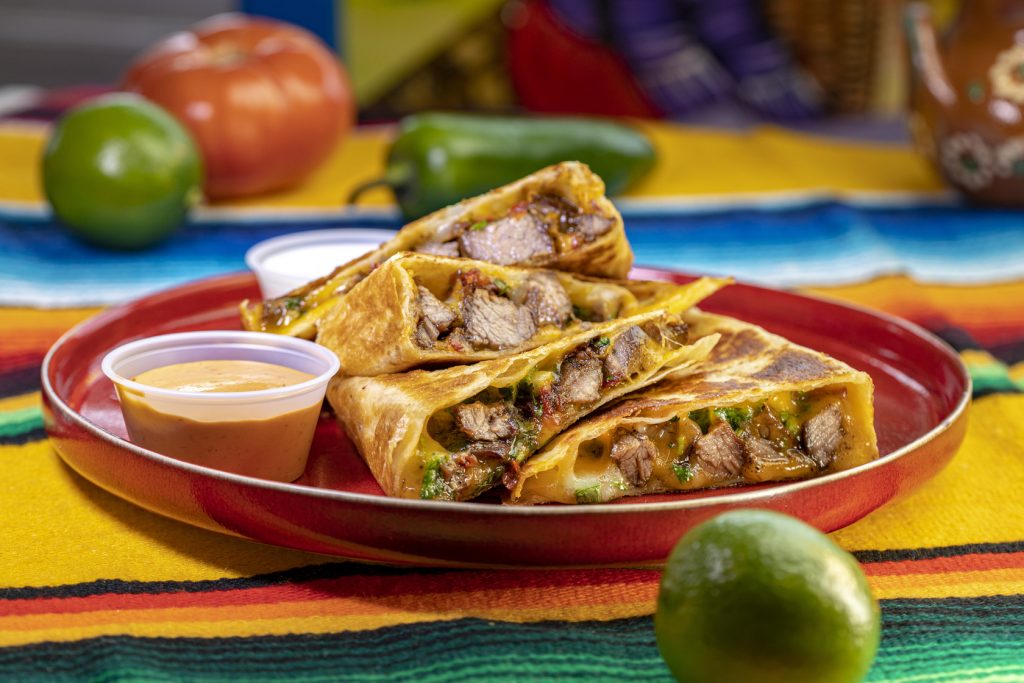 Steak quesadilla is by far among the easiest and most delicious leftover steak recipes. It typically calls for flank steak, so you're in luck if you have steak fajitas or carne asada in your fridge. Of course, you will also need a handful of seasonings and tortillas. While the meat is already quite tasty on its own, cheese will make it taste even better. As such, feel free to use two types of cheese for that cheesy goodness. Sour cream and guacamole are the best pairs for this cheesy steak meal.
Recipe for Inspiration: Steak Quesadillas
Air Fryer Steak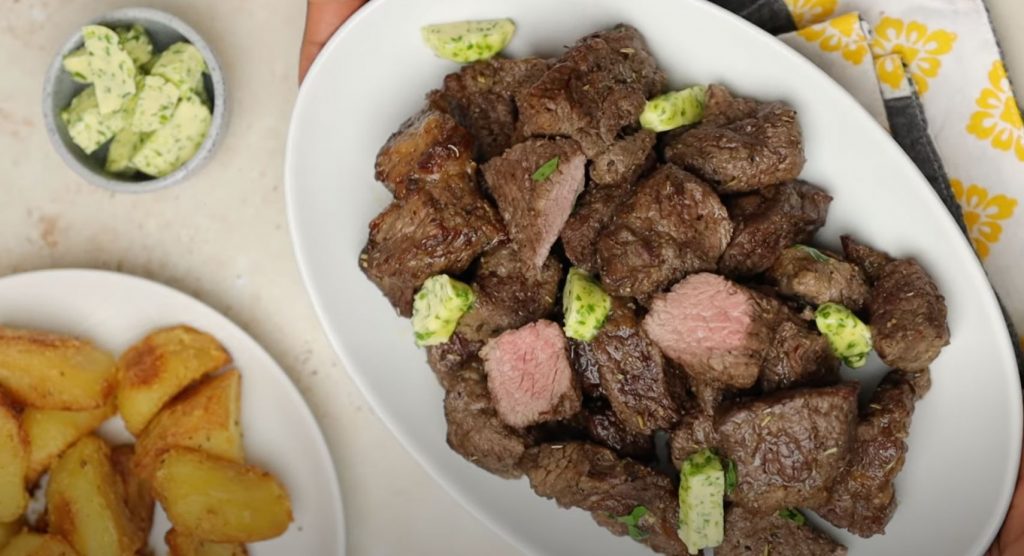 Looking for the perfect entrée for busy weeknights? Try this easy yet delicious air fryer steak recipe. This might even be one way to revive your leftover steak! If you only have large steak pieces on hand, cut them into cubes first. And despite the quick overall prep time, it does not lack in flavor. Seasonings including olive oil, Italian seasoning, garlic, and other herbs will do the trick here. Best of all, whipping up this steak meal is a piece of cake and only takes 15 minutes of cooking time using your air fryer. 
Recipe for Inspiration: Air Fryer Garlic Steak Bites
Steak Pasta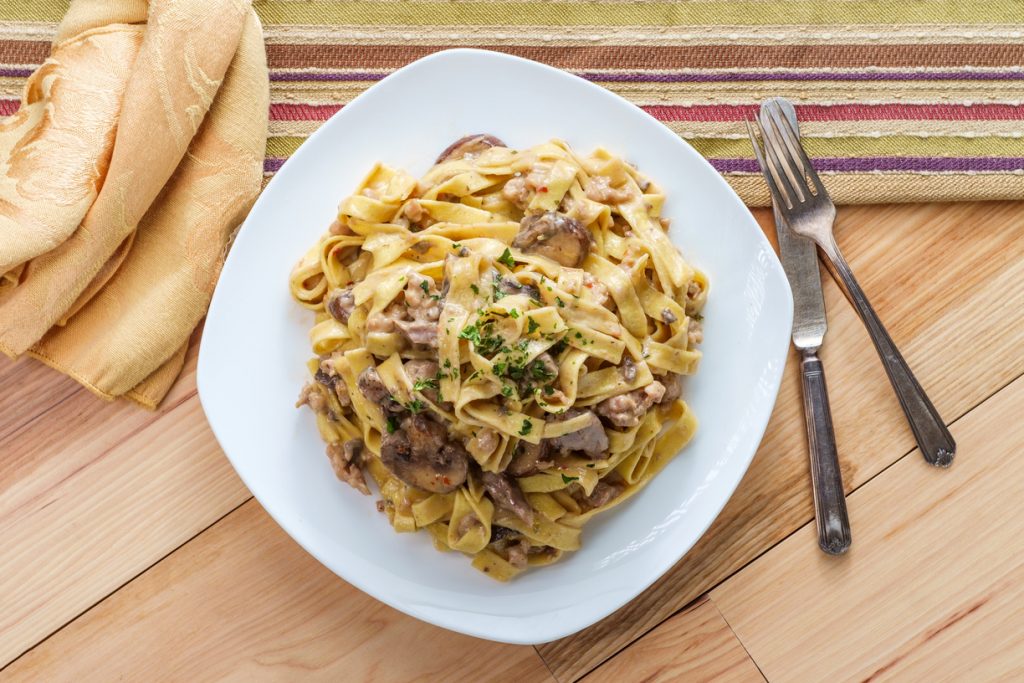 Fortunately, you can still whip up an impressive dinner using your leftover beef. Enter this cheesy and luxurious steak pasta recipe. It consists of well-seasoned steak and cooked pasta that's smothered in a creamy alfredo sauce. Besides the tender flat iron steak and fettuccine noodles, you also need half-and-half, cream cheese, and shredded parmesan cheese. In about 30 minutes, you will be serving one of the most indulgent leftover steak recipes on the table without a hitch. 
Recipe for Inspiration: Steak Alfredo
Steak Fried Rice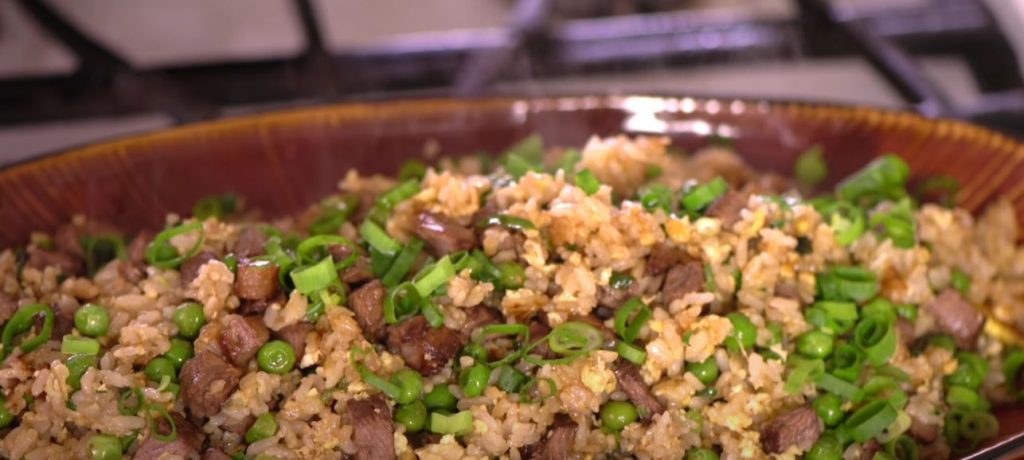 This steak fried rice recipe is one of the simplest ways to reinvent your leftover steaks and rice from the other night. When you combine fragrant rice and tender steak and then cook them with a flavorful sauce, you get a fried rice recipe that rivals the taste of your favorite take-outs. This dish includes soy sauce, sesame oil, fresh veggies, and other ingredients you most likely have on hand already. Plus, it has a quick and easy preparation to boot! 
Recipe for Inspiration: Steak Fried Rice
Steak Soup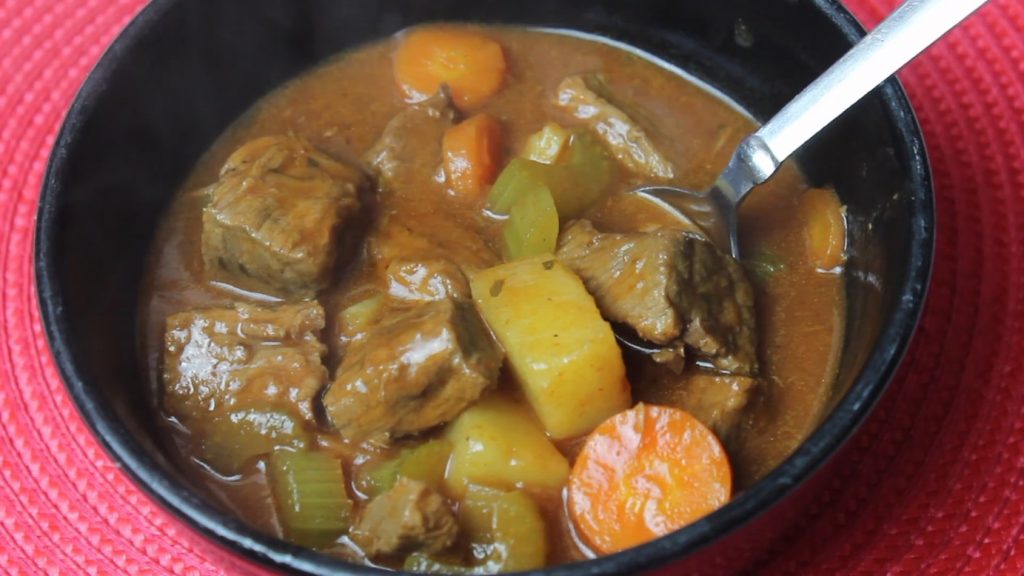 On the prowl for an easy leftover steak recipe, one that is hearty and healthy at the same time? Then this steak soup will definitely put an end to your search. Laden with steak cubes, potatoes, and carrots, it's pure comfort in a bowl. You can even amp up its deliciousness with butter, tomato paste, and various spices. All the ingredients are slowly simmered for two hours or so for maximum flavor.
Recipe for Inspiration: Steak Soup 
Philly Cheesesteak Pizza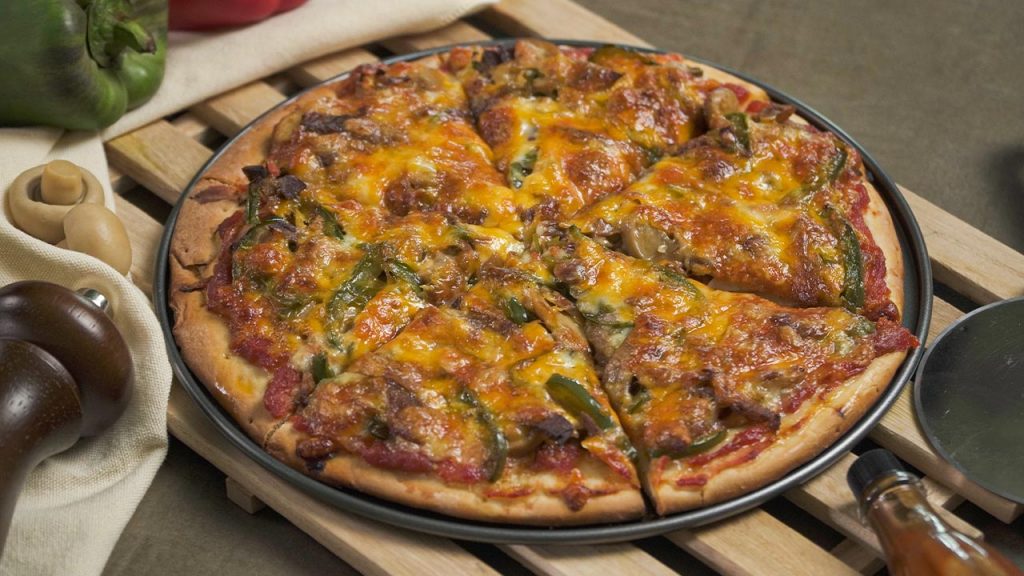 Not sure whether to serve a classic Philly cheesesteak sandwich or a beefy pizza tonight? This recipe will put an end to your dilemma! With this, you can easily recreate the flavors of a Philly cheesesteak sandwich in the form of a pizza. 
This tasty dish has the toppings of the quintessential Philly sandwich and uses a pizza dough in place of the hoagie. Regular pizzas have tomato sauce, but this version replaces it with a pizza sauce (go for something that pleases your palate) and plenty of cheese. Spreading some olive oil onto the crust before the baking process can also amplify the texture and flavor of the pizza.
Recipe for Inspiration: Copycat Domino's Philly Cheesesteak Pizza.
Steak Chili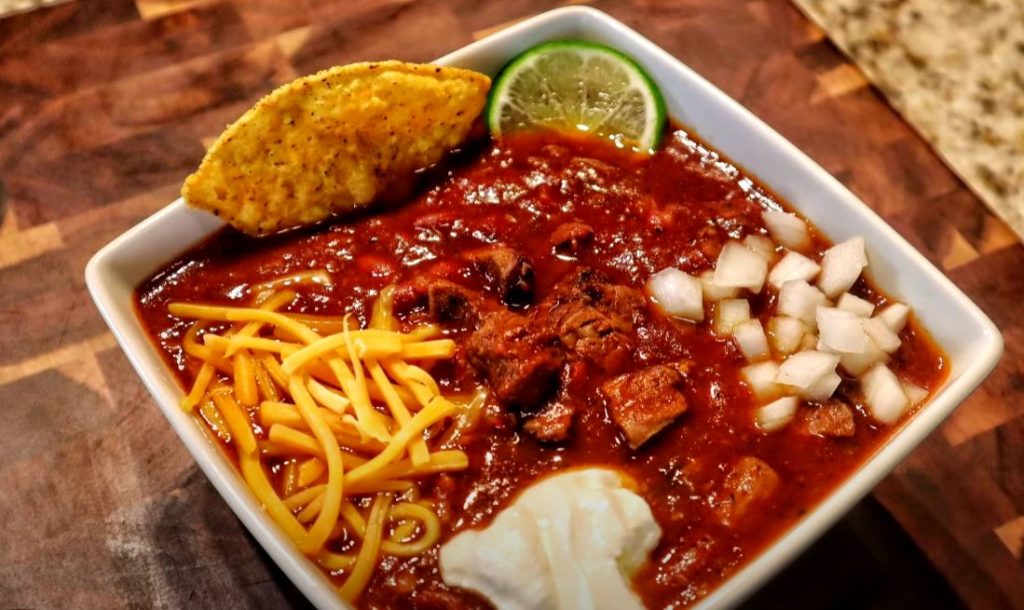 When it's chilly outside, a warm bowl of chili always makes for a great companion. It's especially rich and delicious when it's laden with tender steak slices. This recipe uses stew meat, but you can opt for any leftover steak. Jalapeño, ground black pepper, and chili powder add robust flavor to this comfort food. Using canned beans and canned tomato sauce somehow quickens the preparation. Simmer for two hours, and serve with cornbread when ready to eat. 
Recipe for Inspiration: Steak Chili
Steak Enchiladas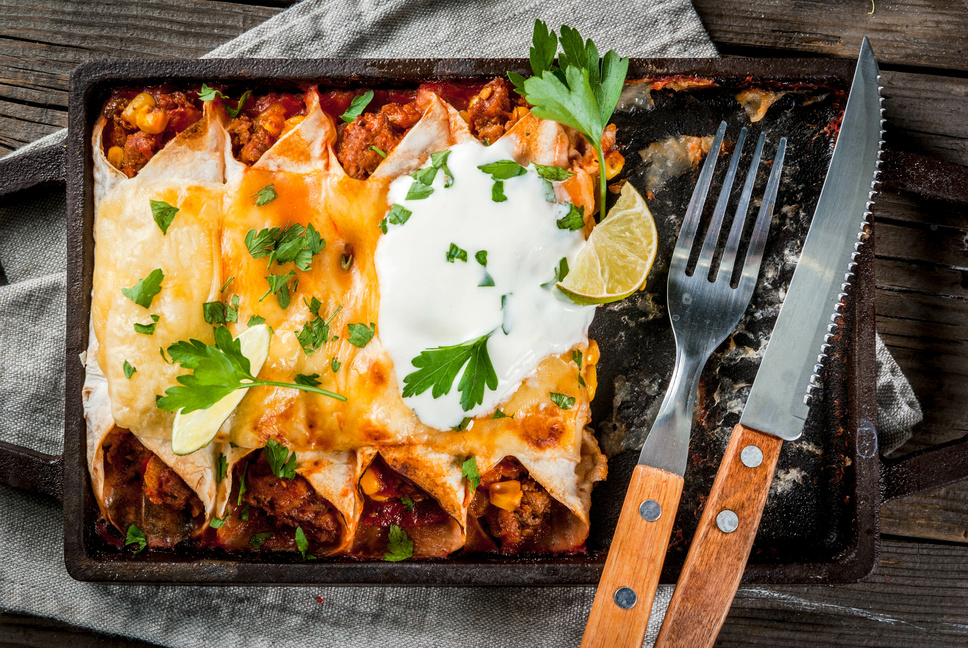 When searching for more recipes with leftover steak, this recipe perfectly fits the bill. Steak enchiladas are among the most popular and most inexpensive Mexican meals. It calls for leftover steak or ground beef, tortillas, chili peppers, and cheese. For the enchilada sauce, you can use the red or green variety. Either way, get ready for a superb-tasting steak meal that is sure to become an instant hit come supper time. 
Recipe for Inspiration: Steak Enchiladas
Steak and Mushrooms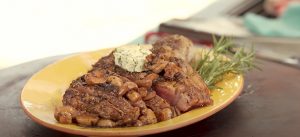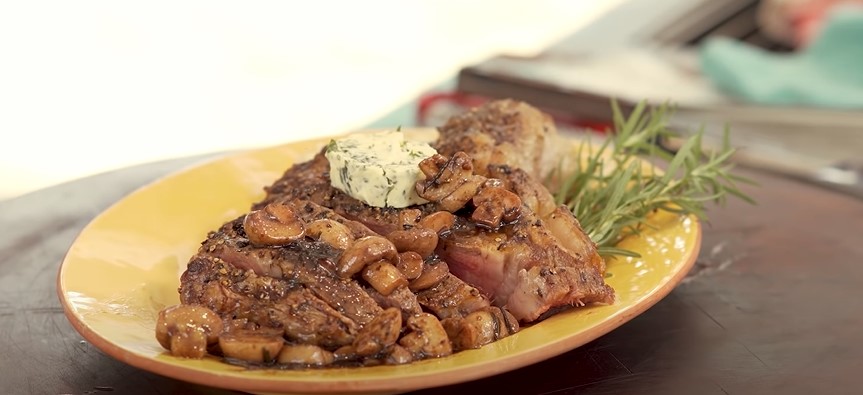 Steak and mushrooms are the main ingredients in this mouthwatering recipe. We begin by caramelizing the mushrooms with garlic-butter sauce. Next, we sear the steaks until the outside browns beautifully. Cover the top of the steaks with garlic butter compound, and cook alongside the mushrooms. When the butter melts into the steak, the meat's flavor will intensify.
Recipe for Inspiration: Garlic Butter Herb Steak and Mushrooms
Cheesesteak-Stuffed Peppers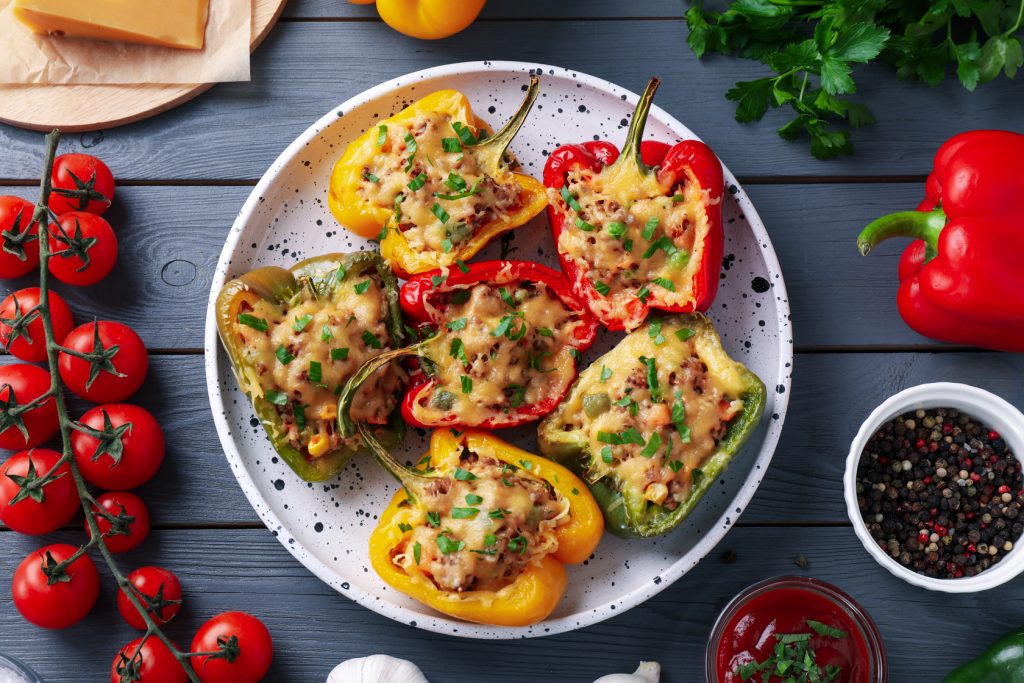 Cheesesteak-stuffed peppers may be one of the most crave-able keto-friendly leftover steak recipes you can try. This recipe uses flank steak, but you can go ahead and use any leftover steak you have. Just make sure to coat the meat cut with paprika, garlic powder, and Worcestershire sauce. The filling includes well-seasoned steak, caramelized onions, and bell peppers, perfectly replicating the flavors of a classic Philly Cheesesteak sandwich. It's even loaded with lots of provolone cheese!
Recipe for Inspiration: Cheesesteak-Stuffed Peppers
Cheesesteak Egg Rolls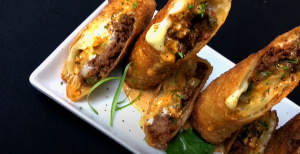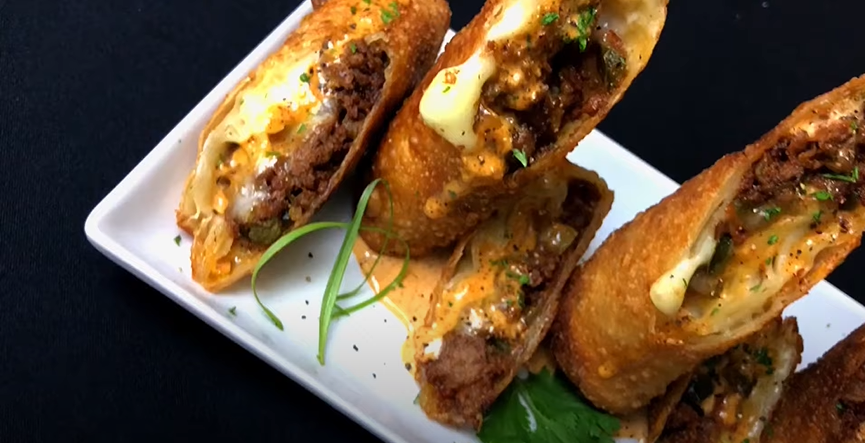 If you have soft spots for the classic Philly cheesesteak sandwich, then you will love this fun variation. It offers the same flavor as the traditional Philly cheesesteak, but instead of a hoagie, the ingredients are swaddled up in crispy egg roll wrappers. This recipe uses slices of boneless rib-eye steak, provolone cheese, and green bell peppers. The perfect game-day munchies, you can already serve 12 pieces of Philly cheesesteak egg rolls in just 35 minutes. 
Recipe for Inspiration: Philly Cheesesteak Egg Rolls
Beef Burritos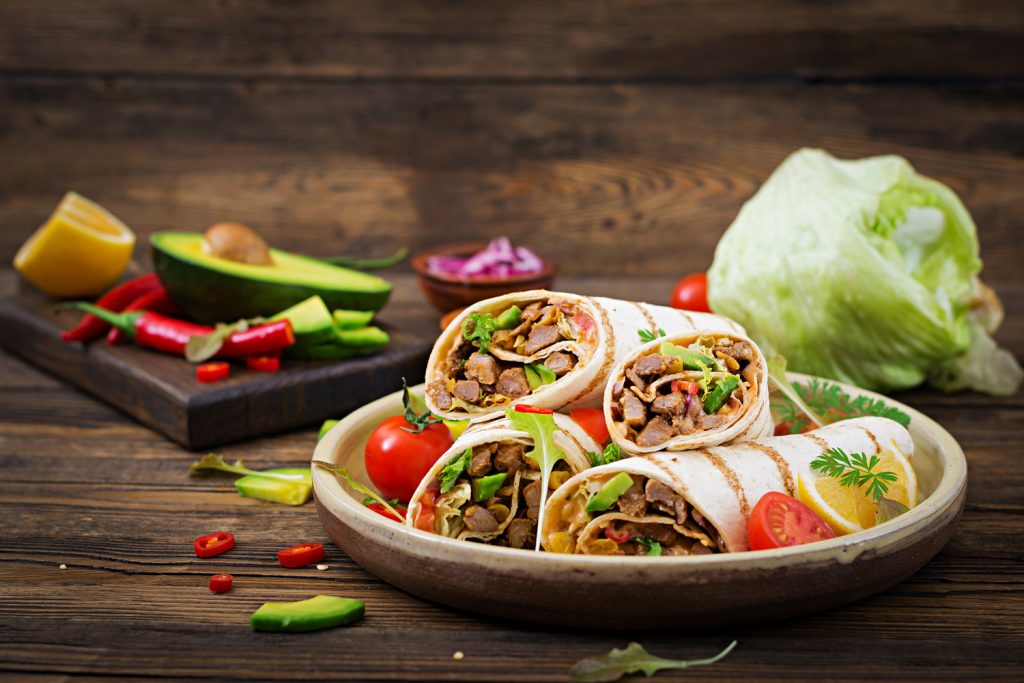 If you're pressed on time, adding this beef burrito recipe to your repertoire is only logical. You can prepare it the night before and have a filling breakfast in the morning. All you have to do is put together beef cubes, poblano pepper, jalapeno, and enchilada sauce in a crockpot. After eight hours, you will be welcomed with a whiff of its delicious aroma. When ready to bake, wrap the components in the tortillas and top with sauce and cheese.
Recipe for Inspiration: Slow Cooker Beef Burritos
Steak Hash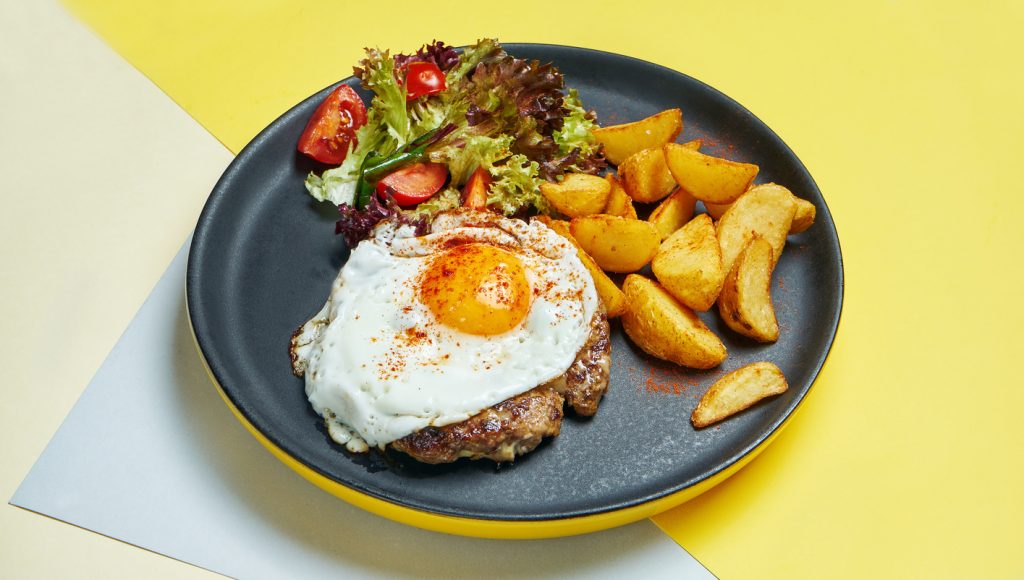 Did you overestimate your guests' appetite and cook way too much steak last night? Lucky for you, there's a way to upgrade your leftover beef into a belly-filling breakfast: this steak and egg hash recipe. It's also the perfect choice when you're on a budget, as most of the ingredients are probably found in your pantry. 
Boil the potatoes, then cook the seasoned steak in butter before adding the mushrooms, red bell peppers, and cherry tomatoes. It's that easy! Make sure the yolks are still runny and have a sauce-like consistency for a satisfying breakfast meal.
Recipe for Inspiration: Steak and Eggs Hash
Frequently Asked Questions
How to reheat leftover steak without it drying out?
There are many ways to reheat leftover steaks: in a microwave, in the oven, or on the stovetop. When using the microwave, place the meat in a microwave-safe container. To lock in the moisture, you can put a slightly damp towel or pour meat juices on top of the steak. Meanwhile, when reheating using the oven, it is best to set the oven temperature at 250 degrees F. Reheat the steak slowly at such a low temperature, then sear each side on a skillet later on. If you prefer reheating your steak on the stovetop, simply place the meat in a pan with a few tablespoons of beef broth or olive oil. We highly suggest reheating the steak over medium-low heat to prevent it from drying out.
How long is leftover steak good for?
As per the USDA, cooked leftover steaks are only good for three to four days if stored properly in the fridge. If you want to extend their shelf life, keep them in the freezer. They will last for two to three months, provided you place them in high-quality freezer containers. On the other hand, raw steaks last for three to five days in the fridge and six to 12 months in the freezer.