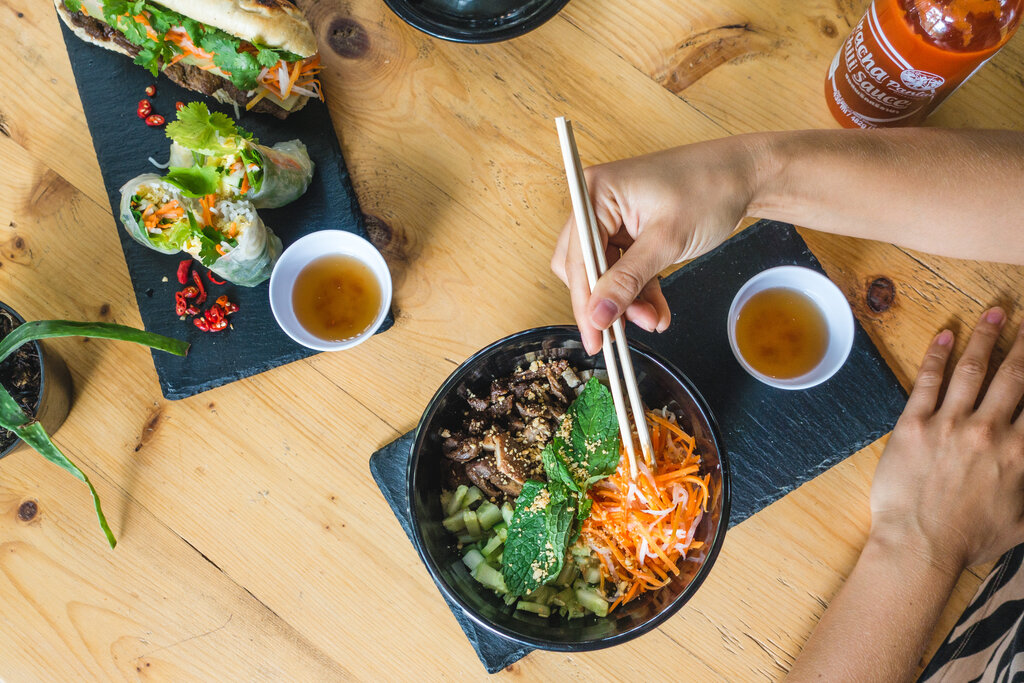 21 Easy Vietnamese Recipes You Can Whip Up At Home
Looking for a way to spice up dinners at home? Or simply craving the fresh and complex flavors of Vietnamese dishes? Then you're in for a treat as we've rounded up scrumptious Vietnamese recipes worth adding to your book!
Among one of the healthiest cuisines, Vietnamese food is full of vegetables and herbs. Usually, the dishes employ a minimal amount of oil but is quite heavy on spices and seasonings. Most of their food include aromatics, fish sauce, and heat, thus giving meals an amazing burst of flavors!
So it doesn't matter if you're an adventurous eater or not, a newbie or an experienced cook. With these Vietnamese recipes on hand, you can work magic in your kitchen!
---
Popular Vietnamese Food Recipes
Starting with some of the most famous Vietnamese dishes, this list features popular dishes you might already be familiar with. So gather your ingredients, roll your sleeves up, and keep scrolling as one of these might be your next dinner meal. 
Banh Mi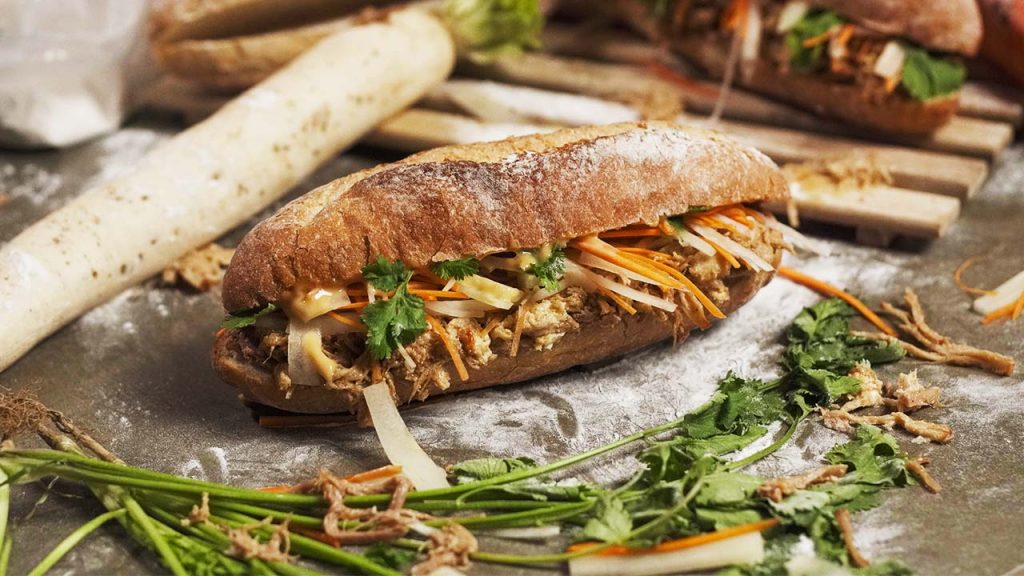 With its crisp short baguette and loaded fillings, it's easy to understand why this sandwich is one of the most popular street food in Vietnam. Each bite of banh mi pleases your taste buds with its mix of French and Asian cuisine. It layers pate spread, cold cuts, and pickled vegetables for a dish that's humble yet still packs a punch.
In this version, the simple Vietnamese recipe has a scrumptious sauce that uses hoisin sauce, mayo, and sriracha. Just the marriage of creamy and spicy tones is enough to take you to the warm country.
Recipe for Inspiration: Pork Banh Mi Sandwich 
Pho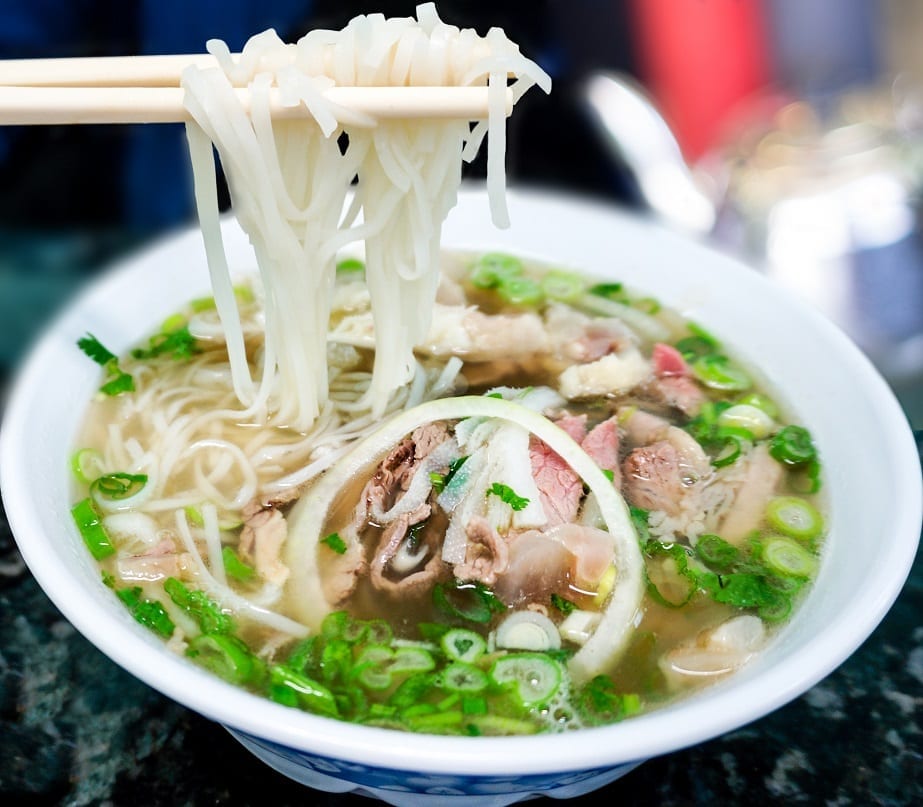 A list of Vietnamese food ideas would not be complete without the well-loved pho. The country's national dish, this classic captures your taste buds with its combination of tender rice noodles, fresh herbs, and juicy meat.
If you're wondering what makes this popular Vietnamese street food special, then the secret is all in the broth. The clear yet umami-rich broth fuses the flavors coming from beef bones with fish sauce and fragrant spices. Although you can have it with beef or chicken as toppings, the chewiness of beef tripe takes this dish to a whole new level. 
Recipe for Inspiration: Beef Tripe Pho
Vietnamese Crepes (Banh Xeo)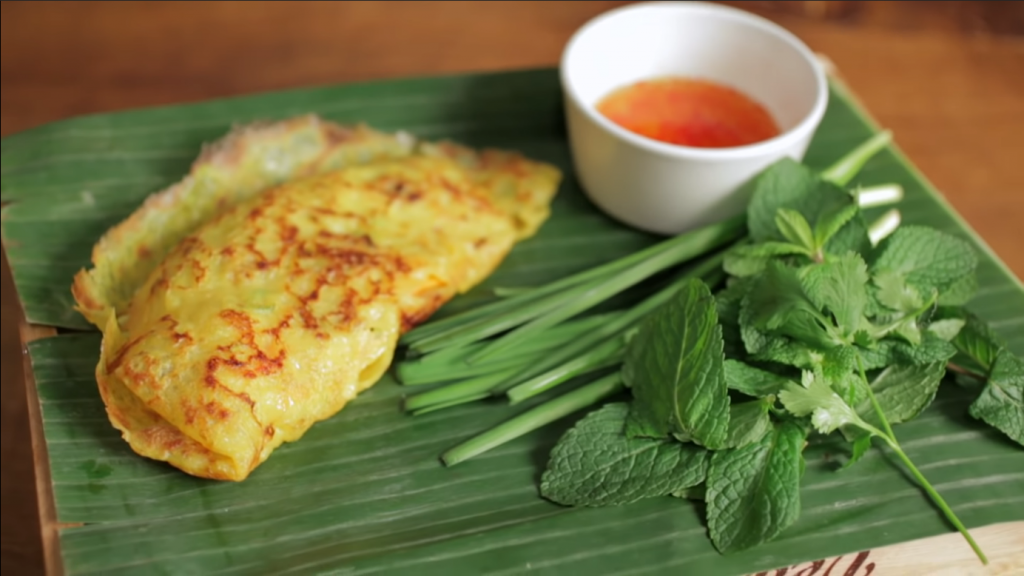 Another famous street food in Vietnam, banh xeo are delicious and savory rice crepes. Named after the sound it makes when the batter hits the pan ('xeo' means sizzle in Vietnamese), they are usually filled with bean sprouts and shrimp. The thin and bright yellow crepes require rice flour, turmeric powder, and coconut milk to make.
Aside from shrimp, you can also add pork shoulder or pork belly to your filling. Then, for the complete experience, roll it up with lettuce leaves and dip it in a flavorful nuoc cham dipping sauce (a versatile fish-based side full of warmth, zing, and sweetness).
Recipe for Inspiration: Banh Xeo
Fresh Spring Rolls (Goi Cuon)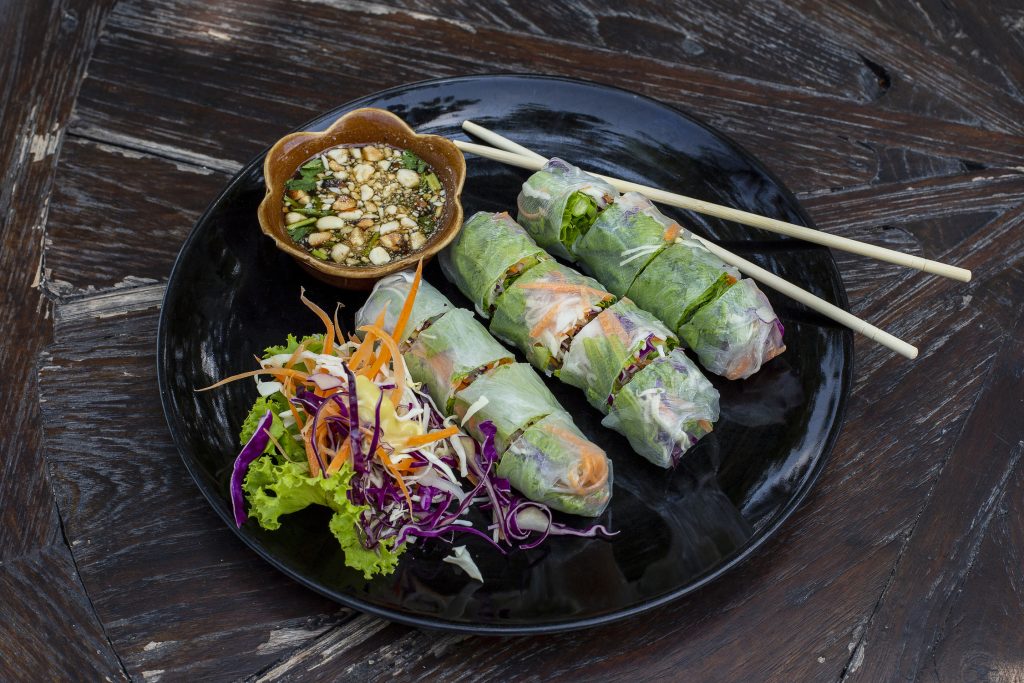 If you're a new cook, these rolls are the ideal introduction to Vietnamese cuisine as they are easy to whip up. Not to mention, they're one of the staples in case you want to serve up a Vietnamese dinner. 
Including shrimp is optional but with the right veggies and wrapping skills, you're good to go! The spring flavors come from crisp lettuce, bean sprouts, cilantro, and soft rice vermicelli. It's enveloped in a clear rice wrapper that's quickly soaked in water to soften it. And to make this dish even tastier, mix in mushroom and pork in its filling or serve it with tart peanut sauce.
Recipe for Inspiration: Vietnamese Spring Rolls
Pork Mince Rolls (Banh Cuon)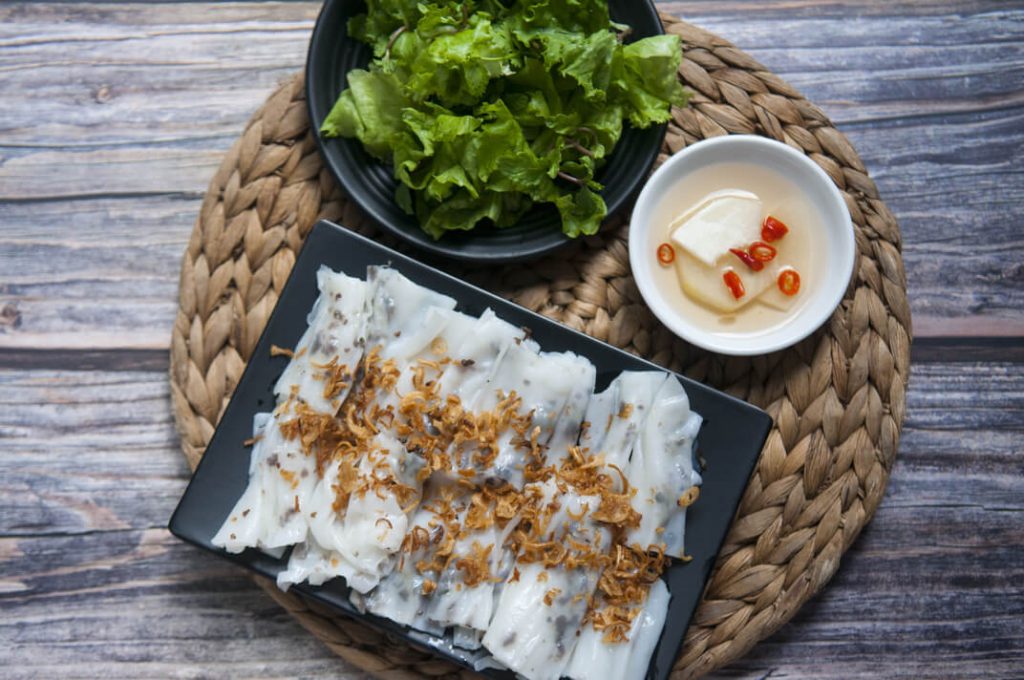 For more roll ideas, these pork mince rolls originating from the Northern part of Vietnam offer an explosion of flavors.
To make the batter, you'll need tapioca flour, rice flour, vegetable oil, and water. After sitting for a few minutes, it is then cooked in the pan, similar to how crepes are formed, to create the dish's thin and almost transparent skin. Then, pork and mushrooms are marinated with fish sauce and sugar and tossed in the pan for the delicious filling. 
Try this traditional Vietnamese food with fresh herbs and dunk it in fish sauce to enjoy a magical bite!
Recipe for Inspiration: Vietnamese Pork Rice Rolls (Banh Cuon)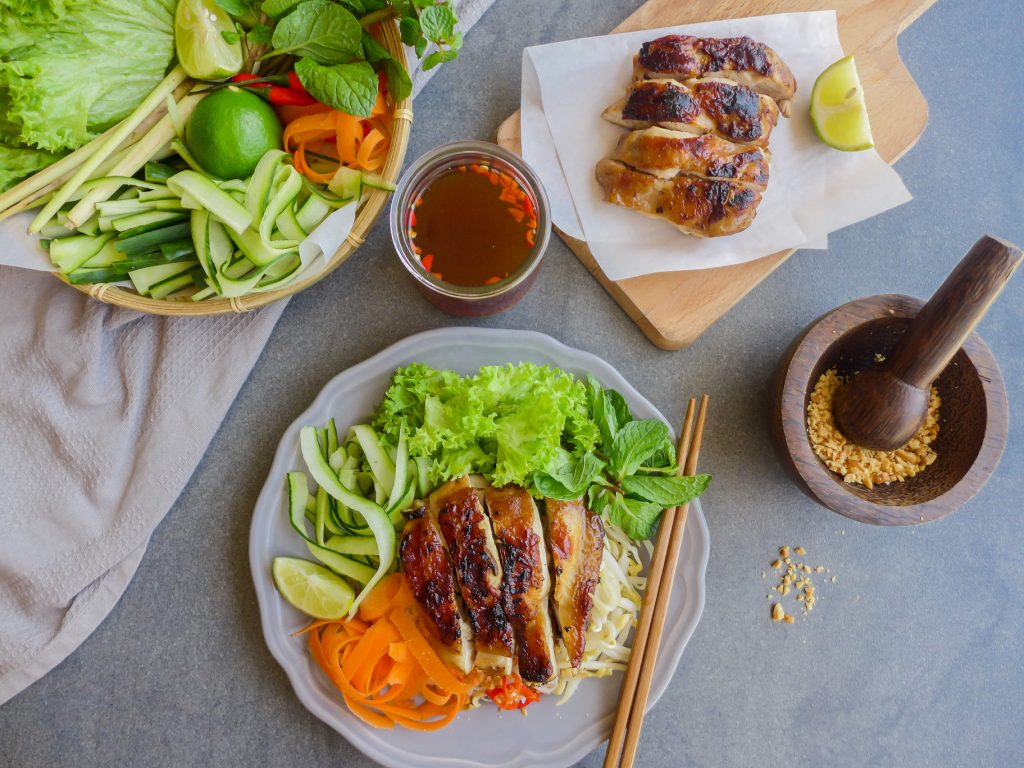 With its minty and slightly gingery hints, lemongrass easily amps up dishes to new levels, especially in this Vietnamese recipe. This chicken stir fry serves a mouthwatering bite thanks to the coconut milk, fish sauce, and garlic-lemongrass paste. In addition, the bell pepper and green beans offer a slight crunch as well.
Recipe for Inspiration: Lemongrass Chicken
Vietnamese Egg Coffee (Cha Phe Trung)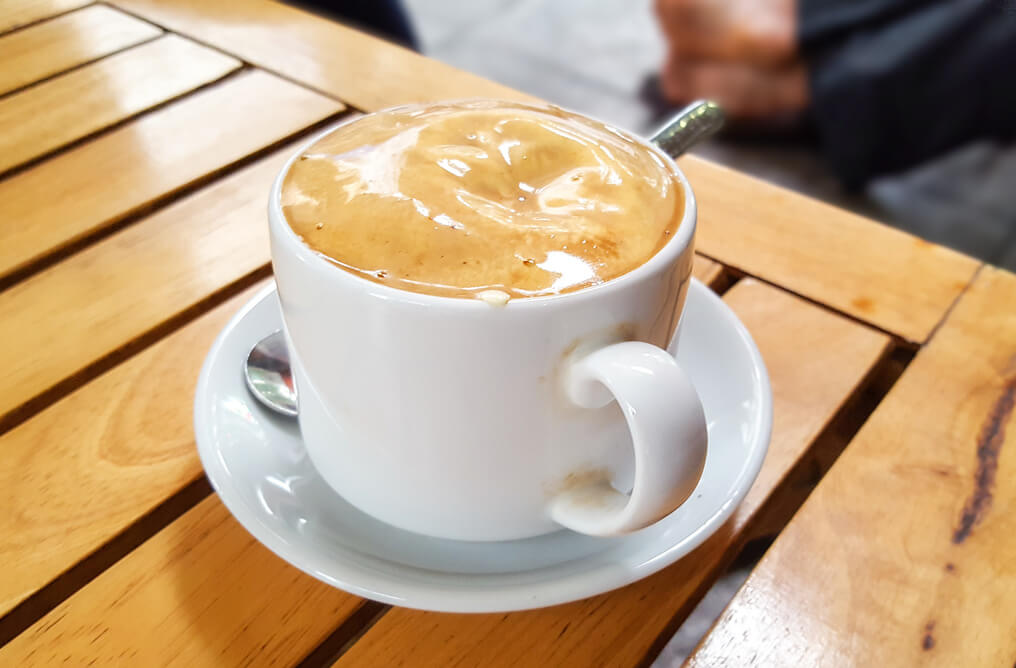 Switch up your regular cup of joe and enjoy a foamy sip with this energizing drink! This creamy concoction is said to be the solution to the milk shortage in 1946. It balances the strong notes of coffee with sweet condensed milk-egg yolk mix. Ready in just a few minutes, enjoy a Vietnamese dessert and beverage with this simple recipe.
Recipe for Inspiration: Vietnamese Egg Coffee
Vietnamese Egg Rolls (Cha Gio)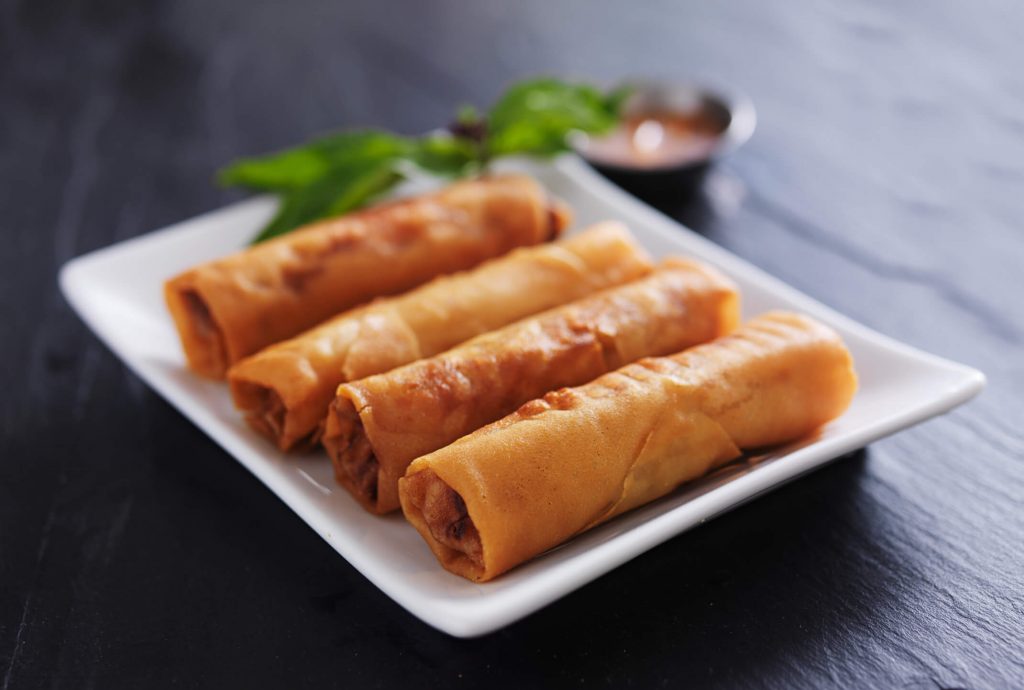 Asian cuisine has tons of egg roll recipes under its umbrella. You can find renditions coming from Chinese and even Filipino cuisine. Now, what makes cha gio different is its use of rice vermicelli or mung bean noodles. They're mixed with ground pork and mushroom then wrapped in rice paper. Crispy on the outside and juicy on the inside, you can never go wrong with these double-fried appetizers that pair well with nuoc cham!
Recipe for Inspiration: Vietnamese Egg Rolls (Cha Gio) 
Spicy Beef Noodle Soup (Bun Bo Hue)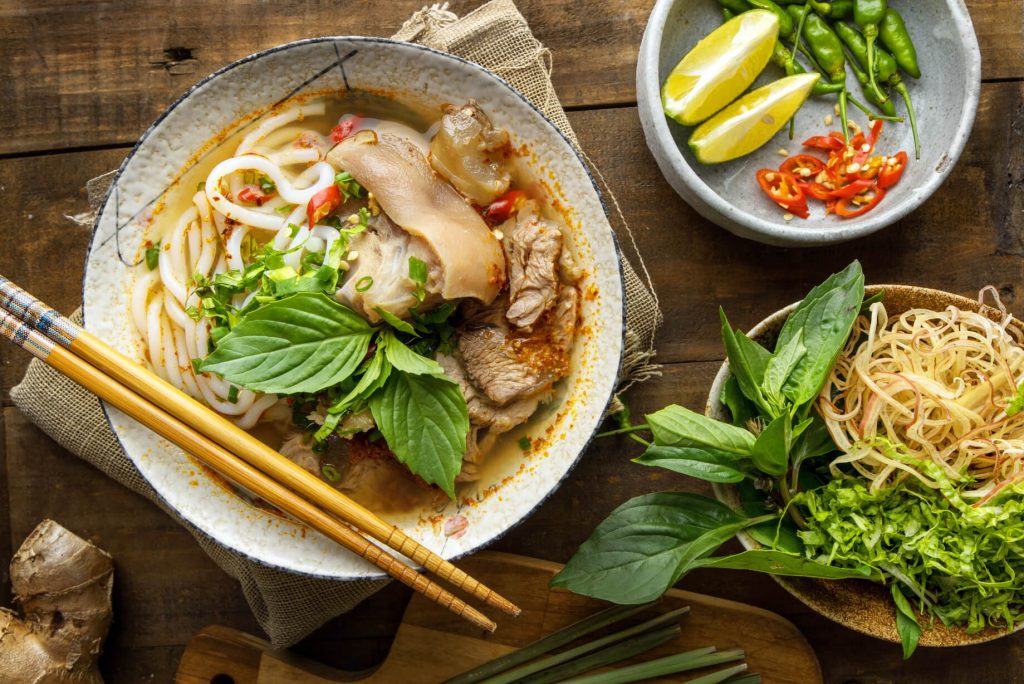 One of the tastiest Vietnamese noodle soup dishes, the bun bo hue awakens your taste buds with its spicy kick. This Central Vietnam special is typically loaded with rice noodles, beef shank, and sometimes pork and even pig's blood. The broth is brimming with flavors from shrimp paste, lemongrass, and fish sauce. Plus, accompanying the warm bomb of sate or chili oil are Thai basil and lime juice. 
Recipe for Inspiration: Spicy Vietnamese Beef Noodle Soup (Bun Bo Hue)
Crab Noodle Soup (Bun Rieu)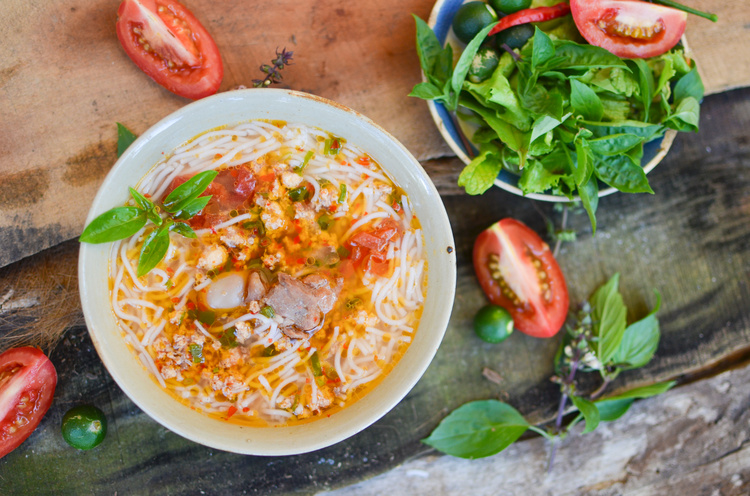 If you want more Vietnamese soup recipes, then this traditional rice noodle will make you perk up. It boasts rich flavors from tomatoes, crab-shrimp balls, and tofu. But, there are also versions that feature fish and small shellfish. Its stock can be made from chicken or pork bones and flavored with fermented shrimp paste. Of course, it will not be complete without bean sprouts and lime juice. If you're fond of seafood, then this comforting soup is definitely your match.
Recipe for Inspiration: Vietnamese Crab and Pork Noodle Soup (Bun Rieu)
Braised Pork with Eggs (Thit Kho)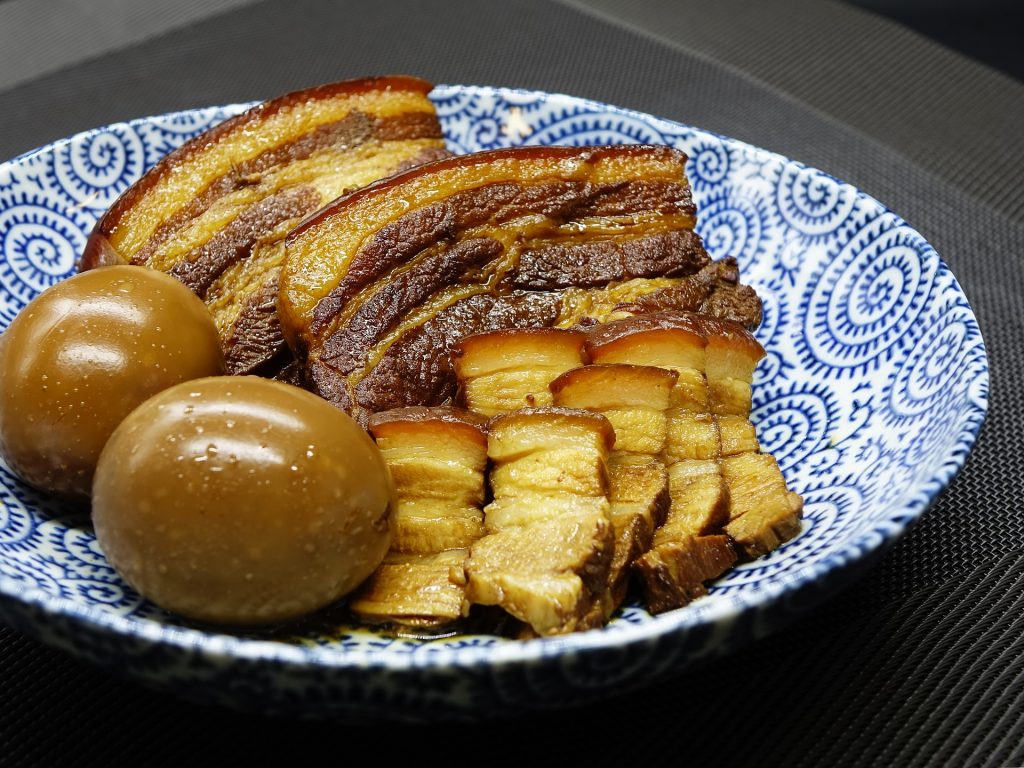 So simple yet so delicious is how to describe this traditional Southern Vietnamese dish. The household comfort food serves tender pork and egg in a rich coconut caramel sauce. Have it over a bed of rice for a filling lunch.
Recipe for Inspiration: Vietnamese Braised Pork with Eggs (Thit Kho)
Three Color Dessert (Che Ba Mau)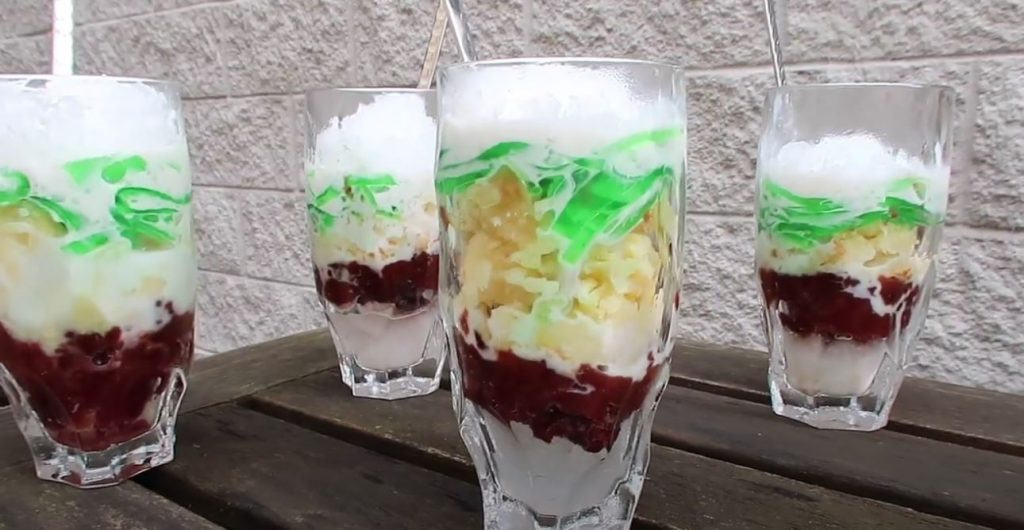 Satisfy your sweet tooth with this tri-colored dessert from Vietnam. It has layers of red beans, mung beans, pandan jelly, and coconut sauce for a mouthful of flavors. Then, all of that is topped with ice to keep you refreshed and cooled from the summer heat.
Recipe for Inspiration: Che Ba Mau
---
Easy Vietnamese Recipes for Beginners
Just beginning to make your way in the kitchen? Or looking for something that requires little to no effort? From Vietnamese side dishes to slow-cooked stews, these no-fuss recipes are perfect if you're busy or just a beginner home cook!
Vietnamese Iced Coffee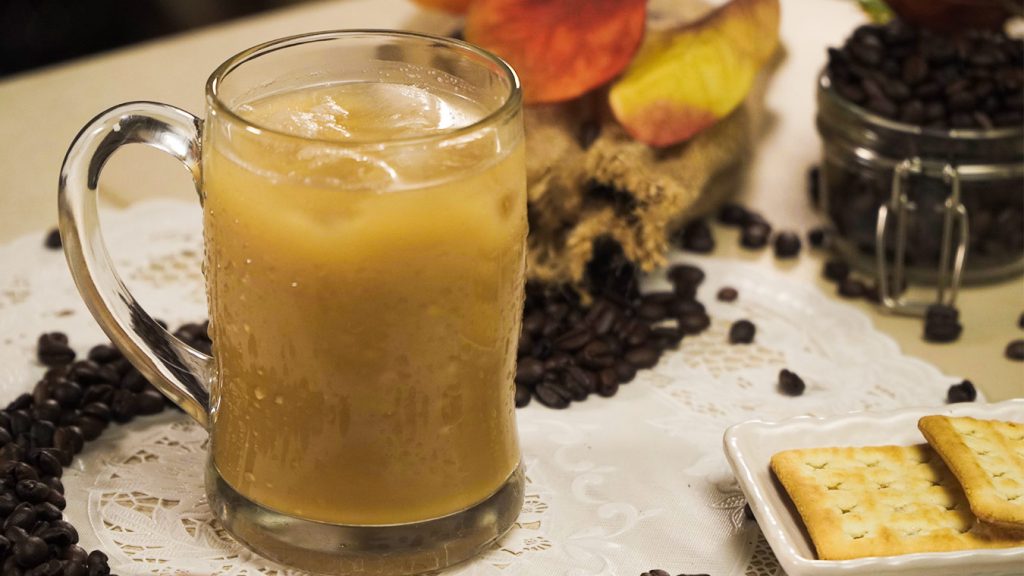 In need of a caffeine boost? Then this creamy beverage is perfect for you. There are many types of coffee out there, yet this Southeast Asian take on the iced drink does not disappoint. It offers strong flavors and high caffeine content to help you stay awake.
Vietnamese coffee is usually brewed in low heat for 15 minutes to achieve that deep and concentrated hint. It is complemented with sweet tones of condensed milk and served with ice to result in a strong and invigorating drink.
Recipe for Inspiration: Vietnamese Iced Coffee
Vietnamese Beef Stew (Bho Kho)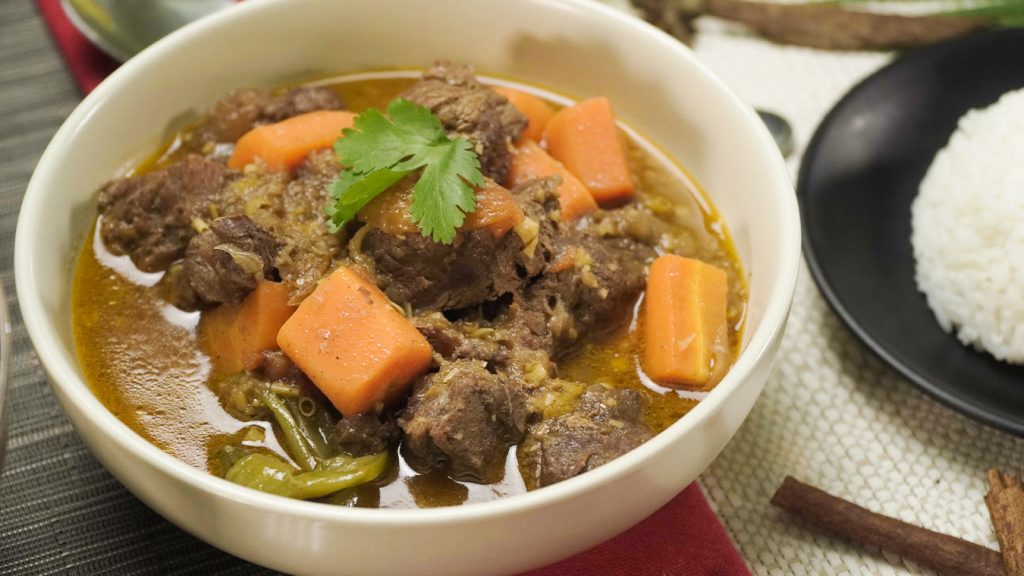 Packed with juicy and fall-apart slices of beef, the aroma of this slow-braised Viet food is enough to tempt your diet. Tender beef chunks are marinated in Vietnamese fish sauce, five-spice powder, and brown sugar for a delicious bite. Furthermore, the tomato-based sauce has an amazing smell thanks to the use of lemongrass, star anise, and cinnamon.
Perfect with rice, baguette, or rice noodles, enjoy a spicy bowl of this classic dish that's garnished with cilantro. 
Recipe for Inspiration: Vietnamese Braised Beef Stew "Bo Kho" 
Grilled Pork Noodles (Bun Thit Nuong)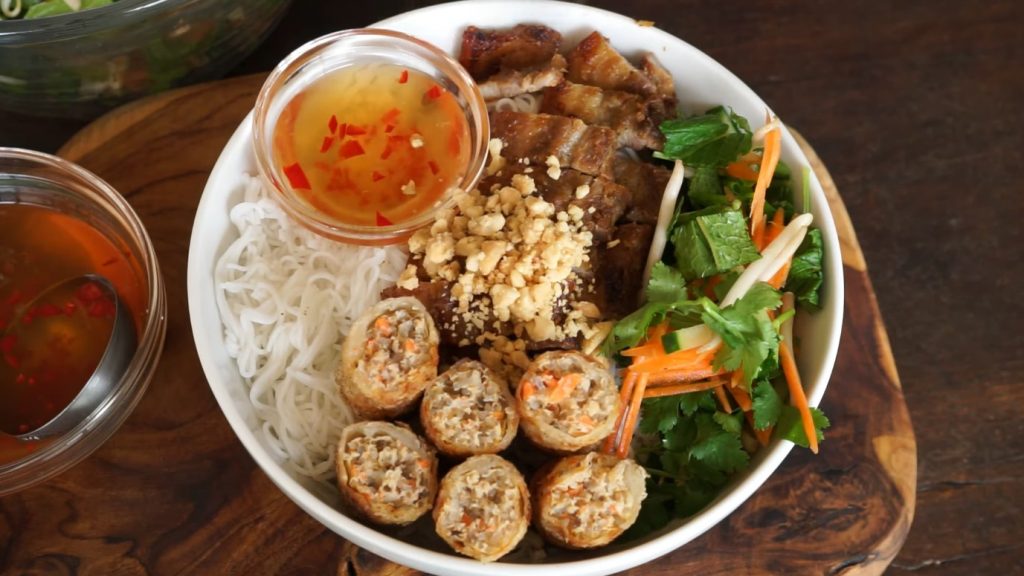 The ultimate Southern Vietnamese food, bun thit nuong offers a feast in just one bowl. It's made with tender grilled pork marinated with lemongrass, soy sauce, and fish sauce. This scrumptious dish comes with soft vermicelli noodles and fresh vegetables like cucumber and lettuce. It also features nuoc cham dressing for a blanket of flavors.
Recipe for Inspiration: Bun Thit Nuong
Vietnamese Pork Chops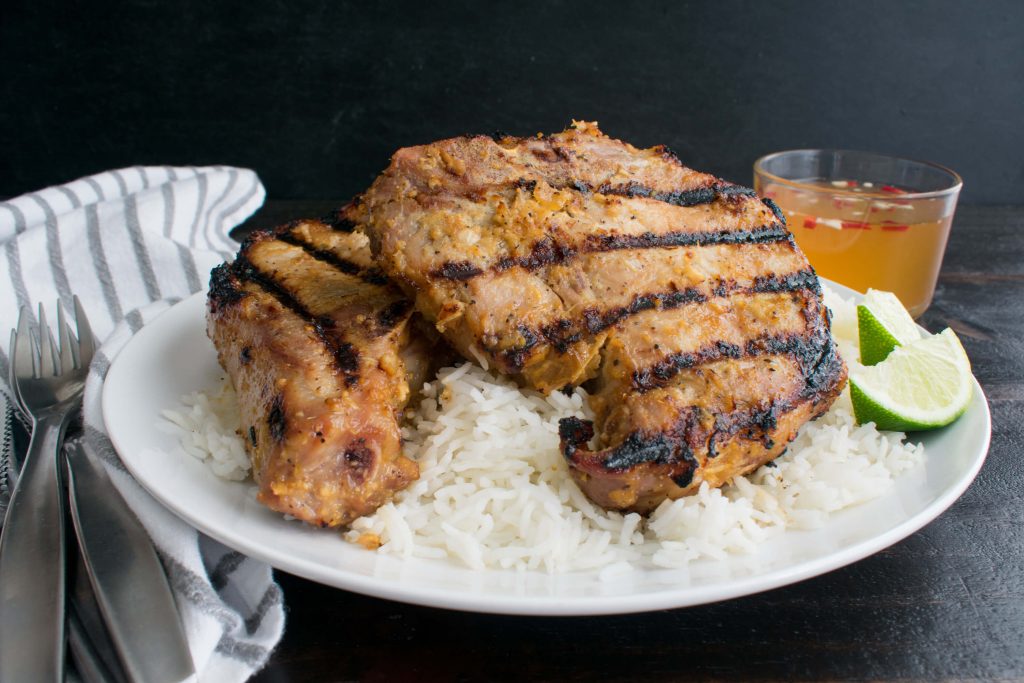 This popular Vietnamese meat dish is easy to find in restaurants and easy to make at home as well! All you need are common pantry ingredients, such as soy sauce and rice wine, to create your own version. It offers juicy and perfectly smoky pork loin chops that highlight sweet and savory hints from its marinade. So if you're on the lookout for a simple pork Vietnamese recipe, stop now as this might be the one you are looking for.
Recipe for Inspiration: Vietnamese Pork Chops
Vietnamese Noodle Salad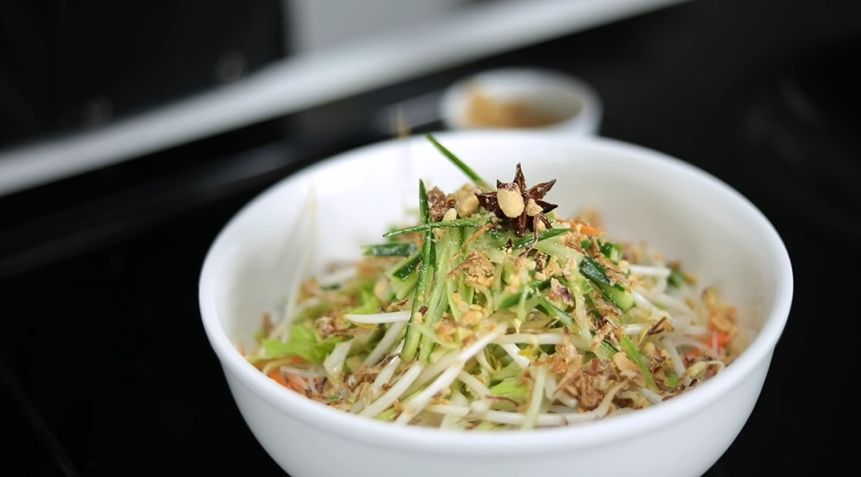 Wondering what to make for lunch? This rice noodle salad is a lifesaver! Using ingredients in your pantry and a quick trip to the supermarket, this Vietnamese food can be on your table in just a few minutes. Fresh veggies and herbs are tossed in a savory and sour dressing for this healthy side dish. You can never go wrong with this no-sweat recipe that has great textures and is rich in flavors.
Recipe for Inspiration: Saigon Noodle Salad
Vietnamese Fried Rice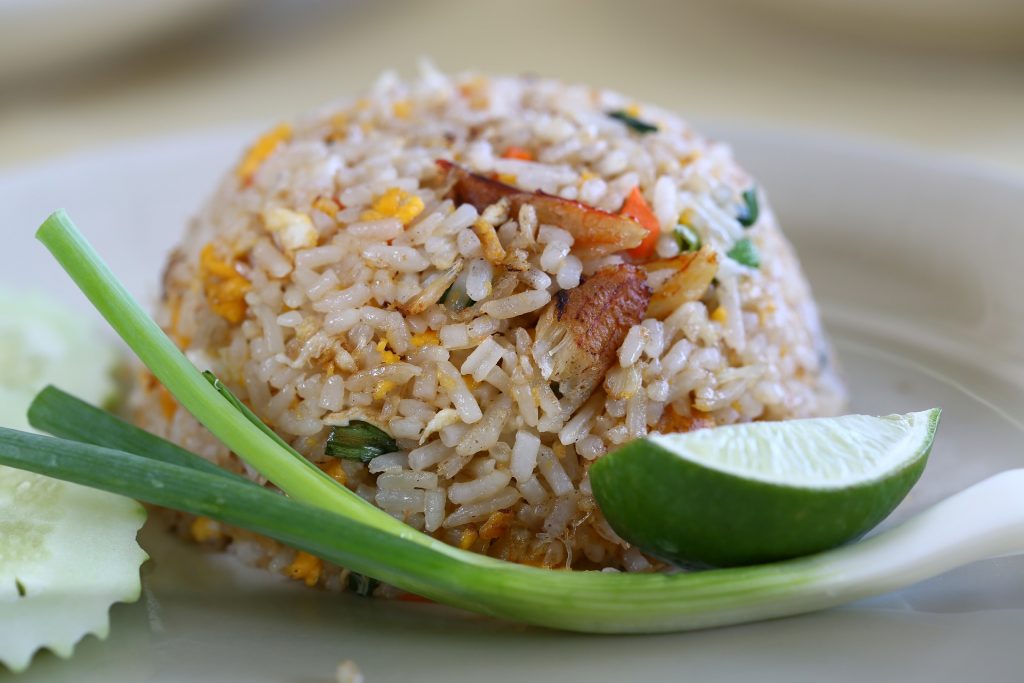 Just like most Asian countries, rice is an essential ingredient in Vietnamese recipes. Versatile and simple, you can pair it with almost anything. But in this easy dish, you can serve it with any protein or eat it as it is.
One of the easiest Vietnamese side dishes, this Southeastern take on fried rice combines eggs, lemongrass, and sweet peas. This recipe is also brimming with meat using Chinese sausage and pork strips. Plus, the ever-reliable fish sauce and lime juice just adds a certain depth to it.
Recipe for Inspiration: Vietnamese Fried Rice
---
Vegetarian Vietnamese Recipes
While Vietnamese cuisine is healthy even with meat, you might still want options without them. Well, search no more and continue reading for more nutritious recipes that anyone will surely enjoy.
Vegetarian Pho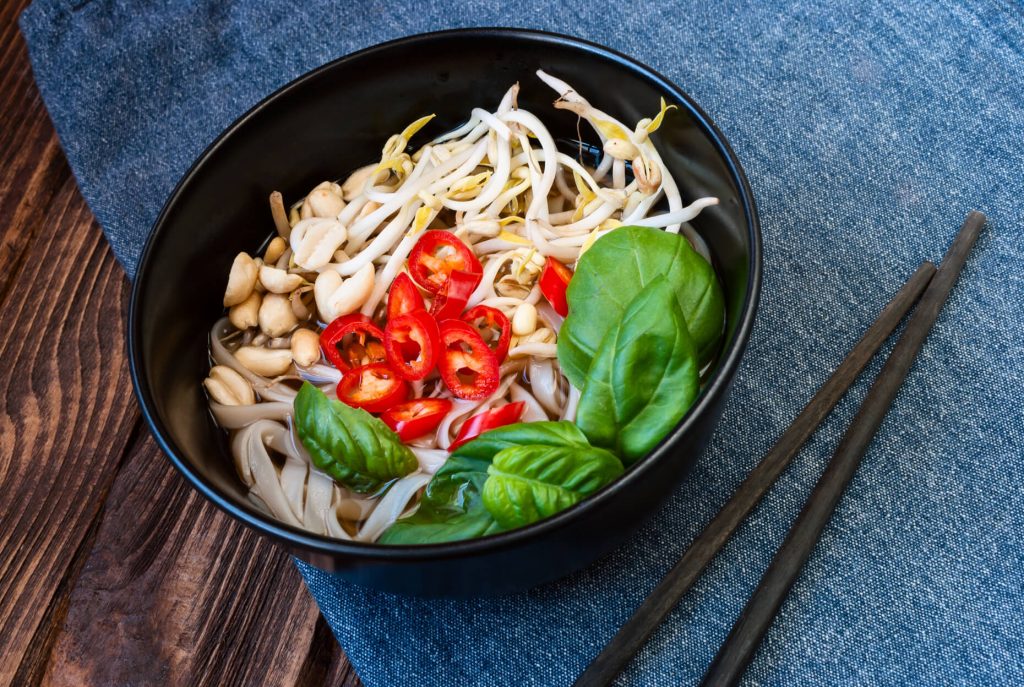 Craving the flavors of Pho but want a meatless option? Then this vegetarian pho is the way to go! Its vegetable broth is oozing with hints of toasted cinnamon sticks and star anise. The rice noodles are then topped with green onions, veggies, and more fresh herbs for a tummy soothing bowl.
Recipe for Inspiration: Vegetarian Pho
Vegetarian Spring Rolls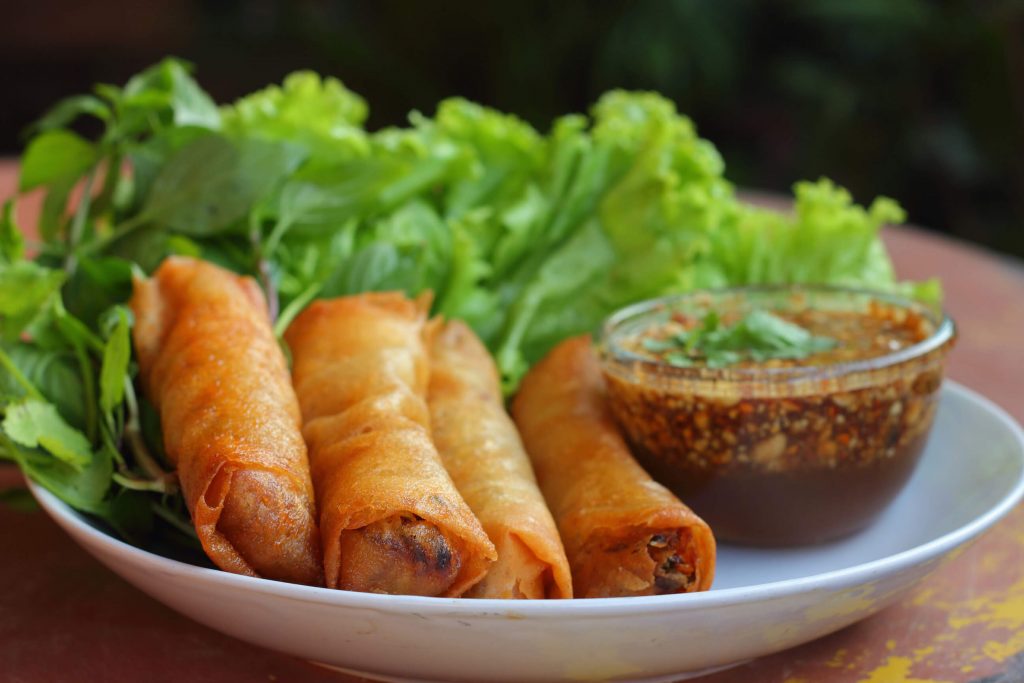 Light, fresh, and packed with flavors, this Vegetarian twist on this traditional Vietnamese food does not disappoint! The tender-crisp cabbage and bamboo shoots are rich in flavors coming from mirin and soy sauce marinade. What's more, it comes with a tasty nuoc cham sauce too.
Recipe for Inspiration: Spring Rolls
Tofu Banh Mi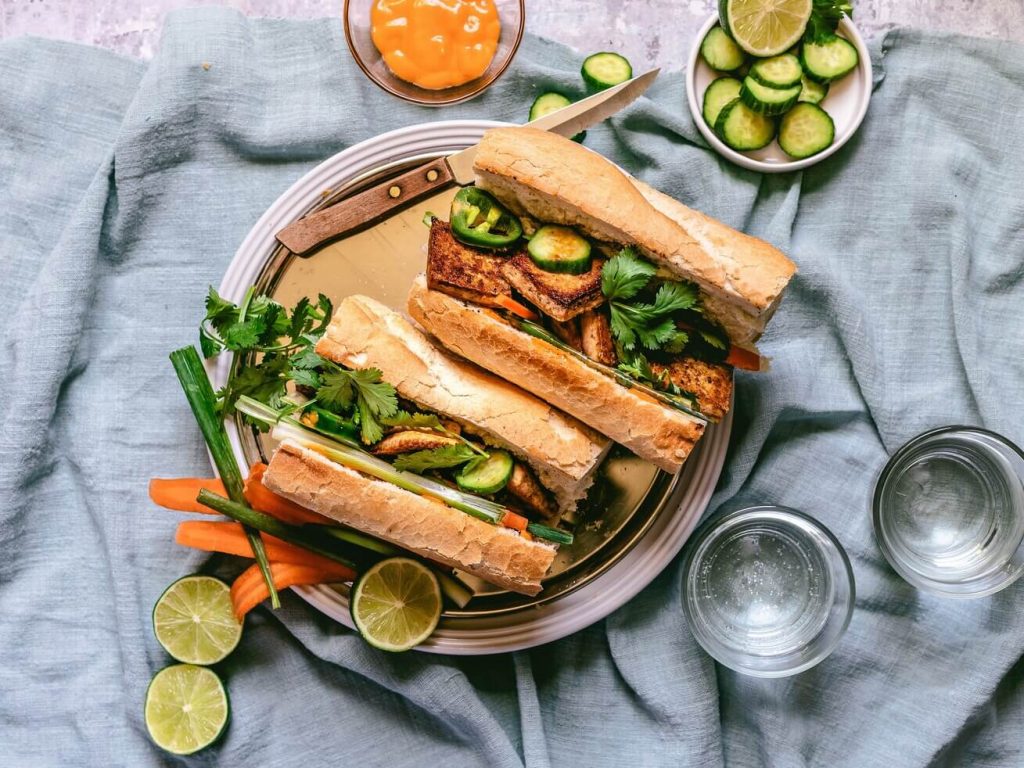 Don't underestimate the power of tofu in this non-meat version of the classic Vietnamese sandwich. The golden-brown filling has hints of tamari, lime juice, and garlic as well, all forming a tasty bite. Aside from the chewy tofu, the airy baguette comes with pickled veggies, cilantro, and vegan mayo for a filling lunch.
Recipe for Inspiration: Tofu Banh Mi