Tired of eating bland, tasteless leftovers? Don't worry, our Cheesy Steak And Potato Casserole Recipe is the answer to saving leftovers sitting in the fridge right now. With ingredients like potatoes, sour cream, and milk, we'll save your leftover steak and turn it into an even better dish! Now, eating leftovers won't be a chore, but an exciting eating experience that can cheer up anyone's hungry tummy. Our casserole recipe will bring life back to that cold leftover steak in no time.
Casseroles have existed in many different places, and many cultures have their own version of the dish. In fact, the term casserole actually has two meanings: it can either be the large, deep-pan used for cooking, or the dishes cooked inside it! But to be clear, when someone says casserole, they usually mean "baked dish". Some of the first versions of this dish was made with rice. But now, it's known for its use of meat, vegetables, and starchy ingredients, like potatoes, flour, or even pasta. And it's no wonder why the dish has become a staple food, especially in the United States. Its hearty taste and filling ingredients have never failed to satisfy.
Casseroles are the ultimate comfort food. That's because their warm and full ingredients are not only easy to find, they're easy to make too. So, our Cheesy Steak And Potato Casserole Recipe is the perfect answer to your family's dinner meals. Just pop it in the oven, and after an hour or so, get ready to eat to your heart's content! And to top it all off, try our delicious Grilled California Asparagus with Romesco Sauce!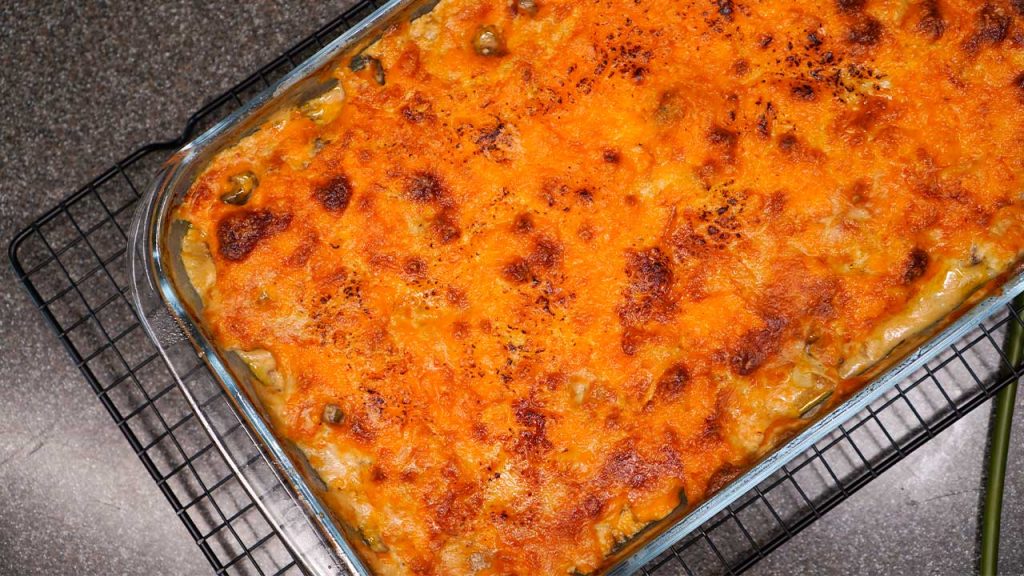 Cheesy Steak And Potato Casserole Recipe
How To Make Cheesy Steak And Potato Casserole
Give cold leftover steak a whole new twist by baking it with chewy potatoes and soft cheese. Now this is a delicious and savory cheesy steak and potato casserole you just have to make!
Ingredients
1

tbsp

olive oil

1

cup

onion,

diced

3

garlic cloves,

minced

3

cups

steak,

cooked, chopped

1

cup

cream of mushroom soup

1

cup

sour cream

1¼

cups

milk

salt and pepper,

to taste

6

potatoes,

peeled and diced into small pieces

1½

cups

cheddar cheese,

shredded
Instructions
Preheat oven to 350 degrees F.

While oven is heating, pour olive oil in a skillet. Sauté onion and garlic until soft.

Transfer to bowl, then add cream of mushroom soup, sour cream, milk, salt, and pepper. Whisk until well-combined.

Grease casserole dish evenly with cooking spray. Then, layer steak and potatoes. Pour cream mixture evenly on top.

Sprinkle cheddar cheese and place in oven to bake for 1 hour, or until golden brown layer of crust appears at the top.

Serve and enjoy!
Recipe Notes
If this is your first time making a casserole, we advise that you stick to the instructions provided in this recipe. Once you've achieved the taste that's up to your liking, you're free to substitute the ingredients and find alternative ways in making an improved version of this dish. 
Also, be wary of the kind of material your casserole pan is made of. This can have an effect on the time it needs to cook. Stoneware and ceramic casserole pans take longer to cook, compared to glass or metal. It's best to check your casserole to make sure it's not overcooked or undercooked.
Nutrition
Sugar:

7g

:

Calcium:

427mg

Calories:

753kcal

Carbohydrates:

61g

Cholesterol:

129mg

Fat:

39g

Fiber:

6g

Iron:

5mg

Potassium:

1636mg

Protein:

43g

Saturated Fat:

20g

Sodium:

609mg

Vitamin A:

622IU

Vitamin C:

58mg
Nutrition Disclaimer
Commonly Asked Questions
Do you cover a casserole in the oven?
The rule of covering your casserole dish depends on the ingredients used and the recipe you're following. While some recipes indicate so, most don't. There's no need to cover your cheesy steak and potato casserole for this recipe since we're using cooked or leftover steak. Also, not covering the dish when baking gives it a golden-brown crust at the top. However, if you try other recipes that include pasta, or rice and grains, it's important to have the pan covered during baking time.
How do I make a casserole without a casserole dish?
Not having a casserole dish shouldn't hinder you from making this delicious meal. Instead, try substituting it with other baking dishes, such as a baking pan or an oven-safe Dutch oven, or even a sauté pan.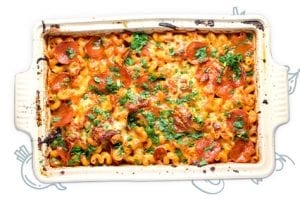 Conclusion
Casseroles are a wonderful go-to idea for dinners and for saving meat leftovers. Our Cheesy Steak and Potato Casserole Recipe shows you an easy way to cook this meal, and guarantees you a satisfying eating experience that will bring warmth and comfort. Experiment with different meats, vegetables, and starchy ingredients that can bring life back into cold leftovers. Feel free to explore our other delicious and easy-to-make casserole recipes. You just might find the perfect casserole recipe that'll excite friends and family.
Topics: