Sometimes, having leftovers can be a hassle: it's not the same as when it was newly cooked. Sure, you can heat up these leftovers. However, more often than not, it no longer tastes good.
If you're tired of your usual leftovers, you have come to the right place. Read on and discover what you can do to put a twist to your leftovers and make it appetizing and delicious again.
This Cheesy Steak and Potato Casserole recipe is easy and will not take much of your time. If you have leftover steak from yesterday's dinner, then it's time to make it into a hearty casserole dish. Add some tender potatoes and some cheesy goodness to give your food some life and color.
How To Make Cheesy Steak And Potato Casserole
In this recipe, we give your leftover steak a whole new twist by pairing it with some potatoes and cheese, and turn it into a delicious savory casserole.
Ingredients
1

tbsp.

olive oil

1

cup

onion

diced

2

cups

garlic

minced

2

cups

cooked steak

chopped

1

cup

cream of mushroom soup

1

cup

sour cream

1 ¼

cup

milk

1

tbsp.

Salt

to taste

1

tbsp.

pepper

to taste

6

pieces

potatoes

peeled and chopped

1 ½

cup

cheddar cheese

shredded
Instructions
Before you begin making your cheesy steak and potato casserole, preheat oven to 350°F.

While your oven is heating, in a skillet, pour in olive oil and sauté onion and garlic until softened.

Transfer to a bowl and add in cream of mushroom soup, sour cream, milk, salt, and pepper; whisk until well combined.

Take a cooking spray and evenly grease your casserole dish. You may then layer the steak and potatoes, and pour cream mixture evenly on top.

Sprinkle on some cheddar cheese and pop it in the oven to bake for 1 hour or until it shows a nice golden brown layer of crust at the top.
Recipe Notes
If this is your first time making a casserole dish, we advise that you stick to the recipe provided. Once you get the taste to your liking, you're free to try out other substitutes and alternatives to improve your version of this dish. 
Be wary of the kind of material your casserole is made of. This can have an effect on the time it needs to cook. Stoneware and ceramic casseroles take longer to cook, compared to glass or metal. Best to check on your casserole now and then to ensure it's not overcooked or undercooked. 
Nutrition Facts
Calories:
382
kcal
|
Carbohydrates:
18
g
|
Protein:
23
g
|
Fat:
25
g
|
Saturated Fat:
13
g
|
Cholesterol:
79
mg
|
Sodium:
1148
mg
|
Potassium:
475
mg
|
Fiber:
1
g
|
Sugar:
4
g
|
Vitamin A:
462
IU
|
Vitamin C:
12
mg
|
Calcium:
299
mg
|
Iron:
2
mg
Commonly Asked Questions
Do you cover a casserole in the oven?
The rule to cover a casserole depends on the ingredients included in your casserole dish. Since we're using cooked or leftover steak, there's no need to cover the casserole dish. This gives it a golden-brown crust at the top. However, if you try other dishes that may include pasta, rice or grains, make sure to have them covered during the baking time. 
How do I make a casserole without a casserole dish?
Not having a casserole dish shouldn't hinder you from making this delicious meal. Instead, try substituting it with other baking dishes, a baking pan or an oven-safe Dutch oven or sauté pan. Just make sure to double-check on the size of your dish or pan so you can make the necessary adjustments to the cooking time of your casserole.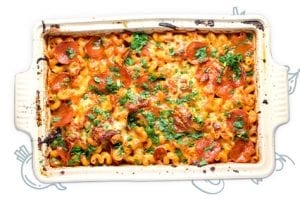 Conclusion
Casseroles can ba a great go-to idea for your leftovers. This is an easy method to do that guarantees you a scrumptious meal that makes you forget about your leftovers. What's great about casseroles is that you can experiment with different meats, vegetables and pastas that can turn your boring and bland leftovers into a magical meal.
Feel free to explore our other casserole recipes that will surely solve your leftover problems. Who knows, you might even find some spot-on dishes you'll be excited to make for your family and friends.