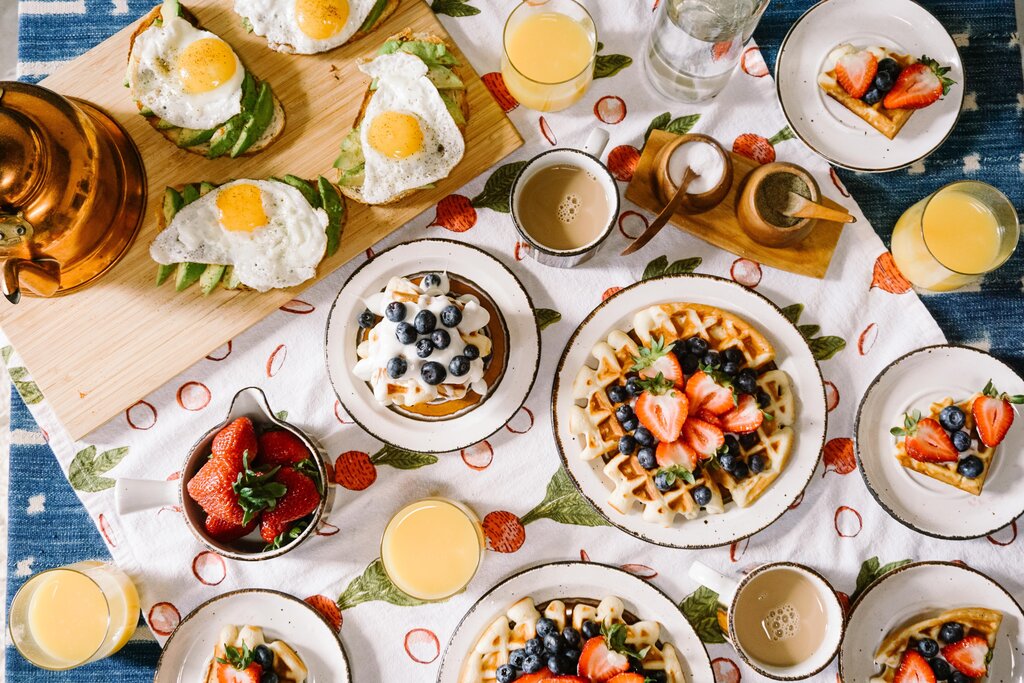 27 Easy Breakfast for Dinner Ideas The Whole Family Will Love
Think your dinner rotation is becoming repetitive? Well, you are not alone in this dinner woe. Thankfully, there's a plethora of breakfast for dinner ideas you can enjoy with some amazing decaf coffee that will unshackle you from your recipe rut!
Without further ado, here are 27 easy and delicious breakfast dishes moonlighting as delightful, filling dinners. These breakfast-dinner ideas are guaranteed to perk up your dinner game!
---
Easy Breakfast for Dinner Ideas with Eggs
Eggs wear too many hats in the kitchen. They make for the best protein-packed and delicious breakfast meals among other things. Here are the best breakfast egg recipes that you can try tonight:
Scrambled Eggs
Fluffy scrambled eggs are the perfect breakfast idea, and so are buttermilk waffles. Well, you are in for a treat as this IHOP-inspired recipe features two delicious breakfast foods. If you want your eggs rich and creamy, incorporate heavy cream into the egg mixture. Meanwhile, for a healthier spin, top the waffles with blueberries or bananas. Being delicious and all, you can whip up this breakfast idea for dinner and call it a (flavorsome) night!
Recipe for Inspiration: IHOP Waffles and Scrambled Eggs Recipe (Copycat)
Frittata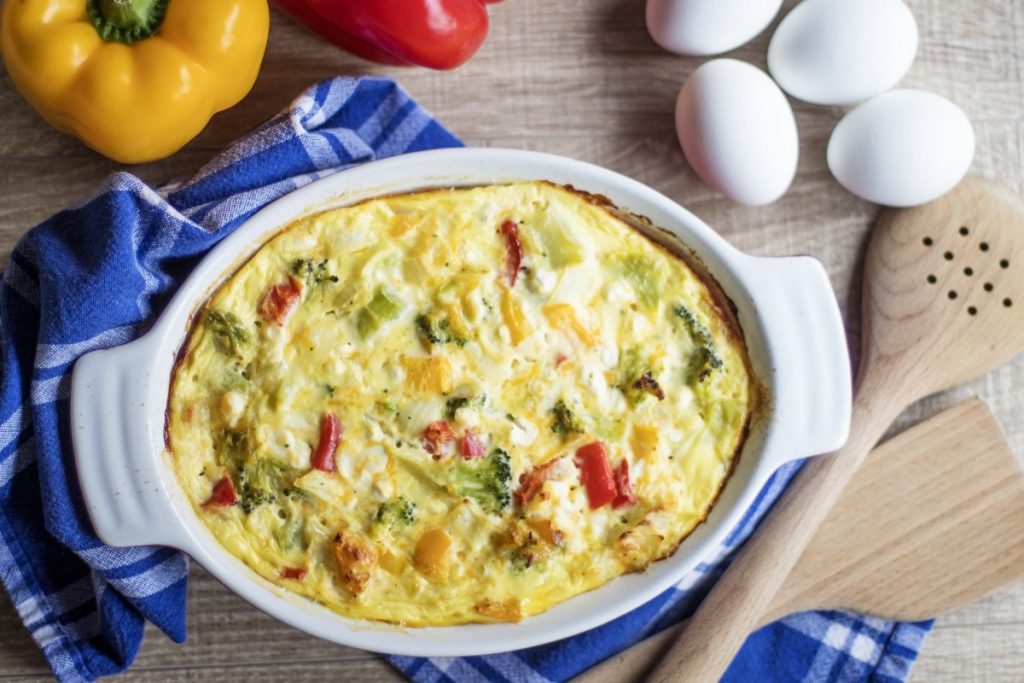 This frittata recipe has everything we love for breakfast: eggs, bacon, cheddar cheese, and mixed veggies. Another thing we cherish about this baked egg dish is you can serve this any time of the day. So, include this delicious breakfast meal in your dinner routine, especially if you also wish to bring Italian flavors to your dinner tables. 
Recipe for Inspiration: Easy Breakfast Frittata
Croque-Madame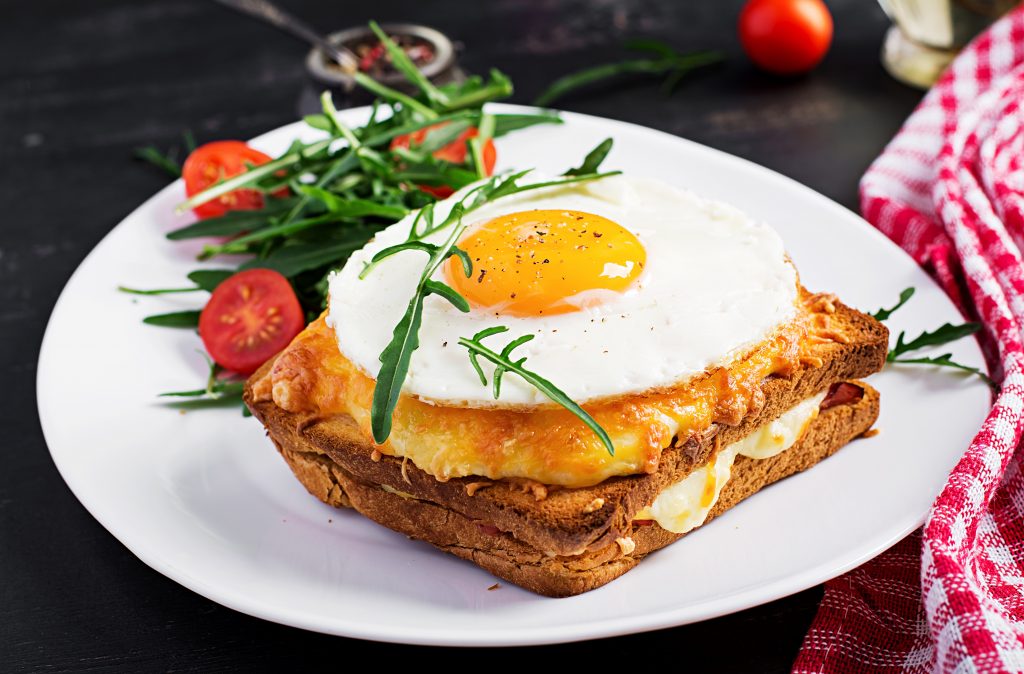 We are totally fine with ham and grilled cheese sandwiches for breakfast and dinner. But this time, we popped a fried egg on top of the sandwich for a filling French-style breakfast for dinner. Croque comes from the word croquer, which means to crunch in French. A befitting moniker, we must say, as you can hear a delicious crunch every time you bite down on this tasty croque madame.
Recipe for Inspiration: Easy Croque-Madame (Ham and Grilled Cheese Sandwich with Fried Egg)
Sunny-side-Up Eggs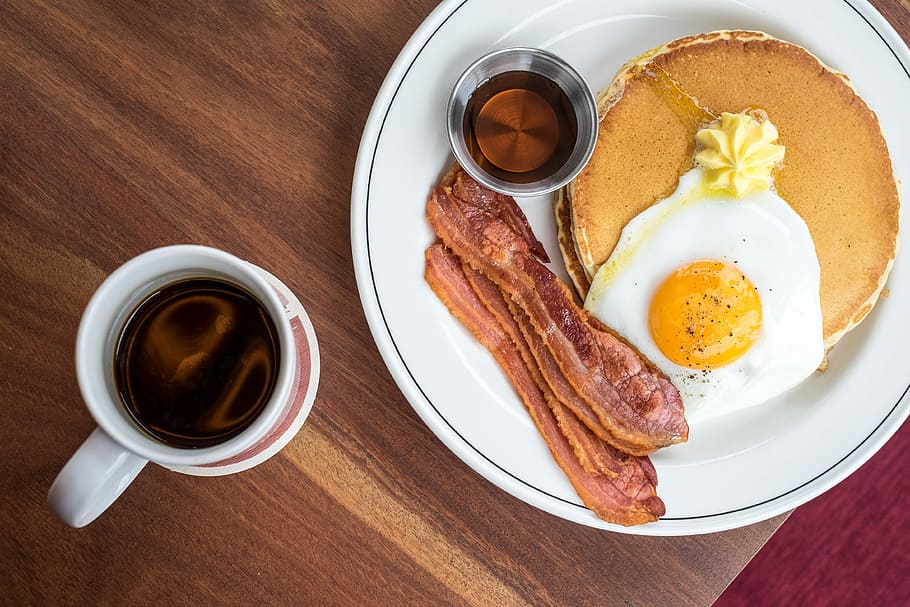 Are you thinking of ways to cook eggs for dinner? Consider this classic breakfast idea: sunny-side-up eggs! It may be one of the simplest foods to prepare, but still a delightsome meal to kickstart your day and end your night. We love it, especially when served alongside crunchy bacon and a stack of fluffy pancakes.
Recipe for Inspiration: Classic Sunny-side-Up Eggs with Bacon and Pancakes
---
Classic Breakfast Recipes for Dinner
Make these comfort food classics shine for dinner. You won't regret it! These breakfast recipes promise tastier weeknight dinners. Not to mention, these dinner ideas bring about a dose of nostalgia as some are most likely your favorite childhood comfort food.
Banana Bread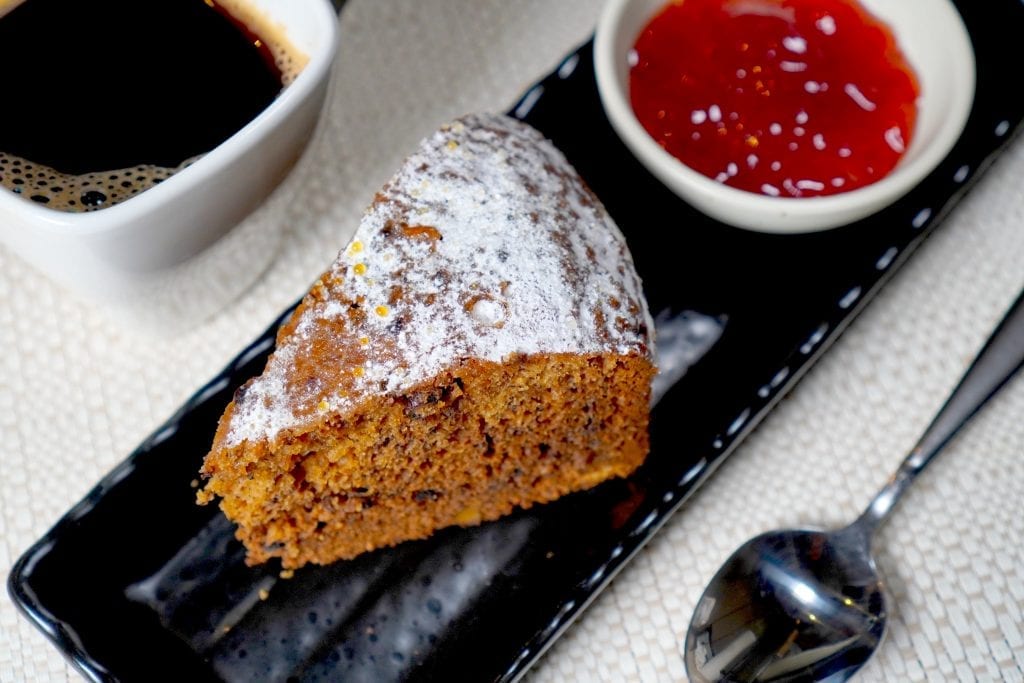 A sweet, moist bread topped with pecan nuts and chocolate chips for breakfast (and dinner) just feels right. Try your hand at this easy slow cooker banana bread recipe, and you'll see why we're smitten with it. Once you learn how easy this recipe is, you will reconsider your usual ways and bake banana bread using a slow cooker instead of the oven.
Recipe for Inspiration: Slow Cooker Banana Bread
French Toast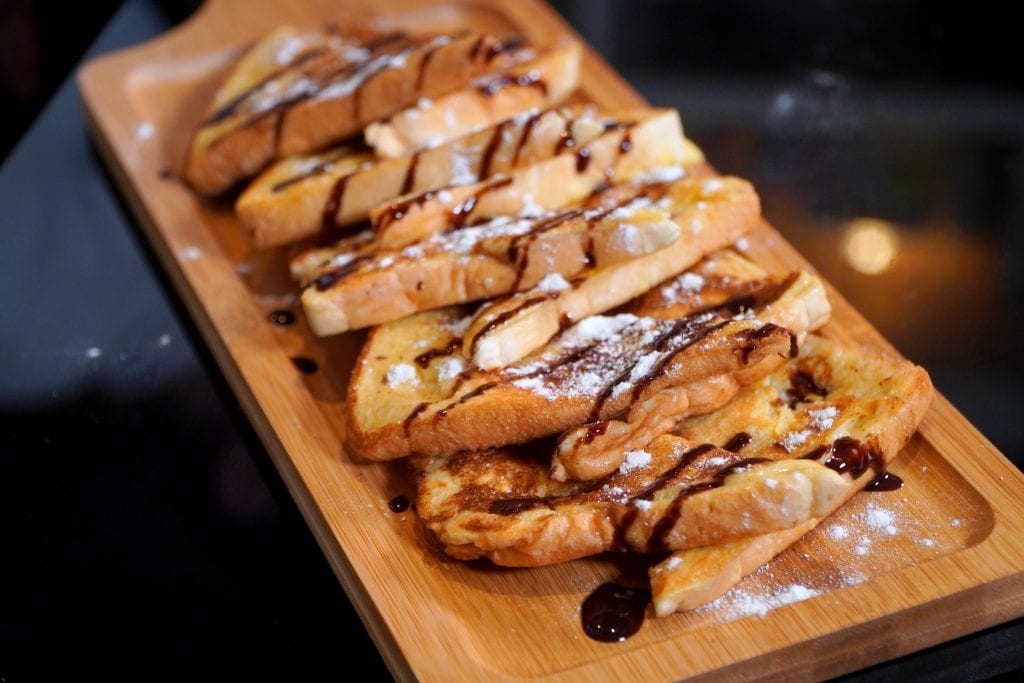 Sure, toasted bread in the morning seems nothing out of the ordinary. But when you top the toast with a drizzle of syrup and a sprinkle of powdered sugar, it's a godsend! The good news is, you can also enjoy such deliciousness at dinner time. Plus, this IHOP-style French toast recipe comes together in 40 minutes.
Recipe for Inspiration: Copycat IHOP French Toast
Fried Chicken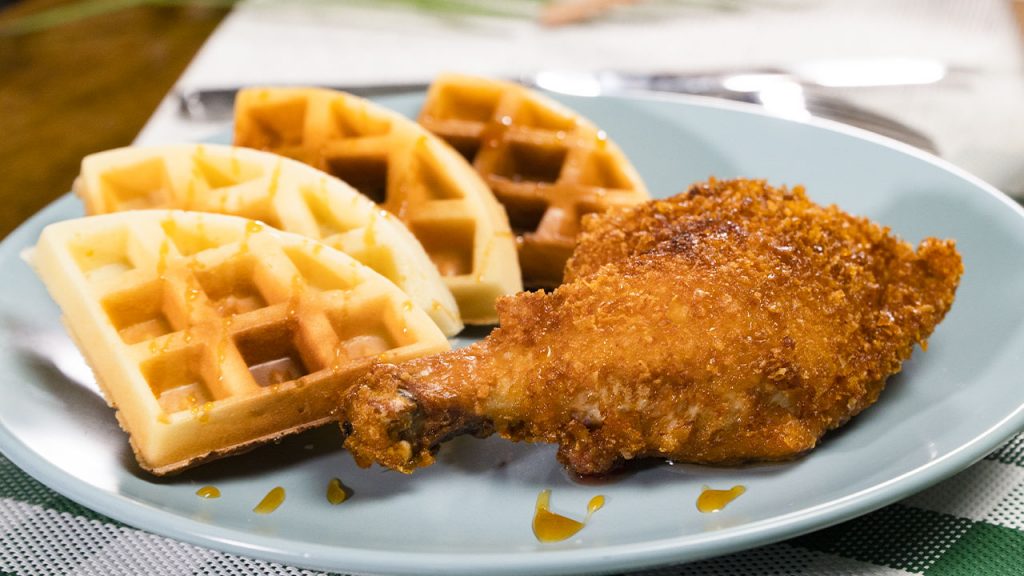 If ever you find yourself running out of dinner recipes and ideas, don't fret. You can't go wrong with yummy and simple breakfast ideas like this crunchy fried chicken. Besides, who can resist a crispy chicken over delightful waffles that are all covered in maple syrup? Not us.
Recipe for Inspiration: Baked Fried Chicken & Waffles
Souffle Pancakes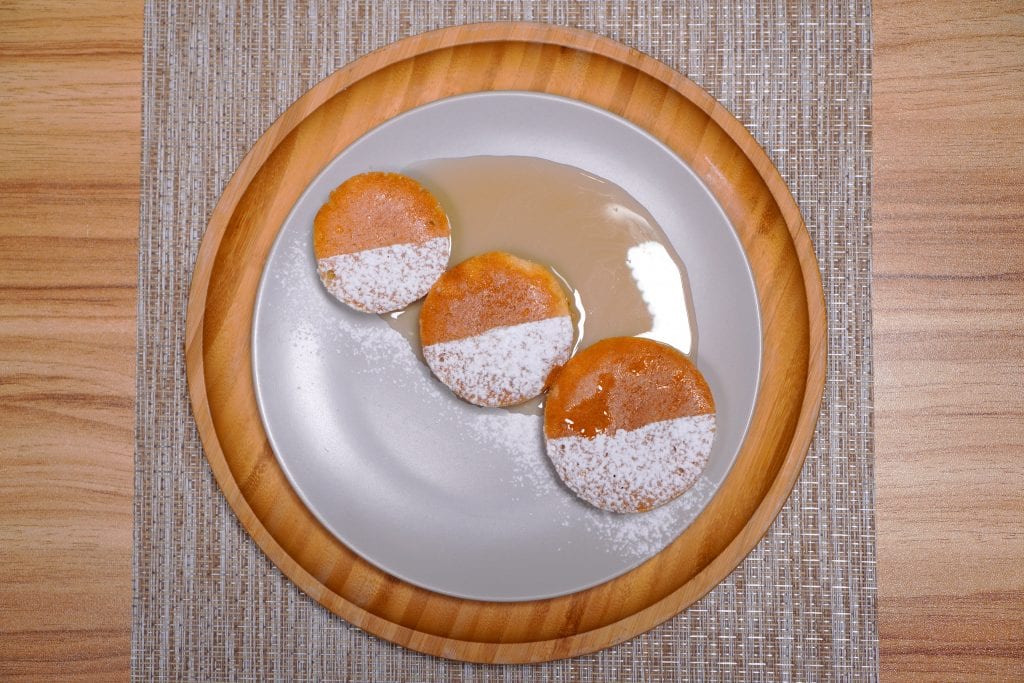 Pancakes are practically made for breakfast, so they say. But these souffle pancakes are so fluffy and melt-in-your-mouth delicious we'd eat them from breakfast to dinner! Remember to separate the yolks and egg whites when prepping the batter to achieve the fluffiness that makes this delightsome pancake recipe stand out from the rest.
Recipe for Inspiration: Souffle Pancakes
Breakfast Casserole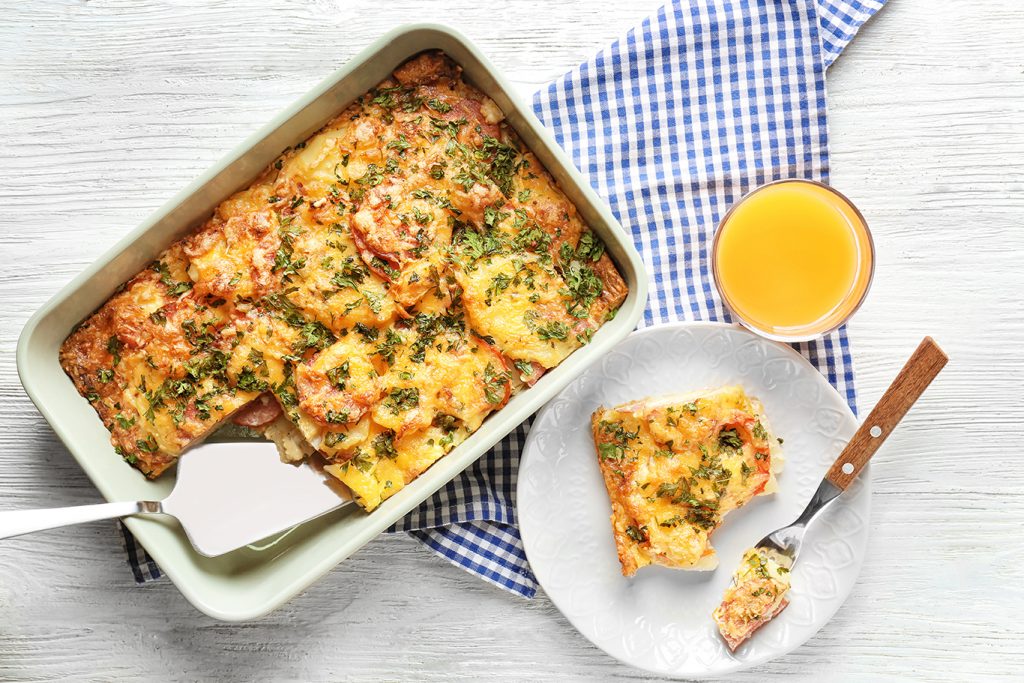 Let's start with how filling this healthy breakfast casserole is. And while there are many variations of this breakfast dish (some use hash browns and veggies), we made use of ground pork sausage in this particular casserole recipe. Once you try this meal, you will want to have it for dinner most of the time.
Recipe for Inspiration: Good Breakfast Casserole
Avocado Toast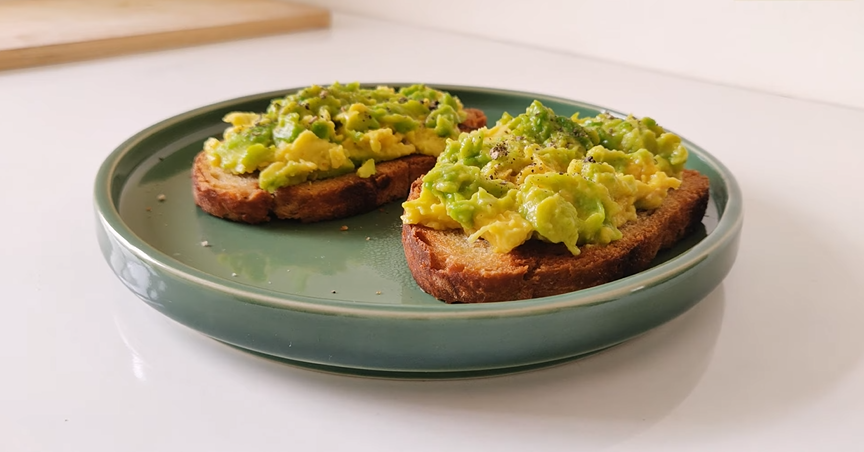 A well-toasted bread spread slathered with mashed avocado is what you need when you are too busy for a belly-filling yet complex dinner or breakfast meal prep recipes. The best thing about this classic breakfast idea is that it requires only easy-to-find ingredients. Not to mention, it only takes five minutes to prepare!
Recipe for Inspiration: Avocado Toast
Breakfast Burrito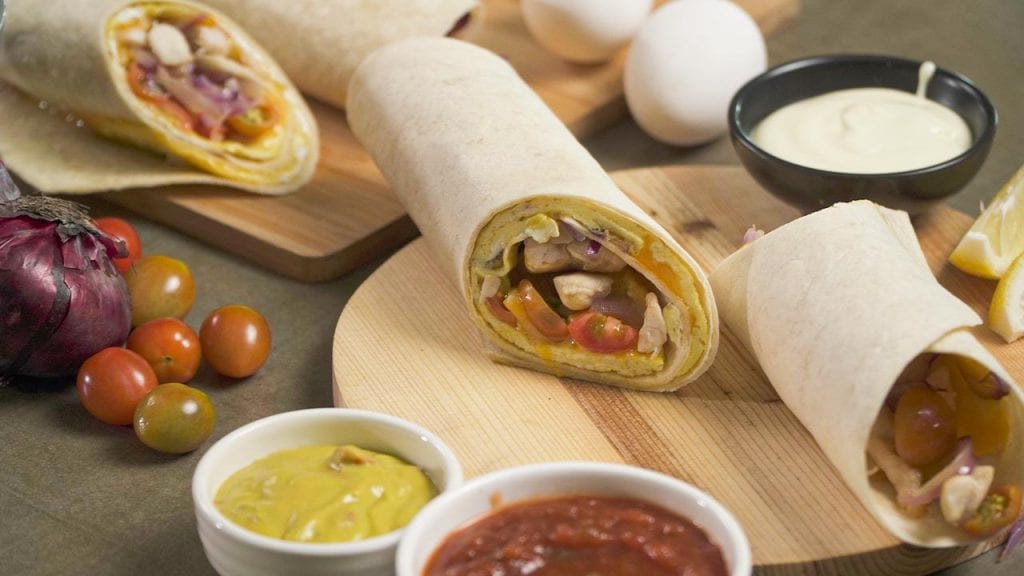 Need another reason why it's fun to serve breakfast for dinner? Think of a cheesy, flavorful chicken breakfast burrito for dinner. Besides the chicken tenders, this breakfast meal also consists of eggs, rice, veggies all wrapped in a tortilla. So, you can rest assured that this chicken burrito is just as delicious and as satisfying as the other dinner recipes. While you can serve this dish with any spicy salsa on the side, we think jalapeno salsa is a surefire way to round out this meal. 
Recipe for Inspiration: Copycat Chick-Fil-A's Chicken Breakfast Burrito
Egg Muffins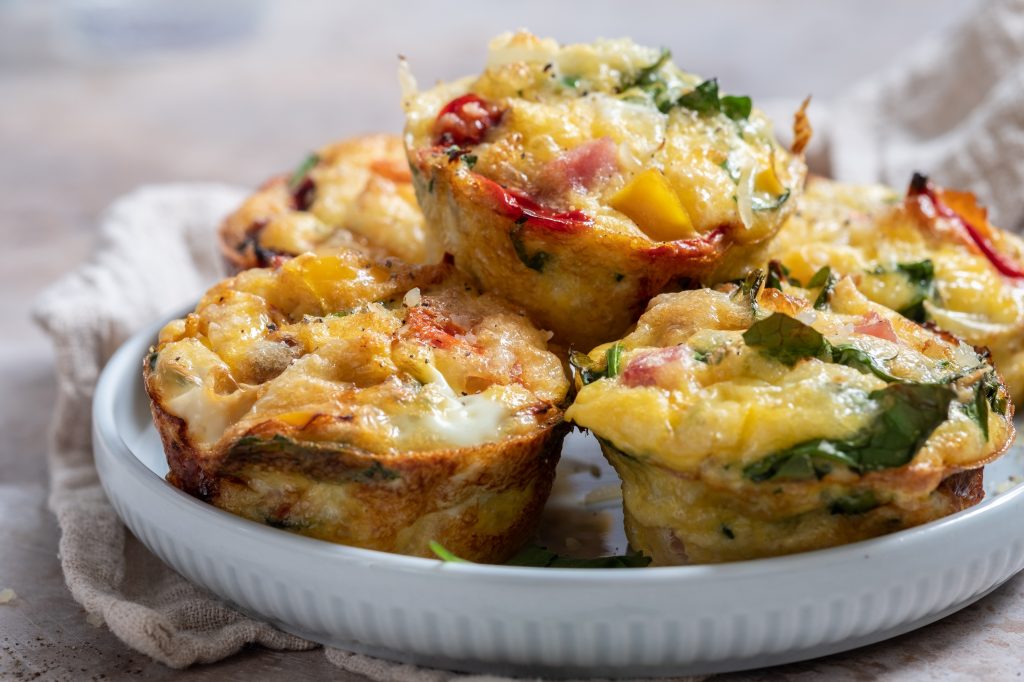 Need more breakfast for dinner ideas? Then you are sure to love these low-carb and filling breakfast egg muffins! This recipe showcases three different toppings: tomato spinach mozzarella, bacon cheddar, and garlic mushroom pepper. The icing on the cake here is that you only need 30 minutes to prepare such a flavor breakfast meal for dinner.
Recipe for Inspiration: Loaded Breakfast Egg Muffins
Breakfast Sandwich
Among the many breakfast food ideas inspired by McDonald's, their breakfast sandwiches just hit differently. This version features flavorful ham and crisp-chewy bagels. Although, the melted Cheddar cheese draping over the egg and ham is hands down the cherry on top. Perfect for busy weeknights, it does not take long to make this delicious breakfast sandwich.
Recipe for Inspiration: McDonald's-Inspired Breakfast Sandwich
---
Healthy Breakfast for Dinner Recipes
While breakfast meals are most welcome at your dinner tables, you'll also want to make sure that these dishes are both yummy and nutritious. So, here's a few healthy breakfasts for dinner ideas that everyone in the family will love. We promise you, these recipes don't fall short on delicious flavors!
Sweet Potato Waffles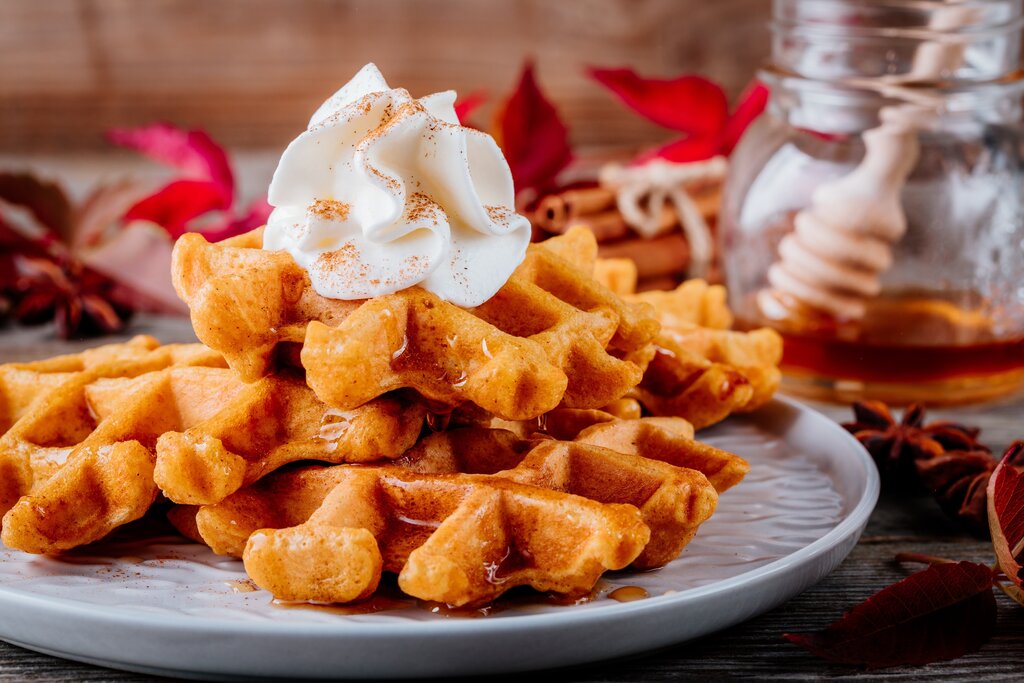 On nights when you are craving waffles but you're on a low-carb diet, whip up some sweet potato waffles instead. It's just as yummy as the regular ones! While these light and delicious breakfast foods usually require eggs, this recipe uses flax eggs instead. Besides the vegan egg substitute, the healthy ingredient list also includes sweet potatoes, gluten-free almond flour, and almond milk. And it's ready to serve in 25 minutes! 
Recipe for Inspiration: Sweet Potato Waffles
Eggs Benedict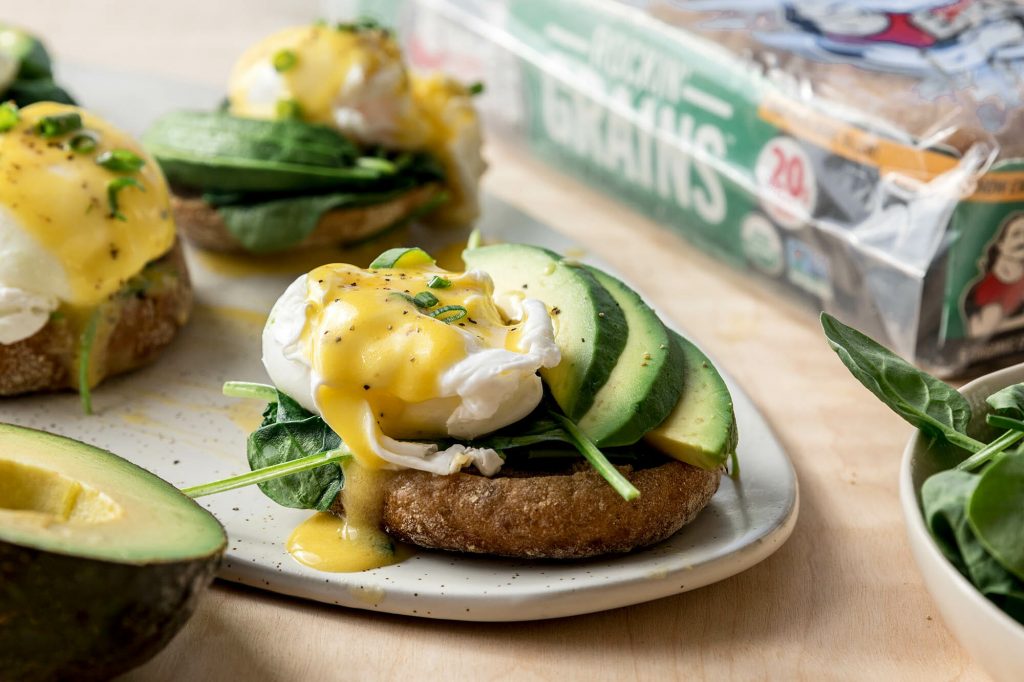 Looking for a vegetarian breakfast for dinner? We highly suggest this healthier version of eggs benedicts! Featuring sliced avocado, sautéed spinach, and Hollandaise sauce, you just know you're about to have a delicious and nutritious weeknight meal. And you won't have to wait for long as this recipe comes together in 25 minutes!
Recipe for Inspiration: Vegetarian Eggs Benedict
Hash Brown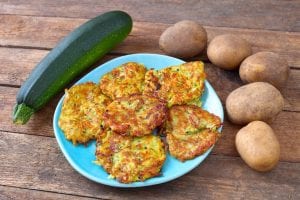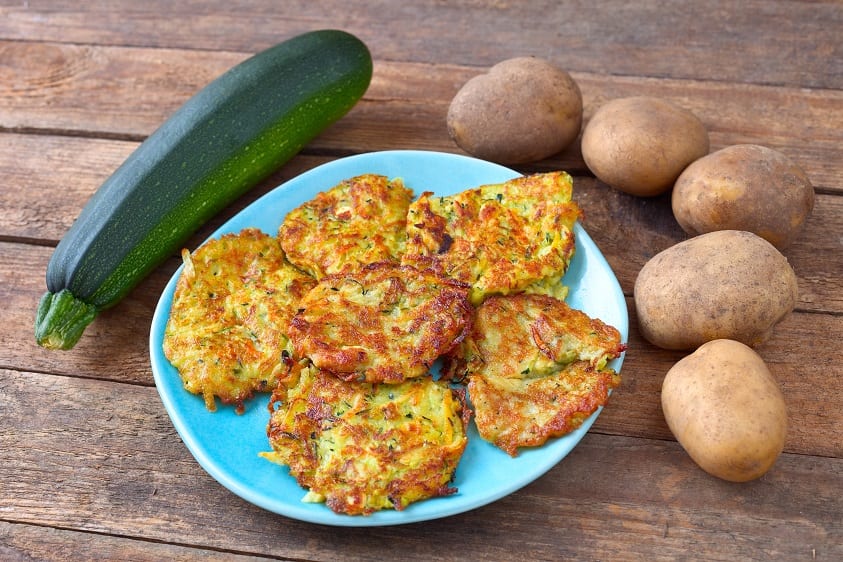 If you want to make breakfast for dinner, you can always start with zucchini hash browns. Although seemingly similar to tater tots and hash brown potatoes, this recipe, in particular, boasts keto-friendly ingredients. The beauty of this recipe is that you can incorporate other tasty ingredients like grated onions and cheese. 
Recipe for Inspiration: Breakfast Zucchini Hash Browns
Steel Cut Oats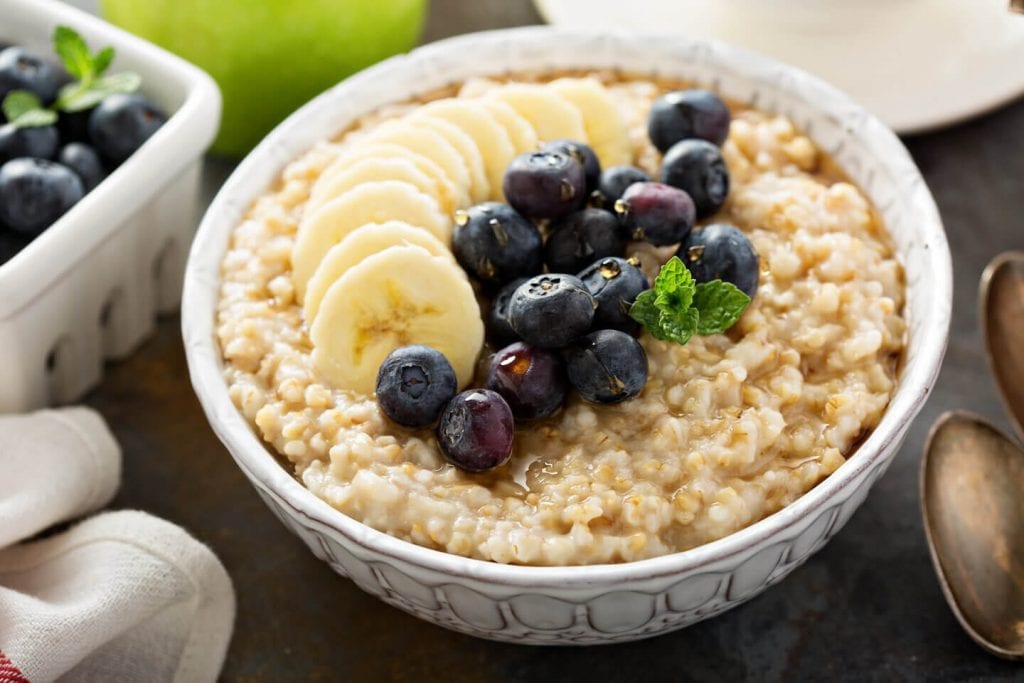 When you're busy, what you need is a quick and easy dinner inspiration. Well, there are lots of creative breakfast ideas that will take care of your dinner slump right off the bat, including this one. So, set up your instant pot for this 25-minute steel cut oats recipe. You can even be creative and top this breakfast dish with blueberries, bananas, and a dash of cinnamon.
Recipe for Inspiration: Instant Pot Steel Cut Oats 
Gluten-Free Pancakes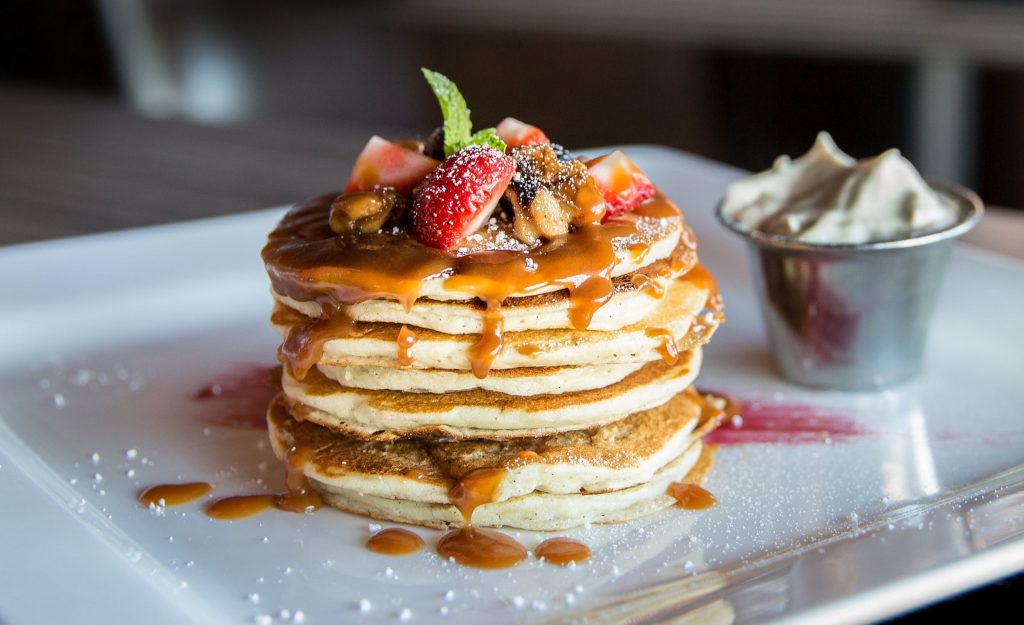 Perhaps pancakes are in everyone's breakfast menu ideas. But if you haven't realized it yet, they're not just for breakfast! This pancake recipe boasts a sweet and milky flavor. And it has all the fluffiness we love in a regular pancake, thanks to the buttermilk. Enjoy a delightful brinner in just 30 minutes! 
Recipe for Inspiration: Gluten-Free Buttermilk Pancakes
Hard-Boiled Eggs
On the prowl for some healthy meals for breakfast? Perfectly cooked hard-boiled eggs may sound too ordinary for some, flavorless even. But toss them together with wilted baby arugula and leek salad, and they deliver the right amount of nutrients and taste. The good news is, you can also have this healthy breakfast food during dinnertime! 
Recipe for Inspiration: Perfectly Hard-Boiled Eggs and Wilted Baby Arugula and Leek Salad
---
More Delicious Breakfast for Dinner Ideas
These simple breakfast recipes taste palatable just as well! Versatile as they are, prepare them whenever you're out of dinner ideas. 
Breakfast Quesadilla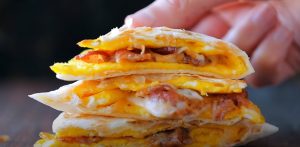 While this breakfast quesadilla recipe is one of the best things to eat for breakfast, it also fits the bill during supper time. This breakfast recipe, stuffed with fluffy eggs, black beans, spices, herbs, and cheese, will have you feeling full in a jiff! And the best part? The meal prep takes only 25 minutes! 
Recipe for Inspiration: Simple Breakfast Quesadillas
Fried Rice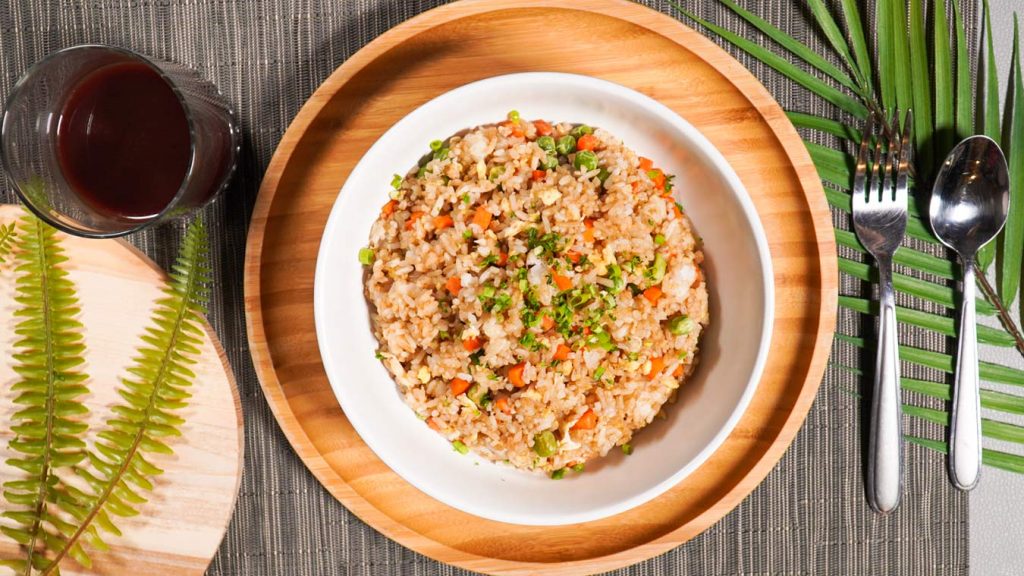 Time to ditch your favorite store-bought fried rice for this flavorful recipe! Various veggies provide the dish with a vibrant pop of colors (and flavors).
If you don't want your fried rice too mushy, use day-old rice.
While you can enjoy its deliciousness on its own, serving this fried rice with another meal is not such a bad idea. 
Recipe for Inspiration: First-Rate Fried Rice
Grilled Cheese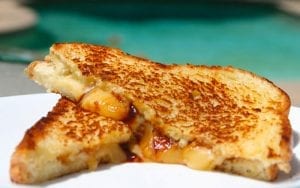 If you want to keep things simple and yet tasty, then this breakfast grilled cheese recipe is perfect for you. It only takes a handful of ingredients and 10 minutes to make this cheesy breakfast food. And if you're anything like us (absolute cheese lovers), then you will agree that two types of cheese are sometimes better than one.
Recipe for Inspiration: Grilled Cheese Deluxe
French Toast Casserole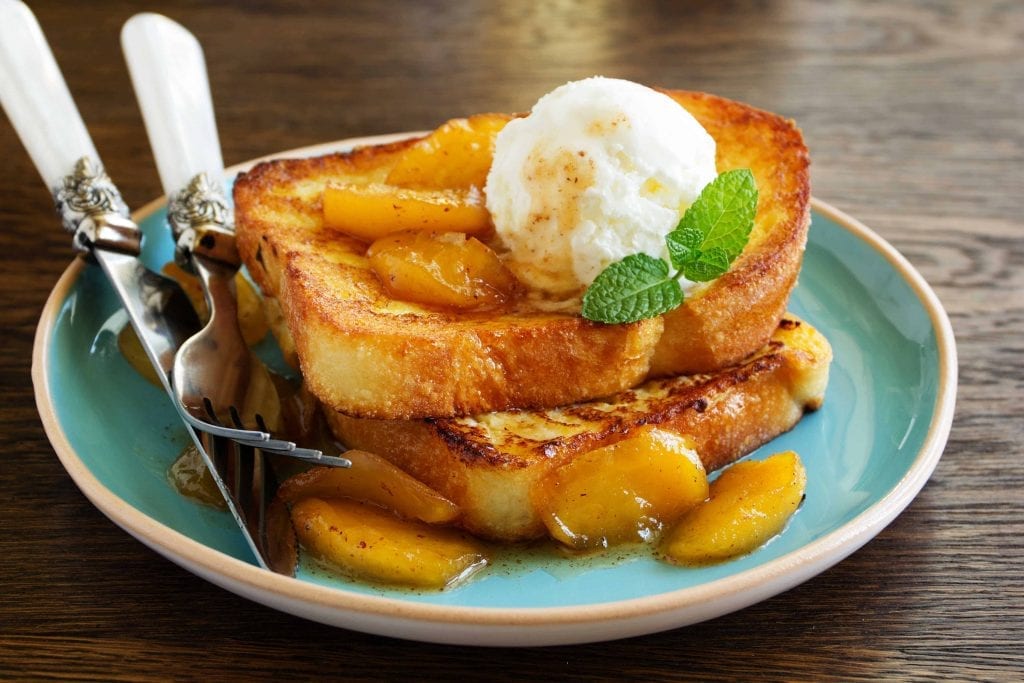 Looking for an easy and fancy breakfast idea that you can put together tonight? Consider your dinner woes solved. This beloved French toast casserole is made with apples, raisins, ground cinnamon, a French baguette, and more. It's guaranteed to bring sweet, delicious flavors to your dinner tables without much trouble.
Recipe for Inspiration: Apple Raisin French Toast Casserole
Breakfast Tacos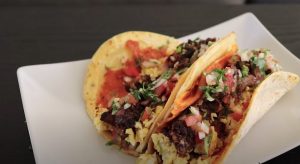 How about some breakfast tacos for tonight? Besides, eggs with tasty veggies sound delicious and filling enough. So, if you have some leftover cabbages, carrots, and red bell peppers lying around your pantry, try to whip up this easy breakfast meal. One bite is all it takes to understand why it's among our favorite breakfast for dinner ideas. 
Recipe for Inspiration: Breakfast Tacos
Breakfast Pizza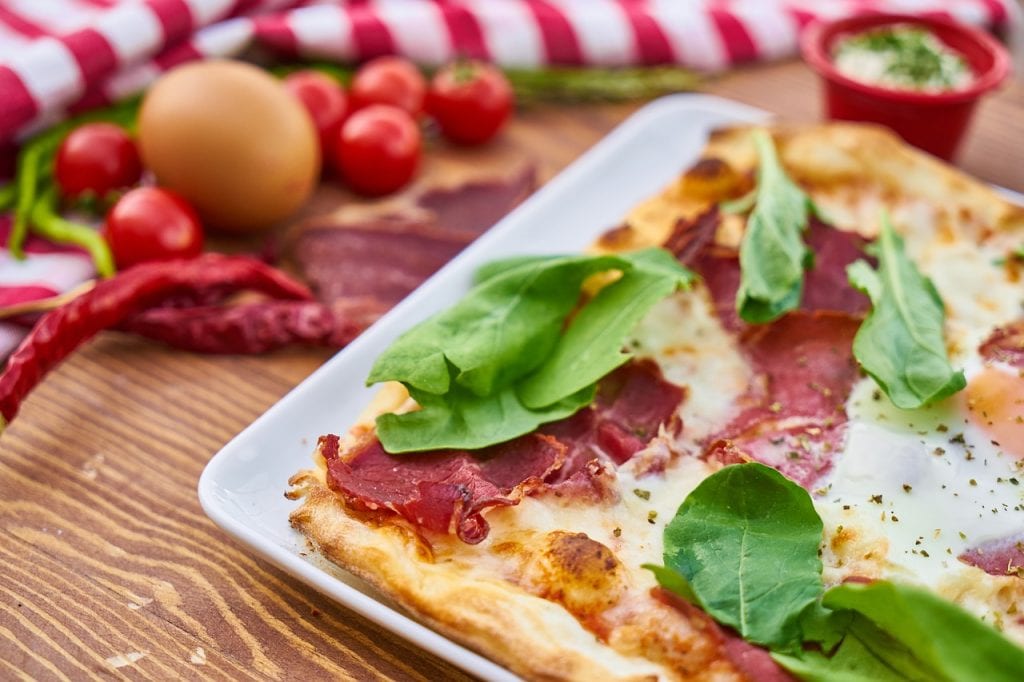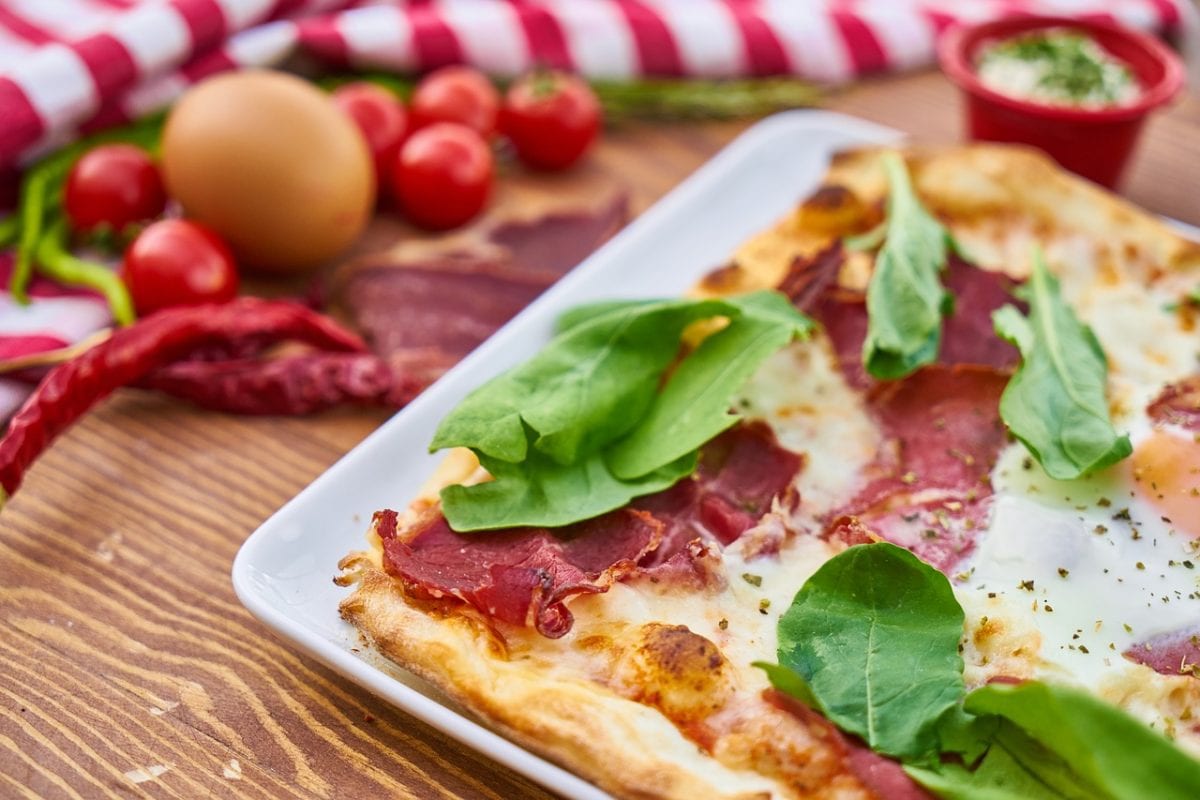 We just found a new favorite late-night snack! This 30-minute yummy breakfast pizza recipe ticks all the boxes: few ingredients, quick preparation time, and delicious flavors. So, what's not to love? Besides, freshly cooked pizza is way better than the fast-food ones you usually order.
Recipe for Inspiration: Breakfast Pizza
Breakfast Burger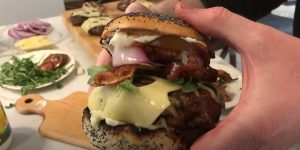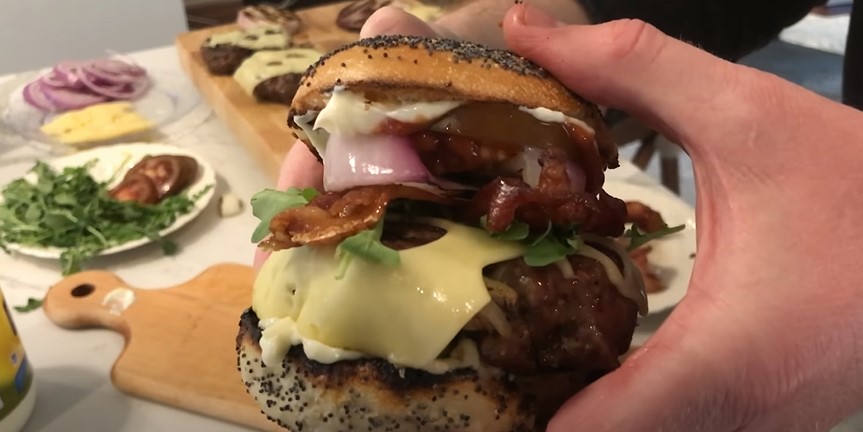 Burgers are a great dish anytime and anywhere. Although, for us, it especially shines when it's drizzled with a maple sriracha aioli. These breakfast burgers are also stuffed with meaty patty, bacon, mixed greens, and cheese. As it's ready in 25 minutes, this recipe is a godsend during early mornings and busy weeknights.
Recipe for Inspiration: Breakfast Burger
Tater Tot Breakfast Casserole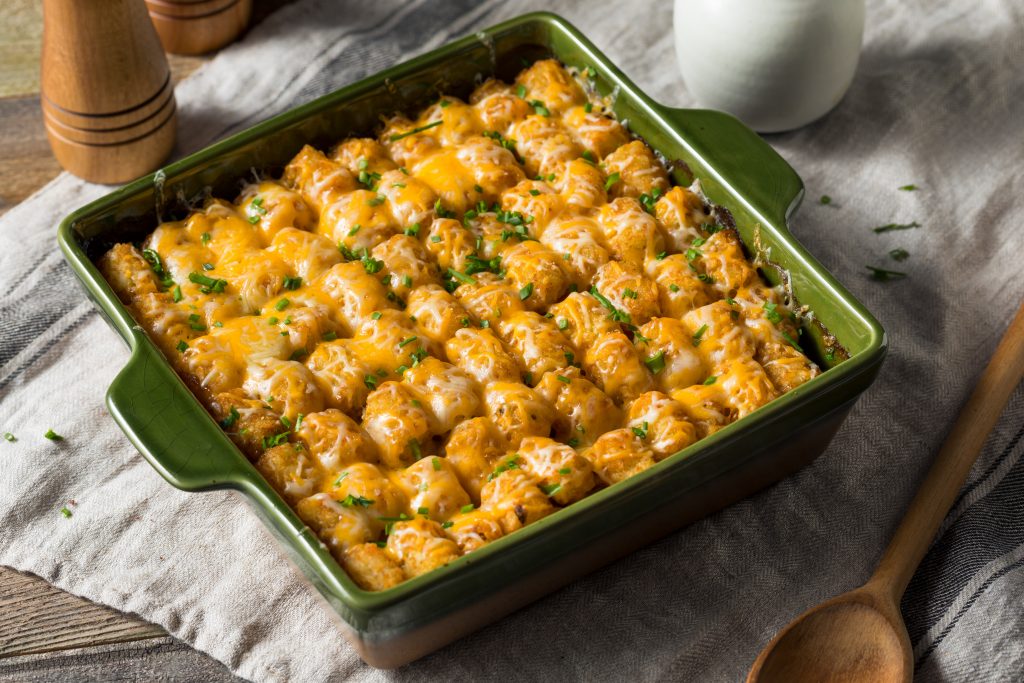 Don't let this meal's name fool you — you can serve this tater tot breakfast casserole any time you want. So, bring out your frozen tater tots, whole milk, bacon, and some seasonings to recreate this glorious dish. Have a plate of a breakfast casserole that's rich and cheesy in just an hour!
Recipe for Inspiration: Tater Tot Breakfast Casserole