A perfectly made marinade is the key to a well-made house sirloin steak. Among the many restaurant chains all over the country, Applebee's mastered the art of making the flavorful marinade for house sirloin steak.
Follow this recipe to have the Applebee's House Sirloin Steak experience without going out and waiting in line. It's easy and you don't need complicated kitchen equipment for this. 
If you want something fancy for lunch or dinner, this is the dish for you. Serve it with wine and your preferred side dish, and now you have the Applebee's experience in your dining room.
How To Make Copycat Applebee's House Sirloin Recipe
Ingredients
¾

lb.

sirloin steak

2

tbsp.

butter

softened

2

tbsp.

Worcestershire Sauce

¼

tbsp.

Soy Sauce

reduced-sodium

⅛

tsp.

salt

½

tsp.

minced garlic

⅛

tsp.

black pepper

⅛

tsp.

cayenne pepper

⅛

tsp.

onion powder

1

tsp.

fresh parsley

minced
Instructions
In a medium-sized mixing bowl, whisk in the following: Worcestershire sauce, Soy sauce, Minced garlic, Cayenne pepper, Onion powder, Salt and Black pepper.

Pour contents into a large ziplock bag along with your sirloin steak. Let it marinate in the fridge for 12-24 hours. The longer it marinates, the more flavorful it becomes.

Preheat your grill to HIGH heat. Add in your butter before steak. Grill the steak on the high burner for 5 minutes on each side. Use your tongs to flip the steak while grilling.

Lower your heat burner to a MEDIUM and grill your steak for another 4 minutes on each side or until you achieve desired doneness.

Once you've cooked your steak, transfer to a platter, and garnish with some parsley to add color to your dish.
Nutrition Facts
Calories:
354
kcal
|
Carbohydrates:
4
g
|
Protein:
38
g
|
Fat:
20
g
|
Saturated Fat:
11
g
|
Cholesterol:
136
mg
|
Sodium:
572
mg
|
Potassium:
700
mg
|
Sugar:
2
g
|
Vitamin A:
705
IU
|
Vitamin C:
5
mg
|
Calcium:
63
mg
|
Iron:
4
mg
Commonly Asked Questions
Can you fry sirloin steak?
This method is more commonly called pan-searing. Yes, you may try to pan sear your steak if you don't have a grill available. Better keep an eye out on your steak since pan-searing lessens the cooking time but gives a different result compared to grilling. 
What is the best cut of sirloin steak?
The best and versatile type of sirloin steak would be a Top Sirloin. This type of sirloin steaks packs a lot of flavor in an ideal thick cut meat. You can choose to cook it through grilling, broiling, sautéeing, or pan-frying, and it still taste like a bombshell. Don't forget to make the marinate though. 
Can I Make this Cake Ahead?
The sponge cake is so easy and can be made a day ahead or stored in the freezer for up to 3 months and because it doesn't get soggy, it will stay yummy assembled in the fridge for 3 days.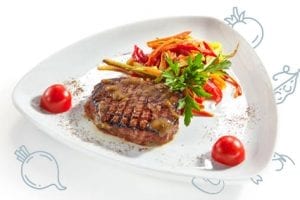 Conclusion
There's nothing more satisfying than cooking the perfect steak. Now since there are other ways to cook steak aside from grilling it, the methods all depend on your preference. Just remember that your marinate matters in determining the flavors your steak will carry until it touches your tastebuds.
The key is to know what kind of marinate you want to work on and make sure that all necessary ingredients are present. Missing out on a single ingredient might affect your desired flavor. So, follow our easy recipe until you're brave enough to try on other marinates and meats. However, remember, nothing beats a classic like Applebee's House Sirloin recipe.