Dine like a king with our Applebee's-inspired House Sirloin Recipe! The popular American restaurant chain Applebee's House Sirloin Steak is one of the most expensive dishes featured on their menu. Its premium pricing is not a mystery since Applebee's uses top sirloin cuts for its dish. It's the perfect thick steak cut, thanks to its exquisite flavor and economy for grilling, frying, or even sauteing. But with our recipe, eating succulent steak without needing to open your wallet is entirely possible! This recipe lists the steps to recreating the house sirloin steak dish from Applebee's, all in the comfort of one's own kitchen.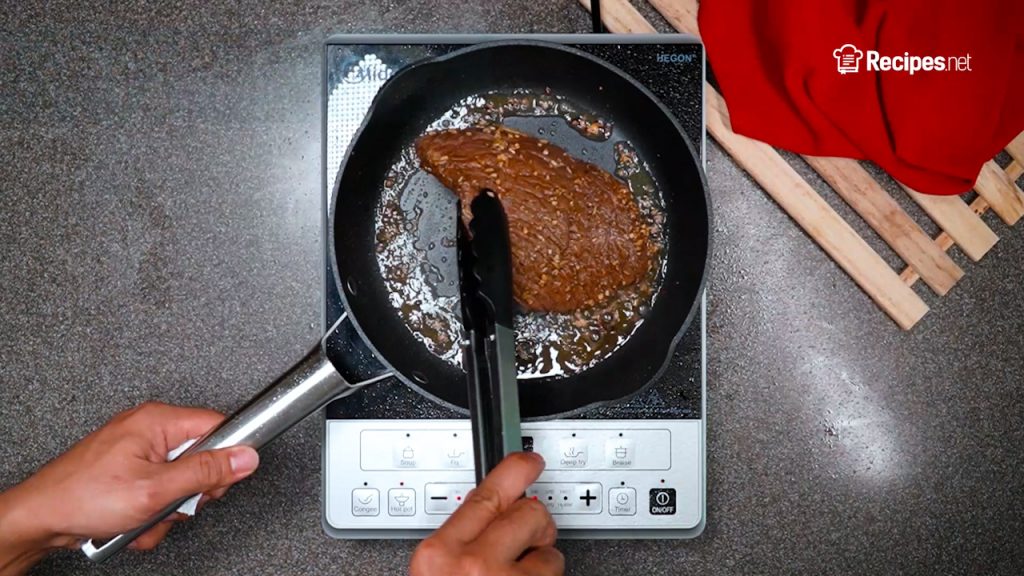 Steaks are always the go-to meal for fancy dinners with friends and family, or even for romantic dates. They are so well-loved that most eat it at home even when there's no special occasion to celebrate. Steaks are just that irresistible! And one of the most famous steak cuts is sirloin. It's cut from the back of beef cattle, just a little above the rump. The sirloin cut is a thick slab of meat that eventually gets cut into different kinds of steak, like the top sirloin (which Applebee's uses for its steak), and bottom sirloin. Of the two, the former is relatively smaller than the latter, though it is more valued for its tender meat.
Applebee's house sirloin is tender, oozing with smoked flavor and mouth-watering juices. Its grilled skin also offers a crispiness that adds to the meat's overall texture. Cooking steak may seem scary. But with our recipe, we'll show you just how easy it is to make your own house sirloin, just like Applebee's! Applebee's also partners its steaks with mashed potato, so give our Copycat Applebee's Garlic Mashed Potatoes Recipe a try!
How To Make Copycat Applebee's House Sirloin Steak Recipe
Enjoy steak soaked in a heavenly marinade and grilled to perfection, achieving its signature smoky, tender texture and overflowing with juices. All that is possible with our Applebee's-inspired House Sirloin Steak Recipe.
Ingredients
¾

lb

sirloin steak

2

tbsp

unsalted butter,

softened

1

tsp

fresh parsley,

minced
For Marinade:
2

tbsp

Worcestershire Sauce

¼

tbsp

Soy Sauce,

preferably sodium-reduced

⅛

tsp

cayenne pepper

⅛

tsp

onion powder

½

tsp

garlic,

minced

⅛

tsp

salt

⅛

tsp

black pepper
Instructions
Marinate sirloin steak a day before cooking. To make the marinade: In a medium-sized mixing bowl, whisk in Worcestershire sauce, soy sauce, garlic, cayenne pepper, onion powder, and salt and black pepper.

Pour content into a large ziplock bag along with sirloin steak. Let it marinate in the fridge for 12 to 24 hours. The longer the sirloin steak marinates, the more flavorful it will become.

Preheat pan to high heat. Add in butter before steak. Grill steak on high burner for 5 minutes on each side. Use tongs to flip the steak while grilling.

Lower heat burner to a medium. Grill steak for another 4 minutes on each side or until desired degree of doneness is achieved.

Slice and transfer to platter. Garnish with parsley to add color to dish.

Serve and enjoy!
Recipe Notes
Your sirloin steak's degree of doneness depends entirely on your preference. Our recipe instructs on how to cook a well-done type of steak (little or no pink in the meat). But if you want it to be medium-rare, then a good 5 minutes of grilling on each side should suffice. Simply slice a small part of the meat to check. You may also use bottom sirloin if a cut of top sirloin is not available.
Nutrition
Sugar:

2g

:

Calcium:

66mg

Calories:

348kcal

Carbohydrates:

4g

Cholesterol:

134mg

Fat:

19g

Iron:

4mg

Potassium:

718mg

Protein:

38g

Saturated Fat:

10g

Sodium:

536mg

Vitamin A:

402IU

Vitamin C:

2mg
Nutrition Disclaimer
Commonly Asked Questions
How do I cook my steak if I don't have a grill?
There are other methods of cooking your sirloin steak if a grill is currently not available. The most common alternative method to grilling is using a pan to pre-sear your steak, and then an oven to cook it to the degree of doneness you want it to be. First, dry your steak with paper towels, to make sure that it will be properly browned when cooked. Let it sit in room temperature for 30 minutes, then season it with kosher salt and ground black pepper. Preheat a cast-iron skillet over a high flame for around 10 minutes. Also, preheat the oven to 350 degrees F. Place the steak on the pan and sear it for 2 minutes each on both sides, or until it develops a golden brown color. Cook it in the oven for 3 to 10 minutes, and then let it rest for about 5 minutes.
What is the best cut of sirloin steak?
Top sirloin cuts are usually prized more than bottom sirloin, although both offer a good eating experience for steak lovers. Top sirloin cuts are better suited for grilling or broiling, while bottom sirloin cuts are better used for making roasts or bistro steaks. The latter is also more affordable.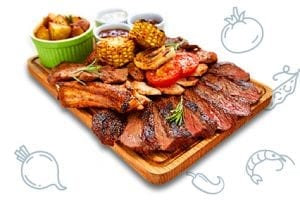 Conclusion
There's nothing more satisfying than cooking and eating the perfect steak. And with our Applebee's-inspired House Sirloin Steak Recipe, you'll be dining like a king in no time! The tender, juicy, and filling sirloin steak you end up making will surely be one for the books. Make sure to marinate it well so you'll get that classic Applebee's house sirloin taste!
Topics: