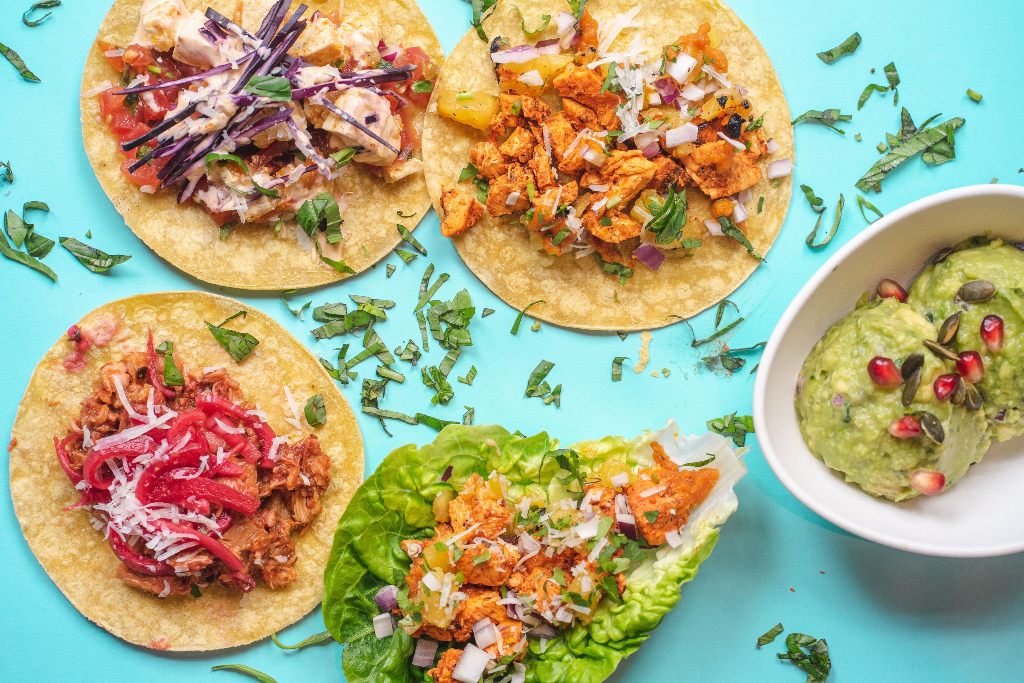 18 Best Mexican Breakfast Recipes to Kick-Start Your Mornings
Apart from sweet Mexican desserts and savory lunch or dinner dishes, Mexican cuisine is home to some of the most flavorful morning meals that you can find. And you have lots of options to choose from! For one, you can explore sweet breakfast items like pan dulce or dulce de leche coffee. Or, try breakfast renditions of authentic Mexican favorites like enchiladas.
If we got your interest, then explore this list of the best Mexican breakfast recipes you can make at home!
Mexican Breakfast Casserole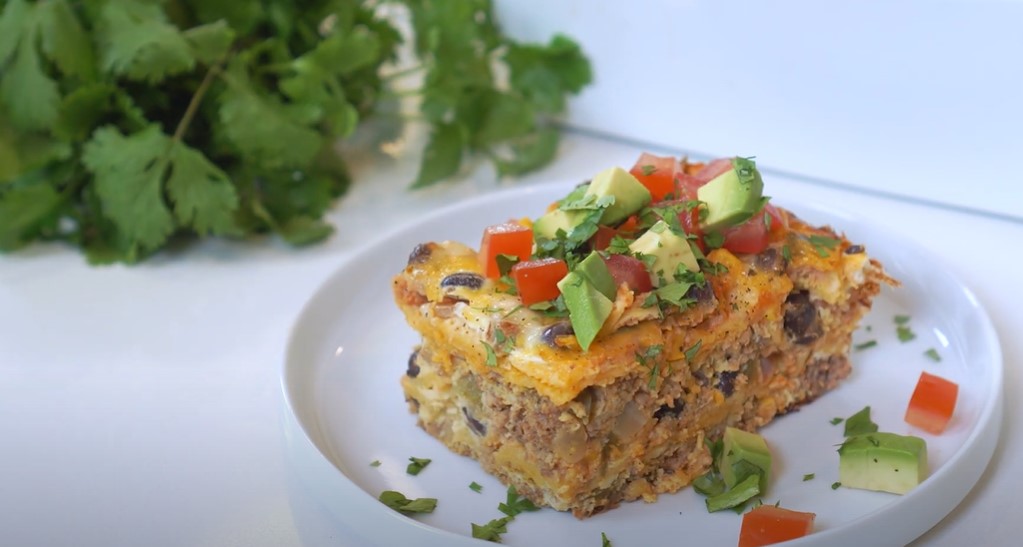 Dig into corn tortilla pieces stacked with a milky egg mixture, salsa verde, chorizo, vegetables, as well as a combination of different kinds of Mexican cheese with this breakfast casserole. Baked to perfection, this Mexican breakfast casserole makes for a flavorful and hearty meal to kickstart your mornings. Make it even better with chopped fresh cilantro leaves, diced red onions, crumbled cotija cheese, and your choice of other classic Mexican toppings.
Recipe for Inspiration: Mexican Breakfast Casserole
Pan Dulce (Mexican Sweet Bread)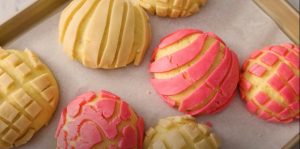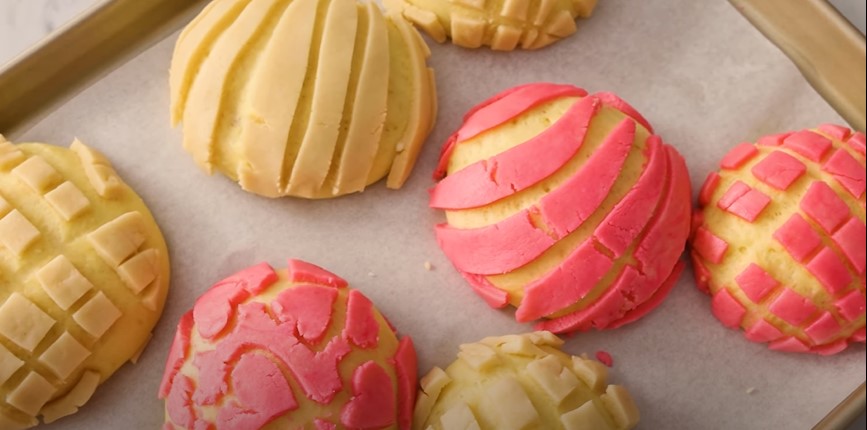 Do you prefer a sweet Mexican breakfast dish over a savory one? If that's the case, you might want to try having pan dulce or Mexican sweet bread. Brought to Mexico by the Spaniards, this is an umbrella term that refers to a range of sweet pastries directly influenced by European cooking traditions. This particular recipe yields the kind called conchas, which is a soft and buttery bread that's shaped like a seashell. Its top is scored and coated with a satisfyingly sweet and crispy topping that's baked over the dough. For a baked good, this is one of the best Mexican dishes to try! 
Recipe for Inspiration: Pan Dulce – Conchas (Mexican Sweet Bread)
Breakfast Burritos
Craving Mexican food to start your day? There's no need to locate the nearest fast food or Mexican restaurant for breakfast. Incorporate breakfast favorites into a tortilla-wrapped dish with the help of this easy Mexican breakfast burrito recipe. It has a scrambled egg and sausage filling that is anything but plain! This component is peppered with spices like cumin, paprika, and chili powder. Dipped in a serving of tart and fresh homemade tomato salsa, you can't go wrong with a serving or two of these tasty burritos! 
Recipe for Inspiration: Breakfast Burritos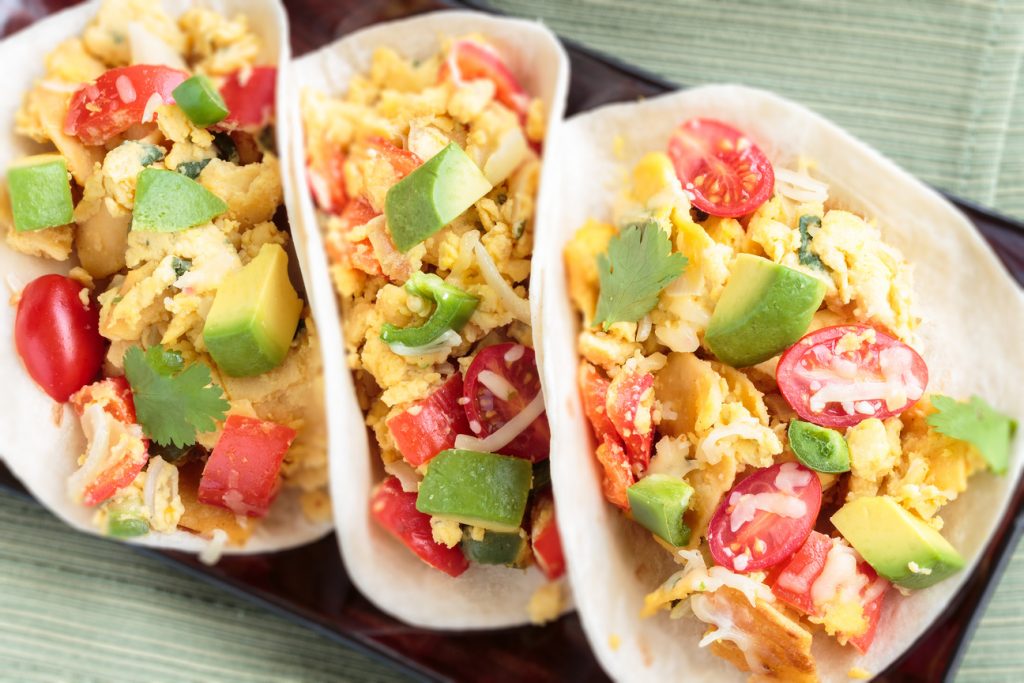 Take a traditional Mexican dish and transform it into a meal that you can have for brunch. That's exactly what this easy breakfast recipe for tacos is for. Instead of other fillings, warm corn tortillas cradle tart and cheesy scrambled eggs in this rendition. Cooked with sour cream, hot sauce, and topped with green onions, it bursts with a satisfying tart and spicy taste. The vegetables spooned on top heightens the heat of the dish even more, since they are sauteed with chili powder. Garnish the dish with your choice of either fresh cilantro, pico de gallo, avocado slices, or hot sauce for the best experience.
Recipe for Inspiration: Breakfast Tacos
Huevos Ahogados (Eggs Drowned in Salsa)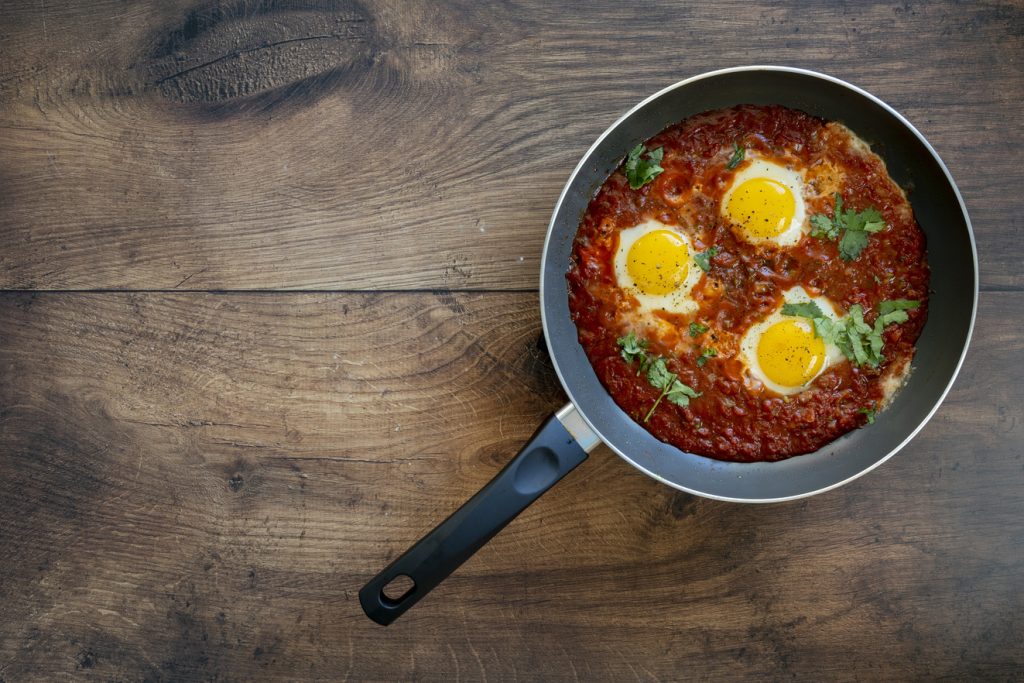 The name huevos ahogados is a Mexican breakfast dish that translates to "eggs drowned in salsa," describing how the said ingredient is cooked in a loose salsa mixture. Packed with a handful of chili peppers and spices, the sauce itself is incredibly reminiscent of Mexican flavors. This is backed by the tart flavor of Roma tomatoes blended into the component. All of the ingredients work together to form a spicy, flavorful, and aromatic salsa that smothers the poached eggs. Among everything else, you can count on this dish to wake you up in the morning!
Recipe for Inspiration: Huevos Ahogados (Eggs Downed in Salsa)
Breakfast Enchiladas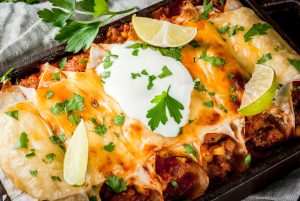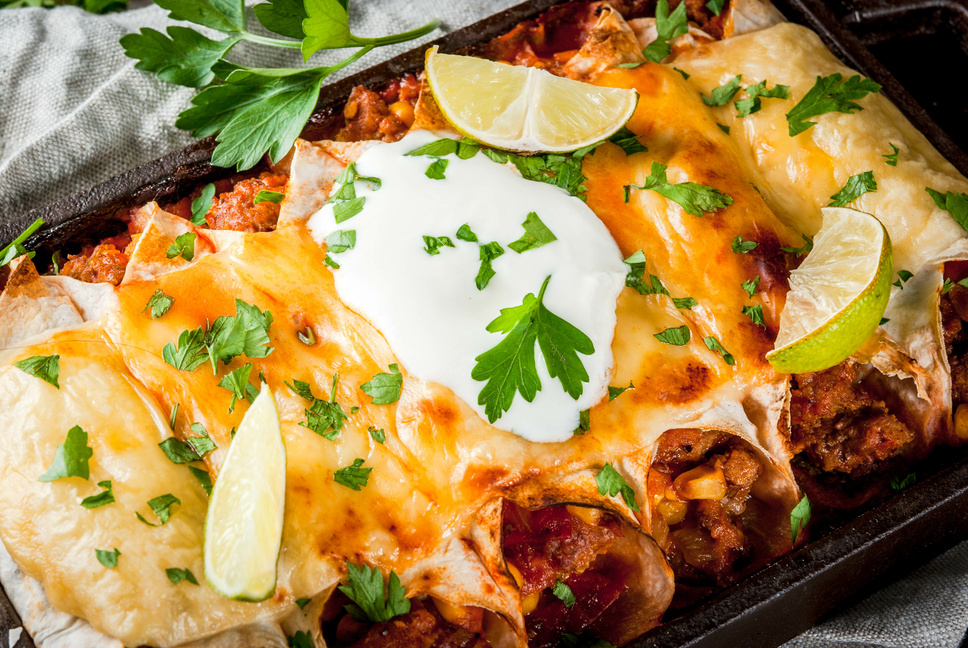 Mexican brunch food is made even better with this recipe for breakfast enchiladas. Instead of soaking the tortilla wraps with the usual spicy salsa blend, this dish calls for a milky egg mixture. It's packed with flavor since it's seasoned with oregano and hot sauce. This works great with the ham, red bell pepper, and cheese-stuffed enchilada rolls — leaving you wanting more with each bite!
Recipe for Inspiration: Breakfast Enchiladas
Chorizo and Eggs (Mexican Sausage and Eggs)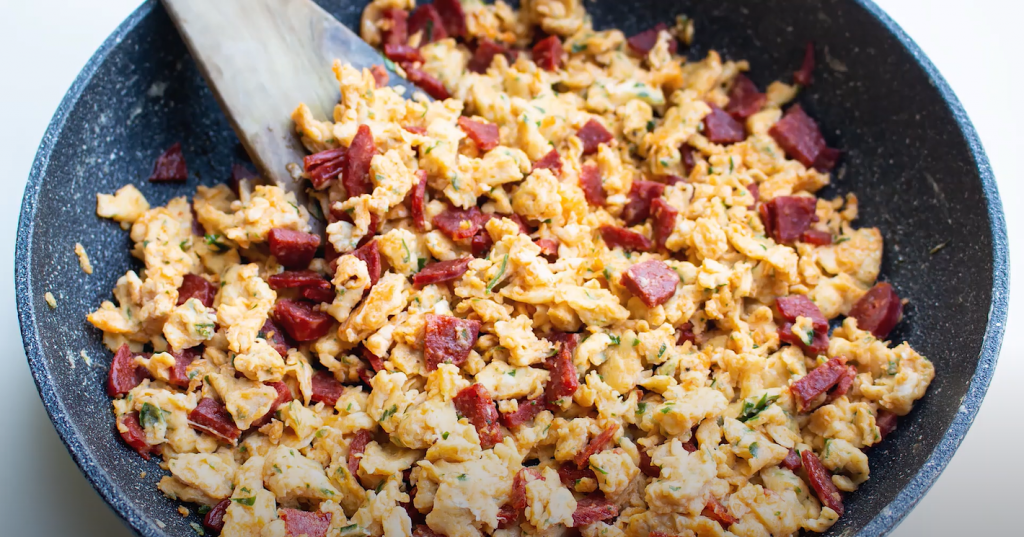 Bored of having plain fried eggs? Well, you're in luck! In this Mexican breakfast recipe, chorizo is all you need to spruce up a plate of scrambled eggs in the morning. Sauteed with garlic, chopped white onions, and tomatoes, this sausage mixture imparts a more-than-welcome meaty, smoky, and tart quality to the dish. Have the scrambled eggs and chorizo by themselves, or serve some sweet and earthy refried beans on the side if you're up to it! You can even spoon the mixture over some warm tortillas for a more filling meal. There's no need to look further for easy Mexican breakfast recipes.
Recipe for Inspiration: Chorizo and Eggs 
Breakfast Chilaquiles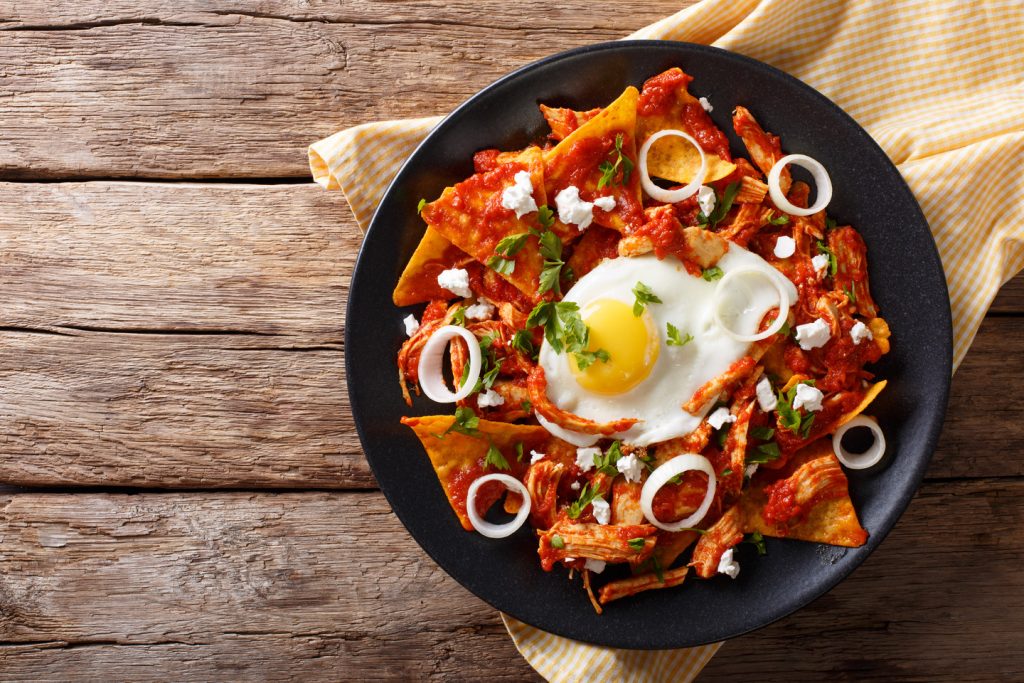 When you think about Mexican breakfast, a serving of chilaquiles is one of the most obvious dishes to make. You may be wondering: what are chilaquiles, and what makes them good to have in the morning? It's essentially a dish of crispy fried corn tortilla chips topped with tart tomato or enchilada sauce, crumbly queso fresco cheese, and fried egg. It's quite similar to the popular Spanish breakfast staple, "huevos rotos" (also known as broken eggs).
There's no need to worry about the deep-fried aspect of it, as this recipe calls for extra virgin olive oil which is much healthier than other kinds. You're also free to mix and match other toppings to have with this flavorful dish!
Recipe for Inspiration: Chilaquiles Rojos
Huevos Rancheros (Ranch-Style Eggs)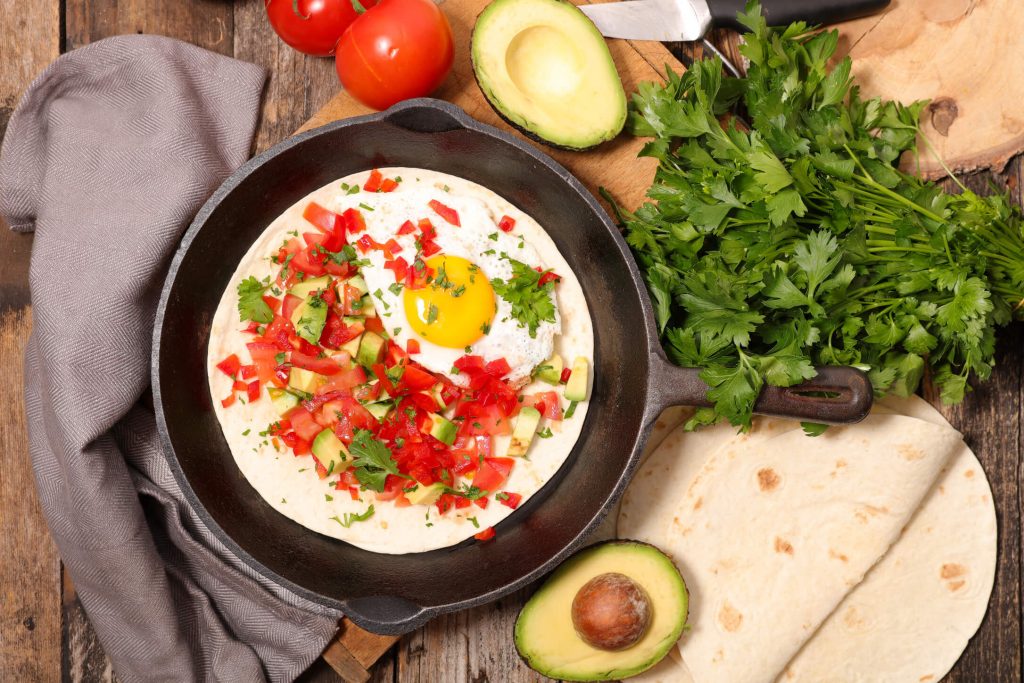 With this authentic huevos rancheros recipe at your disposal, you'll have a delicious go-to Mexican breakfast meal that only takes 30 minutes to make. Sometimes referred to as rancheros Mexicanos, this dish is a staple in many Mexican farms. Now, you can have it to start your days, too! Five simple steps are all it takes to enjoy a runny sunny-side-up egg with tomatoes, lettuce, cheese, and cilantro nestled on top of toasty tortillas. Quick Mexican breakfast recipes can't get any better than this! 
Recipe for Inspiration: Huevos Rancheros 
Huevos a La Mexicana (Mexican Scrambled Eggs)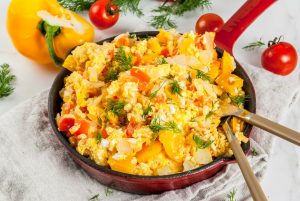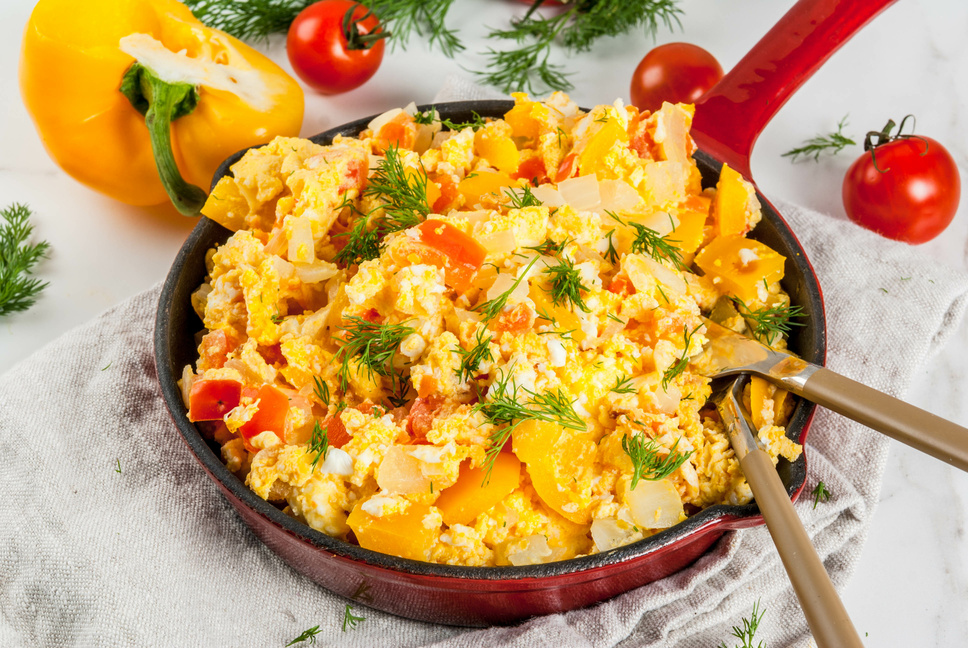 When it comes to breakfast food, eggs are one of the most reliable meals to have. And for the best Mexican eggs, you'll love this quick recipe for huevos a la Mexicana! This dish plays off on the traditional scrambled rendition that we all know and love by cooking the eggs with ingredients traditionally used in Mexican cuisine. In under 10 minutes, you'll be able to serve a fluffy and flavor-packed scrambled egg dish, peppered with fresh cilantro leaves, jalapeños, tomatoes, chopped onions, and seasonings. 
Recipe for Inspiration: Huevos a la Mexicana (Mexican Scrambled Eggs)
Papas con Chorizo (Potatoes With Mexican Sausage)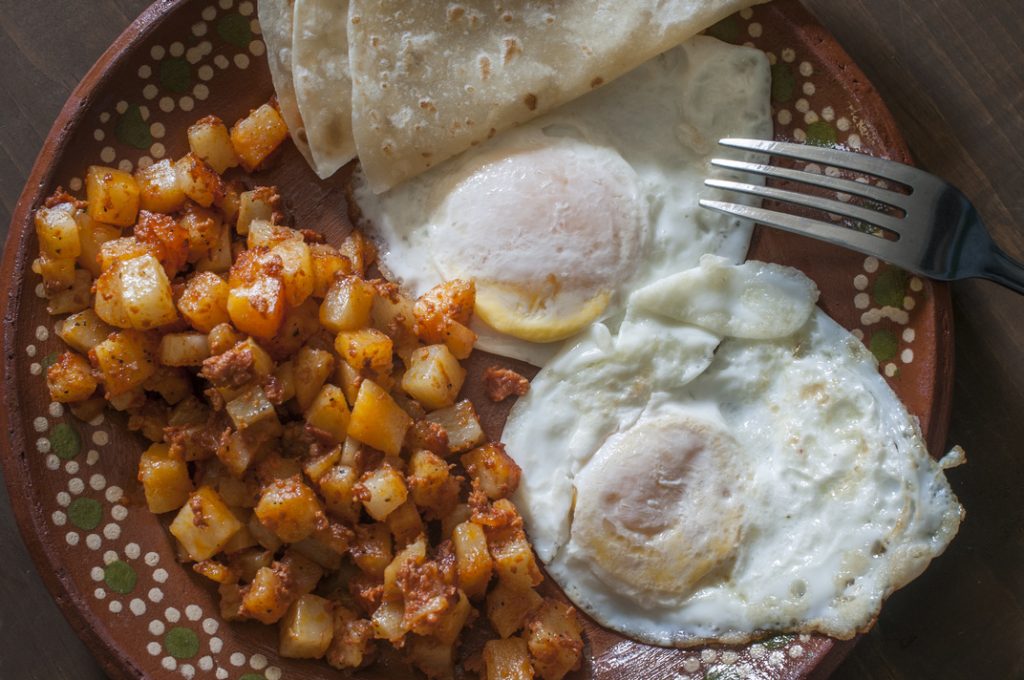 Fried potatoes for breakfast? Count us in! For a Mexican breakfast rendition, we'll be trading in the all-American hash brown for papas con chorizo. In this dish, the Mexican sausages are mashed and sauteed to impart a meaty and smoky quality to the dish. Tossed with the spuds, this is the perfect morning meal to have for something flavorful and filling! If you want to, you're also free to serve it with some freshly-warmed tortillas and a dollop of tart-tasting salsa to tie everything together. Try it out and bring your quick Mexican breakfast ideas to fruition.
Recipe for Inspiration: Papas Con Chorizo (Potatoes With Mexican Sausage)
Mexican Fruit Salad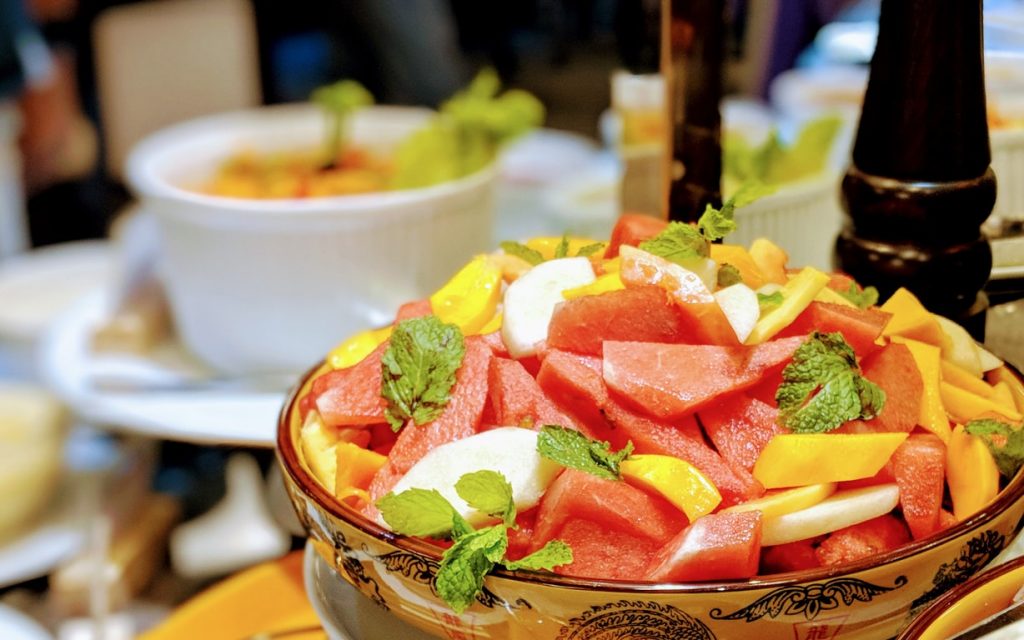 We could all use more fruits in our diets. If you agree, you might want to give this recipe for Mexican fruit salad a shot! Unlike regular fruit bowls and store-bought variations, this dish is anything but tame. It marries together fresh and hot Mexican spices with the sweet and refreshing taste of tropical fruits. And if you're looking for something that can jolt you awake in the morning, the mouth-puckering lime juice doused on the chunks of pineapple, watermelon, mango, and papaya might just do the trick!
Recipe for Inspiration: Mexican Fruit Salad
Dulce de Leche Coffee (Coffee With Caramelized Milk)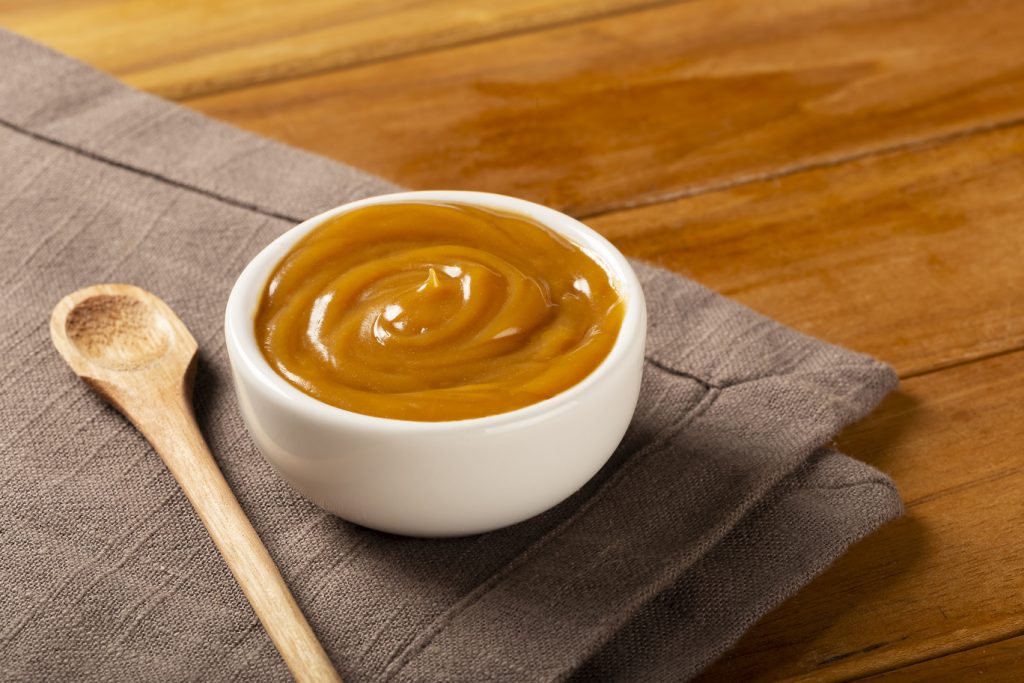 Coffee is a staple in many people's breakfast routines. If you're bored of having the same types of coffee every day and want to switch things up, add a twist into your drink by making dulce de leche coffee! No, this isn't café con leche which is a mixture of black coffee and hot milk. Instead, this is another Mexican breakfast drink that's much sweeter, as it involves mixing Mexican caramelized milk (dulce de leche) into a shot of espresso. Try it out and make your mornings much sweeter!
Recipe for Inspiration: Dulce De Leche
Churro Waffles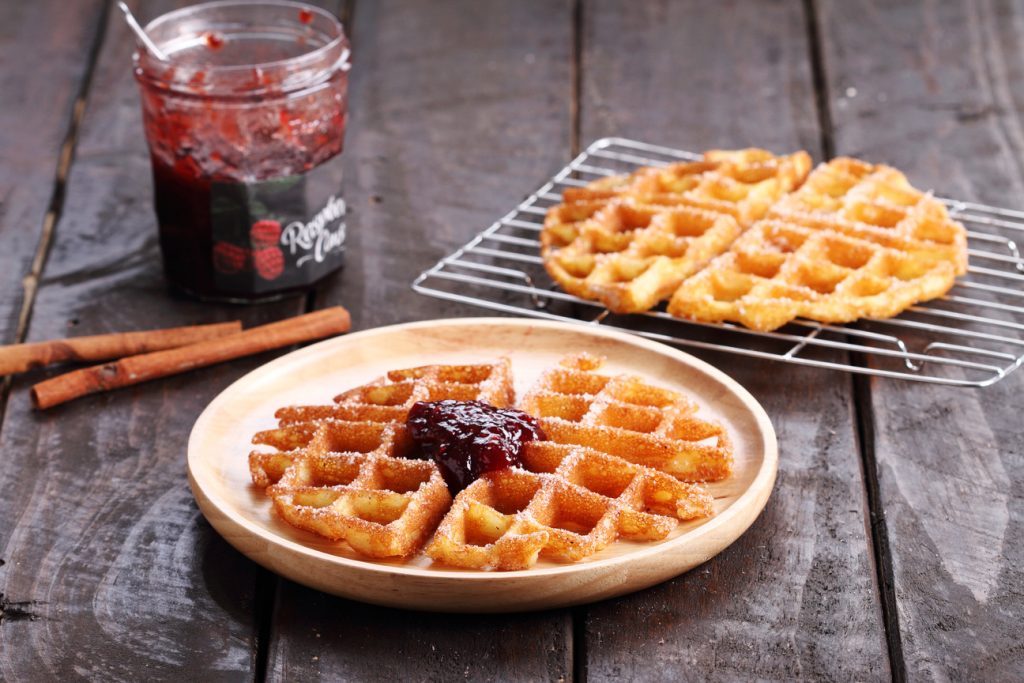 Churros is one of the most popular and beloved Mexican street food items globally. After all, who could truly resist the crispy goodness of deep-fried dough tossed in a sugar mixture? It's a great all-around kind of pastry as well since you can have it from breakfast through dinner. For this rendition, have it in waffle form! Instead of packing the dough with more oil by deep-frying it, it's cooked in a waffle iron for a change. Apart from the crisp cinnamon-sugar coating, the fresh whipped cream and strawberries on top take this Mexican breakfast meal on a whole new level.
Recipe for Inspiration: Easy Churro Waffles
Breakfast Quesadillas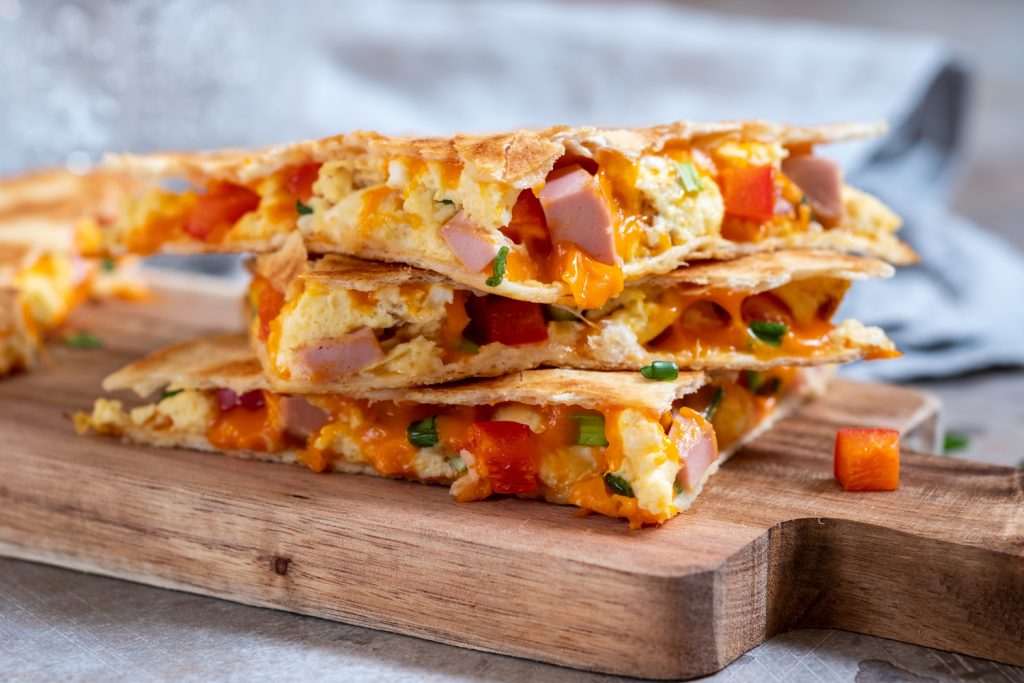 Start your day right with a helping of these breakfast quesadillas! Bid goodbye to a plain old dish of cheese-stuffed tortillas and say hello to this Mexican breakfast rendition. Fluffy hot sauce-flavored scrambled eggs with creamy and nutty pinto or black beans take center stage as the main component of this dish. Pressed in a crispy warm tortilla with chopped green onions, fresh cilantro, jalapeño, and sharp cheddar cheese, this recipe guarantees a well-balanced meal packed with classic Mexican elements throughout. What's more, make it even better with a serving of fresh salsa or a hot sauce dip on the side!
Recipe for Inspiration: Simple Breakfast Quesadillas
Breakfast Taquitos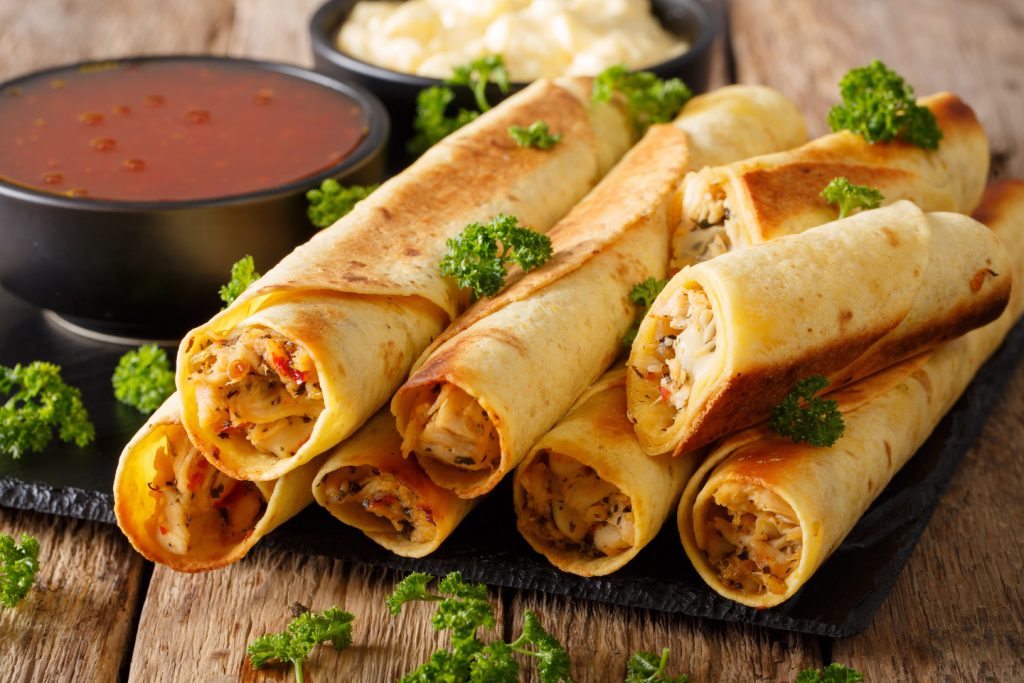 For a quick Mexican breakfast dish that can be done in 25 minutes tops, look no further than this recipe for breakfast taquitos! You won't be able to resist ubiquitous breakfast ingredients conveniently wrapped in a crispy casing. There's no room for plain sausages when you can have them together with spinach and bell peppers. Plus, it's rolled up and baked in a piece of tortilla with cheesy scrambled eggs, shredded cheese, and salsa. You wouldn't want to have these breakfast staples in any other way once you've had a bite of this rendition! 
Recipe for Inspiration: Baked Sausage, Spinach and Egg Breakfast Taquitos
Atole (Cornmeal Drink)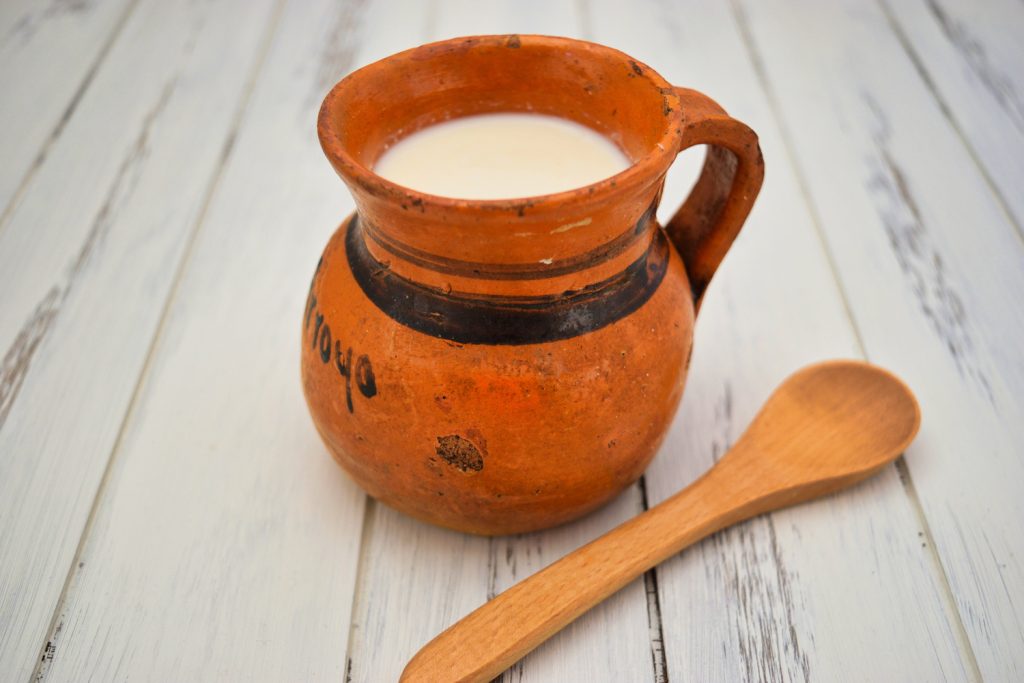 Beyond coffee, milk, and orange juice, there's a whole world of unexplored breakfast drinks that you have yet to discover. If you're up to it, start your mornings with a glass of this Mexican breakfast drink called atole. Made with masa harina or cornmeal, this warm beverage boasts an incredibly creamy consistency. The vanilla and cinnamon also impart notes of sweetness and woodiness to the drink. All in all, this is a great breakfast item that's quick to make and also convenient to have on the go!
Recipe for Inspiration: Mexican Atole (Cornmeal Drink)
Migas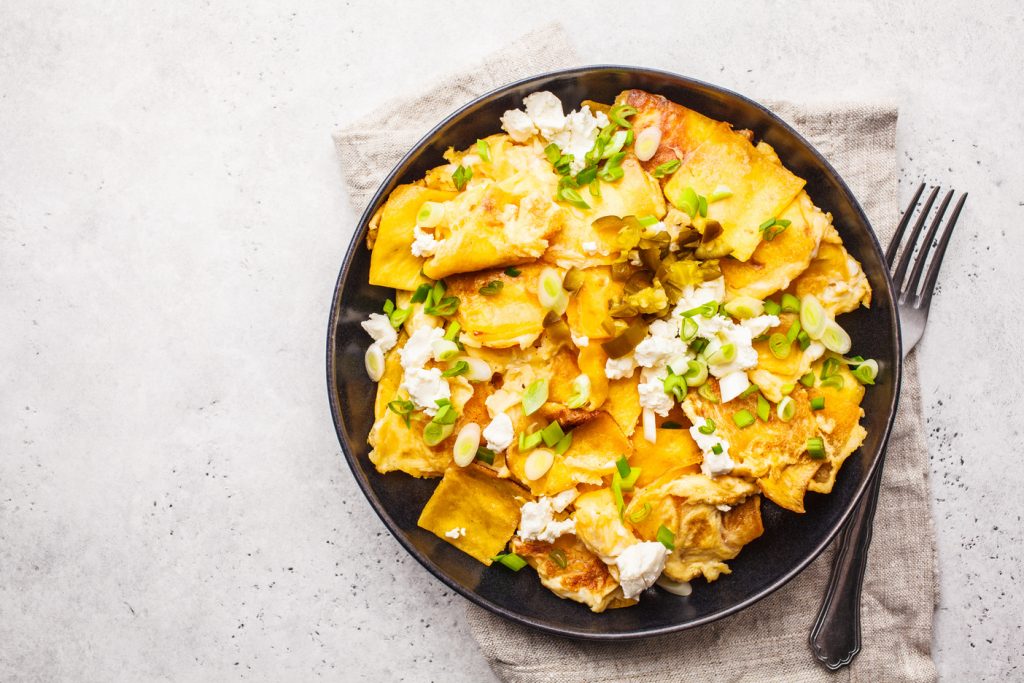 Don't think you can have chips for breakfast? With this recipe for Tex-Mex inspired migas, you might want to reconsider. As a matter of fact, a serving of crispy tortilla chips is the backbone of this Mexican breakfast bowl. Topped with fluffy scrambled eggs and vegetables, migas showcases many layers of flavors and textures that work together to form an overall satisfying meal. Aside from that, it takes only 15 minutes to throw together! This is made for people who don't really have much time in the morning.
Recipe for Inspiration: Tex-Mex Style Migas