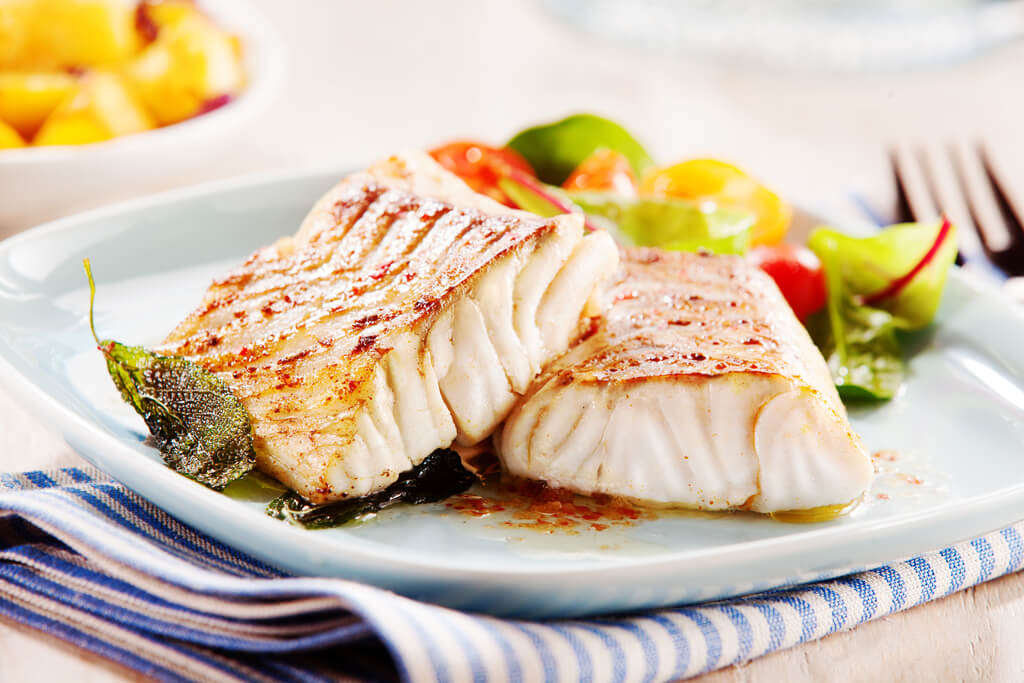 10 Pollock Recipes Every Seafood Lover Should Try
Known as a budget-friendly alternative to cod, pollock is a type of white fish with a mild and delicate taste. Much like swai fish and other expensive seafood like cod and salmon, this fish is versatile and can be baked, grilled, pan-seared, fried, and slowly cooked in a water bath, sous vide style. 
Aside from the variety of ways you can cook it, it's also low in fat and high in protein — making it a perfect contender for weekday meal options! Try turning it into a crowd-favorite fish and chips, into your favorite big fish sandwich, or into something as elaborate and dinner-table-worthy seafood that is florentine bake. These pollock recipes will turn out impossibly delicious and won't use up your budget too!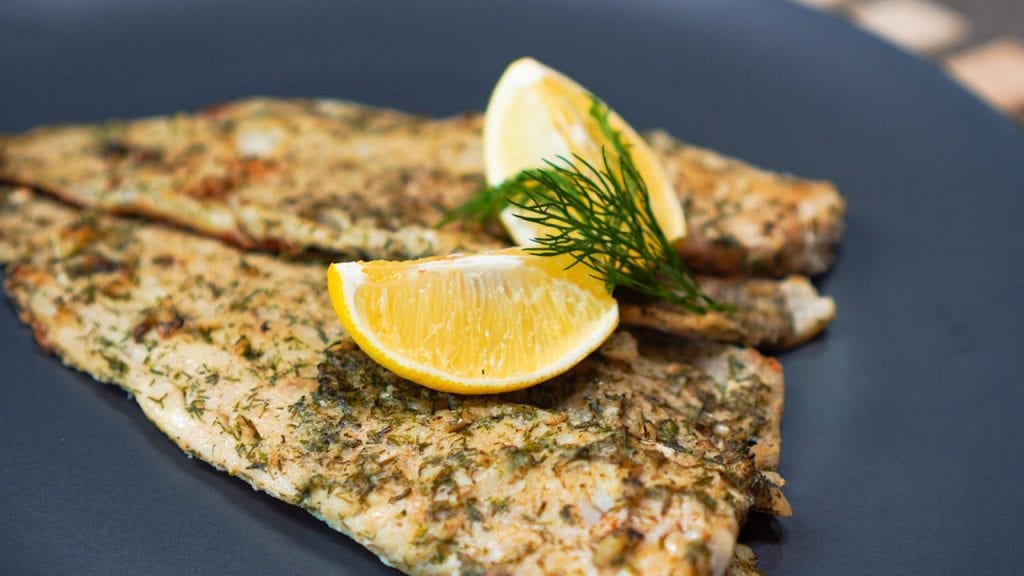 01 of 10
Grilled Lemon Pollock
First on our list of pollock recipes is this delicately-flavored grilled lemon pollock fish. A plate of this dish has a simple yet sophisticated mouthfeel that will suit any dinner idea for two. Now, cooking flaky seafood seems intimidating but it's actually quite easy to do at home. This recipe starts with pollock fillets marinated in lemon juice, olive oil, dijon mustard, and other seasonings and herbs.

Essentially, the recipe just asks you to mix and dump all ingredients (except the fish) into a bowl. Brush the pollock with the marinade and then grill! All in all, the recipe just takes more or less 18 minutes to make. Serve with fresh dill and some lemon wedges for additional flavor.

Try Recipe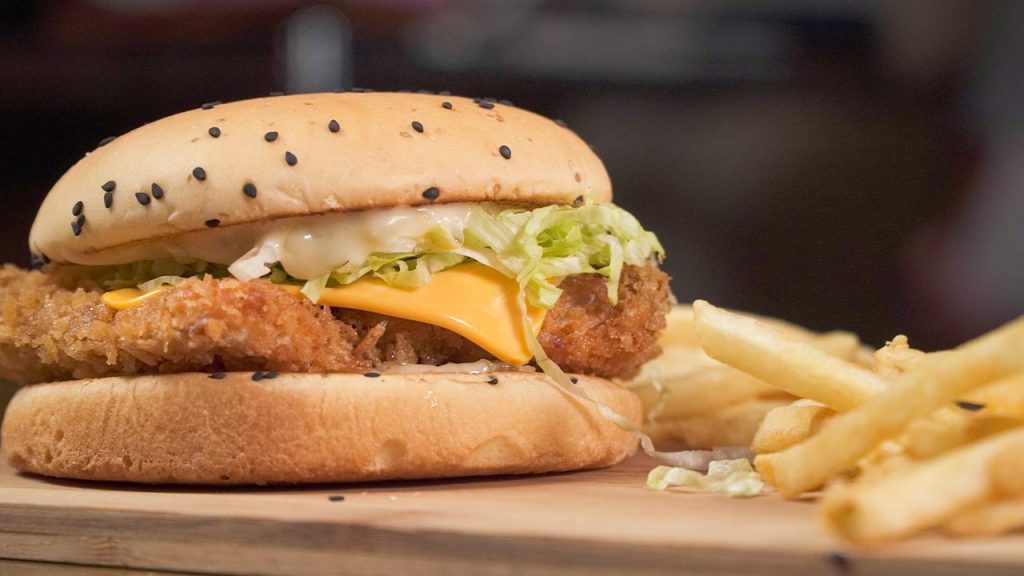 02 of 10
Big Fish Sandwich
Aside from grilling or pan-searing it, Alaskan pollock fish can be cooked, prepared, and served in a myriad of other ways. As a matter of fact, pollock is the fish that Burger King and McDonald's use for their fish sandwiches and Fillet-O-Fish meals. If you're tired of the usual beef and chicken burger, you can try a healthier meat alternative like pollock!

Here, the pollock is coated in well-seasoned flour and egg mixture and then dunked in breadcrumbs for a crispier first bite! The contrast of the crispy exterior versus the delicate, soft meat is addicting.

Once cooked, the crispy pollock is topped with American cheese and iceberg lettuce and then encased in fluffy hamburger buns. This recipe goes with tartar sauce that's slightly sweet and savory with a subtle tart flavor that pairs well with fried, crispy fish. If you want a sauce that offers a little more heat, use your favorite hot sauces like sriracha mayo. Savory sauces like barbeque work quite well with this dish too!

Try Recipe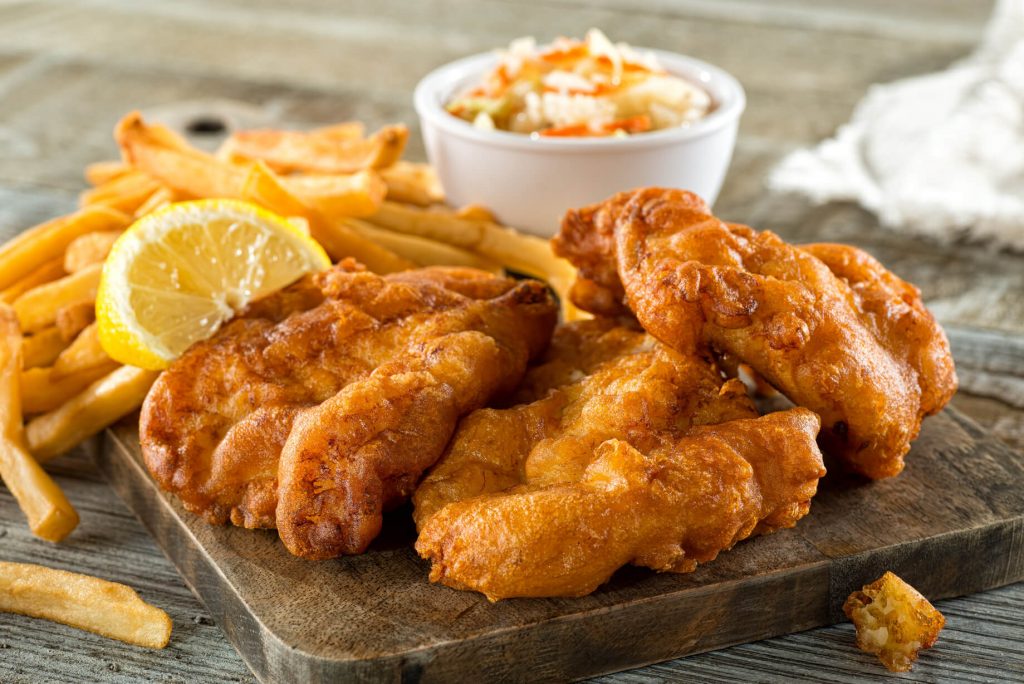 03 of 10
Beer Battered Fish Fillets
Adding beer to your batter makes everything better.  That is because the combination of carbon dioxide, foaming agents, and alcohol makes a light and crispy crust. If you haven't tried a beer-battered food yet, these battered fish fillets made of pollock fish are the perfect opportunity to try it.

This simple recipe needs only six ingredients to make (four if you don't count salt and vegetable oil). You will need pollock fillets, all-purpose flour, egg, and beer. And there you have it. Simple, easy, and quick. The beer batter definitely provides crispy and malty fish fillets, but a simple tartar sauce to go with it will definitely lift the flavors!

Try Recipe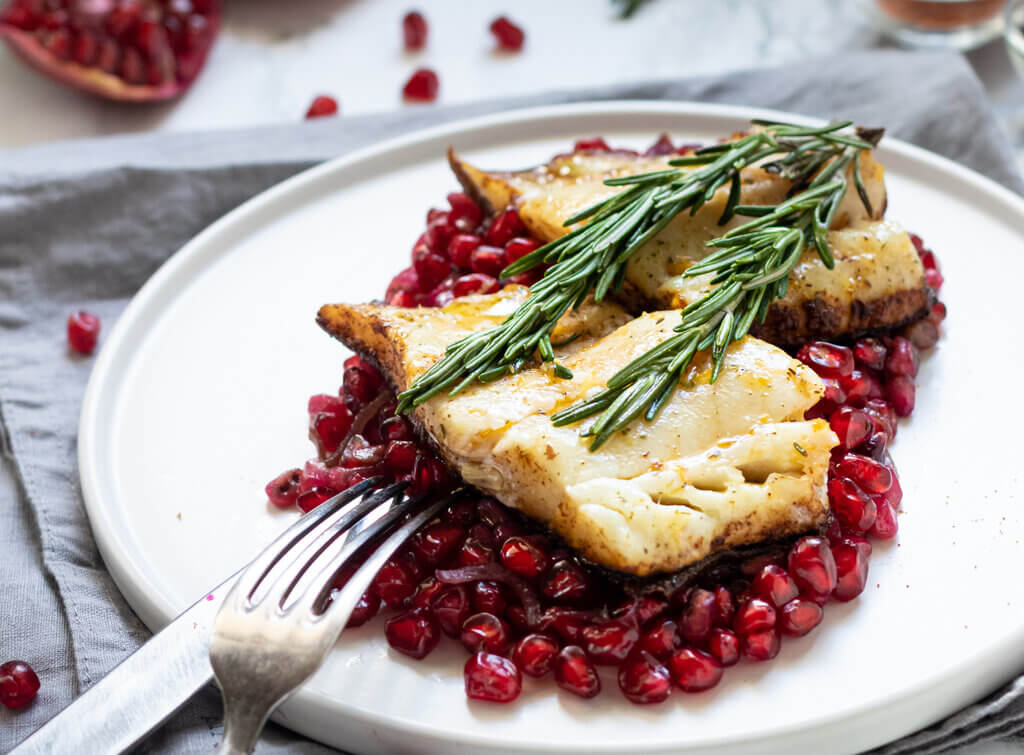 04 of 10
Poached Pollock
Don't be deceived by the fancy, elaborate plating. This dish is actually just made of pollock fish poached in butter, chicken stock, and herbs. You can also use dry white wine in place of chicken stock for a more intense and fancier flavor.

Since the fish needs only a few ingredients for poaching, the fish gets a chance to really shine through. The butter and the chicken stock complement the fish without stripping it off its mild, delicate taste. Meanwhile, the herbs add a bright touch.

This fish sits on a small pool of sweet and sour pomegranate sauce and is garnished with a few basil leaves. Overall, this poached pollock delivers a simple, easy-to-follow recipe that doesn't fall short of flavor.

Try Recipe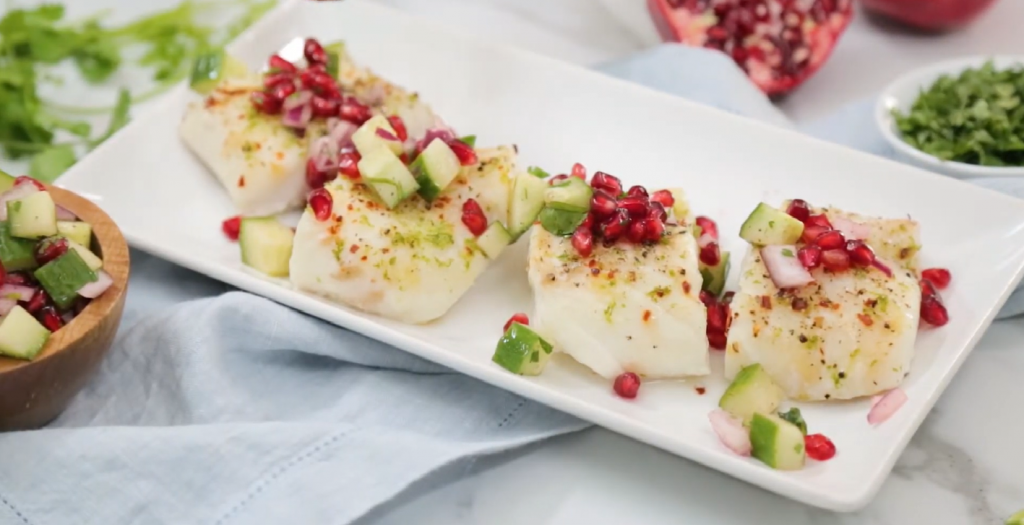 05 of 10
Pan-Seared Pollock
Bursting with flavors, this pan-seared pollock is seasoned with simple ingredients such as garlic powder, olive oil, kosher salt, and black pepper. The pollock also comes with a red, zesty concoction of pomegranate salsa. Besides the zesty flavor of pomegranates, the salsa also has the citrusy and bright flavor of cilantro and lemon juice. Altogether, this dish has a well-balanced sweet and savory flavor you can't get tired of.

What we love about this recipe is that you can make it in less than 30 minutes — around 20 minutes, to be exact. So if light and quick dinners are your jam, then count on this pollock dish to save the day! Add it to your list of Alaskan pollock recipes to try and let us know how it goes.

Try Recipe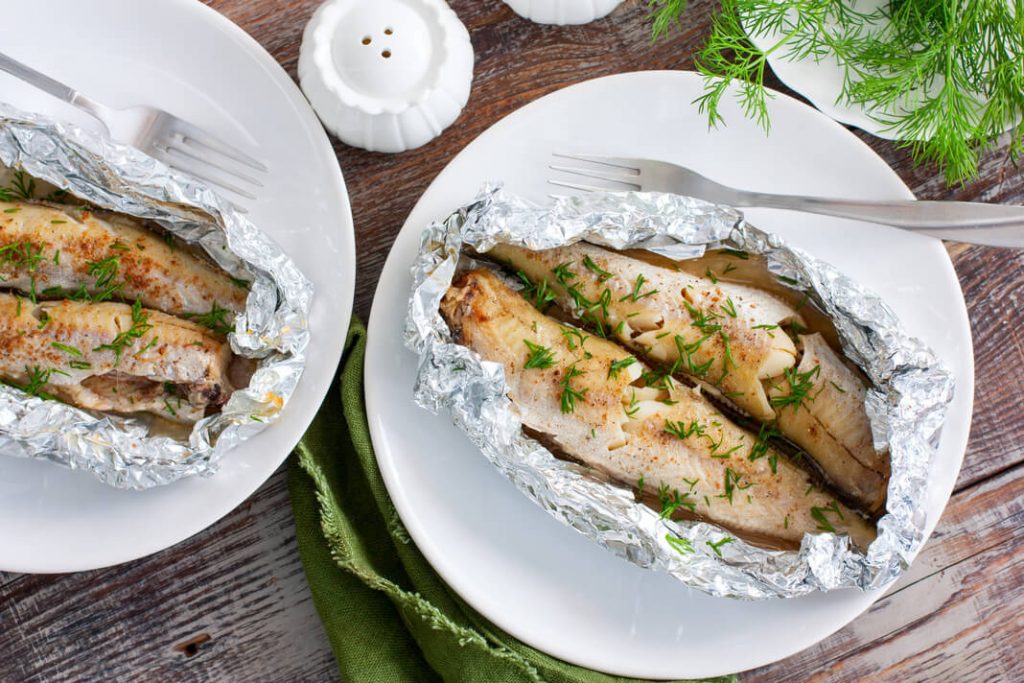 06 of 10
Baked Pollock
Dusted and seasoned with herbs, salt, and pepper, pollock fillets are baked to perfection until they achieve a beautiful, slightly charred crust. To complement the mild flavor of pollock, the plate is also decorated with a mixture of sour cream and parmesan cheese. The mixture also has butter for added fat and flavor. Full of savory, creamy and herby flavor, this baked pollock is already a delicious meal on its own. But it also goes well with a side of salad, green beans, and sauteed potatoes.

Are you a beginner and just finding your way around a kitchen? This baked pollock is also the perfect recipe to start with! After all, it requires minimal supervision and intervention. Combine the ingredients and pop them in the oven, and you're all set.

Try Recipe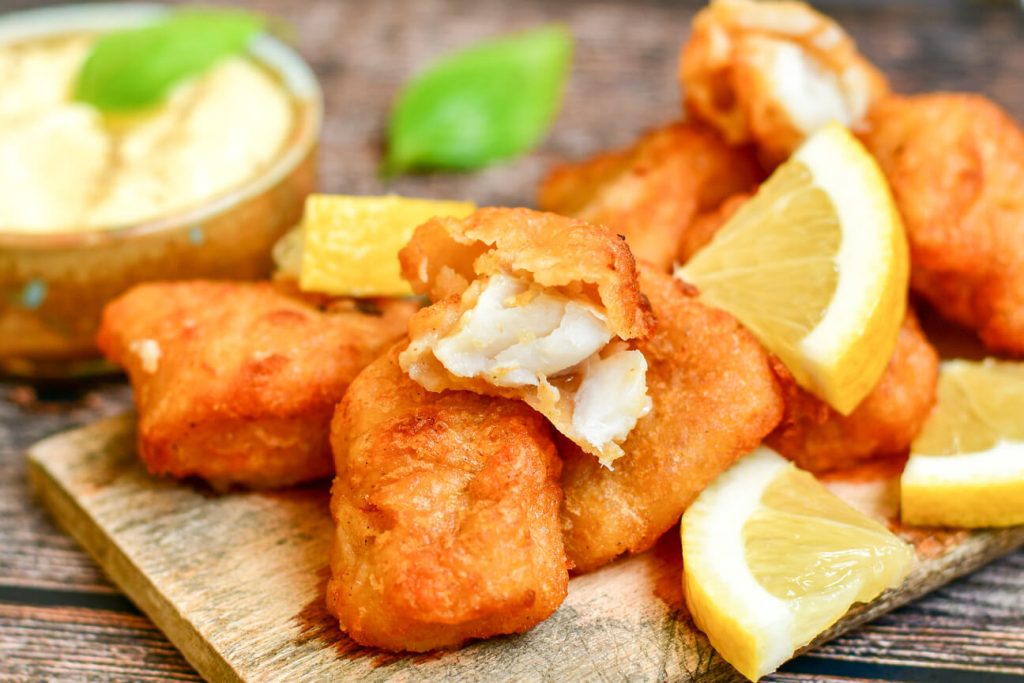 07 of 10
Fried Pollock
Frying flaky seafood like pollock fish seems intimidating because its meat is delicate and crumbles easily. That is if you don't know how to handle it. Achieving that perfect crispy crust is actually easy. It just takes all-purpose flour, breadcrumbs, eggs, a few seasonings, and a hot pan. You have to work quickly though because it cooks and browns fast. Once done, you'll be surprised with a crispy crust with a mild taste and delicate meat that melts in your mouth.

Now, the fried pollock fish is great itself. But, it's even better accompanied with an easy-to-make hoisin honey dressing. Besides hoisin and honey, you just need pantry-staple ingredients such as dijon mustard, rice wine vinegar, coriander, and sriracha. All that for an umami-packed dipping sauce.

Try Recipe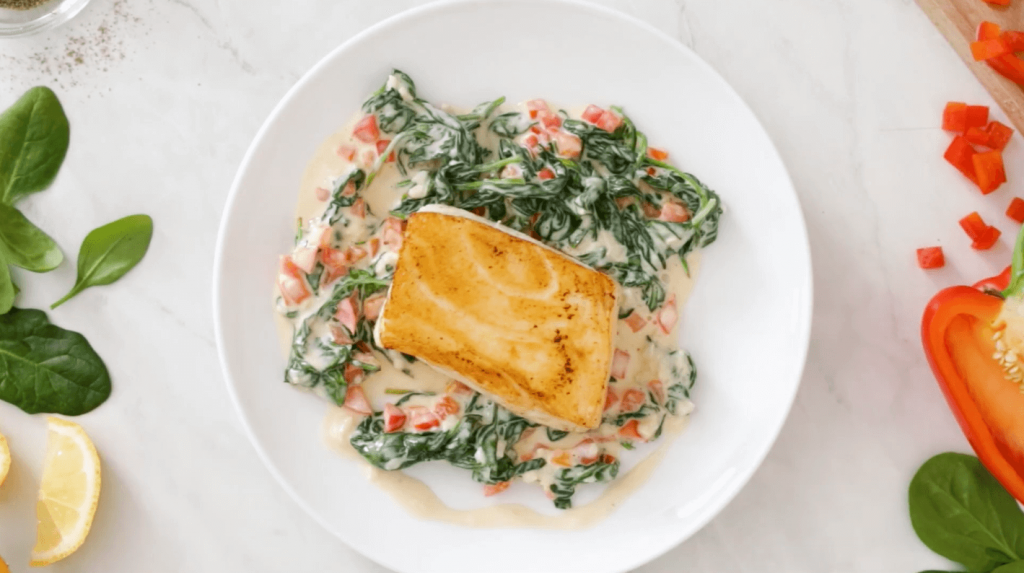 08 of 10
Pollock Fish Florentine
Baked, pan-seared, beer-battered, and deep-fried, you've tried them all. What else can you make with pollock, you ask? We introduce you to this classic Italian dish: Florentine or a la Florentine.

Florentine is a classic Italian dish that consists of cooked spinach and a sort of protein like beef, pork, or chicken and then topped with mornay sauce (a sort of béchamel sauce with cheese). But in this rendition, we will be using pollock fish and cheddar cheese soup in place of traditional ingredients for an easier version. Don't worry! Substituting a few ingredients won't take away its flavor. Here, the delicate, flaky fish pairs wonderfully with spinach and savory, creamy sauce.

All this goes in the oven and bake until golden brown. Just like some pollock recipes on this list, this dish is great on its own but you can also pair it with either rice or pasta. Whatever suits your fancy!

Try Recipe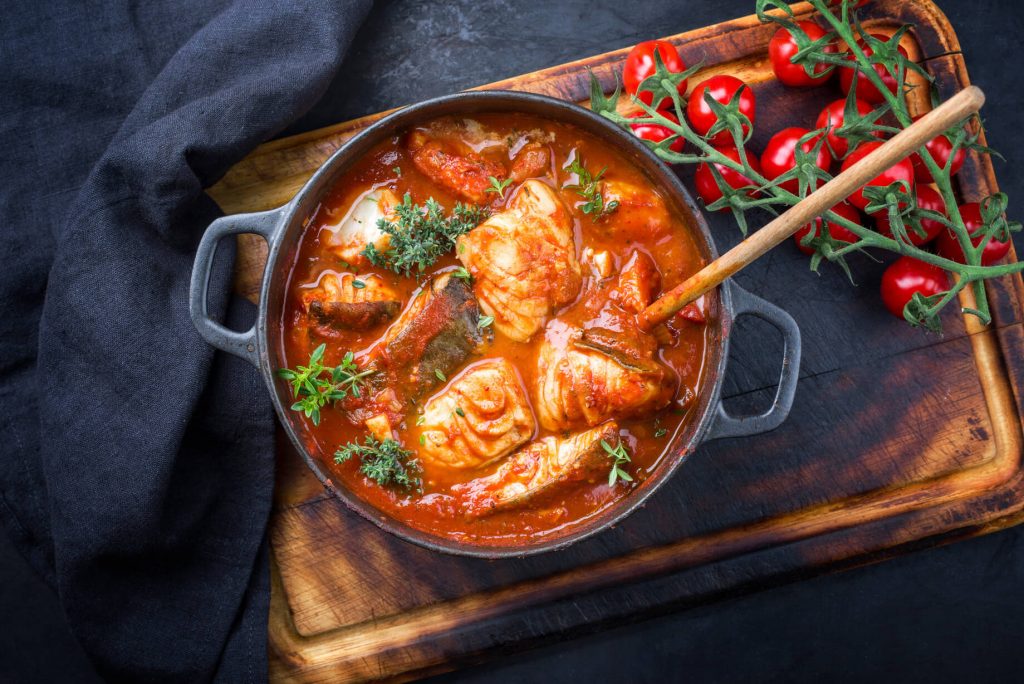 09 of 10
Pollock Fish Stew
This fish stew has delicate pollock fish that sits in a warm, yet light soup made of tomatoes, chicken stock, and ginger. Now, just because it has ginger you might think it will taste very strongly like it. However, the main star remains to be the fish no matter how delicate and mild it is. The ginger just adds a warm, gingery, yet very subtle flavor that complements to tart flavor of the soup.

Stews are normally challenging to replicate and take longer to make. But in this case, all you need to do is cut a few vegetables, grate the ginger using a grater (or a Microplane if you have it), and combine ingredients in a stock pot.

All in all, cooking and preparation included, this recipe is accomplished in just 30 minutes! It is quick and easy but yields an elegant dish you can serve for both lunch and dinner parties with your friends.

Try Recipe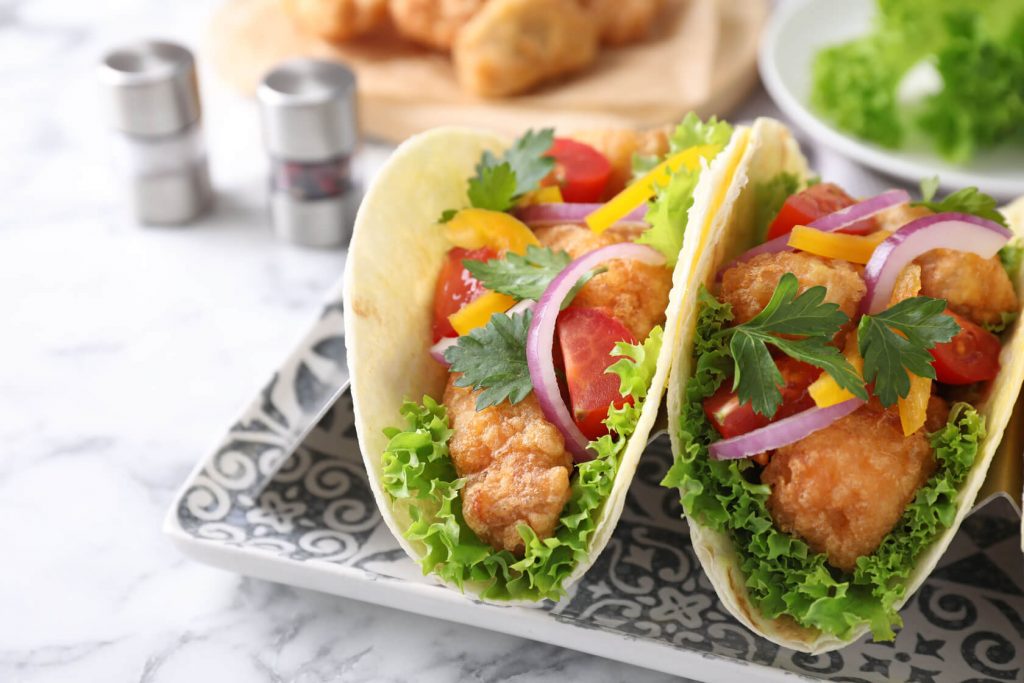 10 of 10
Pollock Fish Tacos
Create an easy crowd-pleaser by recreating this classic Mexican snack using wild Alaska pollock fish instead of pork or beef. Now, it may be the last on our list of pollock recipes, but it's definitely one to look out for. Chock-full of protein and omega-3 fatty acids, we can safely say that it's healthier than the original recipe!

Imagine, this new take features the delicate Alaska pollock fillets sitting on a bed of shredded green cabbage and pico de gallo or salsa Fresca. All encased in crispy corn tortillas made even more flavorful with a smoky adobo sour cream topping. Try this recipe and get a gourmet makeover of your favorite Mexican snack!

Try Recipe