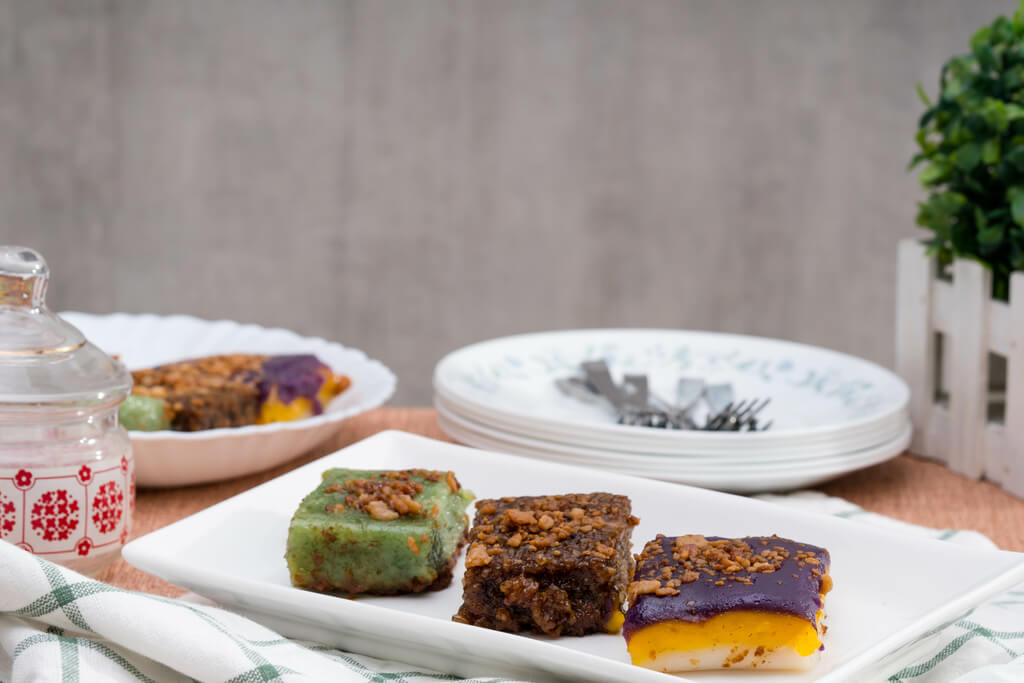 17 Popular Filipino Desserts You Need to Try
An archipelagic country that consists of groups of islands, it's only natural that Filipino cuisine has a lot more to offer than just leche flan and ube. As a matter of fact, Filipino desserts have a long list of sweet sticky rice treats known as kakanin and a variety of other desserts made with fresh fruits. Such fruits are mango, coconut, and ripe saba bananas, which are also abundant in the country. Fresh fruits on your dessert? You can only imagine how tropical and fresh that is.
But not only does Filipino cuisine have scrumptious and decadent desserts. But, they're also incredibly filling which makes some of them perfect for umagahan (breakfast) and merienda (afternoon snack). So whether you're on the lookout for sweet treats to satisfy your sweet tooth or simply want to get to know this cuisine, scroll some more and discover your next favorite yet.  Here, we showcase 17 dessert recipes from the Philippines that you can try!
---
17 Best Filipino Desserts You Can Recreate at Home
Happened to have a wonderful plate of leche flan and wondered what other sweet treats the Filipino cuisine has to offer? Hop on and find some of the popular Filipino desserts on this list. We'll be explaining what they are, how they're made, and some important notes in case you want to recreate them at home.
Fruit Salad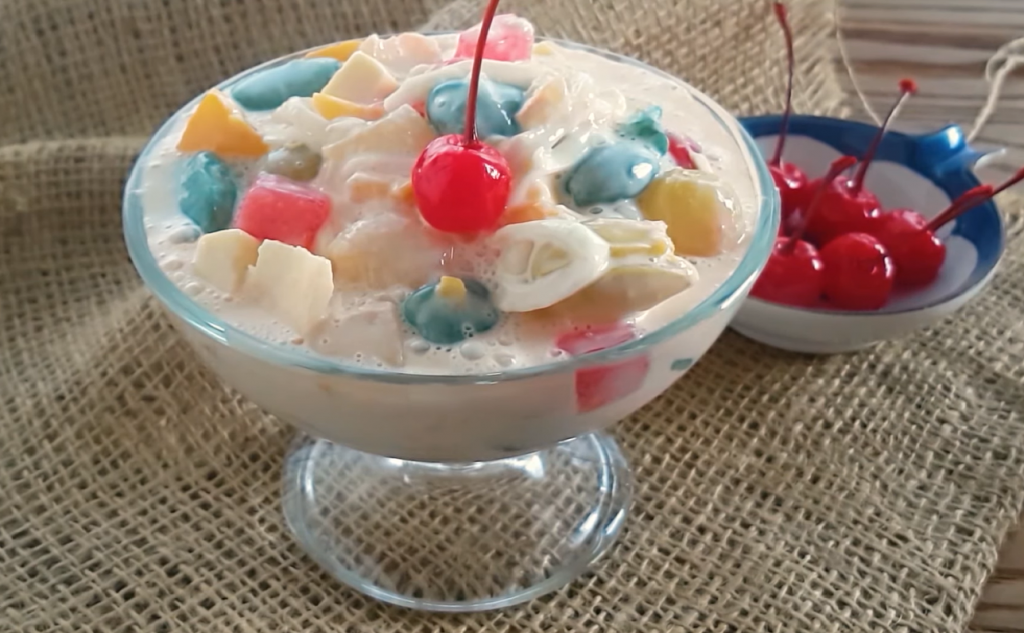 Filipino fruit salad is a staple not only during holidays, but every occasion you can think of: birthdays, weddings, and festival feasts. This tropical dessert is made of fruit cocktail, table cream, condensed milk, and maraschino cherries. But don't confuse it with another Filipino favorite, buko salad or coconut salad, where the simple fruit salad is mixed with shredded coconut meat.
Making this dessert is as easy as mixing all the ingredients together and chilling in the fridge for best results. Although most would agree they have to get at least a cup before chilling it for later.
Recipe for Inspiration: Filipino Fruit Salad
Ube Halaya (Purple Yam Jam)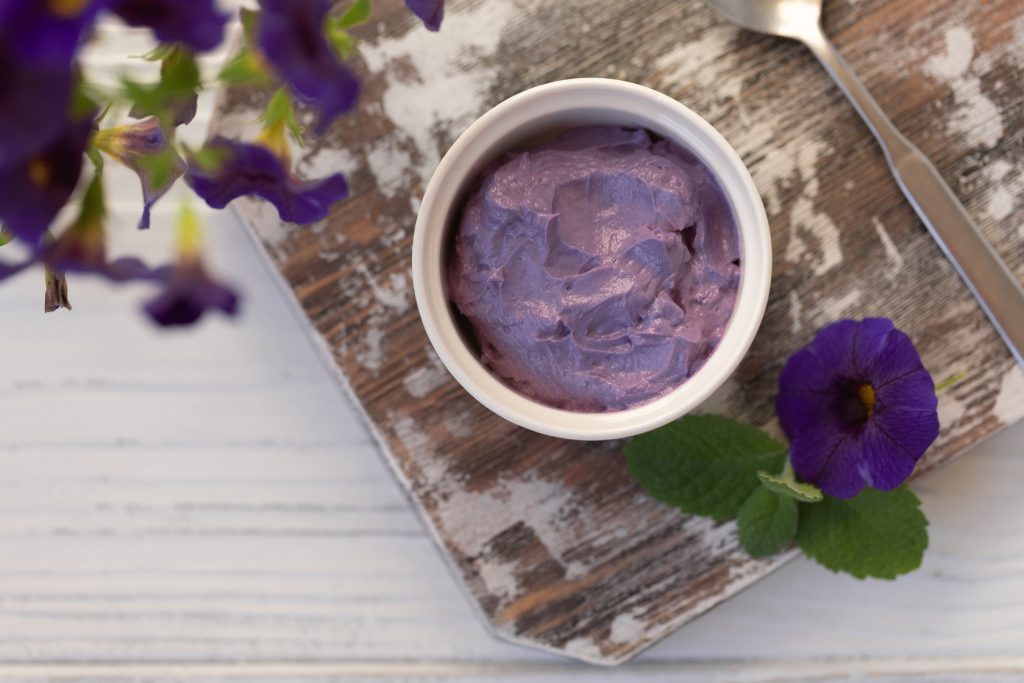 Undeniably one of the most famous Filipino desserts, ube halaya  (purple yam jam in English) or simply ube jam, has recently found its way to the American mainstream. And it's all thanks to the Manila Social Club, a fine dining restaurant in New York City, which incorporated the dessert in their ube doughnuts.
Basically paste-like, the jam features ingredients like purple yam, condensed milk, coconut milk, and ube flavoring. Although you can enjoy it on its own, this treat is also known as a base for ube ice cream. Or, incorporated into other famous desserts like halo halo.
Recipe for Inspiration: Ube Halaya (Purple Yam Jam) 
Halo Halo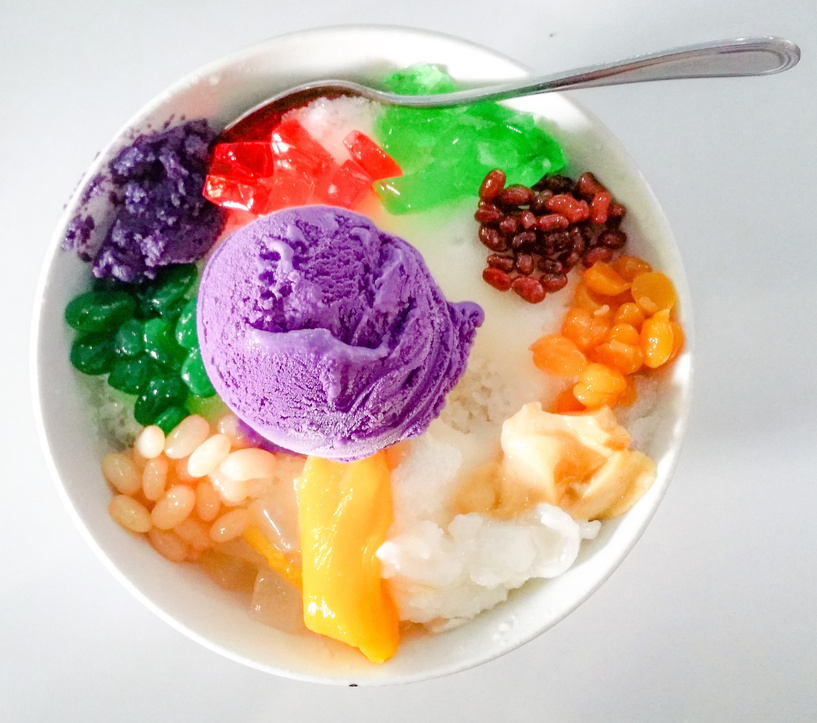 Halo-halo, with "halo" being the Filipino term for "mix", is a popular shaved ice treat that features other famous Filipino desserts such as ube ice cream, leche flan, sweetened saba banana, and shredded coconut among other ingredients.
To eat this dessert, you must first mix all the ingredients together. This creates a harmony of flavors from its individual components, including the evaporated milk and sugar!
Recipe for Inspiration: Halo-Halo (Filipino Shaved Ice Cream)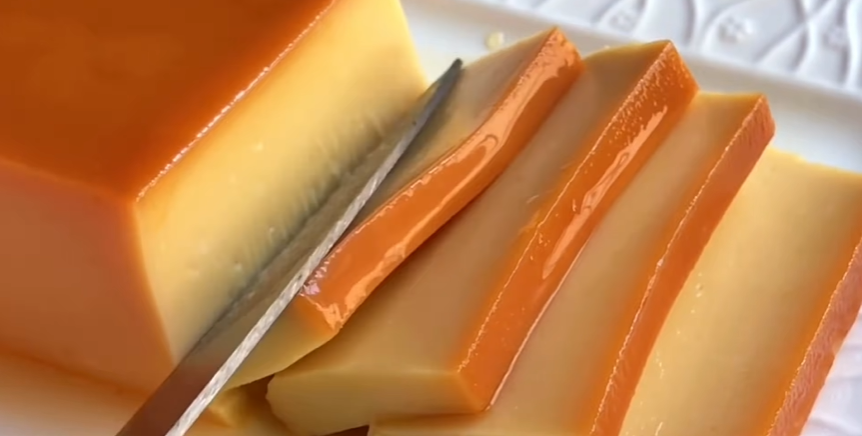 Like ube and fruit salad, leche flan is one of the most beloved Filipino desserts on this list. You'd think something extremely special is in it, but to make it, you only need simple ingredients found in your pantry.  These include sweetened condensed milk, evaporated milk, egg yolks, and lemon extract or lemon juice. This dessert gets even more sinfully delicious thanks to its soft and velvety texture combined with luscious caramel flavor.
So how loved is this dessert, exactly? While usually reserved for special occasions, Filipinos also like putting leche flan on their halo halo. Recently, however, modern applications of this dessert have been emerging left and right. That includes adding it as a topping for chiffon cake and cheesecake.
Recipe for Inspiration: Leche Flan With Lemon
Nata de Coco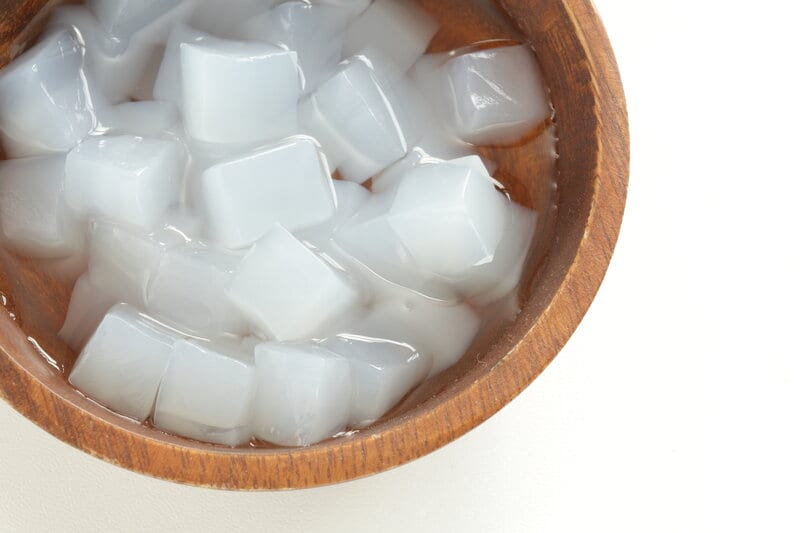 We mentioned that halo halo is a dish that uses other popular Filipino desserts in its ingredients. One of those ingredients is nata de coco. Aside from the famous halo halo, you can use nata de coco on fruit salads, milk teas, and other drinks found in grocery stores.
But what is it exactly? Also known as coconut gel, nata de coco is a jelly-like or gelatin-like food made with coconut water, grated coconut, and more. Mix all the ingredients together and ferment for 12 to 14 days. Cut into cubes and enjoy bites of chewy jelly bursting with coconut flavors!
Recipe for Inspiration: Nata de Coco
Buko Pandan (Coconut Pandan Salad)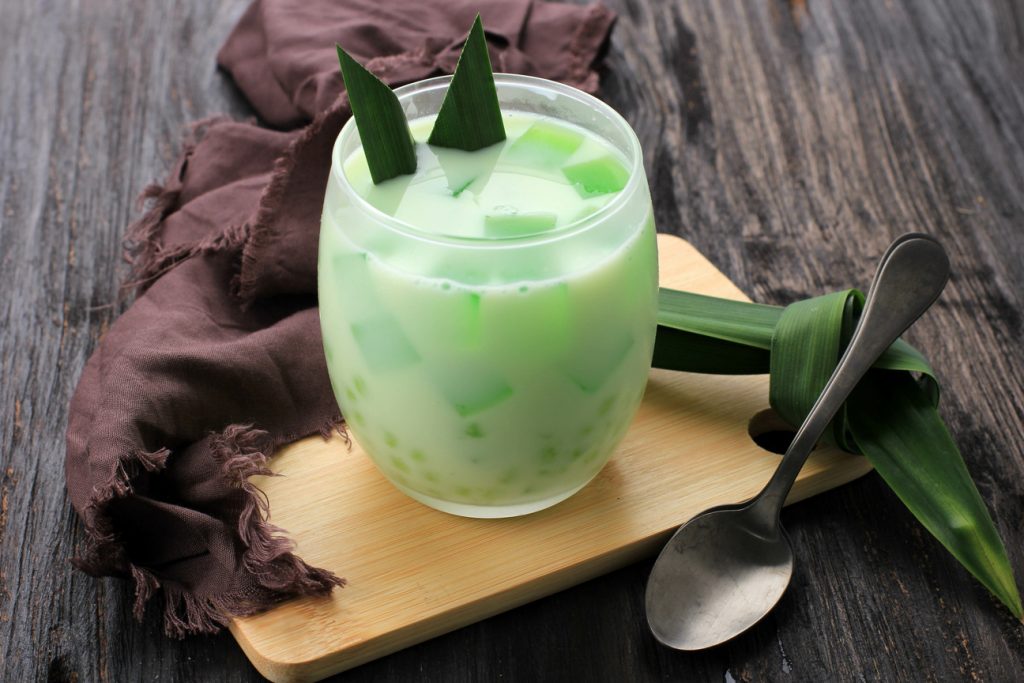 Featuring ingredients such as pandan extract, young coconut, table cream, and sweetened condensed milk, buko pandan delivers a sweet and refreshing treat you'll always have on hand during summertime. Additionally, this dessert also features pandan-flavored jelly which you can also find and include in other desserts like fruit salad and halo halo.
Recipe for Inspiration: Buko Pandan (Coconut Pandan Salad)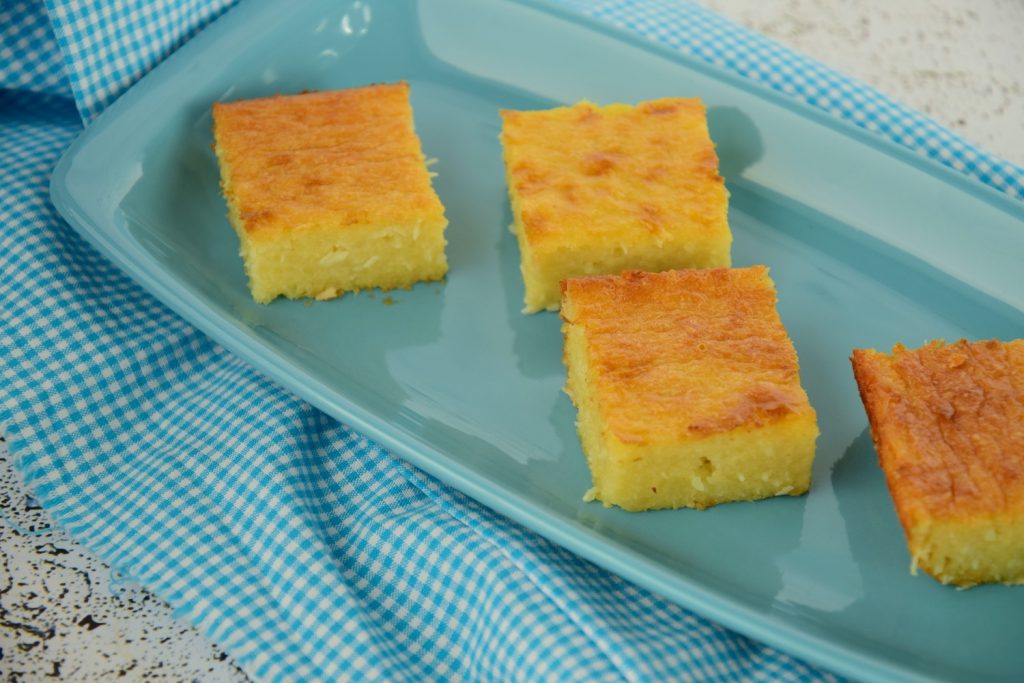 Hailed as a Filipino classic, cassava cake offers a melt-in-your-mouth treat all thanks to ingredients such as sweetened condensed milk, coconut milk, butter, and cheese. It is primarily made of cassava or yuca, which gives the cake a firm and chewy or glutinous texture. This rich and incredibly filling dessert is usually enjoyed as an afternoon snack and are often spotted on special occasions and holiday feasts.
Recipe for Inspiration: Filipino Cassava Cake 
Bibingka (Filipino Rice Cake)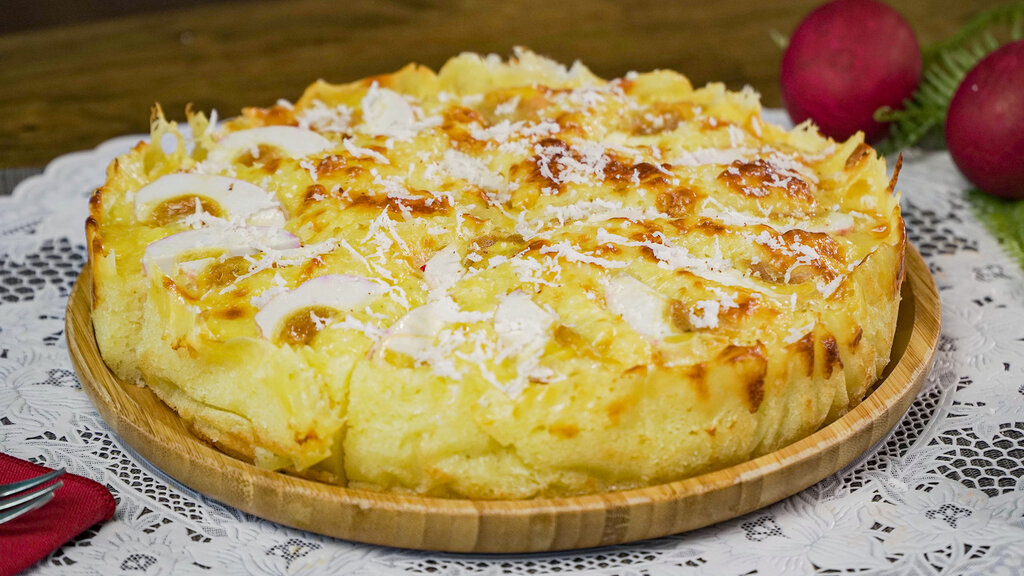 The Philippines is big on holidays, especially Christmas. Filipinos are famously known to start the Christmas countdown early on in September, or the start of the "ber" months. By then, you'll spot bibingka stalls dotting the streets near churches. And bibingka is the perfect example of a classic Filipino Christmas food.
Topped with butter, grated cheese and slices of salted egg, bibingka has a rich buttery flavor with melt-in-your-mouth light and fluffy cake.  You can eat this treat by itself. But traditionally, it's topped with nutty and chewy grated coconut that hugely complements the bibingka cake. Additionally, people also enjoy it alongside other kakanin such as puto bumbong (another classic Christmas dessert).
Recipe for Inspiration: Bibingka (Filipino Rice Cake)
Champorado (Chocolate Rice Pudding)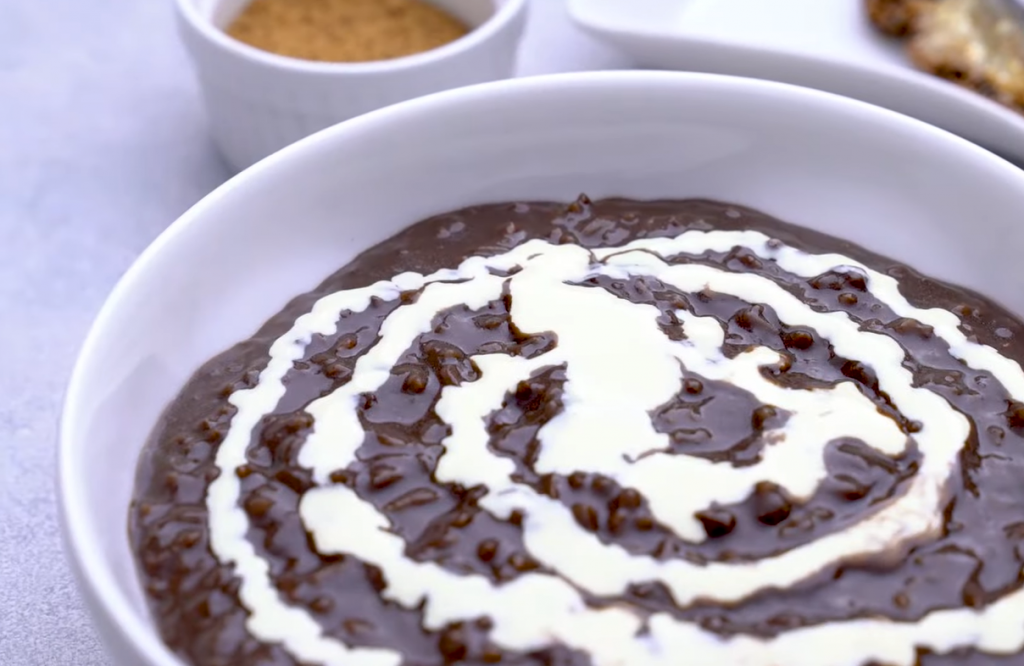 Champorado, or chocolate rice pudding in English, is one of the favorite breakfast meals in the Philippines (aside from being a famous dessert). This sweet treat highlights decadent chocolate and milky flavors mixed with sweet sticky rice porridge. It has an intense chocolate flavor from cocoa powder that goes well topped and then mixed with creamy and sweet condensed milk or evaporated milk.
As previously stated, its incredibly filling nature makes it perfect as a breakfast, midday snack, and dessert all in one! If the combination of chocolate and condensed milk is too sweet for you, go ahead and pair it with some salted fish to balance the sweetness. It also goes well with bread rolls or pandesal.
Recipe for Inspiration: Champorado (Chocolate Rice Pudding)
Maja Blanca (Coconut Pudding)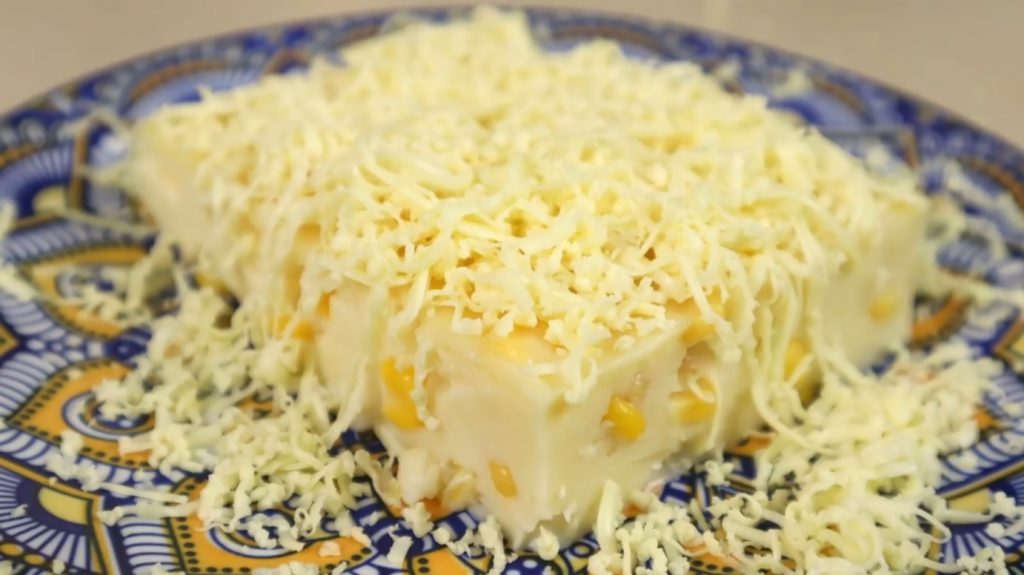 In this Filipino dessert, coconut milk and condensed milk are combined to make a silky smooth, melt-in-your-mouth coconut pudding. Thickened with cornstarch, this dessert achieves a jelly-like consistency full of the creamy flavor of fresh milk.  It also features corn kernels that burst with sweet flavors in every bite. As if it's not rich with flavors already, you can top it off with crispy toasted coconut loaded with nutty flavors. With the smooth pudding in contrast with the crispy coconut, you'll soon ask for more the moment it touches your lips.
Recipe for Inspiration: Maja Blanca (Coconut Pudding)
Lengua de Gato (Butter Cookies)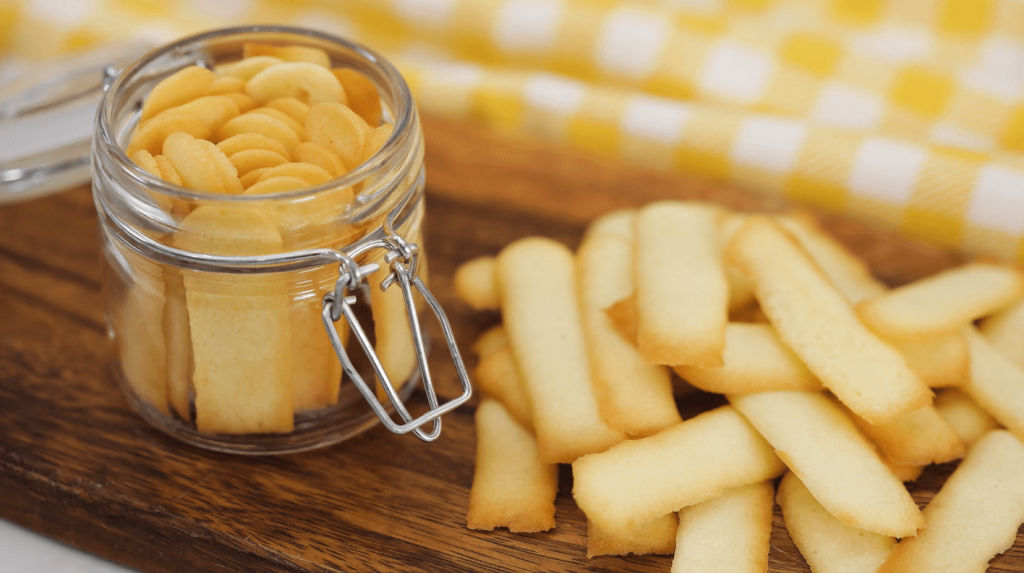 We all know butter cookies, but not lengua de gato from the Philippines. Comparable to the former, lengua de gato are crisp, buttery cookies made of milk, butter, flour, and egg whites. But this Filipino version is thinner and is best paired with coffee and tea. Or, hot chocolate for the kids since it's not too sweet. Don't get surprised if you catch yourself being addicted to it as it has the right balance of thickness for munching!
Recipe for Inspiration: Lengua de Gato (Filipino Butter Cookies)
Sapin Sapin (Layered Rice Cake)
One of the first things you'll notice in a lineup of Filipino desserts is this brightly colored, layered rice cake called sapin sapin (meaning "layers"). Like bibingka and puto bumbong, sapin sapin is another rice cake traditionally prepared during special occasions and holidays.
Made with glutinous rice flour, this dessert that doubles as a snack has a distinct chewy texture like most rice cakes in the Philippines. But what sets it apart is its colorful layers of glutinous rice flavored with jackfruit, coconut, and purple yam. Sapin sapin is commonly enjoyed with latik or coconut curd. But you can also enjoy it on its own if that's what you prefer.
Recipe for Inspiration: Sapin Sapin (Layered Rice Cake)
Banana Cue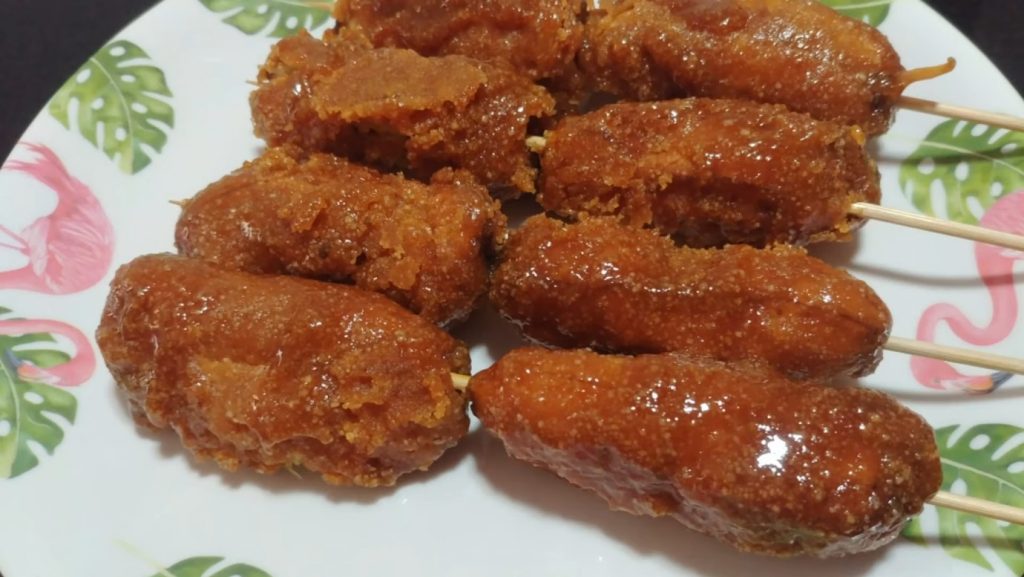 A combination of the words banana and barbecue, banana cue is simply saba (a type of banana) that's deep-fried, coated with brown sugar, then skewered on a wooden stick.
To make this sweet dessert, you need to deep-fry the saba bananas in oil first, then gradually add brown sugar into the oil, and cook until melted. Once melted, stir the saba bananas around to coat with the brown sugar. Remove it from the oil and you'll see the sugar form outer layers of caramel shards you'll enjoy as a contrast with the soft banana inside.
Recipe for Inspiration: Banana Cue
Sans Rival (Cashew Cake)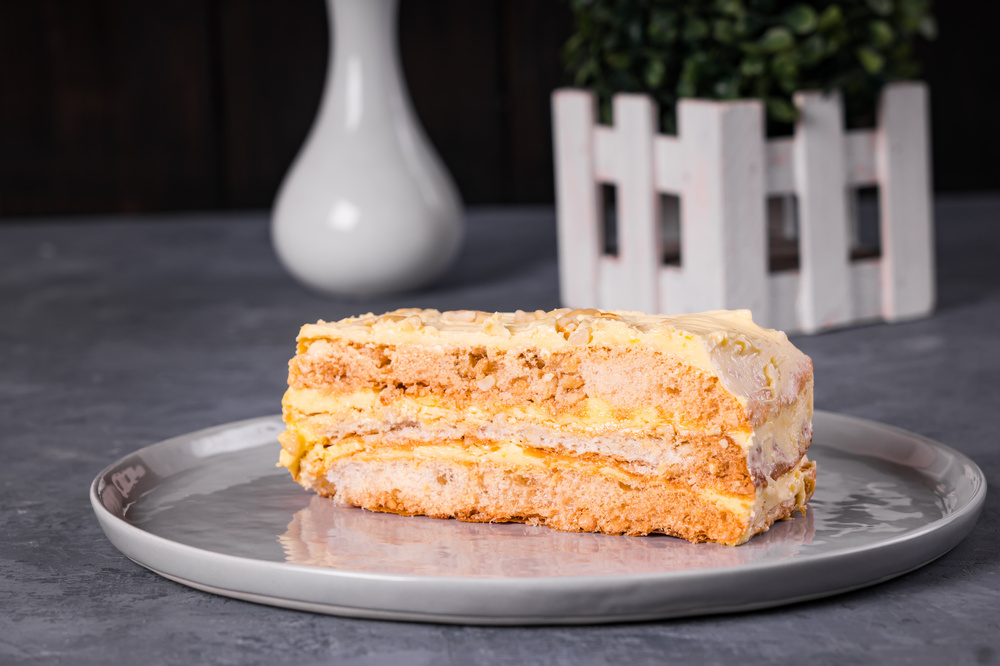 If you're not excited about hearing (or reading) sans rival on this list, well, you're greatly missing out. Imagine melt in your mouth nutty meringue layers with buttercream frosting and crunchy brittle cashews. Undoubtedly, sans rival is not your typical cake. Incorporating cashews and other ingredients that are easy to find, sans rival feature ingredients already famous in the Philippines.
Recipe for Inspiration: Sans Rival (Filipino Cashew Cake)
Ginataang Bilo Bilo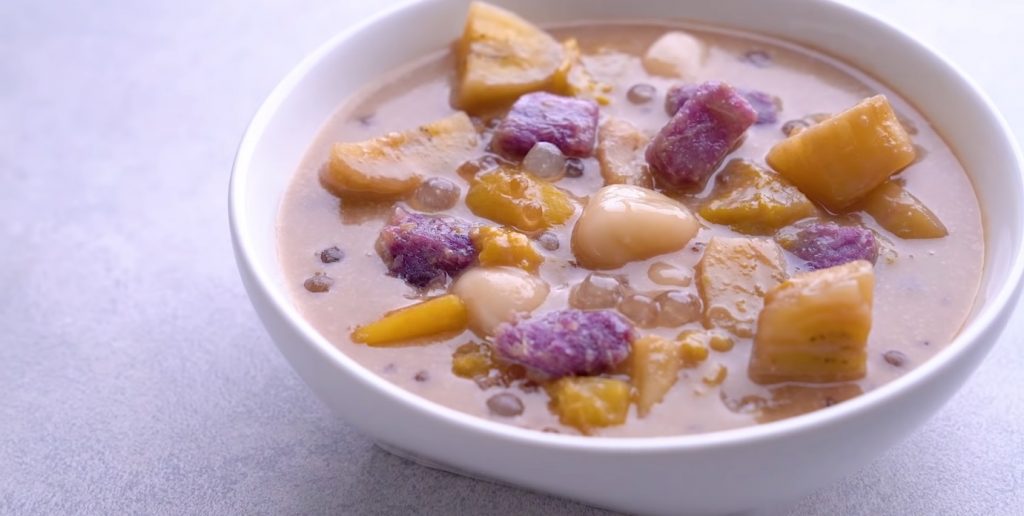 Bursting with flavors and textures from individual components of this dish, ginataang bilo bilo or simply bilo bilo is a hearty dessert with soupy broth made of coconut milk. It also has glutinous rice balls (bilo-bilo in Filipino), jackfruit, tapioca pearls, and sometimes bits of saba banana.
Recipe for Inspiration: Ginataang Bilo Bilo (Glutinous Rice Balls and Sweet Potatoes in Coconut Milk)
Buko Pie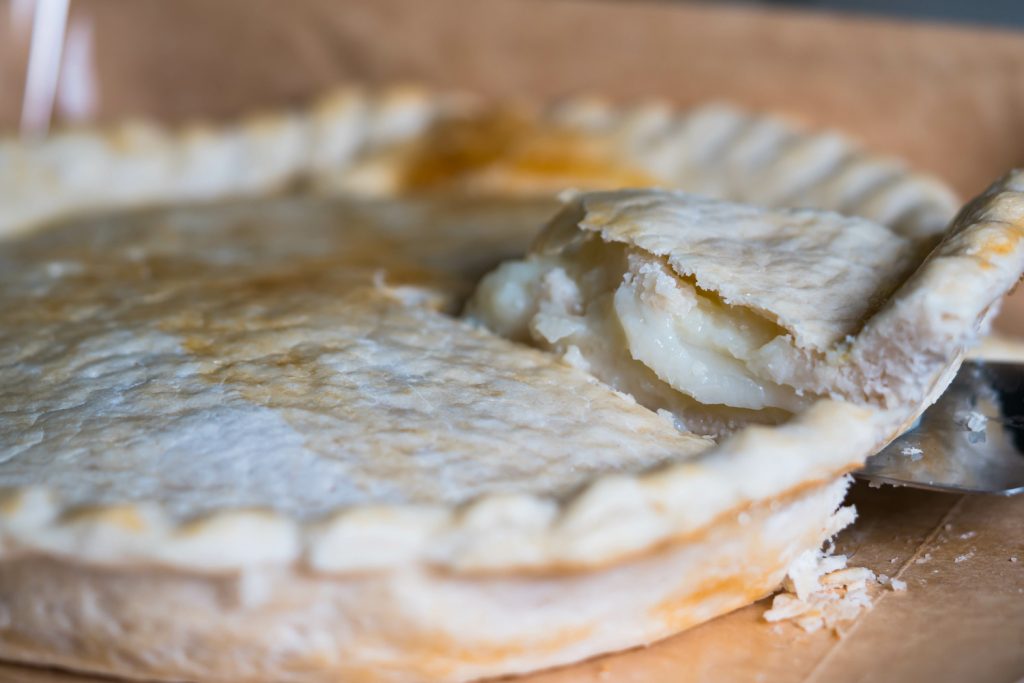 It's nearly at the bottom of the list but there's no denying Filipinos' love for this dessert. Easily recognized as the Philippines' ultimate baked treat, buko pie or coconut pie is made with young coconut meat that's not too sweet or too bland. It also has a crispy, buttery crust filled with luscious coconut filling.
Recipe for Inspiration: Buko Pie (Coconut Pie)
Ube Crinkle Cookies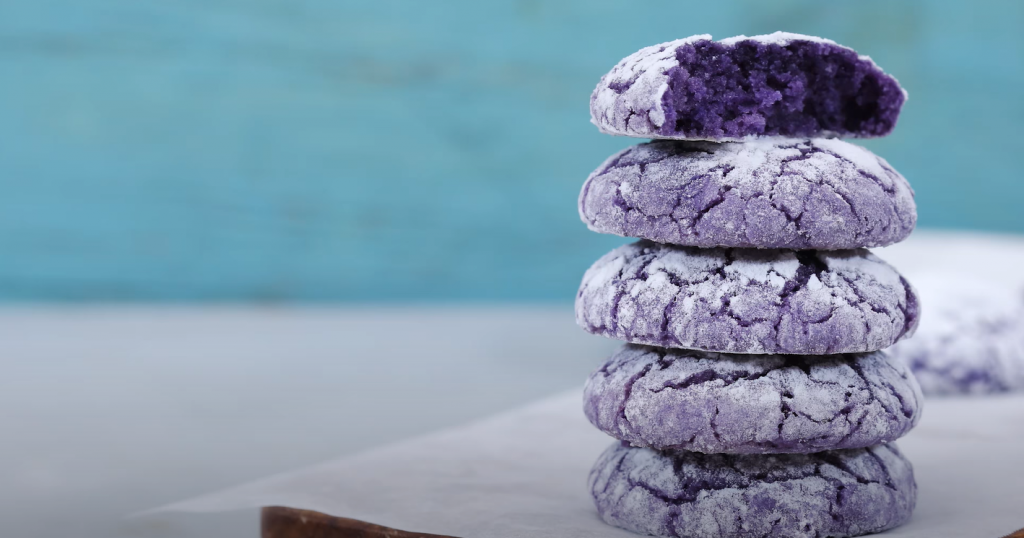 Last on our list of Filipino desserts is this perfect collaboration from Philippines and America. Presenting the ube crinkle cookies. Surprisingly, American favorite crinkle cookies highlight the flavor of ube halaya perfectly. And with its naturally purple color, you won't need food coloring to capture the attention of kids and adults alike in the room!
Now, to showcase the flavor of ube even more, this recipe asks for ube extract. Expect this cookie to be bursting with flavor. Dusted with powdered sugar, this treat just got even merrier! But remember to dust it with enough sugar or it will all melt off by the time you eat it.
Recipe for Inspiration: Ube Crinkle Cookies