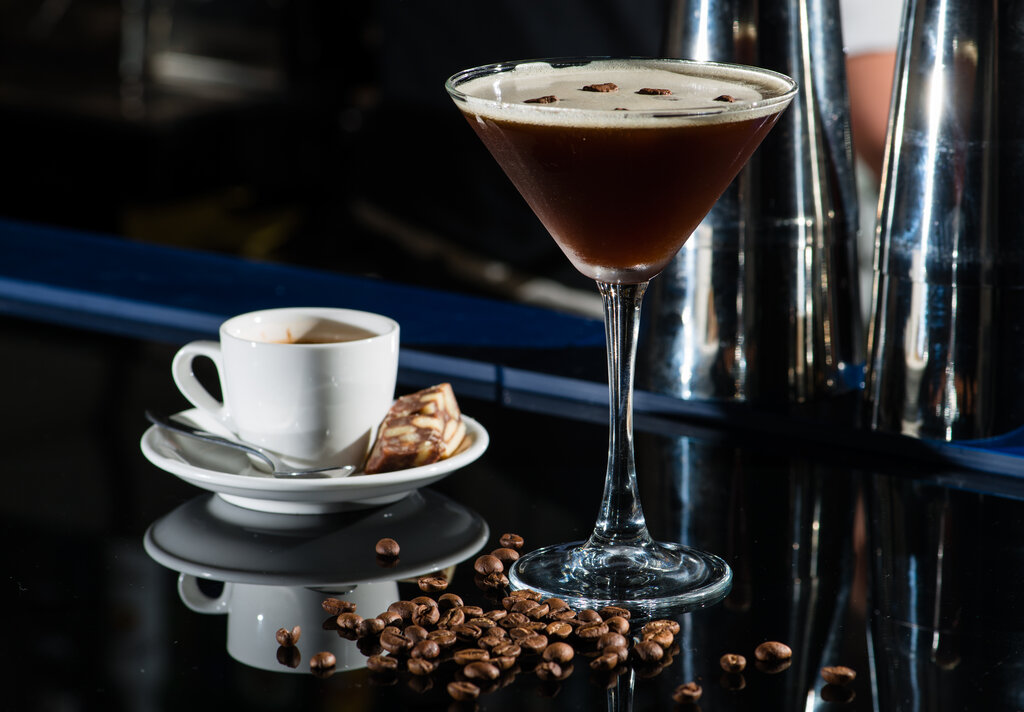 15 Boozy Coffee Cocktails Coffee Lovers Must Try
It's no question that coffee and cocktails are among life's greatest pleasures. Fresh-brewed coffee peps you up during daylight, whereas the best cocktail winds you down come nighttime. Both drinks are equally tempting, and inevitably, there will be times when you will simultaneously crave a cup of joe and a glass of your favorite booze. Don't worry, though. As it turns out, you can enjoy them together (literally!) thanks to the array of coffee cocktails out there.
Mixing coffee and alcohol is a surefire way to add a decadent twist to your beverage repertoire. So, grab that bottle of coffee liqueur and some of the dark spirits sitting on your bar cart. Brew some coffee, and have these boozy coffee cocktails at home.
---
Hot Coffee Cocktails
For many, hot coffee is their drink of choice to jump-start their mornings. And some even drink this elixir of energy more than once a day. Now, we don't know about you, but sipping the same old cup of joe grows monotonous eventually. One way to invigorate hot coffee sessions is by adding alcohol to it, and yes, literally pouring and mixing alcohol into the coffee. To discover more about this, here are some decadent hot coffee cocktails that you can make at home:
Irish Coffee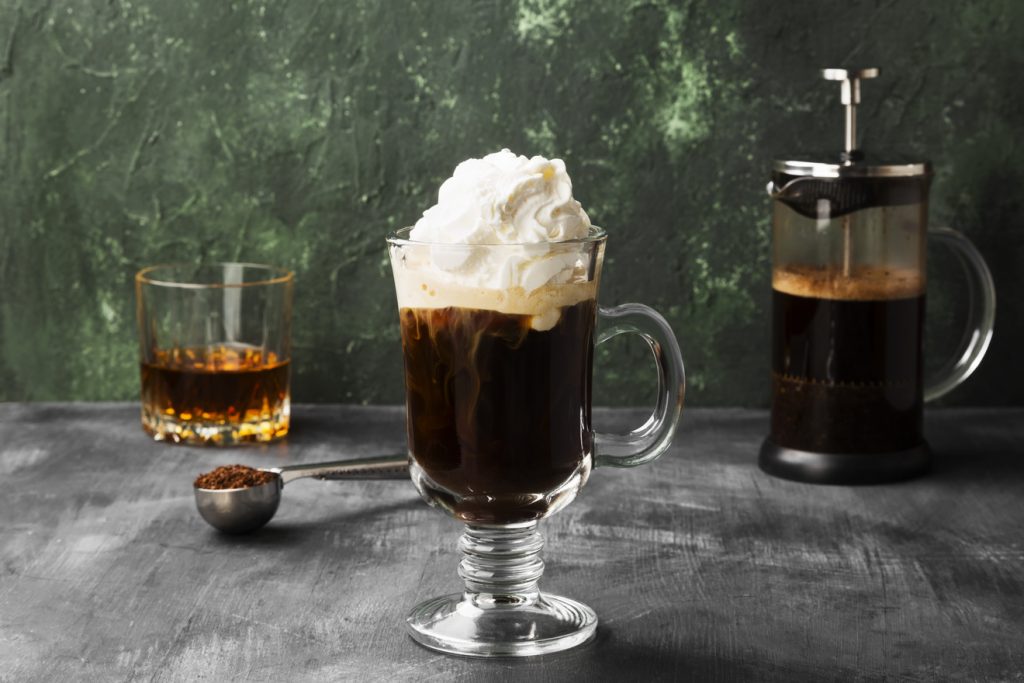 Coffee and whiskey, without a doubt, make for a delicious pair in the world of mixology. Take Irish coffee, for instance. Featuring brewed coffee and Irish whiskey, it's a classic drink that coffee lovers should not miss out on. This coffee cocktail has a few variations, but the original recipe remains a crowd favorite.
To create this beverage, we simply spike the freshly brewed coffee with a shot of Jameson Irish whiskey. Truly a flexible drink, you can also use maple syrup or brown sugar to sweeten it a bit. An authentic Irish coffee also has a dollop of whipped cream on top. Boozing up coffee has never been this simple and delicious! 
Recipe for Inspiration: Best Irish Coffee
Spanish Coffee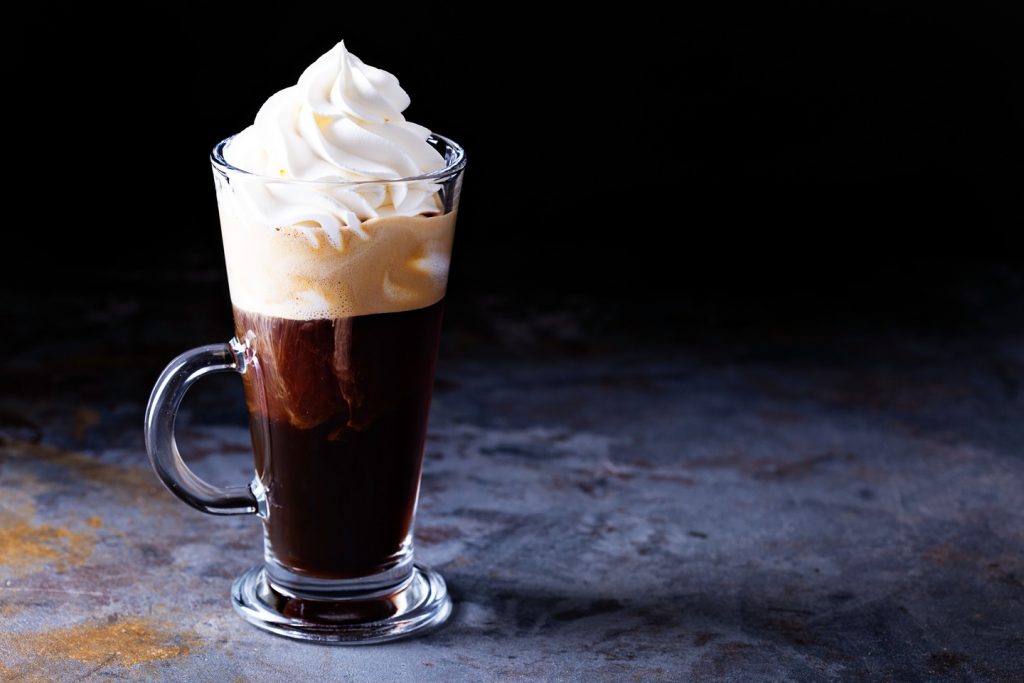 Flaming Spanish coffee can also be a fascinating start to your coffee-cocktail journey. This drink is America's answer to the iconic Spanish spiked coffee or cajarillo. Spanish coffee is widely popular in Latin American countries such as Cuba, Colombia, and Mexico.
Easy to prepare, you can whip this up in no time whenever it's chilly outside. This recipe calls for brewed coffee, coffee liqueur, rum, and orange liqueur. For the orange-flavored liqueur, you can incorporate Cointreau or triple sec. Either way, it's terrific! Also, make sure to use the best kitchen torch when caramelizing the sugar on the rim. 
Recipe for Inspiration: Spanish Coffee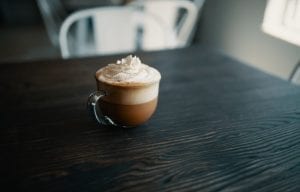 A Mexican twist on the classic Irish coffee, this boozy Mexican coffee is an intriguing blend of spike and spice. This drink, featuring the classic pairing of freshly brewed coffee and liqueurs, will wake your senses straight away. A perfect (spiked) alternative to your usual hot chocolate on a chilly morning!
This adult Mexican dessert drink features Kahlua and tequila. And when you add cinnamon, things get even more exciting! Some recipes usually use whipped cream, but you can also go for chocolate syrup and cocoa powder for the toppings.
Recipe for Inspiration: Spiked and Spiced Mexican Coffee
Kahlua Coffee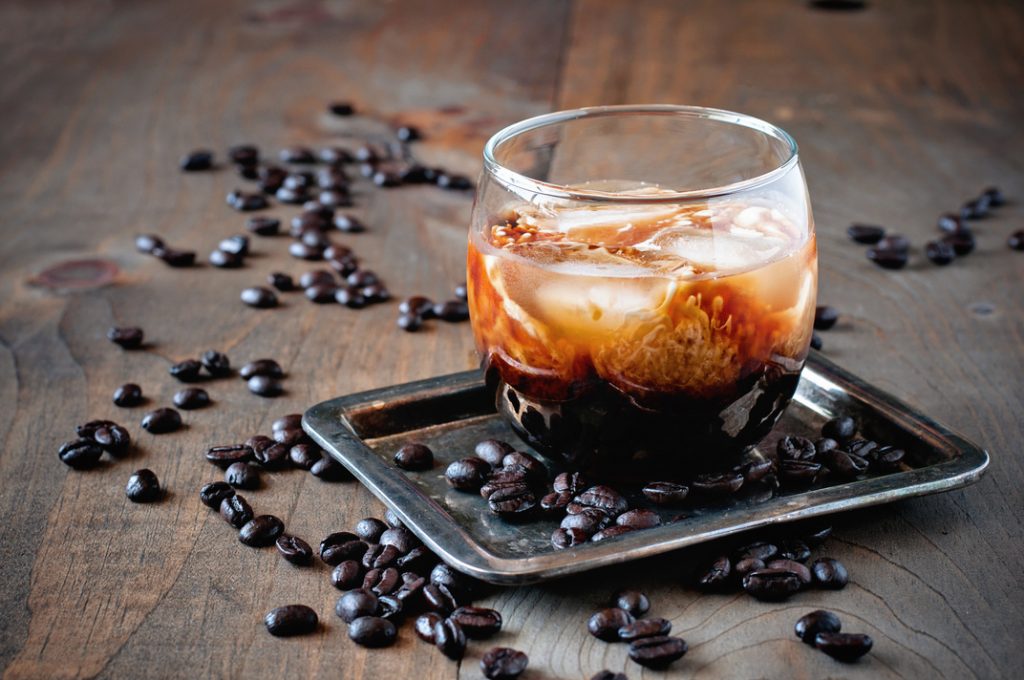 Know what could bring your good morning coffee drink to the next level? Spike it with a shot of Kahlua liqueur! Kahlua goes well with coffee because of its rich and smooth flavor, not to mention it's one of the best coffee liqueurs. Try this one time, and it will quickly become one of your go-to coffee drinks. 
Flexible as it is, you can even skip on the cream and enjoy Kahlua coffee straight up. Although adding a drizzle of cream is the key to making it taste a bit richer. Moreover, you can either use an espresso maker or an Aeropress when brewing your coffee. 
Recipe for Inspiration: Kahlua Coffee
Amaretto Coffee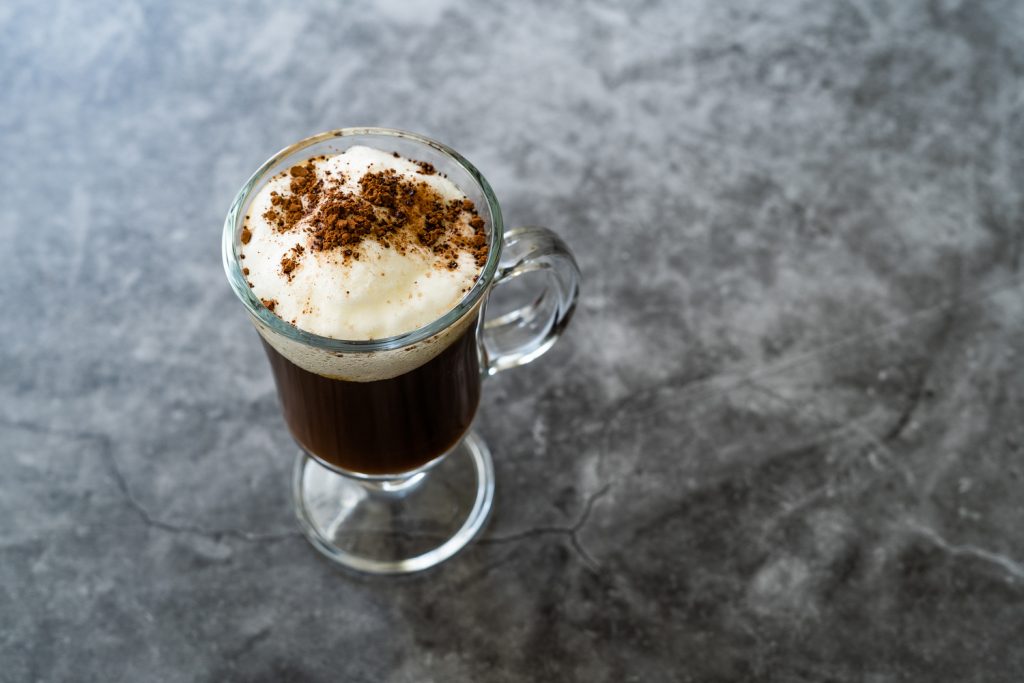 If you have an amaretto liqueur in your home coffee bar, then mix up this irresistible coffee drink! The combination of aromatic coffee and Italian amaretto is pure bliss for coffee enthusiasts. It's just the thing when you want to give your morning coffee some Italian flair. 
Amaretto coffee is among the easiest warm cocktails to make because all you need is hot coffee, a shot of amaretto, and whipped cream. Add a sprinkle of cinnamon for a bit of spice, and enjoy!
Recipe for Inspiration: Amaretto Coffee
Baileys Irish Cream Coffee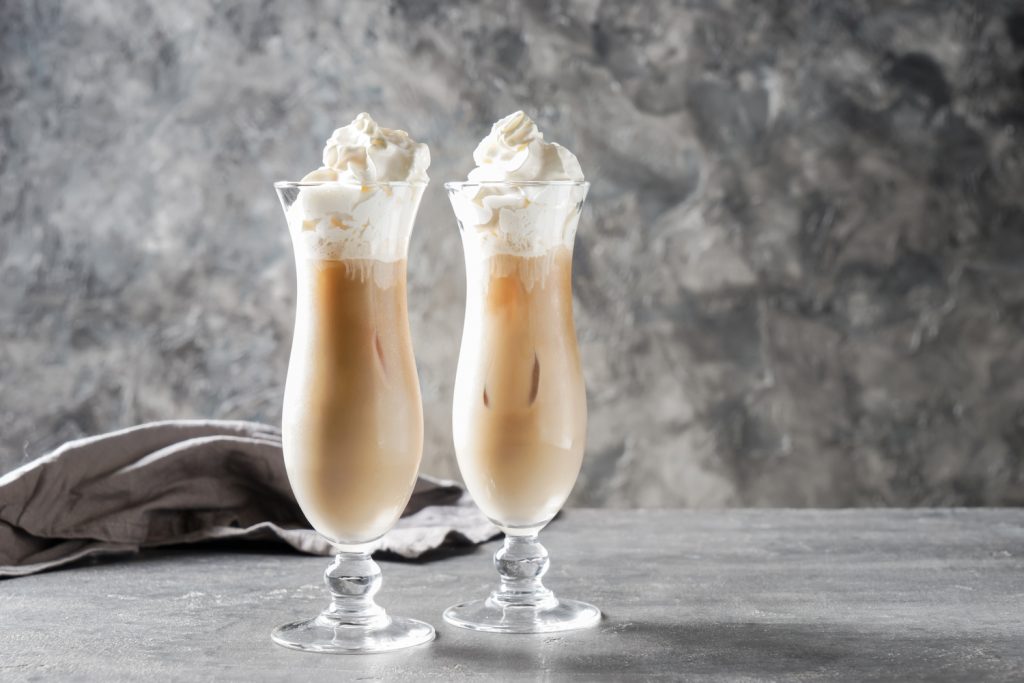 Want to give the classic Irish coffee a creamy spin? Grab a bottle of Baileys! Baileys, the most popular Irish cream liqueur on the market, is sure to make your cocktails delicious. You can often find this liqueur in fun and creamy alcoholic drinks.
Baileys Irish cream coffee is downright tasty. In this easy recipe, you just pour Baileys Irish cream in brewed black coffee. And like the original version, we finish it off with whipped cream on top. Make it a little festive and garnish with a sprinkle of ground cinnamon and nutmeg. Bailey's coffee boasts a decadent taste, making it a great afternoon treat.
Recipe for Inspiration: Baileys Irish Cream Coffee
German Hot Rum and Coffee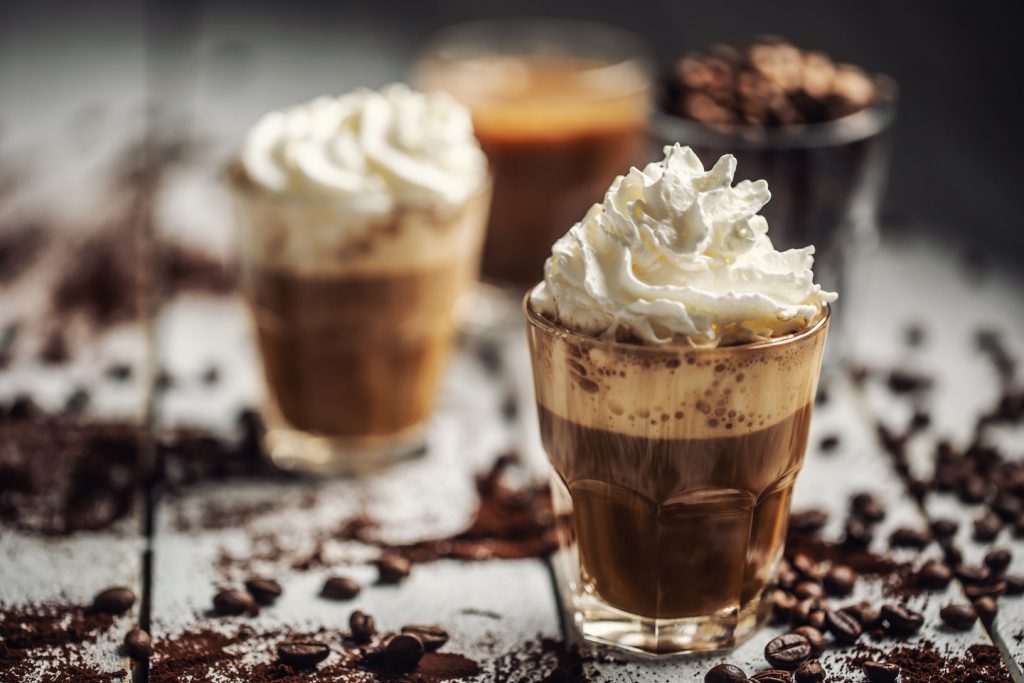 Pharisaeer Kaffee is a traditional hot coffee cocktail in Germany. In fact, this German coffee with rum is the national drink of North Frisia. It traces its roots back to the 19th century when a Christian congregation invented it to keep them warm during baptisms. It's topped with whipped cream to conceal the aroma of the alcohol. 
This recipe pairs strong coffee with dark Jamaican rum and tosses sugar cubes for sweet notes. If you don't have Jamaican rum on hand, you can go ahead and use your rum of choice. And while you can use the canned stuff, there's no mistaking the deliciousness of homemade whipped cream! 
Recipe for Inspiration: German Hot Rum and Coffee
---
Iced Coffee Cocktails
People gravitate towards iced coffee because it's a thirst-quenching drink that comes with a caffeine kick. And you can even put shots of alcohol into it to keep things more interesting! With that said, here are some iced coffee cocktails that'll tempt your tastebuds and keep you invigorated at the same time.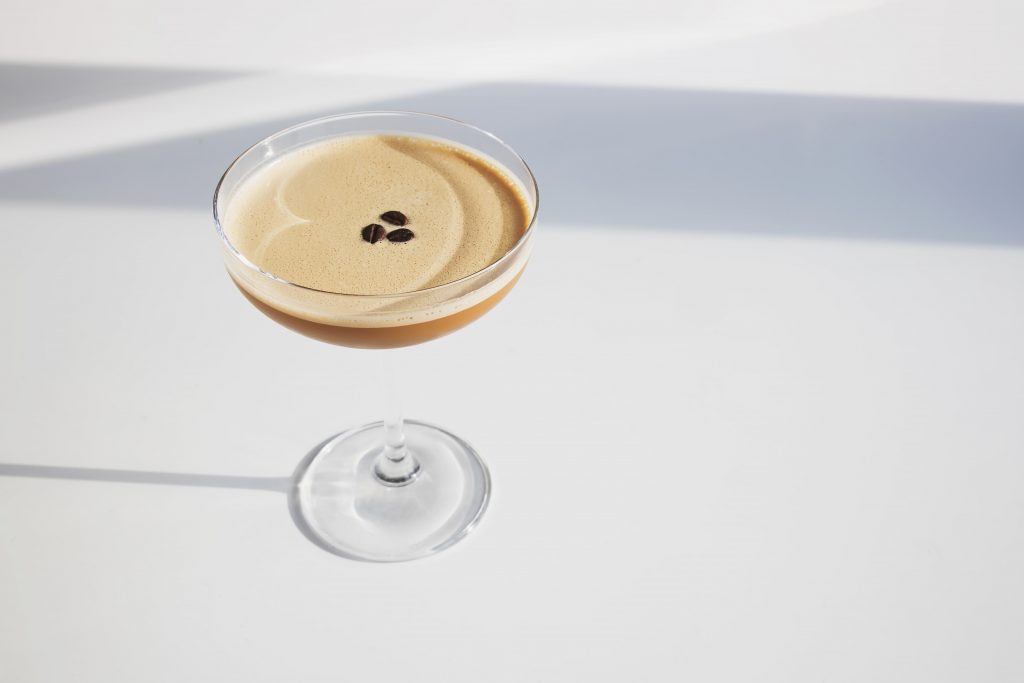 This easy recipe is proof that vodka and cold espresso can blend beautifully in one sophisticated beverage. This duo brings about a superb taste, especially when married with Baileys Irish cream. One sip is all it takes to realize that espresso martini with Baileys is hands down among the most delicious cold coffee drinks you'll ever try. 
With only three ingredients and quick prep time to boot, it's the perfect after-dinner drink on a busy weeknight. Simply combine Baileys Irish cream, vodka, and cold espresso in a cocktail shaker, and shake. It's usually poured over and served in a martini glass. Coffee beans are the traditional garnish, but you can use cherry as well. 
Recipe for Inspiration: Baileys Espresso Martini
Black Russian Drink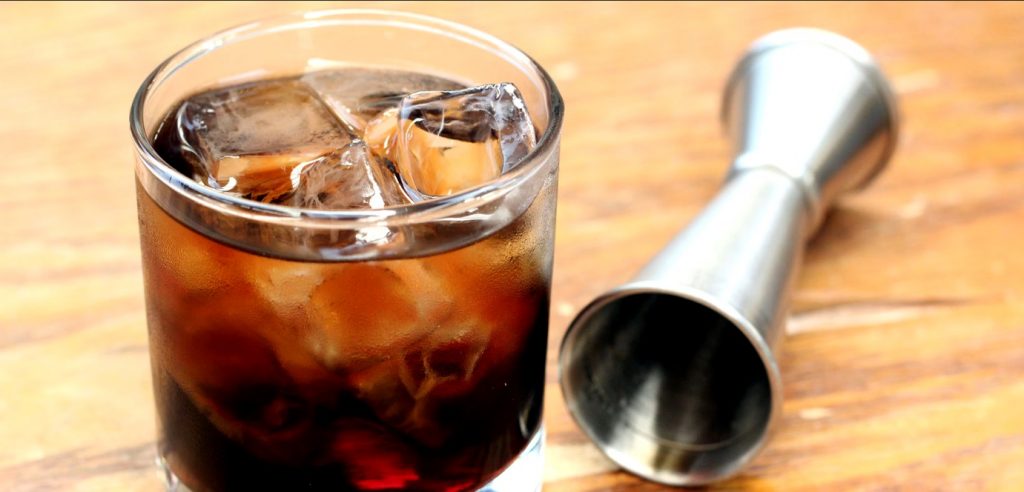 The Black Russian is one of the simplest but among the most delicious coffee cocktails you'll ever taste. It was invented around the late 1940s when a bartender at the Hotel Metropole in Brussels concocted a special drink for Perle Mesta, then American ambassador to Luxembourg. This cocktail got its name from the Russian vodka used by the bartender and the black color of Kahlua. 
You can easily recreate this cocktail at home as it only requires vodka and Kahlua or any coffee-flavored liqueur. If you want it to taste sweeter, you will need to add more Kahlua. Meanwhile, adding more vodka results in a stronger drink. 
Recipe for Inspiration: Black Russian Drink 
White Russian Cocktail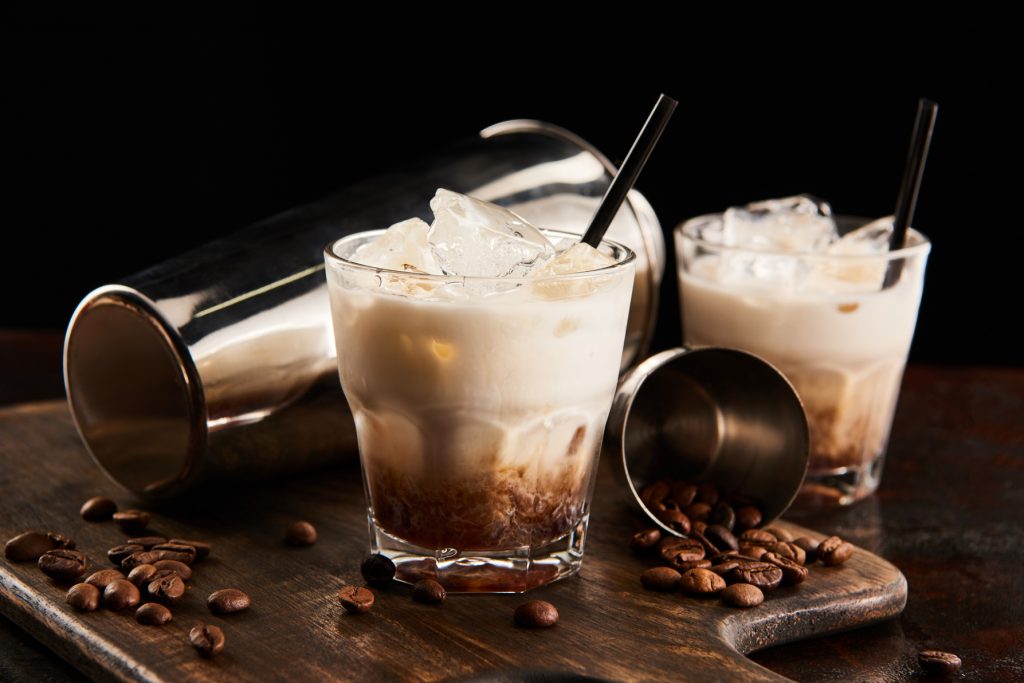 The creamy variation of the Black Russian, the White Russian cocktail is rich and decadent. Like the original version, it also includes vodka and coffee liqueur but adds heavy cream for a more luscious drink. It's like a latte or a milkshake that's spiked with shots of alcohol.
When mixing up this coffee cocktail, stir gently until the cream makes lovely swirl patterns. And if you want your guests to have an upscale bar-like experience, use clear ice cubes rather than cloudy ones. In just two minutes, you'll have something to astound your guests.
Recipe for Inspiration: White Russian Cocktail
Dalgona Coffee Martini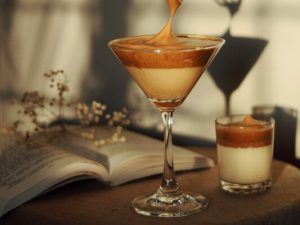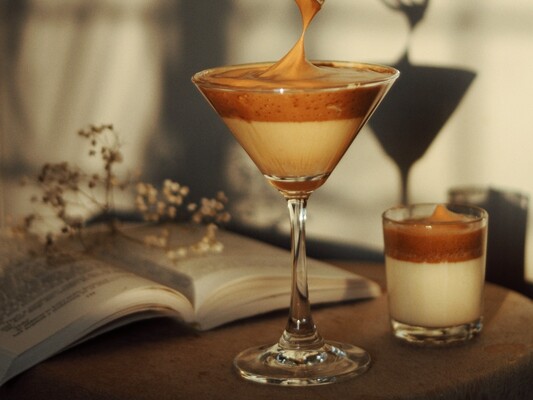 If you are still caught up in the dalgona coffee craze, then this recipe is for you. Dalgona martini also has the iconic whipped, fluffy goodness of regular dalgona coffee, except it requires a mixture of alcohol. This beverage will be a delicious addition to your drinking repertoire!
This coffee martini calls for instant coffee, granulated sugar, and simple syrup. An intoxicating spin on the viral whipped coffee, this recipe also adds vodka and coffee liqueur. But of course, you also should not skip out on the whipped topping. This drink is ready to serve in just 15 minutes. 
Recipe for Inspiration: Dalgona Coffee Martini
Bushwacker Drink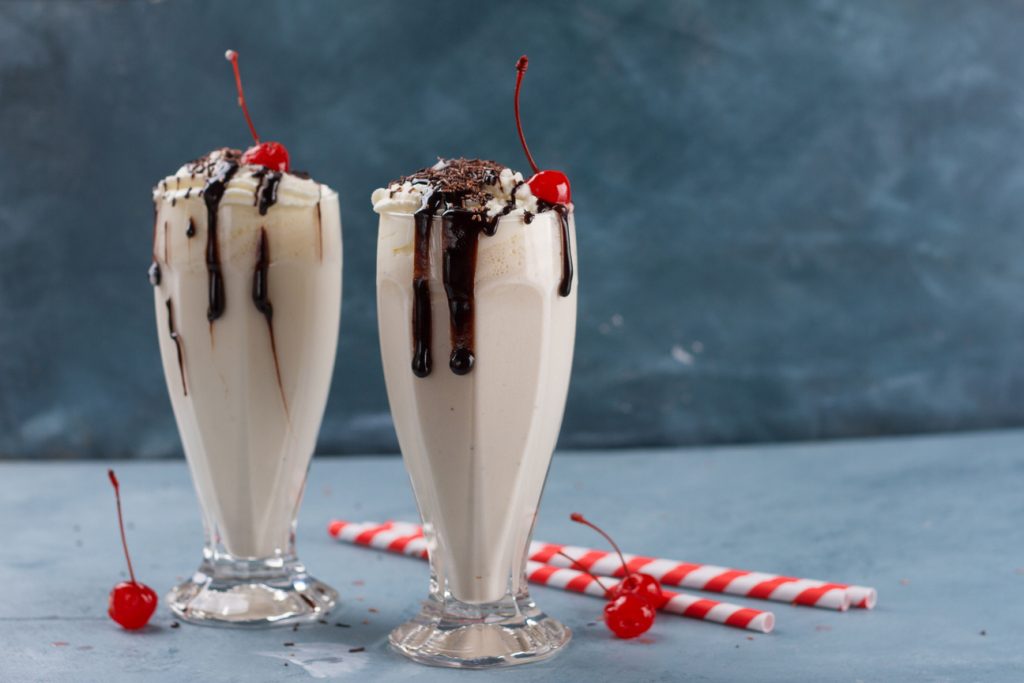 The Bushwacker drink, invented in 1975, is a frozen cocktail similar to a creamy milkshake. But it gets interesting when you add a little bit of alcohol into it. It's just the thing when you're on the fence about whether to serve chocolate milkshake or a piña colada.  
This coffee cocktail is sweet, rich, chocolatey, and refreshing at the same time. It consists of Kahlua, creme de cacao, rum, and cream of coconut. All done in just 5 minutes, this intriguing cocktail drink is an ideal dinner party drink.
Recipe for Inspiration: Bushwacker Drink
Spiked Thai Iced Coffee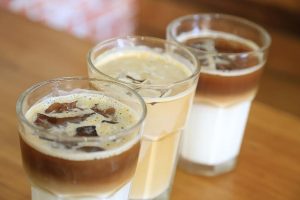 If you're ready to take your Thai iced coffee to a new level of taste, then this recipe is perfect for you. The spiked Thai iced coffee is just, well, the boozy spin on the original recipe. But this time, Amaretto liqueur is added to the coffee for its delicious nutty palate. 
Recipe for Inspiration: Thai Iced Coffee
Nutty Irishman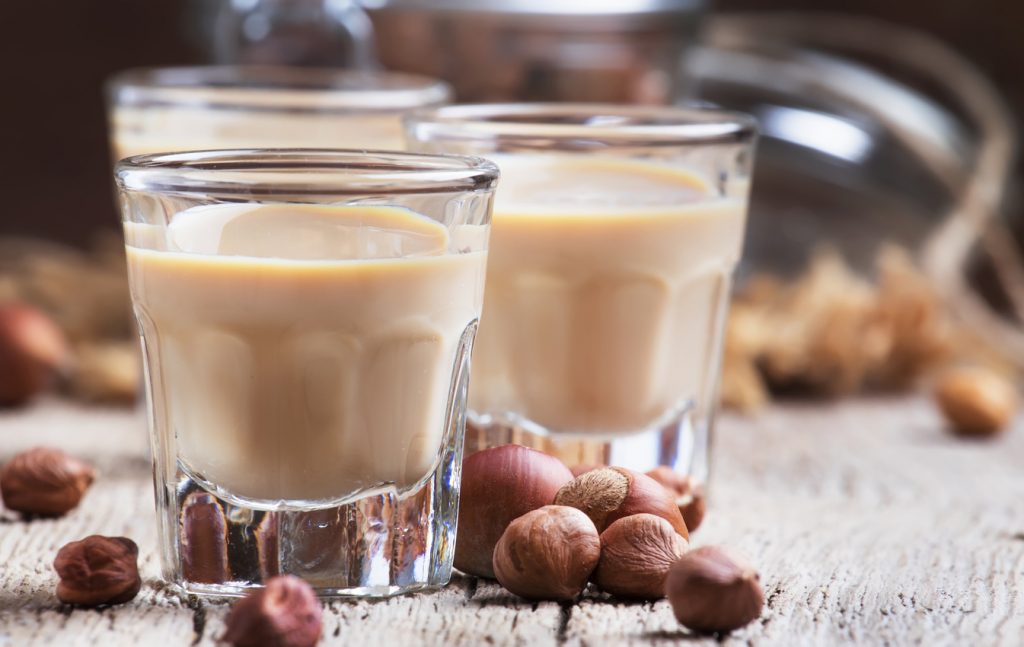 The Nutty Irishman is yet another way to ease into alcohol-infused coffee drinks. It's a traditional cocktail commonly enjoyed during St. Patrick's Day. But delicious as it is, it can also be a perfect after-dinner beverage. 
There are many ways to mix up this coffee cocktail, and some recipes even feature varying ingredients. Although, the majority includes two standard components: Frangelico hazelnut liqueur and Irish cream liqueur. Adding Irish whiskey provides a subtle kick to the drink. 
Recipe for Inspiration: Nutty Irishman
Colorado Bulldog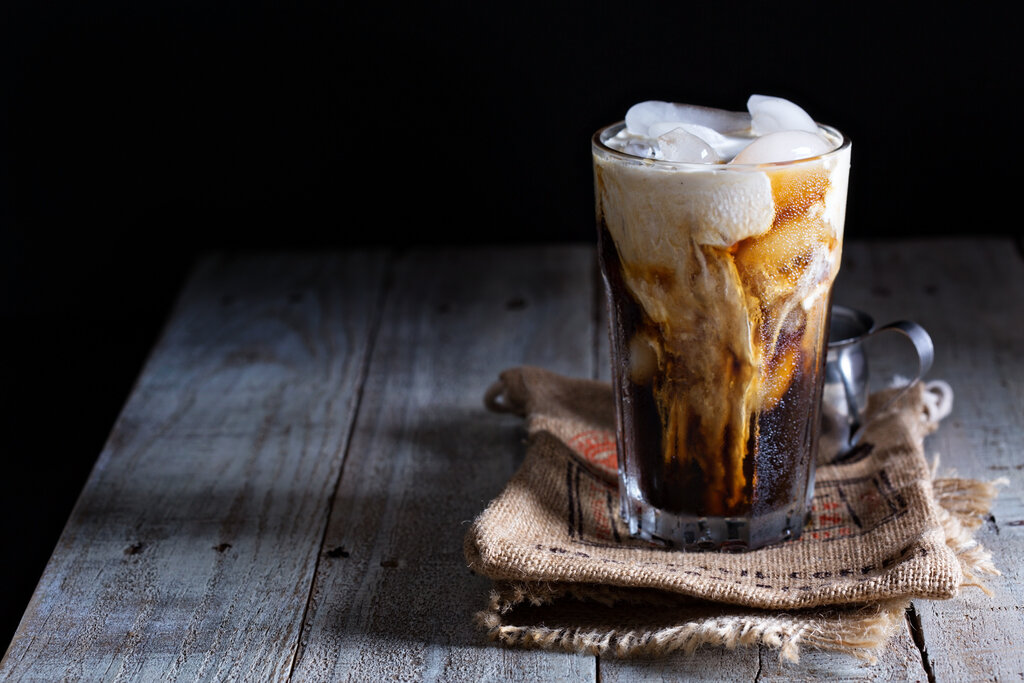 Colorado bulldog is just a fizzy spin on the White Russian cocktail. And much like the White Russian, it's also boozy, creamy, and chocolatey. The perfect milkshake-and-soda-like drink meant for adults!
The main ingredients, just like other coffee cocktails on the list, include vodka, Kahlua, and cream. But cola takes the center stage in this sippable cocktail. This component provides a fizzy texture to the drink, completely separating it from the White Russian cocktail. When ready to serve, you can use whole or crushed ice cubes. 
Recipe for Inspiration: Colorado Bulldog