These smoky pan-grilled steak tacos are the definition of easy, quick, and delicious. It's made with marinated flank steak, soft flour tortilla, and various taco toppings including queso fresco cheese for that authentic Mexican vibe. The steak taco marinade made with lime, orange juice, and spices is the game changer in giving the flavor and texture of the carne asada a level up! It also comes with a cilantro lime sauce to complete the beef tacos. Making this steak tacos recipe takes less than 20 minutes to cook, so you definitely have time to mix up some margarita or tequila sangria to serve it with.
Tips on Making Steak Tacos
No need to wait for the taco truck because you can now make the best steak for tacos with our simple and easy recipe. Half the time you already have these ingredients in your kitchen, so you can certainly consider Mexican tacos a go-to last minute recipe for dinner! Here are the best tips on how to make steak tacos:
Marinade the steak for at least 1 hour, but no longer than 8 hours.

Or else, the acid from the marinade will break the meat down too much and make it mushy.
Rest the steak before slicing

so that the juices will have time to settle in.
Always slice the steak across the grain

for easier chewing and better presentation. You might also cut the meat into cubes if you find it easier to serve it that way.
Top your Mexican steak tacos with your delicious ingredients!

We have a good cilantro lime sauce recipe that you can follow down below. But as alternatives, you might also want to have some

guacamole

,

corn salsa

, and yummy spicy

chipotle

.
Got some leftover steak tacos? No worries! You can wrap the carne asada up in a burrito, toss them in a caesar salad, or serve them with rice and toppings for a quick grilled steak taco bowl.
More Taco Recipes to Try
Here are more delicious taco recipes that you can easily add into your dinner menu. Check and try them to see which ones are the best tacos for you!
Del Taco Copycat Beef Tacos

— When it comes to American-style Mexican tacos, Del Taco goes on top of the list. We have hacked their taco meat so that you won't have to! Fill them up in crunchy taco shells, and don't forget the thick strands of shredded cheese to finish it with.
Tacos Dorados

— These fried chicken tacos offer a savory, meaty filling rolled inside crunchy corn tortilla. Top it or dip it in some salsa and guac.
Easy Walking Tacos

— This is probably the easiest taco recipe ever. Just take a bag of your favorite Doritos, or any chips, add the easy 2-ingredient nacho meat this recipe comes with, and build it from there with your preferred toppings. And yes, you can conveniently eat it while taking a walk.
Oven Baked Beef Tacos — Baking the tacos in the oven makes them extra soft and moist. Plus, the cheese becomes gooey and melty.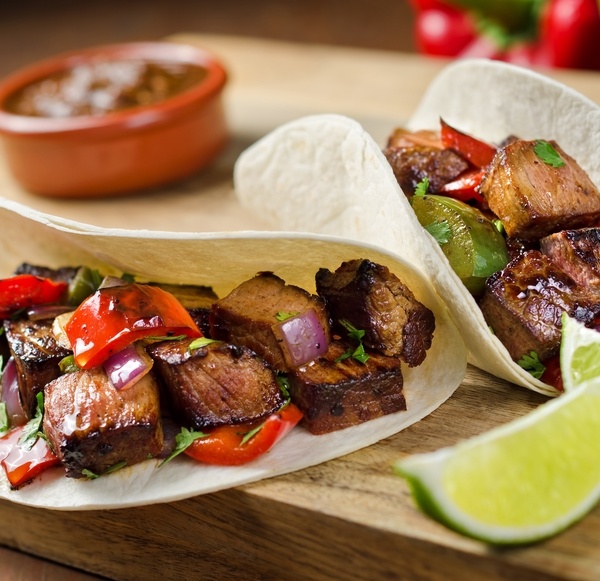 Easy Steak Tacos Recipe
How To Make Easy Steak Tacos
Assemble a juicy and delicious Easy Steak Tacos made out of tender, browned beef and crisp bell peppers. Taste the caramelized onions and fresh cilantro snuggled in a warm tortilla wrap. Savor this Mexican staple in the comforts of your own home!
Ingredients
1½

lb

flank steak

2

oz

red peppers,

chopped

2

oz

green peppers,

chopped

1

oz

onion,

chopped into small cubes

4

flour tortillas,

or corn tortillas

1

tbsp

olive oil,

for grilling

½

tsp

fresh cilantro

salt,

to taste

ground black pepper,

to taste
For Cilantro Lime Sauce:
1

cup

sour cream,

or Greek yogurt

1

tbsp

fresh cilantro,

chopped

¼

cup

fresh lime juice

½

tsp

salt

½

tsp

garlic powder
For Steak Marinade:
¼

cup

fresh lime juice,

squeezed from 2 limes

¼

cup

orange juice,

freshly squeezed

1

tbsp

fresh cilantro,

chopped

1

tsp

kosher salt

½

tsp

ground black pepper

¼

tsp

ground cumin

¼

tsp

dried oregano

cayenne pepper,

optional, to taste, or chili powder
Optional Toppings:
queso fresco cheese

cilantro lime sauce

salsa

lime wedges
Instructions
Combine the marinade ingredients in a mixing bowl. Add the flank steak and let it marinade for at least 1 hour.

Meanwhile, prepare the cilantro lime sauce by combining all the ingredients in one bowl. Mix well until evenly incorporated. Set aside in the fridge until ready to use.

In a non-stick grilling pan, heat the oil over medium heat.

Cook the marinated steak for 5 minutes until browned.

Remove the steak and let it rest for at least 10 minutes before slicing.

Meanwhile, in the same pan, add in the bell peppers and onion. Saute until the bell peppers are soft and the onion is translucent.

Season with salt and pepper.

Lower the heat and throw in the cilantro.

Microwave the tortillas for a minute and set aside.

Slice the beef into thin strips, about ¼-inch thick, against the grain.

Assemble the taco by placing the beef, bell peppers, onions, and cilantro on the tortilla wrap.

Garnish with cheese, cilantro lime sauce, lime wedge, more chopped cilantro, or desired garnish.

Bite into the juicy and meaty steak tacos! Enjoy!
Nutrition
Sugar:

6g

:

Calcium:

146mg

Calories:

493kcal

Carbohydrates:

24g

Cholesterol:

132mg

Fat:

26g

Fiber:

2g

Iron:

4mg

Monounsaturated Fat:

10g

Polyunsaturated Fat:

2g

Potassium:

851mg

Protein:

41g

Saturated Fat:

11g

Sodium:

1217mg

Vitamin A:

920IU

Vitamin C:

47mg
Nutrition Disclaimer
Frequently Asked Questions
What kind of steak is best for tacos?
The best steak for carne asada tacos is flank steak. It is a lean cut of beef, easily flavored and tenderized by a marinade, and is pretty affordable too. It's best cooked to medium rare. Skirt steak also has a rich beef flavor, but it contains more tough muscles which means you will need to cook it longer and at a low temperature to tenderize. Alternatively, you can also use sirloin and ribeye which both have a good fat marbling. The latter options can do with less or no marination as they are already tender to begin with. Feel free to use whichever you prefer for this steak tacos recipe.

Do you cut steak for tacos before or after cooking?
Flavorwise, it doesn't make much difference whether you cut the steak into small pieces before or after cooking. Do note that smaller pieces will need less time for marinating and cooking. Bigger pieces of steak are easier to flip, too, than small pieces.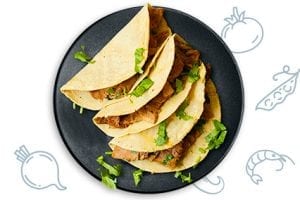 Conclusion
These flank steak tacos are not only delicious, but also easy to make and more affordable than take out! Enjoy your taco Tuesdays at home by making this steak taco recipe.