Have you ever tried the iconic Travis Scott burger from McDonald's? If you ask me, it's one of the fast-food chain's best celebrity meals! It features a quarter-pound beef patty, thick bacon, and cheese slices. Crisp veggies and a classic combination of condiments make it even more delicious. So, I used pickle slices, diced onions, and shredded fresh lettuce. Oh, and my homemade Travis Scott burger is also topped with ketchup and mustard! Trust me, this sauce combination never fails to boost a burger's flavor. 
Back in 2020, McDonald's launched a collaboration meal with the infamous rapper. The Travis Scott meal includes a next-level Quarter Pounder with bacon and cheese, a Sprite, and french fries with barbecue sauce. This burger meal became a massive hit, especially the beef burger itself, that it was all over TikTok! Some people even expressed their excitement over this Quarter pounder meal by posting images that were seriously packing funny meme vibes. I myself was instantly captivated, and I knew I had to recreate the burger recipe at home.
From the buns and condiments to the filling, the Travis Scott burger at McDonald's is the real deal. Sadly, though, this mouthwatering burger is already off their menu. That means it's no longer available in any of their branches. But don't worry! My copycat recipe, dare I say, captures the delicious flavors of the viral hamburger. Each bite is wow-worthy since I used the same ingredients as the original recipe. Best of all, it only takes 25 minutes to prepare!
The Travis burger is hailed as the upgraded version of the McDonald's Quarter Pounder. So, what really makes it extra special? Well, this beloved hamburger is exceptional because of the additional thick slice of applewood-smoked bacon and two slices of American cheese. The bacon delivers a mildly sweet and smokey taste, whereas the melted cheese lends a creamy and salty flavor. With such a combination, you just know it has smokey and melty goodness no one could say "no" to! 
When making your own version, I suggest that you go for sesame seed burger buns to stay true to the original recipe. For a really tempting and juicy burger, use a pure beef patty. Other recipes say 80/20 ground chuck beef makes for a succulent patty, too! Regardless, the rule of the thumb is to choose meat that won't dry out to make the dish really flavorful.
After frying the bacon slices for this Travis Scott burger recipe, I placed them on a napkin to remove the grease. Meanwhile, you can also season the beef patty with salt and pepper as it cooks. And when making your own homemade burger, don't forget to toast the buns if you want toasty, extra crispy buns. I also immediately added the cheese on the bottom bun and popped it in the oven to achieve the melty deliciousness of the original burger. For a full-on McDonald's Travis Scott meal experience at home, serve the burger with french fries, a barbecue dip, and a glass of Sprite. Enjoy!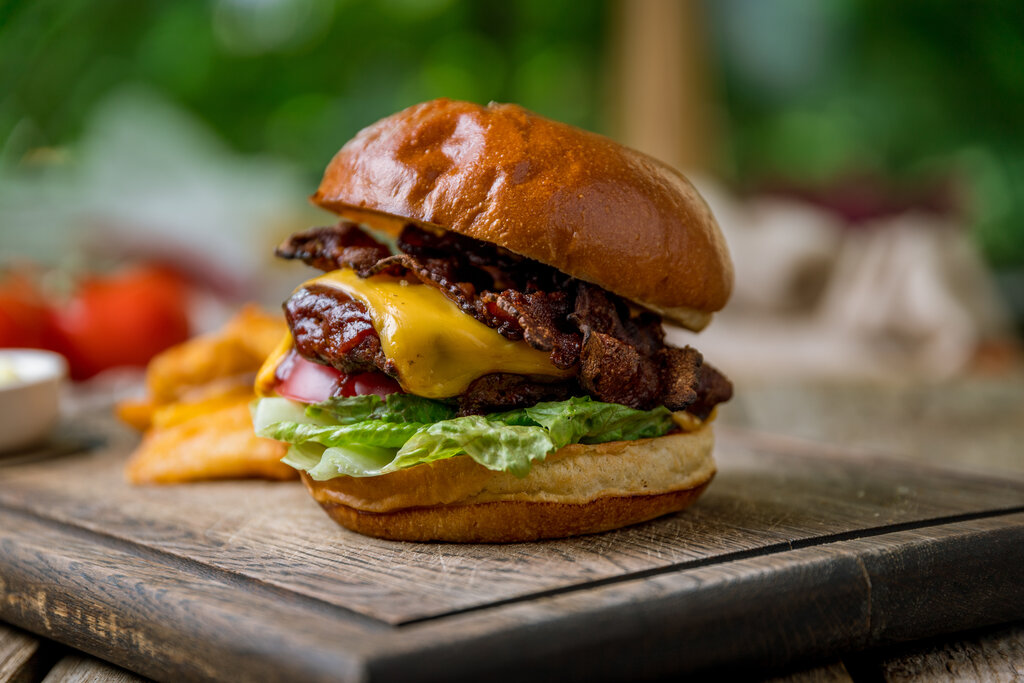 Travis Scott Burger Recipe (Mcdonald's Copycat)
How To Make Travis Scott Burger (Mcdonald's Copycat)
Recreate the famous Travis Scott burger in the comfort of your home with this recipe. Each bite has American cheese, beef patty, and bacon.
Ingredients
3

slices

applewood-smoked bacon,

thick-cut

1

lb

ground beef,

formed into a patty

salt,

to taste

black pepper,

to taste

1

bun

butter

2

slices

American cheese,

pasteurized

lettuce,

shredded

ketchup

pickle slices

onions,

diced

mustard
Instructions
Place the bacon on a heated skillet and cook for 5 minutes or until crispy and golden brown.

Remove the bacon once cooked and place it on a napkin to soak up the residue oil.

Next, form the ground beef into a quarter-pounder patty. Flatten it nicely into the perfect burger using your hands.

Season the burger patty with salt and pepper if needed. Set aside.

Spread butter onto the bun slices and toast them in a hot skillet. Then, remove them and set them aside.

Place one slice of cheese on top of the bottom bun and heat it in the oven for a few minutes until the cheese melts.

Add olive oil to the skillet. Once hot, add the beef patty and cook both sides for about 4 minutes or until its internal temperature reaches 160 degrees F.

Add the other slice of cheese on top of the beef patty. Keep cooking until the cheese melts. Then, remove the patty from the hot skillet.

To assemble, place the cooked quarter-pound burger patty with melted cheese on top of the bottom bun.

Then, put the smoked bacon over the beef patty, and top it with shredded lettuce.

Place the pickle slices and diced onions on top.

Add ketchup and mustard to the top bun. Set the top bun on top of the bottom bun and fillings to close your burger.

Serve immediately and enjoy!
Recipe Notes
You can also use potato buns or brioche buns instead of sesame seed burger buns.

If you don't have American cheese, you can use cheddar cheese or any other kind of best cheeses suitable for burgers.
Nutrition
Sugar:

18g

:

Calcium:

664mg

Calories:

1983kcal

Carbohydrates:

32g

Cholesterol:

454mg

Fat:

157g

Fiber:

9g

Iron:

13mg

Monounsaturated Fat:

67g

Polyunsaturated Fat:

12g

Potassium:

2484mg

Protein:

108g

Saturated Fat:

59g

Sodium:

2606mg

Trans Fat:

6g

Vitamin A:

3600IU

Vitamin C:

21mg
Nutrition Disclaimer