The veggie tikka masala is a creamy, flavorful dish that will is definitely healthy and refreshing. It's a nice twist to the traditional Indian chicken tikka masala with the right amount of spice and flavor. Now imagine that on a burger.
Trader Joe's was able to concoct their recipe of this scrumptious dish and, if you are not in the mood to go out and wait in line, we have the copycat dish for you. Discover how you can recreate this creamy veggie tikka masala burger dish at the comfort of your own kitchen with these easy, hassle-free steps.
This dish is perfect for people who are on a diet or just want to have a healthy alternative. Best served for lunch or dinner, this veggie tikka masala will definitely make you long for seconds.
How To Make Copycat Trader Joe's Veggie Masala Burgers
Deliciously healthy is how we describe our Copycat Trader Joe's Veggie Masala Burgers. A real meatless treat at home for those avid veggie burger enthusiasts.
Ingredients
1/2

tsp.

dried ginger

3/4

tsp.

dried coriander

1/2

tsp.

garam masala

1/8

tsp.

ground turmeric

1/8

tsp.

mustard powder

2

tsp.

canola oil

430

grams

Medium-sized red potatoes

finely diced

1/2

cup

minced onion

1/2

cup

minced green pepper

1

cup

frozen mixed veggies

1/2

cup

whole wheat breadcrumbs

1/2

cup

water

Salt

pepper

1/2

tsp.

sugar

2

tsp.

water

2

tsp.

canola oil
Instructions
Heat a large skillet on medium high.

Add in the following ingredients:

Dried ginger

Dried Coriander

Garam Masala

Ground Tumeric

Mustard Powder

Toast your spices or until you get an aromatic scent.

Remove spices from skillet and transfer to a separate bowl.

Put back the skillet on the heat and add 2 tsp. canola oil

Add potatoes, onion, and green pepper, and cook for 10 minutes.

Add frozen vegetables and cook an additional 5 minutes.

Add breadcrumbs and water and stir to scrape up flavorful brown layer from the bottom of the pan.

Next, reduce heat to low.

Return spice mixture into the skillet, add salt and pepper to the mixture to taste, and sprinkle with sugar.

Cook an additional five minutes, or until potatoes are tender.

Remove skillet from heat.

Remove ¾ cup of the mixture from the skillet and puree in a food processor.

Stir the puree and the remaining vegetable mixture together in a large bowl until thoroughly combined.

Chill overnight, or at least until cool. This helps the mixture bind together.

Cover a baking sheet with parchment paper. Using a pastry brush, brush on a bit of oil on it.

Form the burgers into patties and put on them on the baking sheet, evenly spaced.

Brush out any excess oils on the sheet that aren't under the burgers. Instead brush the excess oils at the top to keep the patties moist while cooking.

Bake at 400° for 10 minutes, then broil until golden and crispy on top, rotating baking sheet in oven as necessary, for about another 10 minutes.

And you're now all set to slap it between two burger buns and start assembling your portions.
Nutrition Facts
Calories:
211
kcal
|
Carbohydrates:
39
g
|
Protein:
6
g
|
Fat:
6
g
|
Saturated Fat:
1
g
|
Sodium:
118
mg
|
Potassium:
689
mg
|
Fiber:
6
g
|
Sugar:
4
g
|
Vitamin A:
2433
IU
|
Vitamin C:
38
mg
|
Calcium:
38
mg
|
Iron:
3
mg
Commonly Asked Questions
Is a veggie burger vegan?
We can consider a veggie burger to be vegan if it contains grains, breadcrumbs, and minced or pureed veggies. But in cases that a veggie burger patty contains egg or dairy products, then it's no longer categorized as vegan because of the presence of dairy, poultry, or meaty components. 
Are veggie burgers better for you?
Indeed, they are! Since veggie burgers are made from grains, legumes, and a variety of vegetables, they provide your body with fiber, vitamins, and minerals. Compared to store-bought veggie burgers, homemade patties are healthier options since they don't contain preservatives and are made fresh by you.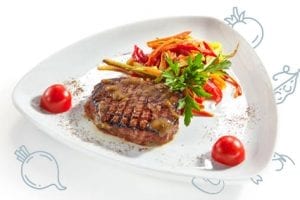 Conclusion
In order to accomplish this recipe, ensure that your veggies and spices are already measured and set aside once you start cooking. That way, it's easier for you to reach and saves you time in making these wonderfully healthy meat alternatives.