A treasured American childhood favorite, the Sloppy Joe has been around since the early 20th century. The sweet, tangy, and savory sauce undoubtedly brings back middle school lunch break memories. These sandwiches are effortless afternoon snacks that anyone in the family can enjoy.
Homemade Sloppy Joe sauce is always better than the store-bought cans of sauce loaded with high-fructose corn syrup. So don't be afraid to whip up a batch on a lazy afternoon, or for a picnic. The messier your sandwich, the tastier it will be.
Try this recipe with on its own or with a homemade chili to add some spice to it. Despite this being a very straightforward recipe, you still have room to change it to fit your personal tastes and preferences.
How to Make Classic Old School Sloppy Joes
Sloppy Joes are the easiest sandwiches to put together when you're feeling lazy or hungry. Don't be afraid to make them as messy as you like — that's the fun in it!
Ingredients
2

garlic

cloves

1

onion

small, red, chopped

1

lb

lean ground beef

90% lean

15

oz

tomato sauce

1

tsp

oregano

dried

3

kaiser rolls

split and toasted

romaine lettuce

1/2

cup

crumbled feta cheese
Optional
1/3

green bell pepper

1/2

tsp

Worcestershire sauce

tsp

Dijon mustard

Baked beans on the side

Sliced dill pickles on top
Instructions
In a large skillet over medium-low heat, heat some vegetable oil and saute onion and garlic. Cook until the onion looks translucent the garlic smells fragrant. Add beef and saute until it turns light golden brown.

Add the tomato sauce and oregano to the cooked beef to create a sauce.

Toast the buns to your liking. You can also toast them in the pan to get more of the residual sauce and meat juices on the bread.

Assemble this in a serving dish just like a regular burger. Place the romaine lettuce first before adding the sauce, then sprinkle with feta cheese. Seal your Sloppy Joe with the top part of the bun. But then again, there's no correct or wrong way to do this, and you can be messy as you want with the presentation.
Recipe Notes
If you're adding more ingredients to the sauce like Worcestershire or Dijon, mustard, mix them in a bowl while waiting for the beef to cook. While waiting for the sauce to cook, make sure it doesn't reduce too much as it will give a dry sloppy joe mixture. You want a perfect texture and consistency.
We recommend using kaiser rolls, brioche buns, or even pretzel buns. To add some more flavor, drizzle some vegetable oil in the pan or slather some butter in the bread.
A good Sloppy Joe is completed well with a side of tomato-flavored crisps or a handful of fries or onion rings. However, feel free to get creative! Go with some creamed corn kernels or heaping spoonfuls of mashed potatoes. If you want to add some color, collard greens work for a somewhat healthy but definitely tasty meal. Don't limit yourself with your sides!
Got some excess sloppy joe sauce? It makes the best dipping sauce for fries, especially when added to grilled cheese. 
Nutrition Facts
Calories:
99
kcal
|
Carbohydrates:
5
g
|
Protein:
13
g
|
Fat:
3
g
|
Saturated Fat:
1
g
|
Cholesterol:
35
mg
|
Sodium:
321
mg
|
Potassium:
401
mg
|
Fiber:
1
g
|
Sugar:
3
g
|
Vitamin A:
249
IU
|
Vitamin C:
9
mg
|
Calcium:
21
mg
|
Iron:
2
mg
Commonly Asked Questions
Do I drain the grease from the beef after cooking?
That is up to you. If you like your sloppy joe extra messy, keep the grease and that will retain more flavor in the beef. If you're trying to cut down on oily foods, drain as much of the excess beef grease as possible.
How to make my sloppy joe less soggy?
A sloppy joe might be messy but that doesn't mean you have to settle for soggy bread. The problem could be that you didn't reduce the sauce enough. Make sure to reduce the sauce just enough to thicken it.
Can I cook the sloppy joe meat in a crockpot?
Yes, you can! Just put in the beef and sauce ingredients to cook on low heat for about 4-6 hours, or crank it up to high heat for 2-3 hours. Cooking meat in a crockpot usually results in a softer texture than when done in a skillet and it allows the flavors to meld better.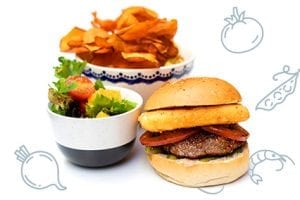 Conclusion
This is a great recipe to make for the kids or the kids at heart. Its true charm lies in its messiness so go ham and get your hands dirty! We want to know what your favourite side dish is when you're eating Sloppy Joes, let us know in the comments below!