There's really no right way of making a Sloppy Joe—yes, we know! This loose meat sandwich, also known as Sloppy Joe sandwiches, is very popular with kids and a favorite packed lunch in school rooms. Adults love the classic sloppy joe recipe too! Besides the fact that it's incredibly easy to make, it also tastes great, having flavors that will surely remind you about your childhood.
A simple sloppy joe recipe is all about jamming the buns with fine ground beef mixed with a rich and savory sauce. It's a sure must-try, along with other delicious beef sandwiches like Roast Beef Sandwich and Italian Beef Sandwich.
Homemade Sloppy Joes are much tastier than the ordinary store-bought ones, so feel free to adjust your sweet and spice level, or whatever it is that suits your preference.
Now, how messy can you get on that overflowing ground beef? Add some onions, tomato sauce, then top with feta cheese and you're ready to dig into your sloppy joe in 15 minutes. Enjoy this homemade sloppy joe mix!
What's In Our Sloppy Joe?
In general, a Sloppy Joe sandwich is a beef sandwich with personalized sauce, served in a bun. It's overflowing with meat, it's saucy and messy.
For starters, we suggest toasting the buns first for a better sandwich texture. We recommend using kaiser rolls, brioche buns, or even pretzel buns. Turn up the heat under the skillet to high, and add a drizzle of vegetable oil for extra flavor, or you could also slather some butter in the bread.
But it's your choice of sloppy joe seasoning that makes all the difference in making it hearty and delicious. If you're looking for something sweet, a little sour, and a bit tangy, then you're in the right place! Since we're going to use Worcestershire sauce made with anchovies, red onions, and garlic for this recipe, it will give your sandwich that extra sweet and savory flavor. We also recommend adding some of our homemade chili to add some spice to it.
Feel free to go crazy on the toppings that go into your sloppy joes! But if you want our take, here's what we recommend for your burger toppings. You can make your burger even tastier and more filling by topping them with 1/3 green bell pepper, minced, 1/2  teaspoon of Worcestershire sauce, 1 teaspoon of Dijon mustard, baked beans, and sliced dill pickles and you're good to go!
If you have an extra serving of beef, you may put them in soft tacos, BBQ beef sandwiches, or over crunchy nachos, too!
Tips In Making Sloppy Joes And Must-Try Sides
A good old fashioned Sloppy Joe recipe is completed well with a side of crispy garlic fries or zesty onion rings. But, feel free to get creative! Go with some creamed corn kernels or heaping spoonfuls of mashed potatoes. Partner it up with some crisp pickles, too! We know, it's a little messy, but isn't this the point of it being a sloppy sandwich? Don't limit yourself with your sides!
If you're adding more ingredients to the sauce like Worcestershire or Dijon mustard, mix them in a bowl while waiting for the beef to cook. If you're unsure on how to make sloppy joe sauce less dry, make sure it doesn't stay too much to heat. We're aiming for perfect texture and consistency.
The Sloppy Joe sauce is typically a bit sweet but you can go for a more savory version of it like in this recipe. But feel free to add in unrefined sugar, brown sugar, or a bit of honey if you want to sweeten up your sauce. For the cheese, instead of crumbled feta cheese, you can opt to mix in American or cheddar cheese into your filling or top your sandwich with it.
Must-Try Sloppy Joe Recipes
Since there are so many sloppy joe recipe varieties, here are some of them that you can also try. Aside from doing it with buns, we also have these good recommendations on other dishes you can incorporate and enjoy with your delicious ground beef.
If you're feeling extra and want something cheesy, you may also want to try our easy sloppy joes like Bacon Cheeseburger Sloppy Joe or a Nacho Sloppy Joe. Stretch that cheese every bite!
If you want to take off the buns, you could make a Sloppy Joe Casserole, Sloppy Joe Pot Pie, or Beef Enchiladas using our Sloppy Joe filling!
Got some excess sloppy joe sauce? It makes the best dipping sauce for fries, especially when added to grilled cheese.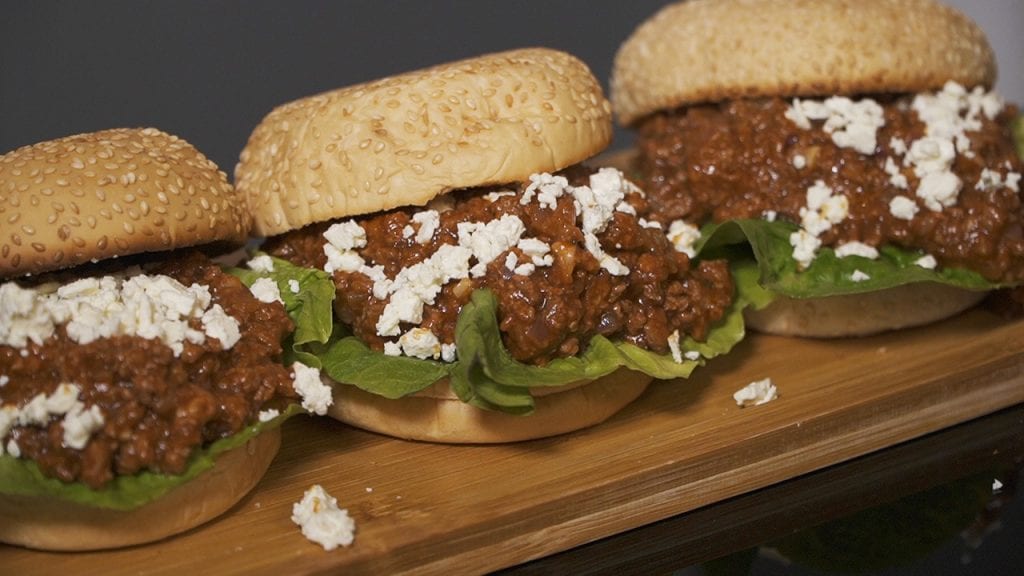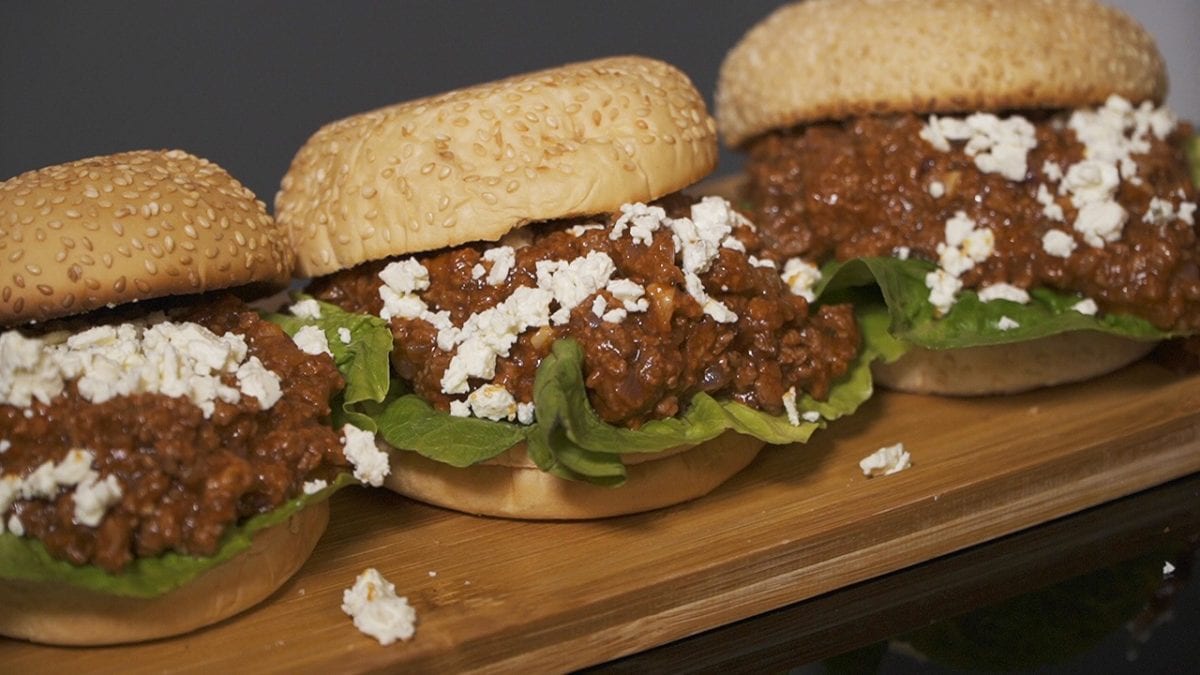 Classic Old School Sloppy Joe Recipe
How to Make Classic Old School Sloppy Joes
This easy-to-make homemade comfort food will save your late night dinner dilemma! Enjoy a messy beef burger sandwich filled with rich savory sauce.
Ingredients
2

garlic cloves,

minced

1

onion,

small, red, chopped

1

lb

lean ground beef ,

90% lean

15

oz

tomato sauce

1

tsp

oregano,

dried

3

kaiser rolls,

split and toasted

lettuce,

preferably Romaine

½

cup

feta cheese,

crumbled
Instructions
In a large skillet over medium-low heat, heat some vegetable oil. Add beef and saute until it turns light golden brown. Add the onion and garlic then cook until the onion looks translucent and the garlic smells fragrant.

Add the tomato sauce and oregano to the cooked beef to create a sauce.

Assemble this in a serving dish just like a regular burger. Place the romaine lettuce first before adding the sauce, then sprinkle with feta cheese.

Seal your Sloppy Joe with the top part of the bun. Serve and enjoy!
Recipe Notes
If you want a leaner meat, you can replace your ground beef with ground turkey instead.
Nutrition
Sugar:

3g

:

Calcium:

21mg

Calories:

99kcal

Carbohydrates:

5g

Cholesterol:

35mg

Fat:

3g

Fiber:

1g

Iron:

2mg

Potassium:

401mg

Protein:

13g

Saturated Fat:

1g

Sodium:

321mg

Vitamin A:

249IU

Vitamin C:

9mg
Nutrition Disclaimer
Frequently Asked Questions
How do I make a Slow Cooker Sloppy Joe?
In a large pan, brown the ground beef with chopped onions. Drain excess oil. Put cooked ground beef mixture into your slow cooker. Add the rest of your ingredients and stir. Cover and cook on low for 4 to 6 hours. When ready to serve, toast your hamburger buns. There you have your crockpot sloppy joe!
How do I make Worcestershire sauce?
All you have to do is to combine ½ apple cider vinegar, 2 tablespoons water, 2 tablespoons soy sauce, 1 tablespoon brown sugar, 1 teaspoon mustard powder, ¼ onion powder, ¼ garlic powder, ¼ ground cinnamon, and black pepper to taste altogether in a saucepan. Bring it to boil and cook for about 45 seconds. Use this sauce in making your Sloppy Joe filling.
How do I store my Sloppy Joe sandwich?
Store in an airtight container in the refrigerator for up to 3 days, if it's in the freezer, you may store it up to 3 months. Since it will come from the fridge, make sure to thaw before reheating and serving.
How do I reheat my Sloppy Joe sandwich?
Put it in the microwave or reheat in a saucepan on the stove top and heat on medium until fully heated through. To reheat in the slow cooker, turn it to either low or high heat for 2 to 5 minutes, and heat accordingly. You can also add a little more tomato sauce and water or beef broth if you would like it saucier once reheated.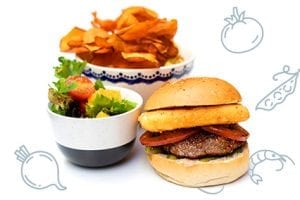 Conclusion
If you're bored with the regular fast-food hamburger and you want something good and classic, a Sloppy Joe sandwich would be the best bite for you. Spoil yourself on its stuffing, spice up the sauce, and toast the bread to your liking! Trust us, this easy loose meat sandwich recipe is way more fulfilling and it's going to be your family's new quick and easy favorite!