There are three words to describe German cuisine: rich, heavy, and meaty. If you're into any of these, then you're in for a treat. Dig into some well-seasoned chunky meat patties in this easy frikadellen recipe.
You don't have to be an expert cook to master this German favorite. With a good selection of quality meat blended together, seasoned, and cooked in a broiler, you'll have delicious patties to enjoy as a snack or as a full meal with it's classic pair such as mashed potatoes and vegetables.
If you're looking for something to jazz up your dinner nights or weekly barbecues, a batch of freshly-made frikadellen is also a great alternative. Your usual burger patties like this classic hamburgers can also get an upgrade by using these delicious chunky meat cakes.
What Is A German Frikadellen?
Frikadellen is a German word that translates to "meatballs." Despite its name, this European dish resembles the classic burger patty we all grew up with. After all, hamburgers originated from the frikadellen of Hamburg, Germany. Immigrants coming from this part of Europe brought meat cakes to America.
What's In A Frikadellen?
There are a lot of versions of this German dish. Frikadellen are made of a combination of meat, flavoring, and filler ingredients—very similar to how we make our hamburger patties. For this version of how to make delicious frikadellen, see how these ingredients work together to form a beefy meal:
Ground meat– You can't say you've experienced German cuisine without tasting any of their meat-based dishes. Frikadellen are typically made of a combination of ground beef and pork. For our version, we combine ground beef, pork, and veal. This combo sets it apart from your usual beef patty. The rich buttery and savory taste of beef are complemented by the mild taste of succulent veal, as well as the mellow and slightly sweet taste of pork. This creates a flavor explosion of meaty-goodness in your mouth that isn't overly aggressive.
Bread and egg– Like burger patties that have breadcrumbs, this meat cake recipe requires filler ingredients too. Frikadellen typically calls for bits of soft sandwich bread instead. During the cooking process, meat has the tendency to dry out. Filler ingredients absorb the water that escapes the meat. This ensures that the meat cakes will stay juicy. Eggs are also mixed in to bind all the ingredients together.
Spices and seasonings– Our recipe also calls for a piece of onion. Not only does it contain meat-tenderizing enzymes, but it should also add a pinch of sweetness and acidity to balance out the fattiness and richness of the meat. For more flavor, we also incorporate salt and pepper.
How To Serve Frikadellen
Serve this dish however you want. Make a traditional hamburger and swap out the plain patties with the meat cakes. You're also free to experiment with incorporating meat cakes into other dish dishes.
In Germany, frikadellen are typically served with side dishes that are made of potato. We recommend trying this out if you want to have a more authentic experience of German cuisine. Serve each meat cake with some potato salad on the side. Potato salad has a tangy quality to it that makes it great to pair with savory dishes.
Another German favorite you can try pairing with frikadellen is sauerkraut with squash. Like potato salad, Sauerkraut brings brightness and acidity to cut the meaty flavor. It's also healthy because it's made from fermented cabbage. Eating sauerkraut will give your body a boost of probiotics.
How To Make Frikadellen German Meat Cakes
Enjoy this meaty combination of beef, pork, and lamb. It has just the right amount of salt and heat from the onion and spices that allow the flavors of the meat to shine through.
Ingredients
⅔

lb

lean ground beef

⅓

lb

ground pork

⅓

lb

ground veal

1

egg,

beaten

1

pc

onion,

small, diced

2

pcs

soft sandwich bread,

crumbled

1

tsp

salt

1

tsp

pepper
Instructions
Mix all the ingredients together in a large bowl.

Form the meat mixture into 6 flat equally-portioned patties and set aside.

Broil the patties in the oven until both sides are browned and the patties are cooked all the way through.
Nutrition
Calcium:

21mg

Calories:

188kcal

Carbohydrates:

2g

Cholesterol:

97mg

Fat:

10g

Fiber:

1g

Iron:

2mg

Potassium:

358mg

Protein:

21g

Saturated Fat:

4g

Sodium:

468mg

Sugar:

1g

Trans Fat:

1g

Vitamin A:

43IU

Vitamin C:

1mg
Nutrition Disclaimer
Commonly Asked Questions
Can I make frikadellen in advance?
Yes, you can make them a day in advance. Doing this may also help the flavors coming from the salt and pepper penetrate the meat more. After mixing the ingredients, form them, and then store them immediately. Put them in a container or ziplock bag before freezing. This way, you wouldn't have to thaw the meat before cooking.
Can I freeze frikadellen
Yes. This is a better option compared to refrigeration if you don't need to cook the meat cakes the day after. Like in the fridge method, you should put them in a container or ziplock bag. Afterward, put the bag in the freezer. Freezing the meat cakes can allow them to last for up to 3 months. Just remember to thaw them out before cooking so that they cook properly.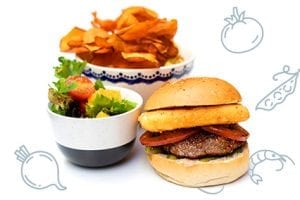 Conclusion
This quick and easy German frikadellen meat cake recipe is perfect for your next food adventure! These are a great alternative to your regular burger patties. You can even try experimenting by fusing them with different dishes. Have some meat patties today for a full meaty experience.
Related Hamburger Recipes