If you have been to Culver's, then you know that Culver's butter burger is the star of their menu. The seared beef burger patties sandwiched in between soft burger buns are made even tastier and juicier with butter. And we will teach you how to make it at home in this super easy butter burger recipe made with ground beef sirloin, beer-infused caramelized onion, and lots of butter to really achieve the signature Culvers flavor. Level up your burger game by serving this with onion rings and root beer for a truly indulgent meal.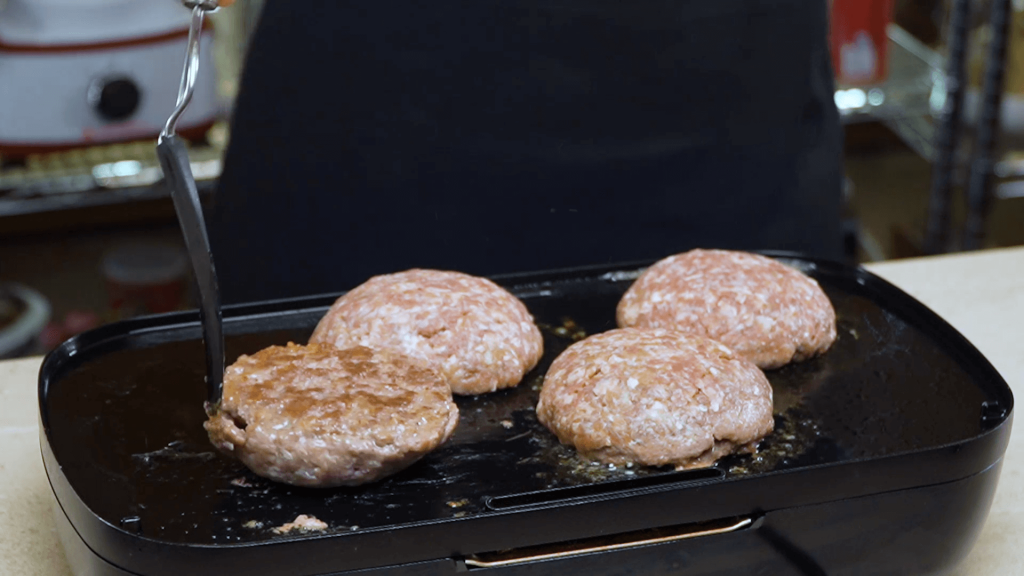 Tips on Making Culver's Butter Burger
It's probably one of the best burgers you will ever taste. When we say butter burgers, we mean butter will really drip down your cheeks as you eat it. Don't worry because every calorie is worth it! Besides, we all deserve to indulge every once in a while. Here are the best tips about making this Culver's burger:
The ground beef should contain at least 20 percent fat.

Fresh will always be better than

frozen meat

. You can use

ground chuck

, sirloin, or brisket. Ask your butcher for a grind size that's not too big so that the patties will not be crumbly. Or better yet, grind the beef yourself. 
Keep the beef cold.

The fat needs to be cold to be able to bind the meat mixture together, giving you firm formed patties.
Season the beef well with salt and pepper.

It brings out their natural flavor and also helps keep them moist. To test if you've seasoned enough, you can take a small portion of the ground beef mixture and fry it. Taste and adjust the seasoning accordingly.
Don't press the beef patties while cooking.

As much as possible, refrain from touching it once it hits the pan. You do not want all that tasty juice to leak out! It'll also help to invest in a meat thermometer to check for the doneness. The burgers are medium rare once the internal temperature reaches 130 degrees F, and 140 degrees F for medium well.
Feel free to dress your burgers with your favorite ingredients!

Load it up with dill pickles, cheddar cheese, american cheese, or bacon as much as you want.

You can also add breaded fried

cheese curds

inspired by Culver's CurderBurger.

More Copycat Burger Recipes to Try
Fast food is even better when homemade. With these copycat recipes, you can enjoy making those at home and indulging in them after. For your game nights and gatherings with friends, here are our favorite hamburger recipes that you'll surely enjoy. 
Chicken Sandwich Recipe (Chick-fil-A Copycat)

— This crispy chicken sandwich made using fried chicken breast is made super crispy by the egg and milk batter. A pickle and the special sauce to go in the burger completes the classic Chick-fil-A flavor.
Better Than Burger King's Veggie Burger

— The secret to a really good juicy and savory veggie burger? Walnuts, mushrooms, brown rice, liquid smoke, and black beans. Trust us, you might forget about your regular burgers for a while once you try this.
Wendy's Grilled Chicken Sandwich

— If you prefer to use less oil, this grilled chicken sandwich is for you. Add lots of tomato slices, onions, and lettuce to make it even healthier.
Trader Joe's Veggie Masala Burgers — Here's a vegan burger for parents who want to help their kids eat veggies. It's made by pureeing onions, peppers, potatoes, breadcrumbs, and 5 kinds of spices.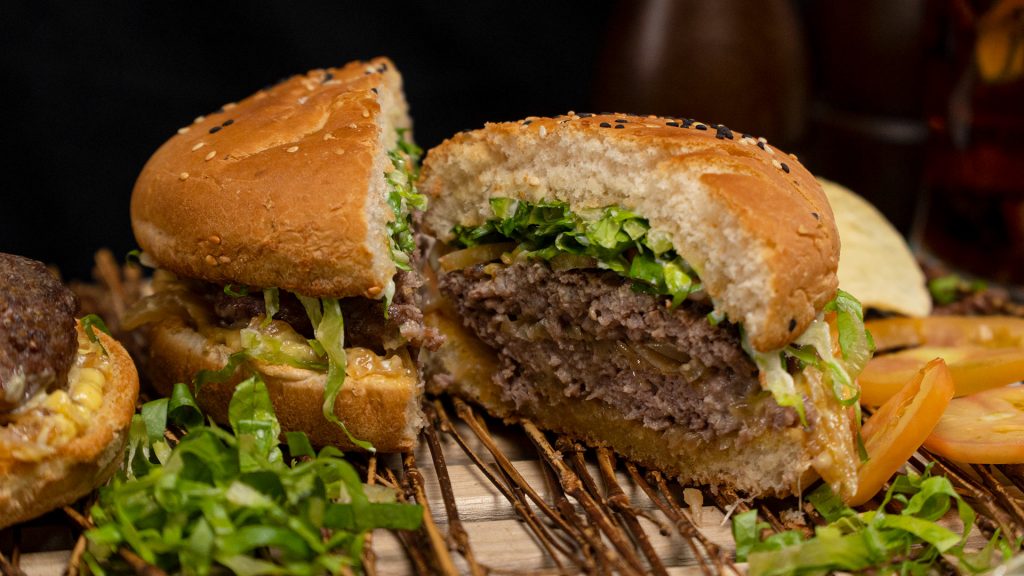 Copycat Culver's Indulgent Butter Burgers Recipe
How To Make Copycat Culver's Indulgent Butter Burgers
This recipe for Culver's butter burger makes tasty, juicy burgers that came right off Culver's menu! Each ground beef patty is stuffed with a delicious caramelized onion butter that oozes out and bastes the patty as it cooks.
Ingredients
1½

lb

ground beef,

preferably sirloin

12

oz

yellow onions,

thinly sliced

1¼

cup

unsalted butter,

at room temperature, divided

½

cup

beer of your choice

salt and ground black pepper,

to season

1

lb

ground beef sirloin

6

soft hamburger buns,

split

⅓

cup

water
Butter Burger Assembly:
hamburger buns

iceberg lettuce,

shredded

tomatoes,

sliced into rings

mayonnaise
Instructions
Melt 3 tablespoons of butter over medium heat in a wide skillet.

Add onions and saute for 8 minutes or until caramelized.

Deglaze with beer and reduce until the onions have completely absorbed the beer.

Transfer into a small mixing bowl and set aside to cool down completely.

Add the remaining butter, season with salt and pepper, and whisk until incorporated.

Lay a sheet of parchment paper onto your working area, then place your mixed butter on top. Roll until it resembles a cylinder, molding as you roll.

Tighten the ends and place your butter log in the chiller to firm up for at least an hour.

While waiting, season your ground beef with salt and pepper, then mold into 8 patties, 4 ounces each.

Place these onto a lined baking sheet and keep chilled for at least 30 minutes to hold the patties in shape.

When the butter has firmed up, slice roughly 1-ounce disks. Make 4 discs and place the rest onto a mixing bowl and allow to soften.

Place the butter disk on the middle of 1 beef patty, then place another beef patty on top.

Lightly flatten and seal all openings, especially the edges.

Keep these chilled to rest for another 30 minutes.

Preheat both your oven and griddle pan to 360 degrees F. Then grease both a baking sheet and your griddle pan with cooking spray.

Add your patties and grill for roughly 5 minutes per side until lightly caramelized on both sides.

Place your griddled patties onto your baking sheet and roast up to your desired doneness, roughly 5 minutes for medium.

Slice your burger buns in half then toast until lightly golden.

Spread roughly 1 ounce of onion butter on the halves, plus roughly 1 tablespoon of mayonnaise for the top bun.

Place the burger at the bottom bun, then add roughly 2 ounces of tomatoes and ¼ ounce of lettuce. Cover with the top bun then serve!
Nutrition
Sugar:

8g

:

Calcium:

191mg

Calories:

1322kcal

Carbohydrates:

41g

Cholesterol:

344mg

Fat:

100g

Fiber:

3g

Iron:

8mg

Monounsaturated Fat:

33g

Polyunsaturated Fat:

4g

Potassium:

1083mg

Protein:

62g

Saturated Fat:

53g

Sodium:

525mg

Trans Fat:

5g

Vitamin A:

1775IU

Vitamin C:

7mg
Nutrition Disclaimer
Frequently Asked Questions
What makes it a butter burger?
A butter burger is a burger patty that is literally stuffed with butter inside. As the burger cooks, the butter melts and bastes them making them extra moist, juicy, and flavorful!

Why are my butter burgers falling apart?
There are a number of reasons why burgers fall apart and turn crumbly. First, it might be because the ground beef is too lean or the fat percentage is too low. Overworking the ground beef also causes it to fall apart, so make sure to mix only as needed. Cook the patties at the right temperature and don't frequently touch them until they're ready to flip.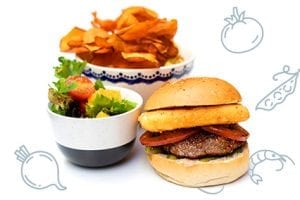 Conclusion
Now you can serve some juicy Culver's burgers right from your own kitchen. Solve your Culver's butter burger cravings anytime with this easy recipe! You can always sweat the calories off later.