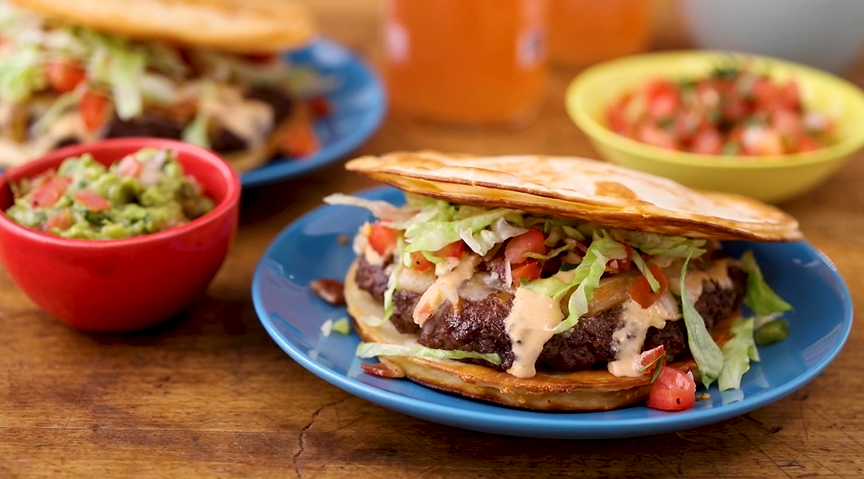 Quesadilla Burger Recipe (Applebee's Copycat)
Applebee's restaurant has this delicious dish that I just love ordering, and it's their quesadilla burger. This delicious Mexican burger is basically a hybrid of my favorite foods: quesadilla and cheeseburger. That's why I often call it a tortilla burger or a bacon cheeseburger quesadilla because of how it's assembled to look like a classic beef burger, but with a different kind of bun and fillings. Their quesadilla burger is loaded with rich and savory flavors. Not only does it have beef patties and lettuce, but this hamburger quesadilla also has a homemade Mexi-ranch sauce in between cheesy quesadilla buns.
I just love eating Applebee's quesadilla burger because it's really more flavorful than their other burgers. It's one of those dishes that you have to try at least once! That's why I recreated this delicious quesadilla burger for those who also want to experience a tasty Mexican hamburger at home! It's really easy to do and really fun to make since it's like making , but with more exciting new fillings.
For my quesadilla burger Applebee's copycat recipe, I started with the Mexi-ranch sauce since it was the easiest to make. It's made from mixing sour cream with ranch salad dressing, salsa, and taco seasoning. Mix all of these ingredients together in a small bowl then set aside. Next step is the "buns" or cheese quesadillas which I made with flour tortilla and shredded cheddar cheese. I heated these two together on a skillet so that the quesadilla is cheesy and crisp. Afterwards, I kept them warm inside the oven while I seasoned and cooked the beef patties. I used ground chuck or beef chuck for this recipe since it's full of tender meat.
By this time, I was ready to assemble my quesadilla burger. It was really easy to do, and I ended up with delicious homemade Applebee's burgers. In between my cheese quesadillas, it had the seasoned beef patties that were topped off with shredded lettuce and more cheese. I also added crispy Applewood smoked bacon slices, , and the Mexi-ranch sauce to really complete the dish.
In the end, my copycat Applebee's quesadilla burger recipe was a success. I had a delicious time eating this amazing burger and kept the leftovers for some late night munching.
How To Make How To Make Quesadilla Burger (Applebee's Copycat)
This quesadilla burger brings a meaty, cheesy, and juicy bite just like Applebee's! Chuck patty, cheese, and Mexi-ranch sauce are layered between tortillas.
Ingredients
For Cheddar Cheese Quesadillas:
16

small flour tortillas,

street taco sized

1½

cups

cheddar cheese,

shredded

½

cup

Pico de gallo
For Burgers:
1½

lbs

ground chuck

1

tsp

salt

½

tsp

ground black pepper
For Mexi-Ranch Sauce:
½

cup

sour cream

½

cup

ranch salad dressing

¼

cup

salsa,

Pico de gallo, salsa verde, fruit salsa, or any favorite salsa

1

tsp

taco seasoning
For Burger Toppings:
2

cups

iceburg lettuce,

shredded

8

slices

Pepper Jack cheese

8

slices

Applewood smoked bacon,

cooked crisp
Instructions
Mexi-Ranch Sauce:
In a small bowl combine sour cream, Ranch Salad dressing, salsa, and taco seasoning. Stir to combine.

Set aside.
Cheddar Cheese Quesadillas:
Preheat oven to 200 degrees F.

Prepare 8 quesadillas by dividing the cheese into 8 portions. Place equal amounts of cheese on 8 tortillas. Place the remaining 8 tortillas on top of the cheese-covered tortillas.

In a large non-stick skillet over medium heat, cook the quesadillas for about 2 minutes on each side. The quesadillas should be golden brown, and the cheese should be melted.

Keep quesadillas in the warm oven while cooking the burgers.
Burgers:
In a bowl combine the ground beef chuck, salt, and black pepper. Stir to combine. Divide beef into 4 patties.

Wipe out a non-stick skillet with a paper towel, and cook the burgers over medium heat for 4 to 5 minutes on each side.
To Assemble:
Place 1 quesadilla down on a plate, lift the top tortilla, and add 1 burger patty.

Top burger patty with 2 slices of Pepper Jack cheese, 2 slices of cooked bacon, Pico de gallo, shredded lettuce, and Mexi-ranch sauce.

Place back the top tortilla to form a burger. Repeat process with the remaining quesadillas.

Serve and enjoy!
Nutrition
Calories: 

1527.91kcal

Protein: 

82.74g

Cholesterol: 

260.72mg