Are you getting bored with your regular burger? This sauerkraut burger might just have the right spice and flair that you're looking for! In between the burger buns are juicy beef patties, bacon, mustard, and sauerkraut. Together, they create a meaty and tangy flavor combination that will excite your appetite. Complete the meal by serving it with beer, sweet potato fries, and caesar salad on the side.
Tips on Making Sauerkraut Burger
Sauerkraut is made by fermenting green cabbage with lactic acid bacteria. It is like kimchi to Korea and atsara to the Philippines. The tangy-sour taste of this German food is pretty versatile. It is usually paired with meat, turned into soups, or served as a side dish to any meal. This time, it goes on a burger. Here are helpful tips about making it:
For the best juicy beef burger patties, use at least 80 percent lean ground beef. The fat will make it moist and tasty. Ground chuck is also a good choice, but feel free to use sirloin or ribeye if you're feeling indulgent. Not sure what's the difference? Check out Ground Chuck vs Ground Beef: Differences Explained!
To achieve a beautiful sear,

refrain from frequently touching the patties once they hit the hot pan. You can cook the patties on a cast iron pan, frying pan, grill pan, or grill. 
Aside from hamburger buns,

you can use a brioche bun or sliced

rye bread

instead. 
You can tell the quality of sauerkraut by its smell.

It should smell fresh, clean, and delicious. The texture is crunchy. On the other hand, if it's slimy, it's not good to use anymore. Moreover, you can heat up the sauerkraut or keep it cold depending on your preference. Both ways are delicious.
Lastly, feel free to customize your burger!

Add your favorite burger toppings like dill pickle slices, onion, mozzarella or

cheddar cheese

,

thousand island dressing

, mayo, for instance. You can also add sriracha sauce or chili flakes for some spice.
More Burger Recipes to Try
Here are more fun and delicious burger recipes that you can serve on your outdoor barbecue. Check these out:
Reuben Sandwich

— Similar to our featured recipe, the main ingredients of this reuben sandwich are also sauerkraut and beef. It combines corned beef, sauerkraut, thousand island dressing, and cheese on buttered rye bread.
Grilled Turkey Burgers

— Turkey sausages, mustard, and Worcestershire sauce make the turkey patties juicy and flavorful. To make it more delicious, you can add veggies like lettuce and tomatoes.
Barbecue Pork Burgers

— This recipe makes the juiciest sweet-smoky grilled barbecue pork burgers with barbecue sauce on soft onion rolls.

Mini Bacon Cheeseburger Sliders — Kids will love these burger sliders! The patties themselves are already loaded with chopped bacon, and each mini patty is topped with more bacon.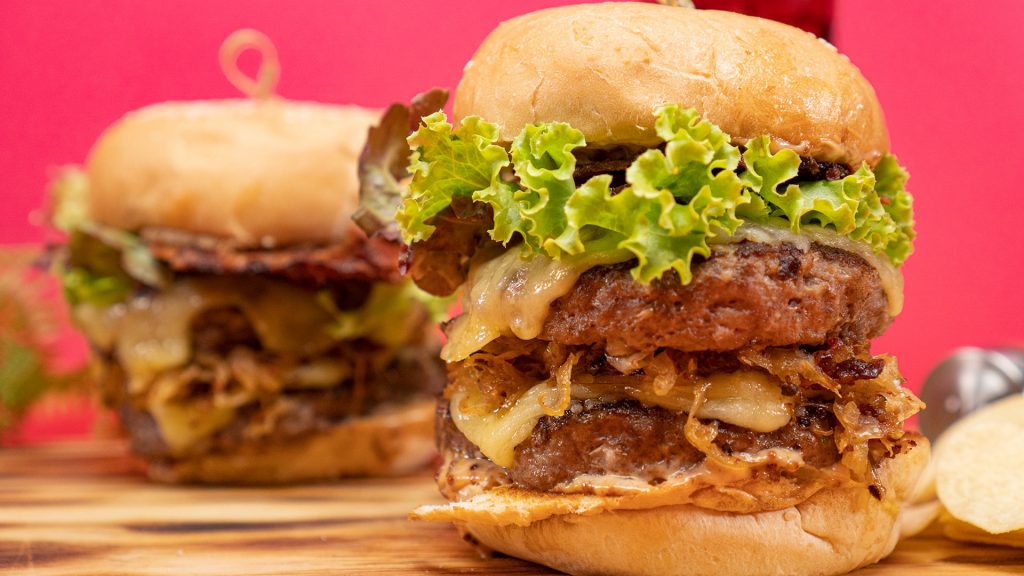 Beef Sauerkraut Burger Recipe
How To Make Beef Sauerkraut Burger
Indulge in sauerkraut burgers filled with the meatiness of ground beef and bacon and combined with the bright fresh tang of sauerkraut.
Ingredients
For Burger Patty:
1¾

lb

ground beef

5½

oz

yellow onions,

minced

1

lime,

zested

1

tsp

ground green cardamom

1

tsp

ground cumin

1

tsp

ground coriander

½

tsp

chili powder

salt and ground black pepper,

to taste
For Sauerkraut Filling:
1

lb

sauerkraut,

homemade or store-bought, prepared, drained

3

tbsp

unsalted butter

3

tbsp

honey

salt and ground white pepper,

to taste

8

oz

bacon,

minced
For Sandwich Dressing:
3

tbsp

yogurt,

or sour cream

3

tbsp

mayonnaise

3

tbsp

grain mustard

2

tbsp

ketchup

salt and ground black pepper,

for seasoning
To assemble:
10½

oz

emmental cheese,

or gruyere cheese, grated

2

bacon rashers,

halved, roasted

burger buns,

or pretzel buns

lettuce,

used mixed green ice and red curly leaf lettuce

cooking spray
Serve with:
¼

cup

potato chips,

per serving
Instructions
Burger Patty:
In a mixing bowl, add the ground beef, yellow onions, lime zest, ground green cardamom, ground cumin, ground coriander, and chili powder.

Season it with salt and ground black pepper. Mix it all together to combine.

Form roughly 4 ounces of patties, and press into a mold.

Transfer the patties in a baking sheet lined with parchment paper.

Cover and set aside in a chilled area for an hour until it firms up.
Sauerkraut Filling:
Melt the butter in a saucepan. Add the Sauerkraut and sauté it for roughly 5 to 7 minutes until most of the liquid has evaporated and it has turned slightly golden.

Add the bacon and honey, and continue sautéing. Season it with salt and ground pepper to taste. Adjust accordingly.

Set it aside.
Sandwich Dressing:
In a pinch bowl, add the yogurt, mayonnaise, grain mustard, and ketchup. Season with salt and ground black pepper.

Stir all together to combine. Set it aside.
To Assemble:
Preheat the oven to 360 degrees F. Grease both baking sheet and griddle.

Sear the firmed patties evenly on all sides for at least 5 minutes per side.

Place the seared patties on a greased baking sheet.

Top the patties with roughly 1½ ounce of Emmental cheese.

Roast the burgers in the oven for 5 minutes until the cheese has melted (or up to the desired outcome).

Toast the burger buns.

Start assembling the burgers once the buns are toasted.

Spread roughly 1 tablespoon of dressing per bread half. Place the patty on the lower half of the bun.

Add roughly 2 tablespoons of Sauerkraut filling per bun. Place another patty on top of the Sauerkraut.

Add the lettuce and bacon. Cover with the top half of the bun.

Skewer the bun to stay in place, then serve with potato chips. Enjoy!
Nutrition
Sugar:

22g

:

Calcium:

814mg

Calories:

1358kcal

Carbohydrates:

36g

Cholesterol:

327mg

Fat:

99g

Fiber:

7g

Iron:

7mg

Monounsaturated Fat:

30g

Polyunsaturated Fat:

8g

Potassium:

1231mg

Protein:

85g

Saturated Fat:

46g

Sodium:

3110mg

Trans Fat:

3g

Vitamin A:

1739IU

Vitamin C:

30mg
Nutrition Disclaimer
Frequently Asked Questions
Is sauerkraut good for you?
Yes! Sauerkraut is actually rich in fiber, vitamins, minerals, and gut-health boosting probiotics. For this reason, regular consumption of sauerkraut helps improve digestion, boost the immune system, and might also help lose weight. A good serving portion is 3 grams per day.

What to serve with sauerkraut burger?
Aside from fries and beer, it also pairs well with soda, fried pickles, and potato salad. You can also serve it with pasta such as mac and cheese or alfredo pasta.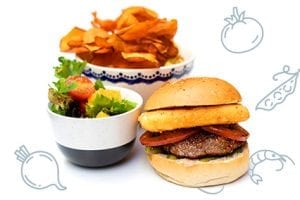 Conclusion
For a change, try and have a taste of a sauerkraut burger. You'll definitely love the refreshing taste of tangy sauerkraut on meaty and tasty beef burgers.