When it comes to making juicy burgers, our bacon cheeseburger recipe is a guaranteed favorite. It's a classic burger recipe that combines simple ingredients to make an appetizing meal perfect for those 4th of July celebrations and beyond. We made sure that this homemade burger recipe is easy to follow so that you can enjoy the taste of a bacon cheeseburger made within the comforts of your own home.
Our recipe is inspired from Red Robin's famous gourmet burgers. They serve a variety of mouthwatering burgers that are beautifully prepared like their Guacamole Burger and California Chicken Burger. Each of their burgers really gives you that fully-loaded appetite afterwards. The burgers are always overflowing with crunchy and juicy ingredients that combine well with each other, especially their classic bacon cheeseburger dish. 
This homemade recipe recreates that delectable gourmet burger to give you that similar satisfaction that comes with eating a Red Robin burger. All you have to do is grill those homemade beef patties, deep fry those delicious bacon strips or rashers, and you're ready to assemble.
Tips to Make Bacon Cheeseburger Extra Delicious
There are a lot of possibilities when making a bacon cheeseburger. Preparing your homemade burger patties is simple because all you have to do is mix all of the ingredients like the steak sauce, lean ground beef, ketchup, onion, and the other seasonings to make a delicious patty. However, we believe that the flavors come from how you carefully prepare and cook your beef patties.
Grilling your patties gives it a distinct flavor. We're aiming for that charred and juicy taste of a grilled burger that goes well with the crispiness of the bacon and gooeyness of the cheese.

Tip: Remember not to press down on the patties while grilling. It's better to flip so it cooks evenly.
Better to chill the patties before cooking them

so that it won't easily break apart when grilling. Preparing your beef patties beforehand will make it easier to grill them. 
Try seasoning your patties

before grilling them if you want some additional flavoring. Combine paprika, brown sugar, salt, and black pepper in a small bowl and sprinkle on top of your patties. 

Don't flatten your patties too much

because it can affect the overall flavor and presentation. Make sure that the edges and the size of your patties are 1-inch thicker and bigger than your buns. 
Now that you have your beef patties ready, it's time for the bacon strips, cheddar cheese, and remaining ingredients.
Make the bacon strips extra crispy

when you're frying them. We don't want soggy bacon!
Use the processed American cheddar cheese slices

to get that classic cheese melt on top of your patties. 
Keep the veggie ingredients fresh

so it's tender and crisp when assembling the burger.

Try grilling or toasting the hamburger buns

to enjoy a warmer and more delicious bacon cheeseburger experience. 
The Best Sides for Your Bacon Cheeseburger
A bacon cheeseburger meal is best enjoyed with a side dish that can satisfy your palate. What goes best with our classic bacon cheeseburger? We have a few suggestions in mind that we know will complement your burger almost perfectly. 
Baked Cheesy Potato Wedges

– An upgraded cheesy french fries recipe which adds that extra fanciness and flavor to your bacon cheeseburger meal. 

Coleslaw salad

– It's the classic and creamy side dish that gives an extra refreshing crunch while munching on the burger.

Onion Ring A&W Copycat Recipe

– It's crispy, soft, and savory! These are commonly served with burgers and also the best side dish alternative for your french fries. 

Mac and cheese

– Want more cheese? Then, indulge in some mac and cheese side dish that will surely give you that extra cheesy satisfaction.
Those are some of our personal favorites, but you're always welcome to try a variety of other side dishes that you like. You can even include something spicy or sour into the mix for some funky combinations. Enjoy your meal further by adding a cool glass of iced cola or any carbonated drinks that will really fill your appetite.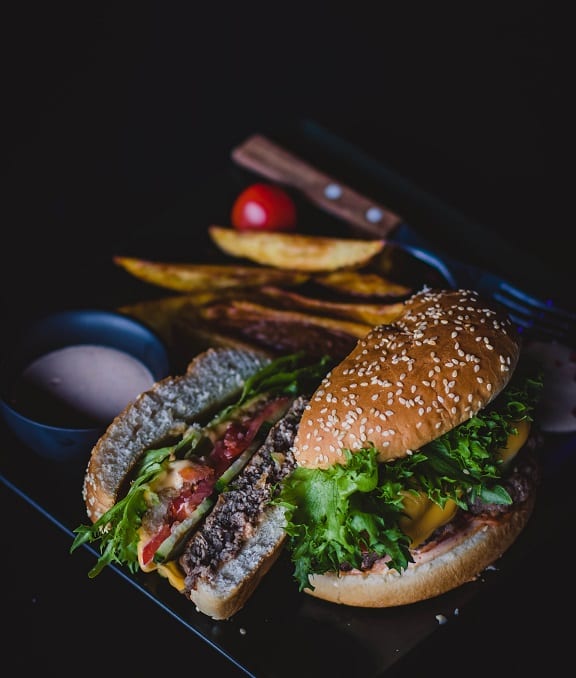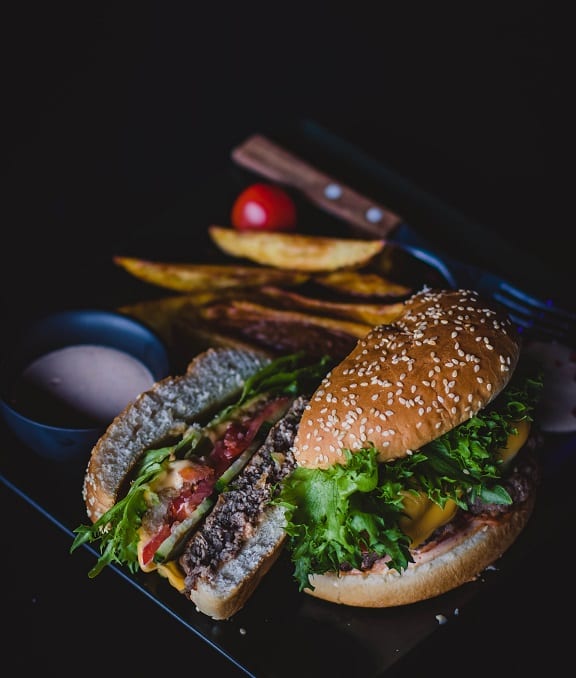 Bacon Cheeseburger (Red Robin Copycat) Recipe
How To Make Bacon Cheeseburger (Red Robin Copycat)
Our bacon cheeseburger copycat recipe is a homemade burger cooking experience that's easy enough for beginners. The crispy bacon and gooey cheddar cheese makes it a burger recipe worth every bite!
Ingredients
For burger patties:
2

tbsp

yellow onion,

chopped

2

tbsp

ketchup

1

clove garlic,

minced

1

tsp

sugar

1

tsp

Worcestershire sauce

1

tsp

steak sauce

¼

tsp

apple cider vinegar

1

lb

lean ground beef
For cheeseburger:
4

slices

Cheddar cheese

4

hamburger buns

8

rashers

bacon,

cooked

4

lettuce leaves

1

tomato,

sliced
Instructions
To make patties:
Combine the ingredients for the patties in a bowl.

Mix until ingredients are well blended.

Divide the mixture into four equal sizes. Set aside.

Warm grill over medium heat.

Cook for 4 minutes on each side, reaching an internal temperature of 160 degrees F.

Allow the patties to cool for about a minute.
To assemble:
Place a burger patty between each bun.

Top with a slice of cheddar cheese, lettuce, tomato and bacon.

Serve warm. Enjoy!
Nutrition
Sugar:

7g

:

Calcium:

101mg

Calories:

335kcal

Carbohydrates:

29g

Cholesterol:

30mg

Fat:

20g

Fiber:

2g

Iron:

2mg

Potassium:

315mg

Protein:

11g

Saturated Fat:

6g

Sodium:

630mg

Trans Fat:

1g

Vitamin A:

2108IU

Vitamin C:

10mg
Nutrition Disclaimer
Frequently Asked Questions
Can I premake hamburger patties?
Yes, you can make them the night before and store them in the freezer afterwards. Make sure to place each homemade hamburger patties into a freezer bag. Reheating them would be easier since it's less likely to fall apart. Premade frozen hamburger patties can last up to 3 months. When you're ready to consume again, remember to let them thaw first before reheating again so that it can cook evenly.
 Can you reheat cooked burgers?
Absolutely! It's better to use an oven to get that extra crisp and flavor back. Disassemble your burger and separate the patties. Place the extra ingredients in another plate. Preheat the oven to 400 degrees F. Put each patty directly on the rack, placing a baking pan underneath to catch the excess oil drips. Cook for about 3 minutes, then flip the patties to cook for another 2 minutes. Make sure not to overcook the burger! You can toast the buns again to regain its crunchiness. Lastly, proceed to garnish with the remaining ingredients.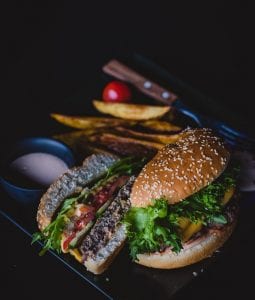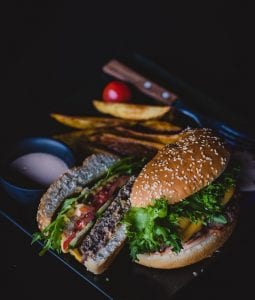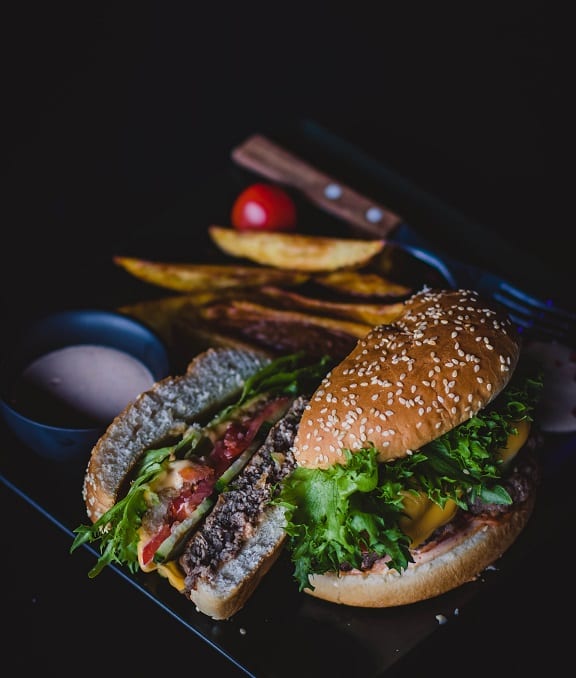 Conclusion
Our bacon cheeseburger copycat recipe is a delicious and scrumptious meal that recreates the Red Robin gourmet burger experience. It's a simple recipe that can be made ahead of time. Thus, making it an easy-to-follow bacon cheeseburger dish perfect for when you're celebrating or eating with family and friends.
Topics: