Prepping a turkey and filling it up with stuffing for Thanksgiving is always a lot of work. But if you're looking for an easier solution to a traditional dish, we've got a dish that'll work for you! Our chicken and stuffing recipe comes with the classic Thanksgiving flavors. Best of all, it's a delectable one pot meal made in a crockpot.
So you can leave it off to cook while you prep other Thanksgiving meals. Sounds like a lot less work, right? Then keep on reading as we show you how to make chicken and stuffing at home!
What To Serve With Chicken And Stuffing
It's important to know what goes well with your slow cooker chicken and stuffing! This Thanksgiving chicken dish complements so many appetizing side dishes. But we've hand-selected a few that we think will work tremendously with our chicken and stuffing crockpot recipe.
For an equally creamy and tasty side dish, serve these up with our Best-Ever Loaded Mashed Potatoes. Looking for something with a little more crunch? Try out our tangy Vinegar-Marinated Green Beans. How about a mellow taste to go well with a one pot chicken meal? Enjoy a small serving of this acorn squash Harvest Moon Soup.
These dishes work amazingly with our easy chicken and stuffing casserole! But now that you know a little bit of what you can cook up with our Thanksgiving dish, keep going as we show you a few tips and tricks.
A Belly-Filling Recipe For Chicken and Stuffing
There are numerous ways to make a scrumptious crockpot Thanksgiving dinner like this. Some like theirs on the creamier side, others prefer letting some of the broth do the magic for flavoring. But you'll find that most chicken and stuffing recipes will have a combination of both, just like ours! Many recipes will call for a can of cream of chicken soup to make this extra creamy. But if you want to go all-out on making a homemade Thanksgiving meal, go ahead and make your own Cream of Chicken Soup.
Our easy chicken and stuffing recipe comes with a delectable combination of both broth and cream of chicken soup to make it more mouthwatering. It melds perfectly well with the crispy vegetables we've added on like celery and onions. And when seasoned with just enough tasteful herbs and spices, you get the most tasteful and belly-filling meal for dinner.
To make the best one pot meal of chicken and stuffing, it's important to use day-old bread! Although many recipes will tell you to use a stuffing mix and true enough, it might just be easier. But if you want to get full-bodied flavors, using a handful of day-old bread will do wonders for your dish. Not only will they absorb the seasonings and flavors better, but they just taste significantly natural. Plus, you get to control the amount of salt or flavorings to your liking, which is something you can't often do with a stuffing mix.
When it comes to vegetables and other flavorings, you have free reign to change things up a bit! Try adding some carrots, cubed potatoes, or even some mixed veggies. There is no limit to switching up flavors when it comes to our recipe.
Other Must-Try Thanksgiving Recipes
Thanksgiving will never be the same (in a good way!) once you use our recipe for chicken and stuffing casserole. It has the classic Thanksgiving touches of using leftover bread and having it cooked all in one pot. Serve these up for your family during this big holiday! We promise it will be worth the little effort.
We know this festive holiday will not be the same without a proper stuffing recipe. So for another recipe like this, try our tasty Chicken Stuffing Skillet Recipe. Or if you're searching for an actual Thanksgiving stuffing to put in your turkeys, try your hand on our Homemade Old-Fashioned Stuffing or this unique Apple-Herb Stuffing.
And finally, if you're looking for a couple more meals to make in your handy crockpot, give our other Thanksgiving crockpot recipes a shot! Whip up some savory Brown Sugar Glazed Ham or even this flavorful Turkey Breast.
Crockpot Chicken and Stuffing Recipe Video
How To Make Crockpot Chicken and Stuffing
Skip the turkey this year, and replace it with our creamy and savory chicken and stuffing recipe. Made easy in a crockpot and cooked just in time for Thanksgiving dinner!
Ingredients
20

oz

chicken breasts,

boneless and skinless

10¾

oz

cream of chicken soup,

(1 can)

2

cups

chicken broth,

divided

1

cup

yogurt,

Greek-style

½

cup

yellow onions,

diced

½

cup

cranberries,

dried

½

cup

sausage,

of your choice, crumbled

4

cups

bread,

stale, of your choice, crusts trimmed, cut into cubes

1½

tsp

Italian Seasoning

½

tsp

dried sage

1

tsp

chicken bouillon granules

1

tsp

dried parsley

1

tsp

garlic powder

1

tsp

onion powder

salt and ground black pepper,

to taste

cooking spray
To Serve:
¼

tsp

parsley

½

cup

broccoli,

cooked to your preference
Instructions
In a mixing bowl, combine the yogurt, cream of chicken soup, chicken broth, sage, parsley, bouillon granules, garlic powder, and onion powder. Set aside.

In a large mixing bowl, combine the onions, cranberries, stale bread, and crumbled sausage. Mix to combine.

Add the broth mixture into the bread mixture, then mix to combine evenly.

Set aside to allow the bread to absorb the liquid, roughly 2 minutes.

Season your chicken breasts with salt, pepper, and Italian Seasoning on all sides.

Arrange the seasoned chicken at the bottom of your crockpot.

Spread the stuffing on top of the chicken, covering all sides.

Cover and cook on low for 4 hours or on high for 2 hours.

Serve with broccoli, garnish with parsley, and enjoy!
Recipe Notes
Serve your tasty chicken and stuffing with some gravy! Feel free to try our

Rich, Fat-Free Brown Gravy

with this dish for a more filling meal.
Nutrition
Calcium:

299mg

Calories:

713kcal

Carbohydrates:

95g

Cholesterol:

84mg

Fat:

18g

Fiber:

8g

Iron:

7mg

Potassium:

886mg

Protein:

43g

Saturated Fat:

5g

Sodium:

1800mg

Sugar:

19g

Vitamin A:

223IU

Vitamin C:

15mg
Nutrition Disclaimer
Commonly Asked Questions
Can I use a stuffing mix for this chicken and stuffing recipe?
You sure can! Feel free to use your favorite stuffing mix for this recipe. Or if you're feeling motivated, you can make some yourself using our Homemade Old-Fashioned Stuffing Recipe.
How do I store my chicken and stuffing?
You can freeze your chicken and stuffing by placing it in a freezer-safe container or a casserole dish covered tightly with foil. It will also last for up to 3 months in the fridge. You may also refrigerate any leftover chicken and stuffing by placing them in an airtight container. These will keep for 3 to 4 days in the fridge.
How do I reheat my frozen chicken and stuffing?
Thaw your frozen chicken and stuffing in the fridge overnight. Afterward, allow the dish to come to room temperature for about 30 minutes on the counter. Then bake it off in the oven at 350 degrees F for 30 minutes or until it's heated through.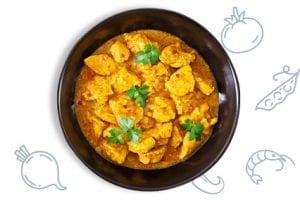 Conclusion
Our chicken and stuffing recipe is sure to impress any crowd you're serving for Thanksgiving! It's perfectly savory and much easier to make than your usual turkey. This a belly-filling meal that will keep your guests satiated all evening.