Prepping a turkey and filling it with stuffing for Thanksgiving is always a lot of work. If you're looking for an easier solution to the traditional dish, we've got a recipe that'll work for you! Our crockpot chicken and stuffing come with the classic Thanksgiving flavors. Best of all, it's an enticing one-pot meal. If you're looking for more simple one-pot meals, give our other crockpot recipes a shot for the holidays. Whip up some Dr. Pepper and brown sugar glazed crockpot ham or this flavorful crockpot turkey breast.
Tips on Making Crockpot Chicken and Stuffing
This crockpot chicken and stuffing is a whole, healthy meal in one dish! You really can't go wrong with chicken crockpot recipes especially on the busiest of days. Just pop them into your slow cooker and let it do the work. Before doing that though, here are some tips to help you get started on this recipe:
While we use chicken breasts for this recipe,

you can also use chicken thighs

. Thigh meat stays more tender and juicy in the slow cooker. Both

crockpot chicken breast

s

or thighs are healthy and delicious.

Make sure to use day-old bread.

I

f you want to get full-bodied flavors, using a handful of day-old bread will do wonders for your dish. Not only will they absorb the seasonings and flavors better, but they also taste significantly more natural. Plus, you get to control the amount of salt or flavorings to your liking,

which is something you often can't do with a

stuffing

mix.

If your stuffing is too moist, leave the lid off for the last 30 to 40 minutes of cooking

to let some of that moisture escape. You can also pop the stuffing in a 400 degrees F oven for 10 to 15 minutes to brown up the top.

When it comes to vegetables and other flavorings, you have free rein to change things up a bit!

Try adding some carrots, cubed potatoes, or even some mixed veggies.

There is no limit to switching up flavors when it comes to our

simple

recipe.

All slow cookers cook differently

, so cooking times are always a basic guideline. Recipes should always be tested first in your own slow cooker and time adjusted as needed. Don't worry,

crockpot chicken breast recipes

usually don't require much adjustments.

Serve your tasty chicken and stuffing with brown gravy

. Pair it with this dish for a more filling meal.
Crockpot Chicken and Stuffing Recipe Video
How To Make Crockpot Chicken and Stuffing
Skip the turkey this year, and replace it with our creamy and savory chicken and stuffing recipe. Made easy in a crockpot and cooked just in time for Thanksgiving dinner!
Advertisement
Continue Reading Below
Ingredients
20

oz

chicken breasts,

boneless and skinless

10¾

oz

cream of chicken soup,

(1 can)

2

cups

chicken broth,

divided

1

cup

yogurt,

Greek-style

½

cup

yellow onions,

diced

½

cup

cranberries,

dried

½

cup

sausage,

of your choice, crumbled

4

cups

bread,

stale, of your choice, crusts trimmed, cut into cubes

1½

tsp

Italian Seasoning

½

tsp

dried sage

1

tsp

chicken bouillon granules

1

tsp

dried parsley

1

tsp

garlic powder

1

tsp

onion powder

salt and ground black pepper,

to taste

cooking spray
To Serve:
¼

tsp

parsley

½

cup

broccoli,

cooked to your preference
Instructions
In a mixing bowl, combine the yogurt, cream of chicken soup, chicken broth, sage, parsley, bouillon granules, garlic powder, and onion powder. Set aside.

In a large mixing bowl, combine the onions, cranberries, stale bread, and crumbled sausage. Mix to combine.

Add the broth mixture into the bread mixture, then mix to combine evenly. Set aside to allow the bread to absorb the liquid, roughly 2 minutes.

Season your chicken breasts with salt, pepper, and Italian Seasoning on all sides. Arrange the seasoned chicken at the bottom of your crockpot.

Spread the stuffing on top of the chicken. Be sure to cover all sides.

Cover and cook on Low for 4 hours or on High for 2 hours.

Serve with broccoli and garnish with parsley.
Advertisement
Continue Reading Below
Advertisement
Continue Reading Below
Commonly Asked Questions
Can you make stuffing ahead of time and reheat?
You can assemble the stuffing the day before, you just don't want to bake it until the day of. You can do all the hands-on work: cubing and drying out the bread, cooking the vegetables and the aromatics, and tossing them together with the eggs and broth. But if you've already baked your stuffing, then you just have to warm it in a 350 degrees F oven, covered, for 30 to 40 minutes until heated through.
Why is my slow cooker chicken tough?
Chicken breasts have very little connective tissue so that means they can be cooked quickly because the long cooking time needed to soften connective tissue isn't necessary. They also have little fat, which means they can become dry if cooked too long. If your crockpot chicken and stuffing dish comes out a bit tough and dry, chances are you cooked it too long.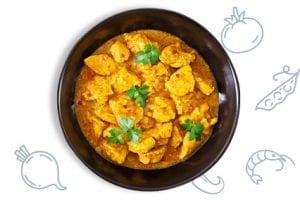 Conclusion
Preparing a sensational holiday spread doesn't always require long hours and tedious planning to make a delicious feast. You can go easy this year with this crockpot chicken and stuffing recipe.
Advertisement
Continue Reading Below
Topics:
Advertisement
Continue Reading Below
Advertisement
Continue Reading Below