Make weeknight dinners extra special with this simple and delicious crockpot steak recipe! With just the right amount of seasonings and red wine, you get to enjoy a delicious beef top sirloin steak that's slow-cooked, tenderized to perfection, and just falls apart. Each bite is a savory delight and made even better with the thick brown gravy made from beef broth and deglazed wine sauce. Pour the gravy all over the meat and serve this appetizing dish alongside mashed potatoes or caesar salad.
Tips on Making Crockpot Steak
You're in for a nice and juicy treat with this crock pot steak recipe that's bursting with tender meat and rich sauce. It's a simple recipe that promises a lot of flavors, and you can make this slow cooker steak even more delicious with some of our tips and variations. Our tips below will help you make the best slow cooker steak with ease: 
Try different types of steak

like eye round steak, skirt steak, flank steak, flat iron steak, or chuck steak. These are some of the other best beef parts to use. This recipe works with other inexpensive tender steak cuts so don't hesitate to switch it up since the dish will taste just as delicious with the sauce.
Use red wine vinegar

as a non-alcoholic substitute for red wine. Since it has added vinegar, it can also tenderize the meat. It's mostly used for salad dressings and marinades so combining it with the beef will also add a tasty and savory depth to it.
Substitute steak seasoning

for the powdered spice ingredients. If you have one on hand, then a prepared bottle of

steak seasoning

can also be used to season the meat. 
Use beef broth

instead of alternative sauce packets like

au jus mix

for the

gravy recipe

. We recommend using it because the flavor combination of the deglazed wine, beef broth, and seasonings taste much richer. 
Add cornstarch to thicken the brown gravy.

Mix in about a tablespoon of cornstarch. If you want even more gravy sauce, then you can also add another cup of beef broth into the mix.

You can also add in the leftover pan drippings into the sauce to make it even more flavorful. 
Mix in other vegetables

like

bell peppers

with the diced onions for added flavor. You can also switch it up by using

onion soup

mix instead of fresh onions and onion powder. This

onion soup

mix adds another layer of savoriness to the broth.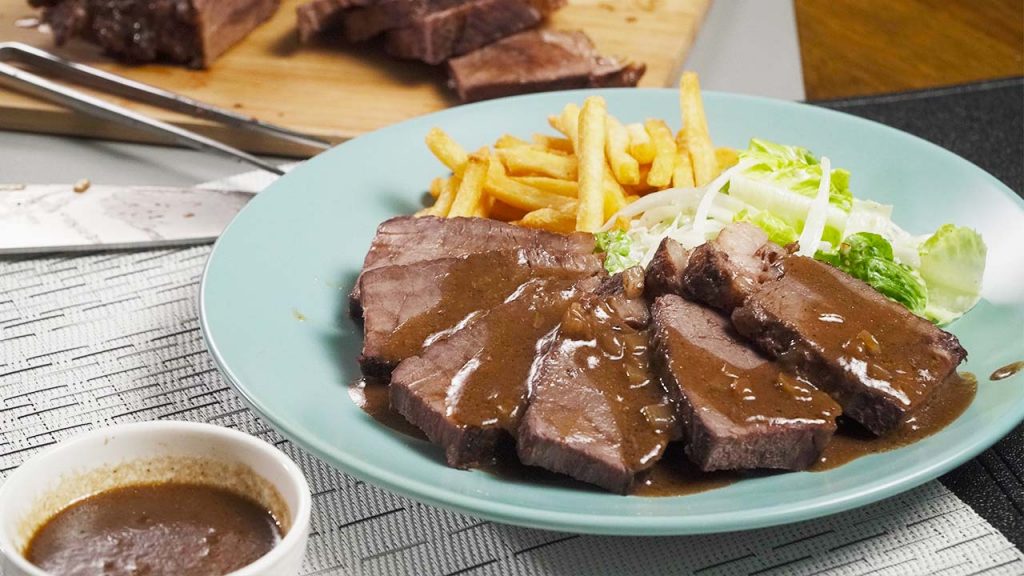 Juicy Crockpot Steak Recipe
How To Make Juicy Crockpot Steak
This crockpot steak lets you savor a deliciously tender seasoned meat with an accompanying flavorful gravy made from red wine and beef broth.
Ingredients
2

lb

beef sirloin

4

tbsp

vegetable oil

3

cups

beef broth

1

tbsp

Worcestershire sauce

1

tbsp

steak sauce

¼

cup

red wine

1

tsp

paprika

2

tsp

salt

½

tsp

ground black pepper

½

tsp

garlic powder

½

tsp

onion powder

¼

cup

all-purpose-flour

¾

cup

yellow onions,

diced

cooking spray
For Serving:
side salad,

of choice

potato fries

reduced sauce
Instructions
Spray the crockpot with a non-stick cooking spray. Set aside.

Prepare the seasoning mix by combining paprika, salt, pepper, garlic and onion powders

Season the sirloin with the prepared seasoning on all sides

In a skillet, heat up oil and sear the sirloin until golden brown. Transfer to the crockpot.

Using the same skillet, add flour and roast briefly.

Deglaze with red wine and reduce briefly.

Add beef broth, steak sauce, and Worcestershire sauce. Simmer until sauce has thickened.

Transfer the sauce into the crockpot and add the onions. Stir to combine.

Cook for 6 hours on a Low setting.

Once done, set aside the beef in a warm area.

Transfer the sauce into a saucepot and reduce the sauce to half or until it thickens.

Carve the steak according to preference.

Serve the steak along with the reduced sauce, a salad of choice, and fries.
Nutrition
Sugar:

2g

:

Calcium:

22mg

Calories:

502kcal

Carbohydrates:

5g

Cholesterol:

138mg

Fat:

32g

Fiber:

1g

Iron:

4mg

Potassium:

672mg

Protein:

46g

Saturated Fat:

14g

Sodium:

259mg

Vitamin A:

59IU

Vitamin C:

3mg
Nutrition Disclaimer
Frequently Asked Questions
Can you put raw steak in a slow cooker?
Yes, technically, you can. Unlike an instant pot, a crock pot uses slow cooking and even heat to tenderize and cook the meat well. Although, we highly recommend that you sear or fry the steak first. Browning the steak beforehand adds a layer of flavor and texture to the meat which will most likely not happen when it's slow-cooked raw. Aside from the flavor, browning the meat first prevents any additional oil or grease build-up to the final dish.
How long does it take to cook steak in a slow cooker?
In general, it takes about 4 to 6 hours on Low to cook the steak. We cooked the steak for 6 hours on Low where the meat is the most tender. You can also check the internal temperature as well for your preferred level of doneness. For a medium-rare steak, it should reach 125 degrees F.
How do you keep beef from drying out?
It's important to keep the steak submerged in liquid while it's cooking in the slow cooker. Make sure that you add the right amount of broth into the mix so that it cooks well. Also, avoid lifting up the lid during the cooking process. This will affect the internal temperature of the slow cooker, and the heat can drop significantly. Lastly, stick to the cooking time! Don't overcook the meat or else the liquid sauce will dry out.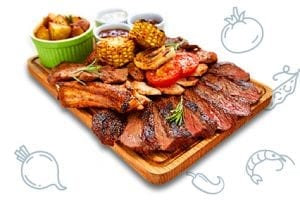 Conclusion
With this crockpot steak recipe, you can easily turn any cheap steak cuts into a gourmet dish! Savor the tender taste of the beef and sauce, and pair it alongside some delicious side dishes like potatoes, green beans, or cauliflower rice.