We've found another great use for your trusty crockpot! Say goodbye to your plain old bread with our easy garlic bread recipe. This crockpot version is the perfect no-hassle side dish for your Italian dinner nights.
Crockpot bread isn't the first thing that'll pop into your mind when you hear the words 'slow cooker'. But don't let this stop you from trying out our crockpot bread recipe. Have a taste of warm french bread that's slathered with a generous amount of garlic butter sauce and crisped to perfection. 
After finding out how easy this is to make, we guarantee that you wouldn't want to go back to your bread and butter staple. Try your hand at making this side dish now and add this to the list of your beloved garlic butter recipes to keep coming back to.
How To Serve Crockpot Butter Garlic Bread
Garlic bread is a versatile side dish as it goes well with many variations of soups and stews. However, the most common way of serving this side is with tomato-based pasta and soups. 
The bread's garlicky flavor pairs well with the tanginess coming from the tomatoes. In terms of texture, it adds a little extra crispiness to the creamy dishes. For a classic pairing, serve your freshly-made garlic bread with a plate of Spaghetti Bolognese. You can expect the signature meaty and tomato-ey bolognese sauce that we all know and love, to wonderfully complement this buttery bread with a satisfying crunch.
On lazy days when we want to use just one kitchen appliance to create a filling meal, we love serving this side dish with some Crockpot Italian Meatballs. The meatballs cooked in marinara marry well with the toasty garlic bread. This recipe is a perfect quick fix if you want to make a simple yet satisfying meal using only your crockpot. 
You can also check out this Low-Fat Cream of Tomato Soup if you're leaning towards a healthier alternative. Anticipate the same tomato and garlic butter flavor burst with this creamy puree.
Recommended Types Of Bread For Making Butter Garlic Bread
French Bread
As with any food, the best way to level up your dish is by using good quality ingredients. This is why we recommend using french bread for this crockpot bread recipe. French bread has a distinct rounded shape and a crispier crust that makes it stand out from a loaf of ordinary white bread. As a result, you should yield garlic bread that not only tastes great but is also easy on the eye.   
Stale Bread
With this quick recipe, you can also get away with using ordinary bread and watch it transform into a crispy, garlicky delight. Making crockpot bread is also an opportunity to quickly put to use stale bread before its expiration. The 'toasting' process will soften up the hardened bread and is a good way of cutting food waste.
Gluten-Free Bread
Alternatively, you can consider making your own gluten-free bread using the same crockpot. This is a great alternative for days when the temperature is too hot and you don't want to heat up your place by turning on the oven. As a bonus, the 'toasting' process is great for improving the texture of gluten-free bread.
After you have decided on your choice of bread, the next step is to prepare the butter and garlic. We highly recommend using unsalted butter for this recipe. This will add just the right amount of creaminess and fat that'll highlight the flavor coming from the garlic. 
How To Make Crockpot Garlic Bread
Have some warm and buttery garlic bread that's crisped to perfection using your crockpot with this quick and easy recipe.
Ingredients
1

clove

garlic,

finely chopped

⅓

cup

butter or margarine,

softened

1

lb

French bread loaf,

cut into 1-inch slices
Instructions
In a small bowl, stir together garlic and butter until well mixed.

Spread butter mixture over 1 side of each slice of bread.

Reassemble loaf, and then wrap securely in heavy-duty foil.

Place bread in the crockpot and close the lid on top.

Bake on High 1½ to 2 hours.

Serve warm and enjoy!
Recipe Notes
¼ teaspoon of garlic powder can be used as an alternative for a clove of garlic.

To soften the butter faster, grate the stick of butter or slice it into chunks.

You can also add some chopped up fresh or dried parsley leaves to garnish.
Nutrition
Calcium:

75mg

Calories:

356kcal

Carbohydrates:

46g

Fat:

15g

Fiber:

2g

Iron:

3mg

Potassium:

100mg

Protein:

8g

Saturated Fat:

3g

Sodium:

699mg

Sugar:

1g

Vitamin A:

541IU

Vitamin C:

1mg
Nutrition Disclaimer
Commonly Asked Questions
How should I store garlic bread?
While best consumed when it's freshly-made, there are instances where you won't be able to finish the whole batch of bread. In that case, the best way of storing it is to carefully wrap it in foil and keep them in the open. This method will help your bread stay fresh for longer. You can also keep them in the freezer. However, the two things you should avoid are storing your bread in an airtight container, and/or keeping it in the fridge, as these two methods will make your bread soggy and stale.
How long does garlic bread last before spoiling?
If properly stored in the kitchen, leftovers can last for up to 4 days. Furthermore, it can last for up to a month before going bad if frozen. Before serving, thaw and reheat your bread for the best results.
How do I reheat garlic bread?
The quickest way of reheating this side dish is by using the oven. Carefully wrap the leftover pieces of bread in foil and bake it in an oven that has been preheated to 350°F. Then, leave your garlic bread in the oven for 10 minutes or until the bread is warm throughout. It's also handy to know that heating garlic bread in the microwave won't do the trick and will only worsen the quality of the bread.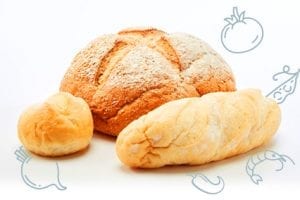 Conclusion
In just a few simple steps, you can transform three ordinary ingredients into a crispy, savory delight. Say goodbye to your cold bread and butter combo. Best served with your favorite stews or classic tomato-based pasta and soups, this side dish is a guaranteed crowd-pleaser. Amplify your dishes today with a side of this crisp and buttery crockpot garlic bread.
Related Breads & Doughs Recipes