What's best eaten during the cold season? Soup, or better yet, tortilla soup. This Mexican-inspired dish is sure to clear your thoughts and provide a refreshing feeling. The On The Border tortilla soup is best taken with an additional serving of salsa.
Don't worry, we'll guide you through the process of making this dish. It's surprisingly easy to make and very flavorful — it feels like you're in Mexico! The On The Border tortilla soup will give you the feeling of warmth and tropical paradise. 
Discover how you can recreate this delicious soup in the comfort of your own kitchen. This is perfect served during winters or rainy days. It can be an alternative to the chicken noodle soup when you're feeling under the weather.
How To Make Copycat On The Border Tortilla Soup
Ingredients
4

cups

chicken broth

3

tbsp.

Canola Oil

1/2

cup

onion

chopped

2

pieces

Garlic cloves

minced

¾

tsp

Cumin

ground

15

oz

Tomato Sauce

15

oz

Black beans

rinsed and drained

1

cup

Corn kernels

frozen, thawed

1/2

cup

On The Border Salsa

12

oz

On The Border Tortilla Chips

1/2

cup

Monterey Jack cheese

shredded

1/2

cup

cilantro

chopped

4

tbsp.

uncooked rice
Instructions
In a Dutch Oven, heat canola oil over MEDIUM heat. Add in your onions and stir frequently to keep it from burning too soon.

After 7 minutes, add in your garlic and cumin powder. Cook for another 1 minute.

Add in your broth, tomatoes, beans, and corn. Stir continuously then cover the pot. Raise the heat to HIGH and bring to a boil.

Add On The Border salsa and rice in the Dutch Oven. Cook until rice is tender, about 15 minutes.

For the meantime, preheat oven to 400°F. Scatter the corn tortilla chips unto the baking sheet and drizzle the remaining oil. Let it cook for 10-15 minutes while stirring.

Before serving, turn off heat and transfer contents of Dutch Oven onto separate bowls for serving. Add remaining onion and cilantro.

To serve, garnish soup with tortilla chips or some Monterey Jack Cheese.
Nutrition Facts
Calories:
209
kcal
|
Carbohydrates:
18
g
|
Protein:
7
g
|
Fat:
13
g
|
Saturated Fat:
3
g
|
Cholesterol:
13
mg
|
Sodium:
561
mg
|
Potassium:
545
mg
|
Fiber:
5
g
|
Sugar:
2
g
|
Vitamin A:
400
IU
|
Vitamin C:
14
mg
|
Calcium:
98
mg
|
Iron:
1
mg
Commonly Asked Questions
Why Is It Called Border-Style?
Sometimes the term "Tex-Mex" is also used in this subcategory of Mexican food but it is called as such because this cuisine is developed along the El Paso-Juarez border of the United States and Mexico.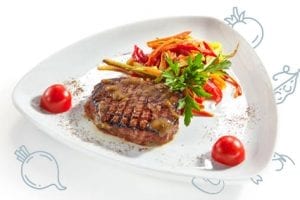 Conclusion
We understand that the number of ingredients can be a bit overwhelming. That is why it's important you prepare all the necessities before cooking. You'll have a difficult time looking for any missing ingredient. This makes things easier in arms reach and will make the recipe easy since everything is set.
Now that the soup is finished, we hope you enjoyed it's unique spices and garnish. For sure not only did it fill you with a bowl of happiness but it also satisfied your tastebuds with its delicious taste.