What's best eaten during the winter season? Soup! Soups are so perfect for the icy season, that we have a lot of selection for it. Other than our comforting Homestyle Chicken Noodle Soup we have another delicious suggestion when we're feeling a bit under the weather or cold. It's no other than On the Border's Chicken Tortilla Soup! This tortilla soup recipe inspired by the version of the famous Mexican Grill and Cantina is sure to make your meals festive while giving you warmth and comfort! 
Worried that making this soup will take much of your time? Rest easy as this creamy chicken tortilla soup recipe is one of the easiest and quickest ones you'll ever find.
Two Famous Mexican Staples In One Hearty Bowl
Every time you crave Mexican food, the first thing that comes into mind is either tacos or nachos. But what's the main ingredient these two have in common? Tortillas! 
When Mexican food took over the world, most of these dishes were made entirely of Tortillas. 
We use tortillas to wrap our Chili Potato Burritos Recipe, to hold the filling of our Mango Chipotle Fish Taco Recipe, and in making our Breakfast Burritos Recipe. And if you want to try making your own tortilla, you can follow our simple and fuss-free Tortilla Recipe.
Tortillas are one of the most cherished foods in Mexico. It is only right to say that tortillas are an icon for the food scene. In addition, Mexican food won't be the same without salsas. It complements almost every Mexican dish that Salsas is a must when you order in a Mexican restaurant. 
And as the winter season rushes in, it is only right that these two were combined to satisfy not just our craving for Mexican food but to warm us as well with the soup! Good thing we have your back covered with our copycat version of this Mexican tortilla soup.
Our Homemade On The Border Tortilla Soup 
No worries, we will guide you through the process of making On The Border's Tortilla Soup. It is surprisingly easy to make and very flavorful— it feels like you are at a festival in Mexico! This version of the On The Border Tortilla Soup will give you the feeling of warmth and tropical paradise as flavors of this chicken tortilla soup dance harmoniously in your tastebuds. 
We're using a Dutch oven made especially for cooking in low-and-slow temperatures. This special pot evenly distributes heat while retaining the temperature making it even more perfect for cooking soup! 
It is no secret that On The Border Tortilla Soup is one of their customers' favorites. The famous Mexican grill and Cantina made it easier and convenient for us to copy their best-selling tortilla soup as their various salsa variations can also be found in most grocery stores. Their salsa is a must to echo the restaurant's version and achieve that spicy and flavorful Mexican soup.
And to fully achieve the Mexican restaurants chicken tortilla soup, add On the Board Tortilla Chips, crunchy yellow onions, fresh cilantro, and salty Monterey Jack cheese to take it to the extremes!
See how easy our version is by recreating this delicious soup in the comfort of your own kitchen. 
More Tips And Variations To Try
This easy chicken tortilla soup is hearty as it is. With the spicy notes from the salsa, savory chicken broth, and added chunky goodness from tortilla chips it is without a doubt a cure to Mexican chicken soup cravings.
But there are still ways you can amp up the goodness of this chicken tortilla soup. If you're a guilty cheese lover, adding your preferred cheese will add more creaminess and depth to your Mexican chicken tortilla soup. If you think the carbs and tortilla chips are still not enough to satisfy the dinner table, a good chunk of sliced chicken fillet might do the trick just like our delicious and meaty Chicken Tortilla Soup Recipe.
Craving for rice in your chicken tortilla soup but looking out for those extra weights? Instead of using white rice, try swapping it out with brown rice and you won't even notice the difference in taste. Brown rice is the healthiest rice option you can have if you're maintaining your weight. You can also squeeze a few drops of lemon juice for added sourness and authentic Mexican soup flavor to your dish.
If you're feeling a bit fancy, adding rotisserie chicken will take this savory tortilla soup to a whole different level. Make our Copycat Boston Market Rotisserie Chicken Recipe and add rotisserie flavors into your Mexican soup bowl. Just add it into your dutch oven 15 minutes before you take it out of the stove. For more chicken tortilla soup recipes, our Crockpot Chicken Tortilla Soup Recipe might help if you're looking for a slow cooker chicken tortilla soup or for authentic Mexican soups experience try out our Mexican Chicken Tortilla Soup Recipe.
Looking for a good pairing with your Mexican soup? Head to our CAQs to see what's the best pair for your soup.
Copycat On The Border Tortilla Soup Recipe Video
How To Make Copycat On The Border Tortilla Soup
Have a warm bowl of this creamy copycat version of the On the Border Tortilla Soup. Recreate the crowd's favorite Mexican soup without having to wait for hours!
Advertisement
Continue Reading Below
Ingredients
4

cups

chicken broth

3

tbsp

vegetable oil,

divided

½

cup

red onion,

chopped

2

pcs

garlic cloves,

minced

¾

tsp

ground cumin

15

oz

tomato sauce

15

oz

black beans,

rinsed and drained

1

cup

corn kernels,

drained

½

cup

On The Border Tomato Salsa

4

tbsp.

uncooked rice
To Serve:
¼

cup

yellow onion,

chopped

½

cup

fresh cilantro,

chopped

3

oz

On The Border Tortilla Chips

½

cup

Monterey Jack cheese,

shredded
Instructions
In a Dutch Oven, heat half of your oil over medium heat. Saute your red onions until translucent.

Add the garlic and ground cumin. Saute briefly

Add in your broth, tomatoes, beans, and corn. Stir continuously then cover the pot. Raise the heat to high and bring to a boil.

Add On The Border salsa and rice in the Dutch Oven. Cook until rice is tender, about 15 minutes.

Turn off heat and transfer contents of Dutch Oven onto separate bowls for serving.

Lightly crush the tortilla chips. Garnish the dish with yellow onions, cilantro, Monterey Jack cheese, & tortilla chips.
Recipe Notes
To make your soup thicker in consistency, mix together 2 tablespoons of cornstarch and water in a small bowl. Add the mixture into the pot while constantly stirring. Adjust the amount of cornstarch and water depending on your desired consistency. 
For other optional toppings, you can top your Copycat On The Border Tortilla Soup with the following: 
Diced Avocado
Diced Roasted Chicken
Low-Fat Plain Greek Yogurt
Lime Wedges
Advertisement
Continue Reading Below
Advertisement
Continue Reading Below
Commonly Asked Questions
What goes well with Tortilla Soup?
This Chicken Tortilla Soup recipe can also be an appetizer to stimulate your palette. It pays compliment to your favorite burrito and balances out the savory and salty wrap to the refreshing soup made possible by the salsa, tomatoes, and cilantro. You can also make the best out of the Mexican-themed nights by pairing it up with our Brussels Sprouts Tacos with Creamy Avocado Sauce Recipe, Roasted Cauliflower Enchiladas Recipe, and Black Bean and Beef Burritos Recipe. Is the Chicken Tortilla soup heavy enough for the main dish? Our Mexican Caesar Salad Recipe might be the perfect side dish for the creamy soup with its refreshing ingredients.
How to reheat Chicken Tortilla Soup?
This scrumptious Chicken Tortilla Soup will last 5 to 7 days in your fridge or up to six months in your freezer if you store it in an airtight container. To reheat the soup, place it in a pan on the stovetop for 10 to 15 minutes over medium to high heat. Make sure to stir it occasionally. You can also reheat it in the microwave on high until the creamy soup reaches your desired temperature. Time varies depending on your soup but makes sure to stir it every 30 seconds and heat it in a microwave-safe bowl.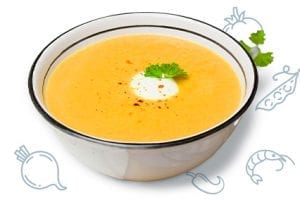 Conclusion
They say creamy soups cure a lonely cold stomach, and we think it might be true! This Copycat On The Border Tortilla will warm up the cold weather with its flavorful chicken broth and brighten up gloomy days with its festive ingredients. Treat yourself with a bowl of this savory On The Border Tortilla Soup!
Advertisement
Continue Reading Below
Topics:
Advertisement
Continue Reading Below
Advertisement
Continue Reading Below