A classic dinner would be dull without a succulent pork roast on the table. Our pork roast recipe comes with spices and aromatics that could fill the whole kitchen. This dish has delicious notes of garlic, onions, and an undertone of sage. Use your crock pot to slow-cook your meat to perfection, and serve it hot at your next dinner party! We guarantee your guests will be coming back for seconds and leaving your home full and satisfied.
Pork roasts have been such a staple dish in American dinners for years. And who wouldn't love it? It's a hearty meal that brings a whole crowd together. Plus, you could never go wrong with our recipe for it, as it only comes with a few simple ingredients. They're often served as a main dish paired with roasted vegetables or mashed potatoes. Luckily for you, if you're planning a big dinner party, we also have recipes for those two on hand.
Try it with our Roasted Brussels Sprouts, Eggplant, and Tomatoes recipe for a vegetable side. Or for a creamy accompaniment, serve it with our Mashed Potatoes, Ham, and Gravy recipe. Either side dishes together with the pork roast are sure to please any crowd you're hosting!
Meat lovers, without a doubt, will adore you for making this indulgent dish. By throwing your beautiful cut of meat into the crock pot, you don't need to worry about overcooking it. Your crock pot will do the job of cooking and continuously charring it to that classic roast look. Cook it ahead of time so it'll be fresh and hot on the pot once dinner's ready to serve.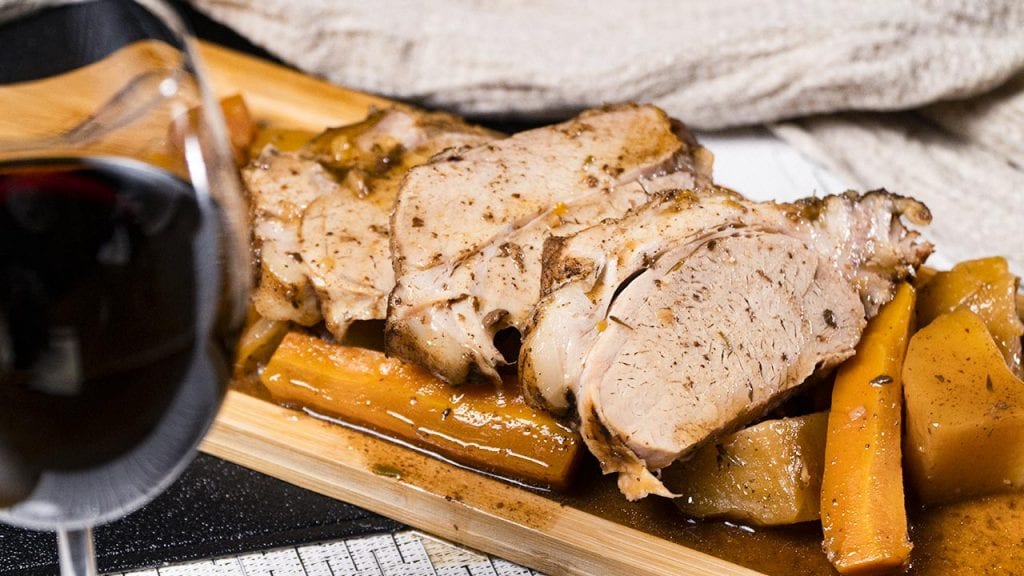 Crock Pot Pork Roast Recipe
How To Make Crock Pot Pork Roast
A delicious piece of meat slow-cooked to flavorful perfection. With notes of garlic, onions, and sage; it's guaranteed to be devoured immediately by any crowd!
Ingredients
3

potatoes,

(roughly 15 oz in total), medium, preferably russets, quartered

5½

oz

red onions,

quartered

7½

oz

carrots,

quartered

2

garlic cloves,

roughly chopped

1½

lb

pork shoulder roast,

boneless

2

tbsp

vegetable oil

3

tbsp

balsamic vinegar

½

cup

red wine

½

cup

chicken broth

1½

tbsp

cornstarch

½

cup

dry rub,

(recipe below)

salt and ground black pepper,

to taste
For Dry Rub:
¼

cup

brown sugar

½

tbsp

garlic powder

1

tsp

onion powder

1½

tsp

coarse salt

½

tsp

ground cinnamon

1

tsp

dried thyme

½

tsp

chili powder
Instructions
In a bowl, combine all the ingredients for the dry rub. Set aside.

In another bowl, combine the red wine, balsamic vinegar, and chicken broth. Set aside.

Rub the pork shoulder roast with the dry rub. Make sure that every nook and cranny is covered in the rub.

In a deep skillet, heat the oil over medium/high heat. Add the pork and sear for 2 minutes on each side. Set aside.

Place the potatoes, carrots, onions, and garlic on the bottom of the crockpot, followed by the pork on top. Lastly, pour the red wine mixture around the crockpot.

Cover the crockpot and turn to High. Let cook for around 6 to 8 hours, flipping the pork roast halfway through the cooking time.

Remove the meat and vegetables from the crockpot and wrap them in foil to keep warm.

Ladle roughly ¼ cup of reserved broth into a bowl with cornstarch. Mix until dissolved.

Transfer the cooking juices into a saucepot, then whisk in the cornstarch slurry once it simmers. Simmer for roughly 5 minutes, until the sauce thickens. Season to taste with salt and pepper. Adjust accordingly.

Remove and discard the foil from the pork and vegetables, then portion according to your preference. Preferably, ½ pound of cooked vegetables and ⅓ pound of portioned pork per serving. Ladle enough sauce, roughly ½ cup over the pork to coat.
Nutrition
Calcium:

180mg

Calories:

512kcal

Carbohydrates:

64g

Cholesterol:

70mg

Fat:

16g

Fiber:

7g

Iron:

7mg

Monounsaturated Fat:

4g

Polyunsaturated Fat:

1g

Potassium:

1438mg

Protein:

26g

Saturated Fat:

9g

Sodium:

1122mg

Sugar:

21g

Vitamin A:

9206IU

Vitamin C:

42mg
Nutrition Disclaimer
Frequently Asked Questions
What cut of boneless pork should I use?
For our recipe, we recommend using a pork loin roast or a pork shoulder. They're both perfect for roasting and slow-cooking and packs a lot of flavors!
Can I use other herbs or spices for this pork roast recipe?
Our simple combination of sage and bay leaves should do the trick! But if you're feeling like adding more depth of flavor, some herbs commonly known to go well with pork roasts are rosemary, thyme, and dried oregano. For spices, you can never go wrong with some paprika, cumin, and a dash of cinnamon to add some heat.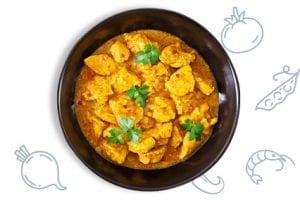 Conclusion
You'll never have to worry about overcooking your slab of meat with our pork roast recipe! Serve it warm with deliciously roasted vegetables or creamy, mashed potatoes. They're great pairings that will elevate this recipe to another level.
Topics: