This Texas Roadhouse ribs inspired recipe makes the tastiest smokey fall-off-the-bone BBQ ribs! It combines a homemade rib seasoning made with brown sugar, steak seasoning, paprika, cayenne pepper, garlic powder, and onion powder, together with a homemade bbq sauce with onions and whiskey for a flavor combination that explodes. The best part of all is that it is easily made in a crockpot. Add to that a side of baked potato wedges and the signature Texas Roadhouse rolls with honey cinnamon butter, and you're in for an impressive feast!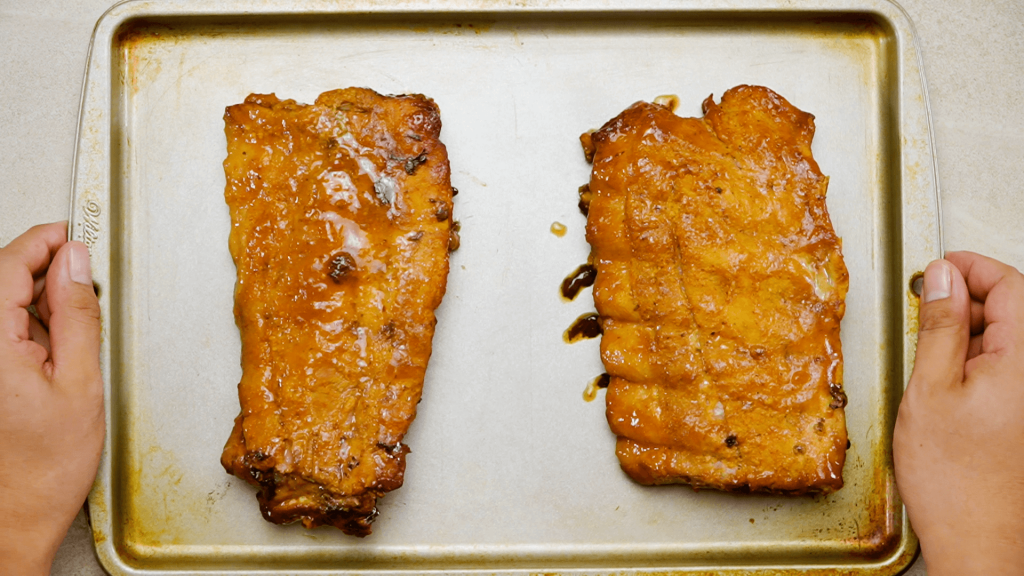 Tips on Making Texas Roadhouse Ribs
The easy cooking method doesn't compromise the flavor of the bbq ribs as both the rib rub and bbq sauce are loaded with tasty spices. You can always use pre-made seasoning and sauce. But trust us, these homemade recipes are way better! Here are the best tips about making this Texas roadhouse ribs recipe in a crockpot.
To pick the best ribs

, choose ones where the bones are enclosed with a good thick layer of meat. If not, the exposed bones might fall off. It's also best to use fresh ones rather than frozen so use them if they're available! Thaw them first for at least 30 minutes at room temperature before using.
Use the right size of crockpot.

There should be some space between the ribs for the sauce to fill in. Additionally, you can split the ribs into two or three sections if necessary.
Trim off excess fat

so that it's not too greasy. You may leave just ¼-inch of fat instead and it'll be enough to flavor the slab.
Season the roadhouse bbq ribs liberally.

Every crevice and surface of the slab should have a good uniform coating of the bbq seasoning. Moreover, you can use a shaker for this. 
Use only tongs to lift and flip the ribs.

You do not want to use a fork as this could poke the meat and cause all the yummy juice to leak out.
Making ahead?

You can cook a big batch in a crockpot and then transfer them to a deep baking pan to cool down. Cover with a plastic wrap then refrigerate. When ready to serve, just broil for 15 to 20 minutes or until heated through. It's perfect for when you want to lessen work on the day of the occasion.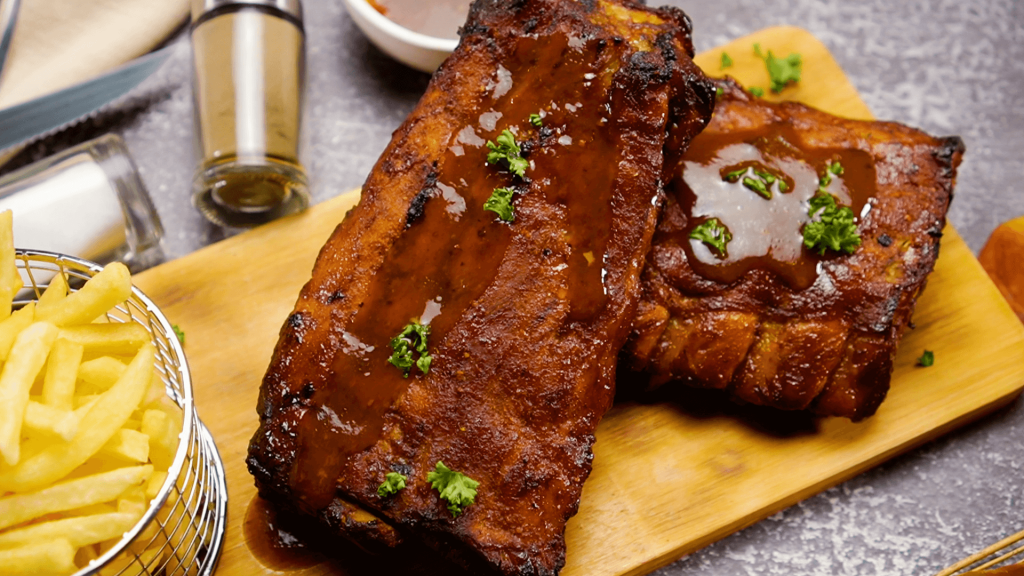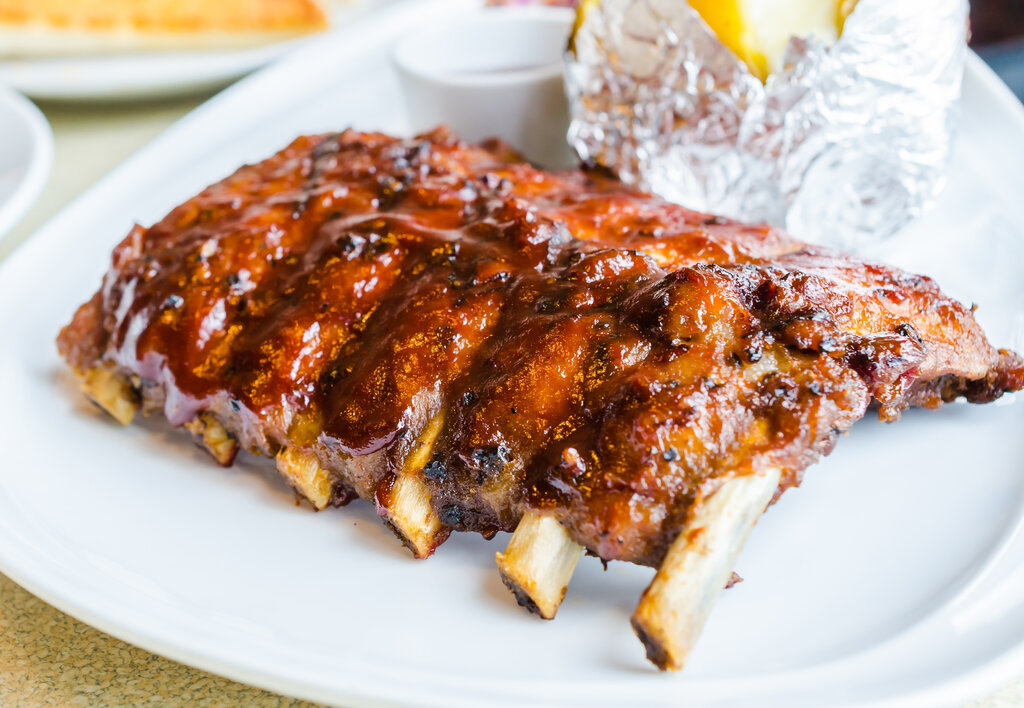 Copycat Texas Roadhouse Ribs Recipe
How To Make Copycat Texas Roadhouse Ribs
In this easy crockpot Texas Roadhouse ribs recipe, the special spiced rib rub together with homemade barbecue sauce give the moist and tender crockpot baby back ribs an amazing smoky barbecue flavor.
Ingredients
2

lb

baby back pork ribs,

(1 slab) thawed at room temperature for at least 30 minutes
For BBQ Rib Seasoning:
¼

cup

brown sugar

2

tbsp

steak seasoning

2

tbsp

smoked paprika

2

tbsp

cayenne pepper

1

tsp

black pepper

1¾

tbsp

salt

1

tsp

garlic powder

1

tsp

onion powder

1

tsp

dry mustard
For Barbecue Sauce:
½

cup

brown sugar

1

tbsp

all purpose flour

1

cup

tomato sauce

½

cup

onion,

minced

1

tbsp

worcestershire sauce

2

tbsp

liquid smoke

1

tsp

whiskey

¼

cup

white vinegar

¼

cup

pineapple juice
Instructions
Preheat the crock pot to Low.

Combine the ingredients for barbecue sauce in a bowl. Mix well.

Combine the ingredients for bbq rib seasoning in a bowl. Mix well.

Score the ribs using a serrated knife diagonally in opposite directions.

Rub the ribs with the seasoning.

Put the ribs in the crockpot with the meaty part facing up.

Pour the bbq sauce over the ribs and cook ribs on Low for 6 to 8 hours.

Once the ribs are fork-tender and already falling off the bone, remove them from the crockpot.

Broil the ribs on high for 5 minutes to caramelize the sauce.

Serve and enjoy your sizzling hot crockpot baby back ribs!
Nutrition
Sugar:

46g

:

Calcium:

138mg

Calories:

555kcal

Carbohydrates:

56g

Cholesterol:

99mg

Fat:

25g

Fiber:

4g

Iron:

4mg

Monounsaturated Fat:

10g

Polyunsaturated Fat:

4g

Potassium:

864mg

Protein:

30g

Saturated Fat:

9g

Sodium:

3573mg

Trans Fat:

1g

Vitamin A:

3121IU

Vitamin C:

10mg
Nutrition Disclaimer
Frequently Asked Questions
What kind of ribs are best?
Texas Roadhouse Ribs use pork loin ribs, also known as baby back ribs, which is also what we used for this recipe. It's best to pick ones that have a good thick layer of meat around the bones. Baby back ribs are more tender compared to spare ribs, which work best for stews. Moreover, beef ribs will take a longer time to cook, about 8 to 10 hours.

Can you cook ribs in a slow cooker without liquid?
The reason behind adding barbecue sauce into the slow cooker is to keep the slab from drying out. The vinegar and pineapple juice also help in tenderizing the meat. Plus, the sauce packs tons of flavor into the ribs. For these reasons, we do not recommend leaving it out. Some slow cooked rib recipes involve dry cooking the meat at the beginning, but you will eventually have to add liquid at about half way through so that it stays moist.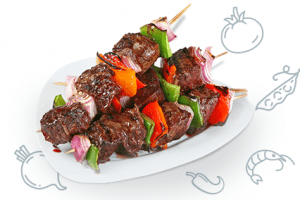 Conclusion
Serve a sumptuous dinner by making your own version of Texas roadhouse ribs at home! This crockpot baby back ribs recipe is an easy no-fuss, no-fail, beginner-friendly recipe that makes tasty and tender fall-off-the-bone ribs every time.