Who doesn't want to come home and get welcomed by a steaming bowl of smooth, and thick lobster bisque soup? Try making this savory seafood entree and meet a fancy addition to your dinner menu.
You don't need to visit fancy restaurants to enjoy seafood dishes when you can recreate them at home with easy homemade recipes. Follow this easy lobster bisque recipe and impress your friends and guests by serving an appetizing seafood dish at your next gathering.
What's In A Lobster Bisque? 
The name of this dish may sound fancy and intimidating but it's actually easy to make, especially with the help of a crockpot. Bisque is a classic French soup with a smooth and creamy texture, made even thicker and richer by seafood ingredients and other vegetables.
Serve your guests and loved ones with this decadent seafood bisque and they'll surely remember this fancy dinner night. There are tons of lobster recipes to make, and this creamy lobster bisque is just one of them!
Feel free to incorporate your favorite ingredients into your lobster bisque soup by adding crab or shrimp, veggies, and spices. You can add fresh tomatoes, celery, carrots, bay leaves, saffron, thyme, and paprika.
Making Creamy Lobster Bisque Using A Crockpot
Another secret behind our rich and creamy lobster bisque is slow cooking in a crockpot. Crockpots are known to be really easy to use and to tenderize meats so nicely. Here are some useful tips for slow cooking and in making this lobster bisque recipe:
Make sure to add the heavy cream at the last minute.

We should be adding dairy ingredients into our bisque last so that they

 won't dry up easily and the meal won't give off chunky bits of curdled dairy. 

Make sure to thaw frozen lobster first before adding them to your slow cooker.

Besides reducing the cooking time, thawing also helps clean your lobster meat. 

Pair this dish with crusty bread.

 This combination works perfectly since serving a creamy soup with crusty bread on the side will let you wipe off all the sauce left on your plate or bowl

. So we suggest pairing this creamy lobster bisque with Cheesy Garlic Breadsticks or

Broccoli Salad

for a leafy side.
Besides being an easy recipe to make, you'll be needing ingredients that you can easily find at your local supermarket. Gather your ingredients, do the easy prep, and let it slow cook for the whole day while you're at work or doing some chores, and let your crockpot do the magic.
How To Make Creamy Crockpot Lobster Bisque
Discover the wonders of slow cooking with our crockpot lobster bisque. Savor a bowl of creamy tomato soup with succulent lobster meat.
Ingredients
2

shallots,

finely minced

1

garlic clove,

finely minced

14.5

oz

petite tomatoes,

with juice, diced

32

oz

chicken broth,

(1 carton)

1

tbsp

Old Bay Seasoning

1

tsp

dill,

dried

¼

cup

parsley,

chopped

½

tsp

paprika

4

lobster tails

1

pint

heavy cream
Instructions
Put minced shallots and garlic in a microwave safe bowl and microwave on high for 2 to 3 minutes or until the shallots wilt.

Add the shallot and garlic mixture to a 4-quart crockpot. Add the tomatoes, chicken broth, Old Bay seasoning, dill, parsley, pepper and paprika to the crock pot.

Cut off the end part of the lobsters and add those to the crockpot.

Stir, cover, and cook on low for 6 hours or 3 hours on high.

Remove the lobster tail ends and discard. Puree the soup mixture to your desired texture and consistency using a blender.

Add the soup back to the crockpot, add in the lobster tails, and cook for 45 minutes on low or until the shells turn red and the lobster meat is cooked.

Remove the lobster tails from the soup and let cool.

Add the cream to the soup and stir.

Cut each lobster tail in half long ways and remove the lobster flesh from the shells.

Discard the shell, roughly chop the lobster meat, add them back into the soup and serve.
Nutrition
Calcium:

100mg

Calories:

258kcal

Carbohydrates:

8g

Cholesterol:

121mg

Fat:

23g

Fiber:

1g

Iron:

1mg

Potassium:

380mg

Protein:

8g

Saturated Fat:

14g

Sodium:

641mg

Sugar:

3g

Vitamin A:

1162IU

Vitamin C:

17mg
Nutrition Disclaimer
Commonly Asked Questions
How do I thaw frozen lobster?
Since lobsters have a hard shell or covering, they have to be thawed for a long time, preferably overnight. To thaw your frozen lobster, place it in a plastic bag then in a container filled with warm water. Let the lobster defrost and remember to change the water every 1 to 1 ½  hours until fully defrosted.

How do you thicken lobster bisque?
In this recipe, we used heavy cream for the thickener. But you can also add ½ tablespoon of cornstarch and whisk your mixture until it smoothens.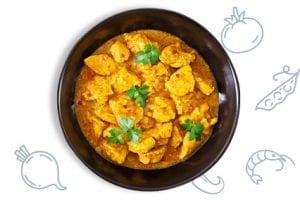 Conclusion
There are many delectable seafood dishes to choose from, but you can never go wrong with this no-sweat creamy crockpot lobster bisque recipe. Indulge yourself with this rich, thick, and creamy seafood bisque that's perfect to serve as your elegant party dinner starter or entree.