Yes, you read it right! It's possible to make a crunchy crockpot fried chicken. Who would've known that slow cooking can give us that crispy chicken we all love? Plus, it's not only crusty but it's bursting with flavors and juiciness too. 
All you need to do is whip out a couple of seasonings, prep the chicken, and set up your crockpot. Serve this super crunchy fried chicken with a warm bowl of vegetable biryani and it's sure to be a hit with family and friends.
How To Make Crockpot Fried Chicken
Crockpot meals are the perfect dishes when you don't have the energy to be a wiz in the kitchen. It's the easiest alternative if you don't want to order out. All you have to do is prepare your ingredients, put them in the crockpot, then wait for it to cook. It's the perfect example of a fuss-free dish.
That's what we'll be doing in this Crunchy Crockpot Fried Chicken Recipe. But we're adding in a few steps to achieve the crisp chicken we're looking for. We're using the usual salt and pepper but we're adding in a few spices to spruce things up.  
You might be thinking that pulling off that crusty exterior is impossible when you're cooking your meat in a slow cooker. The key to achieving our desired crispiness is to coat the chicken evenly and with just the right layer. 
Coating it with a heavy layer of flour will make your slow cooker breaded chicken soggy when you fry it. It'll absorb the butter and oil resulting in mushy and greasy skin. That's why we recommend using just the right layer without leaving any part of the chicken bare.
And make sure to put your chicken in the crockpot with the skin facing up. That will help the meat absorb all the fat coming out of the skin while also bringing out the juicy flavors and savoriness of the meat.

Tip:
Leave a small gap when putting the cover on your crockpot. This allows the moisture to evaporate and prevent it from dripping down onto our slow cooker breaded chicken. Moist coming from the lid might make it soggy.
We're cooking our easy fried chicken recipe in the crockpot instead of fully frying it to attain that tender meat and crispy coating. That's right! You get to enjoy crunchy golden brown skin with luscious soft meat. This recipe for fried chicken using a crockpot will change the way you make and enjoy the classic crunchy fried chicken.
More Must-Try Crockpot Chicken Variations 
Slow cooking is ideal if you're looking for a tender and flavorful dish. Cooking it in the crockpot allows it to absorb the spices while bringing out its natural tasty seasoning. One bite of this crispy crockpot chicken is a sure burst of flavors.
If you're looking for a crockpot taco recipe, you can transform this into one. You can pull the tender strips of the chicken or shred them to turn them into chicken tacos. Top it with juicy tomatoes, refreshing lettuce, then drizzle it with a low-fat ranch dressing and blue cheese for an easy crockpot taco chicken. 
If you're after healthy chicken recipes, you can add slices of sweet potatoes and carrots with your meat. This dish makes an ideal post-workout meal perfect when you need an energy boost.  You can even turn this easy crockpot chicken into a low carb one by simply altering some parts of the recipe. Instead of using mixed chicken pieces and frying them, use chicken breasts in making this recipe. 
You can also add in a few easy to find ingredients for delicious flavor variations. If you're looking for an added heat, add a ¼ teaspoon of cayenne pepper to your flour mixture for a spicy punch. Or mix in a few slices of lemon to your crispy crockpot chicken for a zesty twist.
This crockpot chicken makes an incredibly easy meal. After preparing, all you need to do is to wait, serve it warm with a healthy side dish, and you're ready to dig in. So if you're fully equipped to be blown away, let's make our main dish.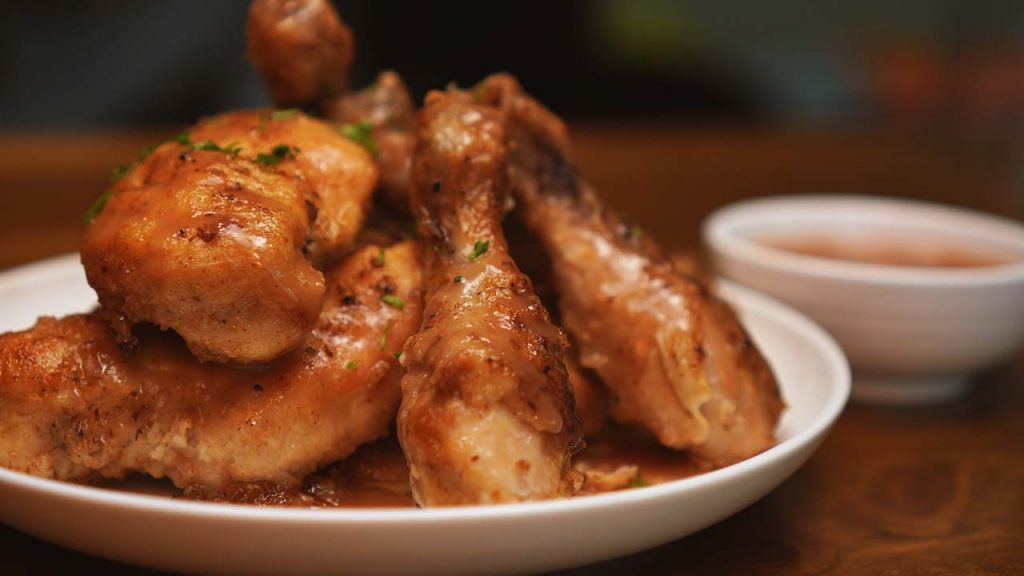 Crunchy Crockpot Fried Chicken Recipe
How To Make Crunchy Crockpot Fried Chicken
Learn how to make extra crunchy fried chicken by cooking it in your crockpot. Coating it with a spiced crispy breading gives you a savory dish but slow cooking helps your chicken bring out its own tasty flavors.
Ingredients
1½

lb

mixed chicken pieces,

chicken leg, thigh, breast

salt and ground pepper,

to taste

1

tsp

garlic powder

1

tsp

oregano,

dried

1

cup

whole wheat flour

4

tbsp

butter

2

tbsp

vegetable oil
To Serve:
Instructions
In a bowl, combine the flour, salt, pepper, garlic powder, and oregano. Whisk until fully combined.

Pat your chicken dry using a paper towel. Coat them in your flour mixture.

In a skillet, heat up the oil and butter. Cook the chicken pieces until golden brown on all sides turning it every 1 to 2 minutes.

Transfer the chicken pieces to your crockpot, cover, and cook on low for 4 to 6 hours.

Serve your crunchy fried chicken pieces with gravy and enjoy!
Recipe Notes
Though this recipe involves leaving your fried chicken in a slow cooker, be sure to check up on it every now and then. You don't want to accidentally overcook it and ruin your crockpot fried chicken
Nutrition
Sugar:

1g

:

Calcium:

106mg

Calories:

1290kcal

Carbohydrates:

47g

Cholesterol:

255mg

Fat:

91g

Fiber:

8g

Iron:

6mg

Potassium:

921mg

Protein:

72g

Saturated Fat:

32g

Sodium:

520mg

Vitamin A:

1576IU

Vitamin C:

5mg
Nutrition Disclaimer
Commonly Asked Questions
What sauce goes with fried chicken?
Many sauces will go well with your crunchy crockpot fried chicken. A popular sauce would be spicy honey mustard, but other favored choices include ranch dressing and even malty barbecue sauce. It will all depend on how you want to enjoy your fried chicken, which makes this dish even more versatile.
How to store fried chicken?
To store your leftover fried chicken, wrap it tightly using foil. Store it in the fridge and it'll last for 3 to 4 days. Meanwhile, keeping your chicken in the freezer can help it last for 2 to 6 months.
How to reheat fried chicken?
To help your chicken stay crispy, take it out of the fridge 20 to 30 minutes before reheating it and let it sit at room temperature. Cover your baking sheet with foil then arrange your chicken on it. Cover your chicken using foil and bake it in the oven at 400 degrees F for 20 minutes. If your chicken is frozen, let it thaw in the fridge for 24 to 48 hours or until fully thawed before reheating.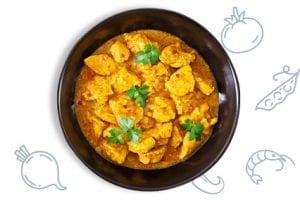 Conclusion
Fried chicken is a staple in any household. It's a simple dish that works in a variety of ways, but who knew it could work so well with a crockpot? Without a doubt, this recipe is perfect to have for when you need to satisfy your fried chicken cravings.