A true American comfort food lies in a rich and flavorful bowl. This Tailgate Chili Recipe will fill you up for days. Plus, this classic chili recipe is perfect if you plan on feeding a huge crowd like at a tailgate at the Purdue Boilermaker's next football game. This recipe is not as overwhelming as it looks. Our boilermaker chili is made by simply chucking all the ingredients in the pan.
How To Make Boilermaker Tailgate Chili
This boilermaker chili is made up of meat with ground beef and sausages then seasoned with a hefty amount of spices, making it a flavorful dish. There are also spicy elements present like spicy beans, hot sauce, and bell pepper, giving this tailgate chili recipe a  nice heat. Depending on the beer you use, it either adds a darker or lighter profile. The tomatoes and sugar also give a little sweetness to the dish. Throw all the ingredients in a pot and you'll be left with a tailgate chili with truly dynamic flavors. 
You can also make this a protein-rich chili by omitting the beef, sausage, and bacon and replacing it with chicken, tofu, and even turkey. This lessens our tailgate chili's fat content. We also have a Vegetable Chili that you might want to try in case you're looking for a vegetarian-friendly, meatless chili meal.
The boilermaker chilli is easy to make, all you have to do is brown the meat before dumping the rest of the ingredients into the stockpot to simmer the chilli over low heat. You can easily make this as a crockpot chili as well. If you want to find out more about making crockpot chilli, simply check out our CAQ below.
What To Serve With Chili
This tailgate chili recipe is delicious eaten as it is, but of course, let's treat ourselves with some yummy sides. When it comes to a classic chili recipe, we should always go with beloved potatoes. You can whip up some Tender Garlic Parmesan Sliced Baked Potato, Copycat Applebee's Sweet Mashed Potatoes, and even Baked Cheesy Potato Wedges.
When it comes to drinks, this tailgate chili recipe is best served with a sparkling drink. Check out our Melon Spritz Drink to pair with your scrumptious chili. They're a great pair to serve when you plan on having a party. So, let's head right into cooking!
How To Make Boilermaker Tailgate Chili
This tailgate chili recipe is a savory bowl with a spicy kick filled with ground beef chuck simmered in chili beans and tomatoes, then seasoned with various spices to give your meal a set of bold and complex flavors. Enjoy this hearty dish on your next game night!
Ingredients
2

lbs

ground beef chuck

1

lb

bulk Italian sausage

45

oz

chili beans,

or three 15 oz cans, drained

15

oz

chili beans ,

(1 can), spicy sauce

56

oz

diced tomatoes,

or two 28 oz can with juice

6

oz

tomato paste,

(1 can)

1

large yellow onion,

chopped

3

celery stalks,

chopped

1

green bell pepper,

seeded and chopped

1

red bell pepper,

seeded and chopped

2

green chili peppers,

seeded and chopped

1

tbsp

bacon bits

4

beef bouillon cubes

½

cup

beer

¼

cup

chili powder

1

tbsp

Worcestershire sauce

1

tbsp

garlic,

minced

1

tbsp

dried oregano

2

tsp

ground cumin

2

tsp

hot pepper sauce

1

tsp

dried basil

1

tsp

salt

1

tsp

ground black pepper

1

tsp

cayenne pepper

1

tsp

paprika

1

tsp

white sugar

10 ½

oz

corn chips ,

(1 bag)

8

oz

cheddar cheese,

shredded
Instructions
Heat a large stockpot over medium-high heat. 

Crumble the ground chuck and sausage into the stockpot and cook until they're evenly browned. Drain the excess grease.

Pour in the chili beans, spicy chili beans, diced tomatoes, and tomato paste into the stockpot.

Add the onions, celery, green and red bell peppers, chili peppers, bacon bits, bouillon, and beer.

Season the contents with chili powder, Worcestershire sauce, garlic, oregano, cumin, hot pepper sauce, basil, salt, ground black pepper, cayenne pepper, paprika, and sugar.

Stir the mixture until well-combined.

Cover the stockpot and simmer over low heat for at least 2 hours, stirring occasionally.

Adjust the taste with salt, pepper, and chili powder if necessary.

Remove the chili from heat. Top it with corn chips and shredded cheddar cheese.

Serve warm and enjoy a steaming bowl of tailgate chili!
Recipe Notes
If you have the time, you can let the chili simmer longer.

The longer the chili simmers, the better it will taste.
Nutrition
Calcium:

385mg

Calories:

886kcal

Carbohydrates:

66g

Cholesterol:

123mg

Fat:

52g

Fiber:

14g

Iron:

10mg

Potassium:

1873mg

Protein:

42g

Saturated Fat:

18g

Sodium:

3062mg

Sugar:

18g

Vitamin A:

2972IU

Vitamin C:

50mg
Nutrition Disclaimer
Commonly Asked Questions
How to make chili in a crockpot?
Set your crockpot on medium-high heat. Crumble and evenly brown your beef and sausage. Throw in the rest of your ingredients and stir until well-combined. Simmer on low for 6 to 8 hours, topping it off with corn chips and shredded cheddar cheese once it's done.
How long does chili last in the fridge?
When properly stored in airtight containers, chili will last you 4 to 5 days in the fridge and 4 to 6 months in the freezer. You can easily reheat the chili in a saucepan under medium-high heat. Let it warm up for 10 to 15 minutes and once it starts to bubble, your chili is ready to serve!
How to thicken chili?
If your chili appears to be soupy, we have a few ways to help you remedy your meal. First, cook your chili uncovered to reduce the liquid (although this method might take a while). Second, you can add a cup of pinto beans and mash them. This will help release the starches, thickening the liquid. Lastly, you may use flour or cornstarch. Make a slurry by mixing 1 part flour and 2 parts ratio, or 1 part cornstarch to an equal amount of water, and add it to your mixture.
How to make chili less spicy?
If you're not good at tolerating spicy food but still want to savor this delicious tailgate chili recipe, we have the solution for you. You can simply add water or more tomato paste to dilute the heat. Just add in small amounts and adjust according to your preferred taste. Dairy products like milk or heavy cream can also dilute and counteract the heat. You can even add a small amount of sweetening ingredients like sugar or honey as they can lessen the heat as well. Remember to refrain from adding too much as you still want a slight kick to your chili. Lastly, nut or seed butter works like dairy. It mellows the heat without dominating the flavor of the dish.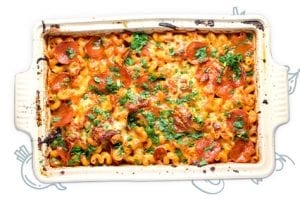 Conclusion
When we're in need of a bowl of warm comfort, this tailgate chili recipe is the best way to go. This bold and flavorful dish might send you into a food coma because of how delicious it tastes. It might sound like it takes a long time to cook, but the longer you let it simmer, the richer the flavors will be.
Topics:
Related Casserole Recipes