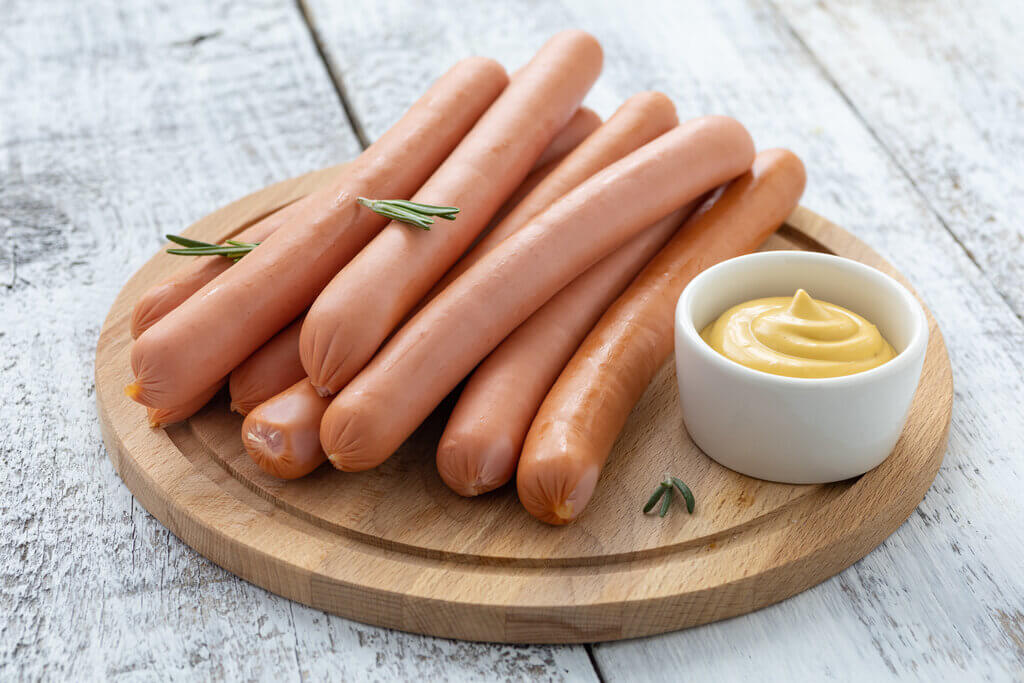 Crock Pot Hot Dogs Recipe
These crock pot hot dogs are perfect if you're looking for an easy weeknight dinner or tasty food to feed a crowd. This crock pot recipe checks all the boxes: it's delicious, effortless to make, and makes enough for a big group. It's downright one of the best ways to cook hot dogs, and it only requires very minimal effort.
Easy to cook and beloved by adults and kids alike, hot dogs are that one food that'd never go out of style. I always include these crowd-favorite snacks in my menu whenever we're having a backyard cookout or celebrating a birthday party, and they're a HUGE hit every time! The thing is, cooking for a crowd can be daunting. Luckily, I have a simple trick up my sleeve: cooking hot dogs in a crock pot!
The functionality of the crock pot is straight-up unparalleled. Case in point: crock pot recipes are my savior whenever I have to cook for large groups but don't feel like spending hours chained to the stove. And if you think this cooking appliance is only good for stews and saucy meat dishes, think again. I used a slow cooker to cook hot dogs in bulk, and the results are absolutely yummy and more tender! I even had the luxury of time to prepare other delicious snacks for my party while the hot dogs were cooking.
When placing the hot dogs in the crock pot, I positioned them vertically so they would cook evenly all at once. But if you happen to have hot dogs that are a bit too long, like Hebrew National Bun-Length, place them horizontally in the crock pot. Just make sure to rotate them as they cook for even heating. I also didn't add water since the hot dogs would release moisture in the cooking process anyway, creating enough steam in the slow cooker. Plus, if you cook hot dogs with water, the hot dog casings might split, affecting the juiciness.
I simply let my crock pot do a superb job for a few hours, and I was later welcomed with juicy and tender hot dogs. Keep in mind that two hours would be enough if cooking on High heat and three to fours hours on Low. Overcooking your hot dogs might affect the taste and texture. To prevent such a scenario, keep the crock pot in a Warm setting once the hot dogs are done cooking.
Learning how to cook hot dogs in crock pot is just the prelude to a lively party. The next part is where the real fun begins: dressing up your hot dogs with exciting toppings! Serving these snacks with sauce might be the simplest way to go. Ketchup and mustard are perhaps the most popular options. But for me, crock pot hot dogs and sauerkraut make for a mouthwatering combination! You can also top your hot dogs with chili, shredded cheese, and onions and make batches of chili cheese dogs.
Try this crock pot hot dogs recipe for your next party, especially if you're pressed for time. Hot dogs with various toppings are already pleasing to the eyes and palate. Still, you might want to serve these juicy snacks with your go-to party side dishes to wow your guests! Fruits and chips would be a great accompaniment. All that is to say, slow cooker hot dogs will make your party more enjoyable!
How To Make Crock Pot Hot Dogs
Cook your hot dogs in the crockpot for an absolutely tender and juicy snack! Dress them up with sauce, shredded cheese, and other flavorful toppings to impress your guests even more.
Instructions
Place in a slow cooker and cook on High for 2 hours or on Low for 3 to 4 hours.

Keep the slow cooker on warm to get hot dogs warm for a party.

Serve warm, and enjoy!
Recipe Notes
You can also top your hot dogs with taco sauce, pickled jalapeno slices, and beans to make some taco hot dogs for your guests.

If you want a Tex-Mex-inspired hot dog bar, use BBQ sauce, fried onions, and cheese as hot dog toppings.
Nutrition
Calories: 

137.25kcal

Fat: 

12.44g

Saturated Fat: 

4.85g

Monounsaturated Fat: 

6.15g

Polyunsaturated Fat: 

1.23g

Carbohydrates: 

0.77g

Protein: 

5.19g

Cholesterol: 

22.50mg

Sodium: 

368.55mg

Calcium: 

4.95mg

Potassium: 

75.15mg

Iron: 

0.52mg

Vitamin A: 

8.10µg