This turnip greens recipe makes a great home-cooked comfort food that you can enjoy after a long tiring day. The peppery-tasting green leaves are cooked in chicken broth with onion, salt, black pepper, and red pepper flakes in a crockpot. The result is a batch of tender and hearty turnip greens with flavorful pot liquor, perfect for dipping some cornbread. Have it as the main meal, or serve it as a side dish for pot roast.
Tips for Making This Turnip Greens Recipe
Turnip leaves have a naturally bitter taste for good reason. It's because they are dense in minerals and vitamins that help boost bone health and maintain good glucose levels. So if you're pursuing good health and fitness, it'll be great to add these healthy greens to your diet. But there's no need to worry as we're toning down the bitterness in this recipe. Have a look at these must-know tips on how to cook turnip greens for more information:
Wash the leaves well

. Since the turnip tops are taken from near the soil, it is important to clean them very well. Fill the sink with cold water and rinse the leaves. Repeat until you find no more grit at the bottom of the sink. 
Add in other leafy green vegetables

such as mustard, beet, or collard greens for some variety. Plus, it'll also add even more

health benefits

to the dish.
How long to cook turnip greens?

The cooking time may vary. Younger leaves taste less bitter and cook faster, while matured leaves are more bitter and need more cooking time to tenderize.
Lastly, make it more hearty by adding other delicious ingredients.

For protein, you can add chopped salt pork, country ham, bacon, or even leftover

rotisserie chicken

, for instance

. Just saute them in olive oil until brown and before tossing them into the crockpot or using them for topping. In addition, you can also toss in diced

turnip roots

and beets.
For more turnip greens recipes, try making turnip green soup with spaghetti and salmon for dinner next time. Meanwhile, let's get right on to making this recipe.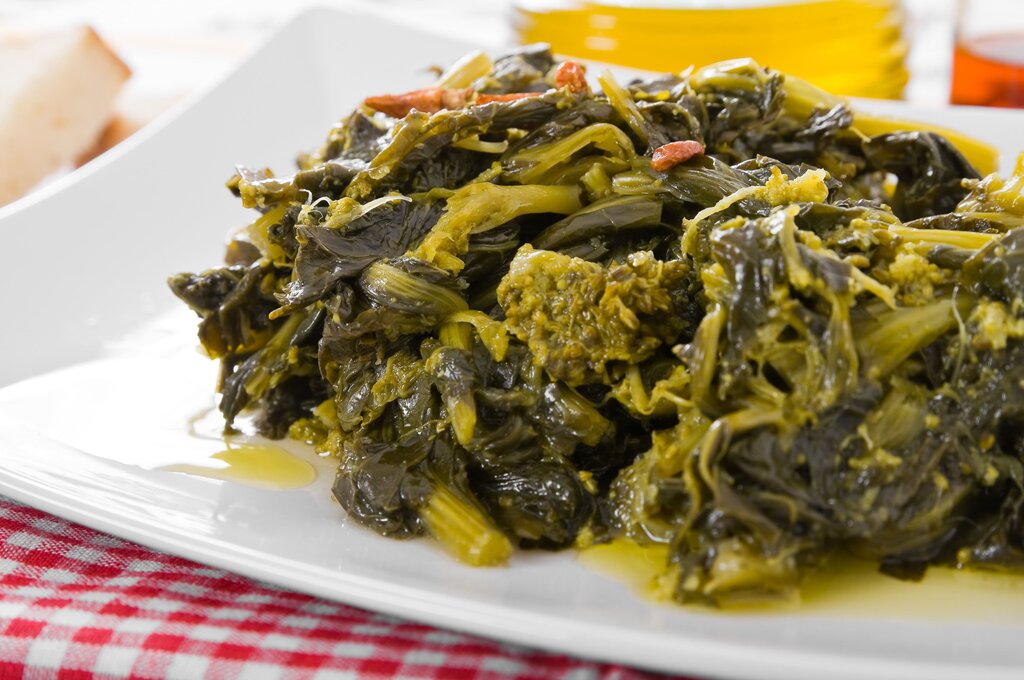 Crockpot Turnip Greens Recipe
How To Make Crockpot Turnip Greens
Turn peppery bitter turnip greens into a tasty and hearty dish by slow cooking them in a chicken broth with simple seasonings. It takes only 10 minutes and a few common ingredients to prepare.
Ingredients
64

oz

chicken stock,

(2 cartons), or vegetable stock

2

tbsp

olive oil,

or bacon fat

1

cup

onion,

chopped

2

tbsp

red wine vinegar

2

tbsp

white sugar

1

tsp

garlic powder

1

bay leaf

1

lb

turnip greens,

washed, stemmed, and cut into 2-inch pieces

salt,

to taste

black pepper,

to taste

red pepper flakes,

to taste, or hot sauce

1

tsp

baking soda
Instructions
Put the stock, onion, vinegar, sugar, garlic powder, and turnip greens in the crock pot.

Cook it on Low for 4 hours or until the greens are tender.

Season accordingly with salt, pepper, and red pepper flakes.

Mix in the baking soda.

Serve and enjoy!
Nutrition
Sugar:

8g

:

Calcium:

120mg

Calories:

152kcal

Carbohydrates:

17g

Cholesterol:

7mg

Fat:

6g

Fiber:

2g

Iron:

1mg

Monounsaturated Fat:

4g

Polyunsaturated Fat:

1g

Potassium:

441mg

Protein:

7g

Saturated Fat:

1g

Sodium:

485mg

Vitamin A:

6578IU

Vitamin C:

36mg
Nutrition Disclaimer
Frequently Asked Questions
How do you get the bitter taste out of turnip greens?
Cooking the turnip greens in stock or any other salted liquid helps balance the bitterness out. Similarly, adding vinegar and a small amount of baking soda neutralizes the bitterness, too.

Can you eat the stems of turnip greens?
Turnip stems are usually discarded when cooking because they are hard and bitter.

How do you clean and cook turnip greens?
It helps to chop the greens first to expose any dirt that might be sticking on the leaves. First, set up a large mixing bowl on the sink. Then put the turnip greens in and allow cold running water to run over it, rinsing and draining until the water comes out with no more traces of dirt. They need to be simmered in flavored liquid for a long time to fully cook and tenderize.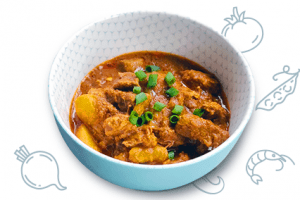 Conclusion
Satisfy your taste buds while also loading up on nutrients. With this delicious and easy turnip greens recipe, you'll love your greens more.