This crockpot pear butter recipe makes a delicious smooth as butter spread, but fat-free. And, boy, do they look dainty in gift-worthy glass jars! It tastes great as a spread on a slice of artisan bread toast or drizzled on top of our savory chicken and waffles.
Tips on Making Pear Butter
Here are some tips to help you create a delightfully sweet with an earthy kick pear fruit butter to slather on your favorite toasts: 
Use ripe fresh pears.

Since pears ripen from the inside out, a ripe pear could feel firm but is actually tender enough inside to eat. To check, feel the area near the stem. If it slightly gives in when pushed back, the pear is ripe. 

If you don't have an immersion blender,

use a potato masher and fork

to mash the pears. Then, pass them through a sieve to obtain

pear puree

.

If the pears are sweet enough, you might not need to add sugar anymore. However,

as a healthier alternative for sugar,

you can use honey, agave, stevia, or maple syrup.

You could use cinnamon sticks and ground cinnamon interchangeably.

A 3-inch cinnamon stick is equivalent to half a teaspoon of ground cinnamon, so use 2 sticks for this recipe.

Add other aromatics to this basic recipe.

You can flavor your 

fruit butter

with vanilla beans, orange peels, or

star anise

and cardamom for an earthy spiced pear.

The homemade fruit butter

lasts for a week in the fridge and for up to six months in the freezer. Store it in a sealed plastic container or in cans

.
Looking for other pear recipes? Try making our pear crisp or our diabetic-friendly poached pears for dessert.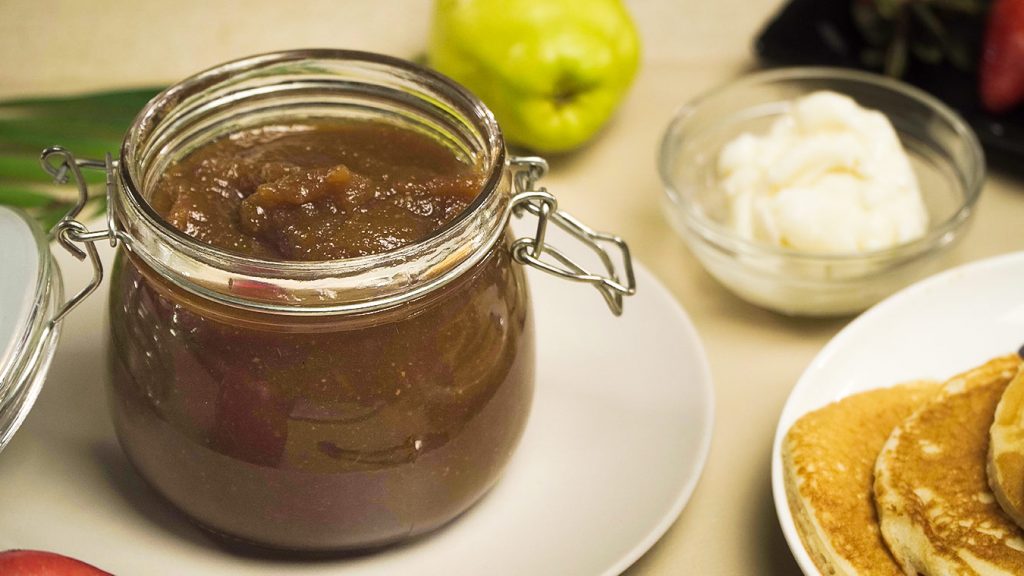 Pear Butter Recipe
This easy crockpot pear butter is lusciously smooth with just the right hint of fall spices from the ginger, cloves, nutmeg, and cinnamon. It's best smeared on a buttered toast.
Ingredients
2

lb

green pears,

any of your choice, preferably Anjou or Bartlett, peeled, cored, & grated

1

lb

red apples,

any of your choice, preferably Mcintosh or Gala, peeled, cored, & grated

1

cup

brown sugar

2

cinnamon sticks
Instructions
Transfer all your ingredients into a crockpot and mix thoroughly until combined. Do not worry if your fruits oxidize.

Cover, then cook on High for 4 hours.

After 4 hours, check your pear butter. If it still appears to be similar to grated fruits, set aside the cinnamon stick and puree the mixture via a food processor or blender until smooth. Skip this step if your pear butter has completely broken down.

If you pureed your mixture, return the mixture back to the crockpot and the cinnamon stick. Continue cooking on High for another 4 hours, uncovered, until liquids have completely evaporated and the mixture thickens.

Discard the cinnamon stick and transfer these onto containers for future use. You can use this as a sandwich or cracker spread, ice cream or frozen yogurt topping, a base for smoothie, or even served together with waffles or pancakes.
Nutrition
Sugar:

4g

:

Calcium:

4mg

Calories:

24kcal

Carbohydrates:

6g

Fat:

1g

Fiber:

1g

Iron:

1mg

Monounsaturated Fat:

1g

Polyunsaturated Fat:

1g

Potassium:

42mg

Protein:

1g

Saturated Fat:

1g

Sodium:

1mg

Vitamin A:

9IU

Vitamin C:

2mg
Nutrition Disclaimer
Frequently Asked Questions
What is the difference between pear jam and pear butter?
Pear jam is a sweeter, thicker, chunkier spread made with sugar and pectin. Pear butter is pureed fruit and some spices cooked down to thicken. Fruit butters have a smooth butter-like consistency.
Why is my pear butter gritty?
The gritty texture in pears is caused by stone cells. The more mature the pears are, the more stone cells they develop. The stone cells are completely safe to eat, but not the most appetizing. You can avoid gritty pears when you buy them by picking the ones that are underripe. Let them ripen on the countertop or in the fruit basket. Wrapping them in a paper bag speeds up the ripening process.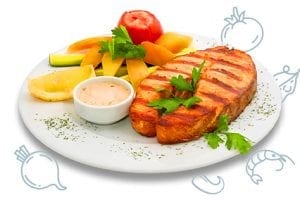 Conclusion
All it takes is just a bunch of fresh pears and spices and the help of a crockpot for a wondrous pear butter result. Enjoy the fresh fruity flavor of pears all year round with this delicious crock pot pear butter recipe.