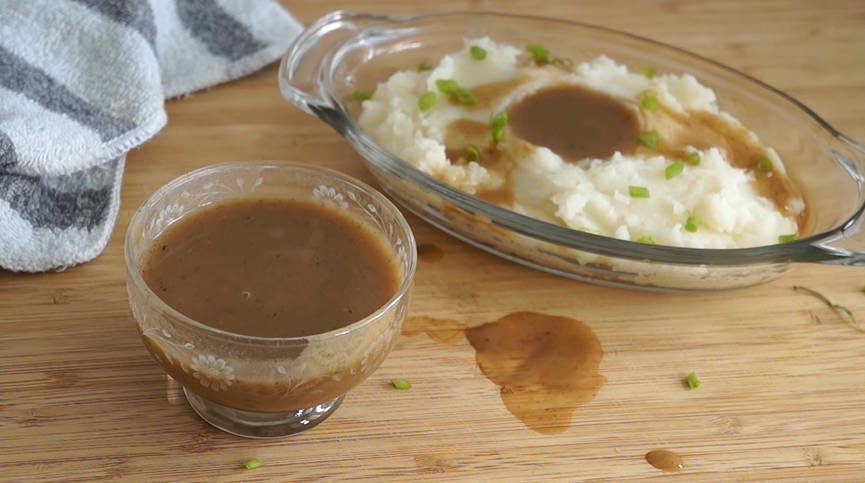 Vegan Mushroom Gravy Recipe
How To Make Vegan Mushroom Gravy
Even without a single bit of meat, this vegan mushroom gravy has still got a lot of rich flavors going on, thanks to the cremini mushrooms & roasted onions.
Ingredients
1

lb

cremini mushrooms,

sliced ¼-inch thick

¼

medium onion,

sliced ¼-inch thick

3

tbsp

olive oil

½

tsp

kosher salt

⅛

tsp

ground black pepper

1

tsp

dried thyme

¼

cup

flour

4

cups

unsalted vegetable stock,

or mushroom stock

1½

tsp

soy sauce

2

tsp

miso,

red, yellow, or white, optional
Instructions
Preheat the oven to 450 degrees F. Line a rimmed baking sheet with parchment paper.

On the baking sheet, mound the mushrooms in one pile and the onions in another, keeping the piles separate from one another. Sprinkle with the oil, salt, and pepper and toss to coat them.

Spread into an even layer on the baking sheet, still keeping the onions and the mushrooms separate, and sprinkle with thyme.

Roast for 20 to 25 minutes, or until deep brown. If the mushrooms are done before the onions, remove them from the pan, return it to the oven, and continue to bake until the onions are golden brown.

Transfer the mushrooms and onions to a saucepan. Over medium heat, add the flour and cook while stirring for 2 to 3 minutes or until the flour browns lightly.

Add the stock, ½ cup at a time, until 3 cups of the stock are used up. Stir well after each addition. Whisk in the soy sauce and miso (if using).

Bring the gravy to a simmer and cook for 3 minutes, stirring often. Adjust the consistency by adding more stock if it is thicker than desired. Taste and add more salt and pepper to taste.

Gravy can be served as is or pureed in a blender. The gravy will thicken slightly when pureed. After it is smooth, add more stock until the gravy reaches preferred consistency.
Nutrition
Calories: 

155.45kcal

Fat: 

10.61g

Saturated Fat: 

1.48g

Monounsaturated Fat: 

7.49g

Polyunsaturated Fat: 

1.26g

Carbohydrates: 

12.88g

Fiber: 

1.39g

Sugar: 

2.57g

Protein: 

4.31g

Sodium: 

494.66mg

Calcium: 

39.58mg

Potassium: 

555.37mg

Iron: 

1.09mg

Vitamin A: 

8.49µg

Vitamin C: 

1.26mg