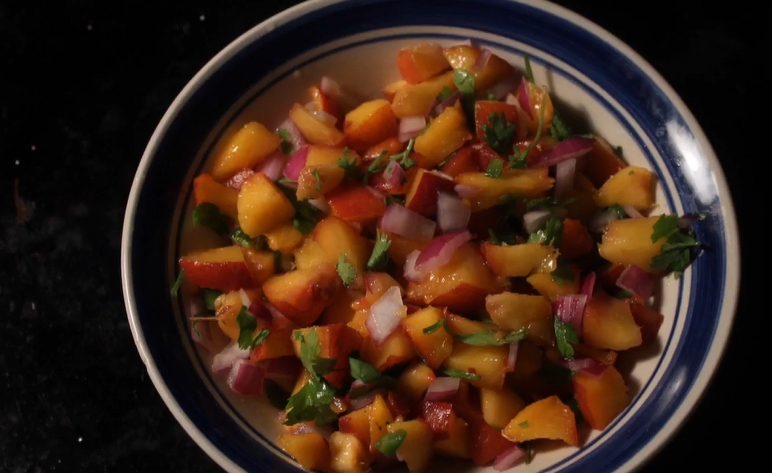 Texan Peach Salsa Recipe
How To Make Texan Peach Salsa
Spice up your chips and appetizers with this Texan peach salsa! It's made with a combination of tomatoes, yellow jalapenos, and flavorful spices.
Cooking:
1 hour 20 minutes
Total:
14 hours 20 minutes
Ingredients
8

cups

tomatoes,

chopped

6

yellow jalapenos,

chopped

5

Hungarian wax peppers,

chopped, seeded

4

fresh peaches,

peeled, pitted, and chopped

⅓

large white onion,

chopped

3

cups

white vinegar

6

tbsp

fresh oregano leaves,

chopped

4

tbsp

fresh cilantro leaves,

chopped

4

tbsp

ground cumin

2

tbsp

white sugar

1½

tsp

salt
Instructions
Bring a large pot of water to boil. Place the tomatoes in the boiling water and boil for 5 minutes.

Transfer the tomatoes to a pot of cold water. Drain, peel, core, and chop the cooled tomatoes.

Combine the tomatoes with their juices, jalapenos, wax peppers, peaches, onion, vinegar, oregano, cilantro, cumin, sugar, and salt in a large pot.

Bring to a rolling boil, then reduce the heat and let simmer for 20 minutes, breaking up some of the tomato chunks. Use an immersion blender halfway through cooking time.

Meanwhile, inspect 7 pint-sized jars for cracks and rings for rust, discarding any defective ones. Immerse the jars in simmering water until salsa is ready. Wash new, unused lids and rings in warm soapy water.

Pack the salsa into hot, sterilized jars, filling to within ½-inch of the top. Run a clean knife or thin spatula around the insides of the jars to remove any air bubbles.

Wipe the rims with a moist paper towel to remove any residue. Top with lids and screw the rings on tightly.

Place a rack in the bottom of a large stockpot, then fill halfway with water. Bring to a boil, then lower the jars 2-inches apart into the boiling water using a holder.

Pour in more boiling water to cover the jars by at least 1-inch. Bring to a rolling boil, cover, and process for 35 minutes.

Remove the jars from the stockpot, then let rest, several inches apart for 12 to 24 hours.

Press the center of each lid with a finger to ensure the lid does not move up or down. Remove the rings for storage, then store them in a cool, dark area.

Serve with favorite chips, and enjoy!
Nutrition
Calories: 

69.86kcal

Fat: 

0.81g

Saturated Fat: 

0.11g

Monounsaturated Fat: 

0.31g

Polyunsaturated Fat: 

0.22g

Carbohydrates: 

13.60g

Fiber: 

3.35g

Sugar: 

9.20g

Protein: 

2.03g

Sodium: 

259.36mg

Calcium: 

56.75mg

Potassium: 

427.16mg

Iron: 

2.14mg

Vitamin A: 

56.63µg

Vitamin C: 

55.56mg