We can all agree on one thing: this Chili's salsa recipe is the best salsa for chips! It has sweetness from the sugar, citrusy notes from the lime juice, and a subtle kick from the jalapenos. There's an explosion of flavor lingering for a while in each bite! 
Chili's salsa, without a doubt, has everything you'd want in a salsa. Munch on tortilla chips with a bowl of this flavorful dip on the side to keep your snacking interesting! 
How to make Chili's salsa? It's surprisingly easy! Just toss all the ingredients in the food processor or a blender and puree until smooth. Read on for the full recipe and a few tips to help you recreate the best salsa around. 
What's in Our Copycat Chili's Salsa?
If Chili's chips and salsa are the sole reason you keep coming back to the restaurant, this salsa recipe is for you. Our homemade version tastes just like the authentic Chili's salsa. That said, there's no need for you to go out to savor one of the best Chili's appetizers! 
Here are the salsa ingredients you need:
Tomatoes

– This Chili's salsa recipe can be made with fresh tomatoes or with Rotel diced tomatoes with green chiles and whole canned tomatoes.

Jalapenos

– To add heat to your

homemade salsa.

 

Yellow onion

– If you don't have yellow onion in your pantry, replace it with onion powder.

Seasonings

– We used garlic salt, cumin, and salt to provide extra

oomph

to our copycat Chili's salsa.

Lime juice

–

To add some tang and acidity to your salsa.

Sugar

– To cut through the acidity and balance out the heat from the jalapeno and chilies.

Cilantro (optional)

– To add a bright, refreshing taste to the salsa.
Tips for Making Chili's Salsa
Making Chili's salsa might seem simple. But there are a few tricks to making it as flavorful as possible. So before you start, here are some tips to make your restaurant-style salsa chip-dipping worthy:
For a better-tasting copycat Chili's salsa, start with high-quality produce.

If using fresh tomatoes, pick the juiciest ones. If using canned tomatoes, opt for flavorful diced tomatoes without added seasonings.

Amp up the heat level with this Chili's salsa recipe!

On top of the jalapeno, you can also add habaneros or cayenne pepper to add more spiciness to your salsa. 

Customize this Chili's salsa to suit your taste.

For a robust garlicky flavor, add some minced garlic. Want a less spicy salsa? Just remove the seeds from the jalapeno and opt for non-chile canned tomatoes 

Homemade salsa tastes better when chilled before serving.

The flavors will marry better as the salsa sits in the refrigerator. You can refrigerate it for one hour up to overnight.

Pair your homemade salsa with flavorful accompaniments! Go beyond tortilla chips and serve your salsa with your favorite nachos or alongside taco salad. You can also try adding a dollop of this tomato dip on top of scrambled eggs to amp up your breakfast meal.
Frequently Asked Questions
Is Chili's salsa healthy?
The combination of Chili's chips and salsa isn't exactly healthy. But when made from scratch and by itself, Chili's salsa can be good for you! It contains only a small amount of calories and helps burn fat (because of the capsaicin found in jalapenos), making it ideal for weight loss.  This homemade salsa is also packed with Vitamin C-rich ingredients like tomatoes, onions, and jalapeno. However, we suggest that you keep your servings small as it has a high amount of sodium.
How long is Chili's salsa good for?
Chili's salsa can last for 3 to 5 days if stored in the refrigerator, and up to 4 months in the freezer. Be sure to keep the salsa in an airtight container.
How To Make Copycat Chili's Salsa
Satisfy your snack cravings with our copycat Chili's salsa recipe! It's surprisingly easy to make with canned tomatoes, yellow onion, and jalapeno. Perfect for tortilla chip dipping!
Ingredients
4

tsp

jalapeño chiles,

canned, diced

¼

cup

yellow onion,

diced

14.5

oz

tomatoes with green chilies,

(1 can), diced, (Rotel)

14.5

oz

whole peeled tomatoes,

(1 can), with juice

¾

tsp

garlic salt

½

tsp

ground cumin

¼

tsp

sugar

2

tsp

lime juice,

optional

1

tbsp

fresh cilantro,

optional
Instructions
Add the jalapeños and onions in a food processor (or in a blender).

Process for a few seconds.

Add the whole peeled tomatoes, diced tomatoes with green chilies, garlic salt, ground cumin, and sugar.

Process until everything is well blended. Make sure to keep it slightly chunky and do not puree.

Place the salsa in a container with a lid, and then chill before serving.

Serve with chips or over top your favorite tacos, and enjoy!
Nutrition
Sugar:

3g

:

Calcium:

35mg

Calories:

21kcal

Carbohydrates:

5g

Fat:

1g

Fiber:

1g

Iron:

1mg

Monounsaturated Fat:

1g

Polyunsaturated Fat:

1g

Potassium:

211mg

Protein:

1g

Saturated Fat:

1g

Sodium:

297mg

Vitamin A:

153IU

Vitamin C:

13mg
Nutrition Disclaimer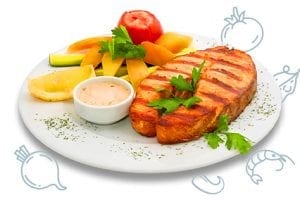 Conclusion
Treat your loved ones to some restaurant-style salsa with this copycat Chili's salsa recipe! Recreate this popular dip at home with some canned tomatoes, onions, and jalapenos. In just 10 minutes, you'll have a bowl of tasty salsa for your salty chips, tacos, and burritos!
Topics: