This black bean and corn salsa is fresh, crunchy, and deliciously vibrant all at the same time. Its sublime flavors come from the delicious blend of herbs, spices, onion, jalapeño pepper, and lime juice. Along with a bowl of Chipotle chips, it can satisfy your snack craving straight away! 
This black bean and corn salsa recipe is versatile and can easily be tweaked to suit your taste preference. For ease of preparation, use canned black beans and corn kernels for the base. You can even remove the ribs and seeds from the jalapeño to lessen the heat. To make this easy black bean recipe, just combine all the ingredients and chill for at least two hours. The end result is an addictive corn and black bean dip that boasts zesty flavors with a fantastic texture to boot.
What's in Our Black Bean and Corn Salsa?
This refreshing black bean and corn salsa recipe calls for just a handful of ingredients. Here's what you'll need:
Black Beans

– Opt for the best brand, or use fresh ones instead.

Corn Kernel

– You can use either fresh, charred, or grilled corn. It's up to you!

Red Onion

– It'll deliver a sharp flavor to the salsa.

Jalapeno Pepper

–

It gives your salsa a hint of spiciness.

Lime Juice

– It's used to brighten up your salsa.

Tomato

– Whichever kind you use, make sure that it's fresh!

Garlic Clove

– Only use fresh garlic clove here for better flavor.

Herbs and Spices

– We used a combination of fresh cilantro, ground cumin, and chili powder.
Tips for Making Black Bean and Corn Salsa
Of all the many variations on the black bean salsa, this simple recipe is our favorite. Each bite delivers bold flavors that will sweep you off your feet! We suggest chilling the salsa in the refrigerator for at least two hours so all the flavors can marry together. 
Before proceeding with the best black bean salsa recipe, here are more tips you can follow:
Drain and rinse the canned beans to remove excess starch and sodium.

Make sure to use cool water! Do this before tossing them in the bowl with the other ingredients. If you follow this step, it will help preserve the beans. Draining and rinsing the beans also washes out the very subtle metallic taste often present in canned foods.

Use the right kind of tomatoes. Roma tomatoes (or paste tomatoes) are among the best tomatoes for salsa. They are less watery and contain fewer seeds than the other sorts. But if you want a juicier salsa, opt for larger tomatoes. Or, skip the tomatoes altogether. Don't worry, corn and black bean salsa with no tomatoes is just as tasty!
Don't forget the acidic ingredient.

All salsa recipes include a hint of acidity that  brings about bright flavors. And for this  bl

ack bean and corn salsa recipe

in particular, we used a tablespoon of lime juice. If you don't have this in your pantry, red wine vinegar and white vinegar also deliver a vibrant and refreshing taste to the salsa. 

Wear disposable gloves when preparing the jalapeno pepper

. If you want a mild homemade salsa, remove the ribs and seeds from the jalapeno. Be sure to wear gloves, though, as this pepper can leave a burning sensation on your skin.

Char the corn to make your salsa even more delicious!

To make the best roasted corn salsa with black beans, either grill the corn on the cob or char the corn kernels in a skillet. Roasted corn has a certain sweetness to it that can boost the flavor of the salsa. Of course, grilling the corn also provides a pop of smoky taste.
What we love the most about this salsa recipe is you can play around with the ingredients to satisfy your taste. You can add more jalapenos if you fancy a spicy corn and bean salsa. Feel free to incorporate mangos, pineapples, peaches, and other fresh additions to amplify the flavor of your fresh corn salsa with black beans. For some crispiness, you may also toss in some cucumber slices to the mix. Black bean and corn salsa with avocado are also super delicious in our book!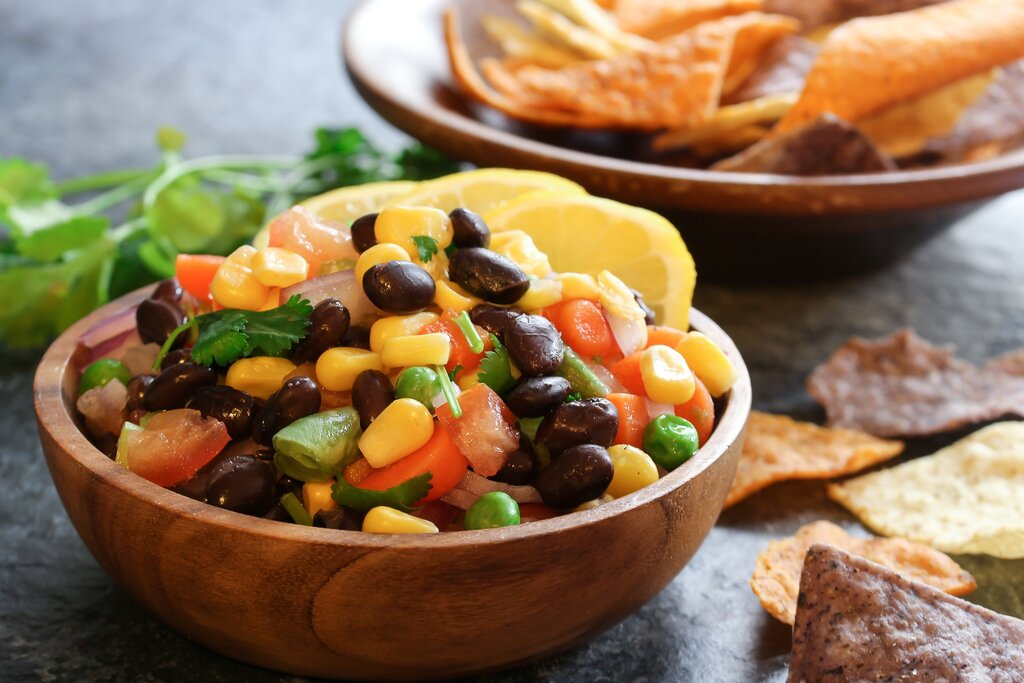 Black Bean and Corn Salsa Recipe
How To Make Black Bean and Corn Salsa
Whip up a refreshing party appetizer with this black bean and corn salsa recipe. It's made with just a handful of flavorful ingredients. Serve with tortilla chips, tacos, and more!
Ingredients
19

oz

black beans,

(1 can), drained and rinsed

½

cup

red onion,

chopped

1

tbsp

fresh cilantro,

chopped

1

tbsp

jalapeno pepper,

ribs and seeds removed, diced

1

tbsp

lime juice

¼

tsp

ground cumin

¼

tsp

chili powder

1

tomato,

large, chopped and seeded

1

garlic clove,

minced

12

oz

kernel corn,

(1 can), drained

½

tsp

salt
Instructions
Combine all the ingredients in a medium-sized bowl.

Cover and chill for at least 2 hours to let the flavors blend.

Serve the cold salsa with tortilla chips or tacos, and enjoy!
Recipe Notes
You can also use 1½ cups frozen corn kernels for this recipe if you don't have fresh or canned corn. Just make sure to thaw the kernels first before combining them with the rest of the ingredients.
Nutrition
Sugar:

2g

:

Calcium:

44mg

Calories:

258kcal

Carbohydrates:

47g

Fat:

2g

Fiber:

13g

Iron:

3mg

Potassium:

688mg

Protein:

14g

Saturated Fat:

1g

Sodium:

436mg

Vitamin A:

347IU

Vitamin C:

13mg
Nutrition Disclaimer
Frequently Asked Questions
How long is black bean and corn salsa good for?
If stored in a tightly-covered container, black bean and corn salsa can last for 3 to 5 days in the refrigerator. You can also store it in the freezer for longer shelf life. Just make sure to place the salsa in a freezer-friendly container or bag before popping it in the freezer. It can last for three months when frozen.
How do you eat black bean salsa?
There are so many ways to eat and serve this refreshing black bean and corn salsa! The classic pairing of salsa and tortilla chips never fails to satisfy. You can spoon the salsa over grilled chicken, grilled fish, and even scrambled eggs, too. Or, sprinkle this Mexican corn salsa and beans on top of tacos and nachos for the perfect Taco Tuesday meal. Whichever route you take, your taste buds will surely be pleased.
Are black beans good for you?
Yes, black beans are healthy! Not only are these legumes delicious, but they also have health benefits. Black beans are gluten-free and contain high amounts of protein and fiber. As such, eating black beans can help reduce hunger and keep you full for longer. Simply put, they're perfect if you're trying to lose weight. Moreover, they're also a great source of antioxidants, making them excellent for eye and heart health. Combined with the other vegetables in this black bean and corn salsa, this black bean side dish is a much healthier alternative to other heavily processed dips out there.
Is salsa good for you?
Yes, salsa is absolutely good for you. Fresh salsas, generally, are low in calories (approximately 4 calories per one tablespoon serving) – so they're great for weight loss! Thanks to its lime juice, onion, and tomato ingredients, salsa also carries a high amount of Vitamin C. And since it's made with plant-based ingredients like garlic, this side dish is good for your heart health as well.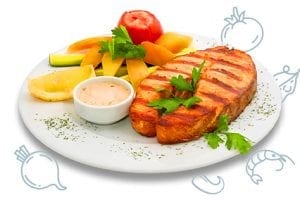 Conclusion
This black bean and corn salsa is one of the best appetizer recipes and party snacks. The soft and creamy flavor of black beans is perfectly rounded out with tangy lime juice and a subtle kick of spices. It's the perfect game-day appetizer, party snack, and potluck take-along!