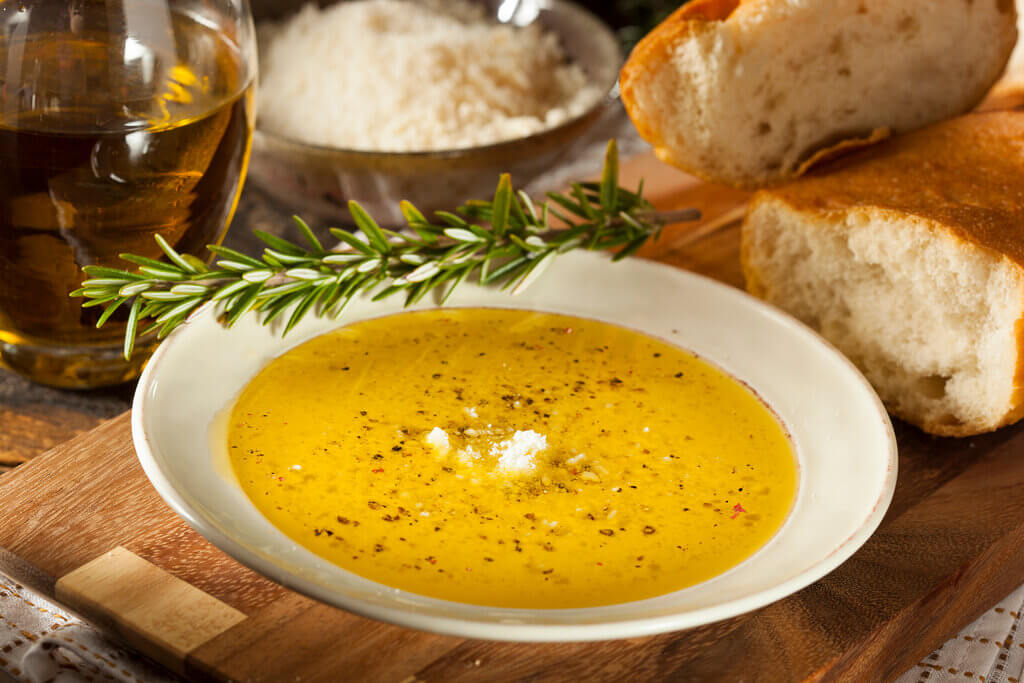 Best Bread Oil Recipe
Dip your sliced bread in savory bread dipping oil, and it's guaranteed to send your eating experience to the next level. Plain bread, for some people, can be uninspiring. To be honest, I once shared the same sentiments. That is, until I tried bread served with olive oil dip in my favorite Italian restaurant. It tastes herby, garlicky, tangy, and cheesy ALL AT ONCE! So, you can't really blame me if I stick to this savory bread sauce while other people prefer smearing butter on crusty garlic bread.
Olive oil bread dip isn't just olive oil and a concoction of herbs, mind you. It's also enhanced with garlic, parmesan cheese, and lemon juice. When combined, all these staple ingredients create irresistible flavors that can give new life even to your hard-as-a-rock stale bread! What's more, it'll also be a good option if you're on the prowl for charcuterie board ideas.
Just a pro-tip to make sure your olive oil dip for bread will be incredibly good: use good-quality ingredients as much as possible. I used the best olive oil for dipping bread: extra virgin olive oil. It's healthier and carries a deeper flavor than the regular kind. Dried herbs are my go-to seasoning for dips and sauces, so I used dried basil, dried parsley, dried thyme, dried oregano, and dried crushed rosemary. But I noticed that other variations rely on fresh herbs, so go ahead and incorporate fresh basil, fresh thyme, and rosemary in your Italian bread dipping oil. An acidic ingredient is also necessary to provide bright flavor to the bread dip, and lemon juice is my personal favorite. Although, olive oil and balsamic vinegar bread dip is worth trying as well.
This dipping oil for bread is also studded with fresh minced garlic, delivering a potent garlicky flavor. Use roasted garlic if you prefer a sweet-garlicky palate. Or, you can also go for garlic powder. But just a fair warning: the garlic flavor won't be as strong, so it's my least favorite option. Meanwhile, those hot little specks in my bread dipping oil are crushed red pepper flakes. Before serving my homemade Italian olive oil sauce, I sprinkled a dash of grated parmesan cheese on top for a more delightful visual appeal.
It's only on a whim that I decided to give this bread oil recipe a try. But, lucky for me, I've found that it checks the box for being downright flavorful, and there is NO COOKING required! Fast-forward to the present, let's just say that our bread-eating experience at home has never been the same. This bread dipping oil is the perfect companion for whatever kind of bread you have for breakfast or dinner. Think of Italian bread, artisan bread, baguette, or focaccia soaked in a flavorful olive oil bread dip. Delizioso!
How To Make Best Bread Oil
Douse your favorite bread in a savory bread dipping oil for a restaurant-worthy dining experience. A special blend of dried herbs in a mixture of extra virgin oil and lemon juice with a sprinkle of grated cheese complete this tasty bread dip.
Ingredients
2

cups

olive oil

1

tbsp

dried basil

1

tbsp

dried parsley

1

tbsp

garlic,

minced

1

tsp

dried thyme

1

tsp

dried oregano

1

tsp

ground black pepper

½

tsp

dried crushed rosemary

½

tsp

salt

½

tsp

crushed red pepper,

or to taste

½

tsp

lemon juice

2

tbsp

Parmesan cheese,

grated
Instructions
In a small bowl, pour the extra virgin olive oil.

Then, add basil, parsley, garlic, thyme, oregano, black pepper, rosemary, salt, red pepper, and lemon juice. Stir to combine.

Sprinkle with grated parmesan cheese and serve with your favorite bread.
Recipe Notes
You can use

sea salt

flakes or kosher salt in your

bread dipping oil

.

Toss in a dash of homemade

Italian seasoning

for additional flavor.

If you have any leftover bread dip, store it in an airtight container before putting it in the refrigerator for later use.

This bread oil is also best served with crusty sourdough, ciabatta, and

French bread

.
Nutrition
Calories: 

1964.52kcal

Fat: 

218.70g

Saturated Fat: 

31.45g

Monounsaturated Fat: 

158.34g

Polyunsaturated Fat: 

22.89g

Carbohydrates: 

4.39g

Fiber: 

1.54g

Sugar: 

0.31g

Protein: 

4.32g

Cholesterol: 

6.32mg

Sodium: 

547.51mg

Calcium: 

176.62mg

Potassium: 

114.11mg

Iron: 

3.44mg

Vitamin A: 

31.71µg

Vitamin C: 

3.47mg