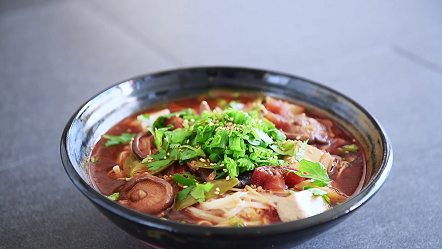 Vegetable Noodle Soup Recipe
How To Make Vegetable Noodle Soup
Whip up this healthy and hearty vegetable noodle soup consisted of carrots, onions, celery, diced tomatoes, beans, with egg noodles in chicken broth.
Instructions
In a large saucepan, heat the oil over moderately low heat.
Add the onions, carrots, and celery and cook, stirring occasionally, for about 10 minutes until the vegetables start to soften.
Stir in the broth, tomatoes, tomato paste, potatoes, green beans, and salt.
Bring to a boil.
Reduce the heat and simmer, partially covered, for about 20 minutes until the vegetables are almost tender.
Stir in the egg noodles.
Bring the soup back to a simmer and cook for about 5 minutes until the vegetables and noodles are tender.
Stir in the parsley.
Recipe Notes
Feel free to mix and match vegetable combinations according to preference and what is on hand. Other excellent soup vegetables include: fennel, celery root, cabbage, parsnips, turnips, peas, zucchini, squash, shredded greens, corn, lima beans, and bell peppers
Nutrition
Monounsaturated Fat: 

6.91g
Polyunsaturated Fat: 

3.32g