Ever been to a Japanese steakhouse like Benihana? Well, you can experience their wonderful teppanyaki or Hibachi restaurant style of cooking by recreating one of their dishes at home. For this recipe, we're making an inspired Benihana onion soup that's made from boiling together chicken broth with vegetables, and then straining the veggies to get a clear yet savory soup. Complete the dish by adding in the fried onion and sliced mushrooms for extra flavor and texture. Pair this dish alongside a delicious serving of tamagoyaki (Japanese rolled omelette). 
Tips on Making Copycat Benihana Onion Soup
This Japanese soup goes by a lot of different names. It's sometimes called Japanese clear soup, Japanese mushroom soup, or even clear mushroom soup. This is because the traditional garnishing of this soup is with mushrooms and green onions. However, the Benihana Hibachi soup version adds in fried onions as well. You can also try mixing in other ingredients so it's extra flavorful. Try out some of our recipe variations down below:
Use other kinds of mushrooms.

Aside from the white beech mushrooms, you can also use white

button mushrooms

or

baby bella mushrooms

(cremini)

which is the

best choice

of mushrooms for this Japanese steakhouse dish.

This type of mushroom is slightly bigger than white beech mushrooms, and has a mild to deep flavor. It's perfect for giving your soup an additional umami

mushroom broth

flavor. 
Try adding in beef broth.

You can also substitute the chicken broth with beef, or combine both flavors! Try mixing in 3 cups of chicken broth, 2 cups of beef broth, and 1 cup of water. Or, add in ½ tablespoon of

beef bouillon granules

and a pinch of ginger powder to further enhance the broth's flavor.
Add soy sauce

for a richer broth flavor. If you want a bit of a salty, savory, and umami taste, then add about ½ tablespoon of soy sauce in the boiling broth. Soy sauce is an essential ingredient and a popular seasoning in Japanese cooking, and in other Asian dishes. This will make your Benihana inspired

Japanese onion soup

even more appetizing with its subtle hints of salty, savory, and umami flavors. 
Mix in garlic.

Another way to make this Benihana onion soup even tastier is mixing in ⅓ tablespoon of minced garlic for that unique garlic flavor in your broth. Add this when you're boiling and simmering all of the ingredients together so that the garlicky flavor seeps into the delicious broth. 
Looking for more copycat Hibachi recipes? Check out this tasty Hibachi steak recipe that you can pair with this inspired Benihana fried rice recipe for a complete entree meal.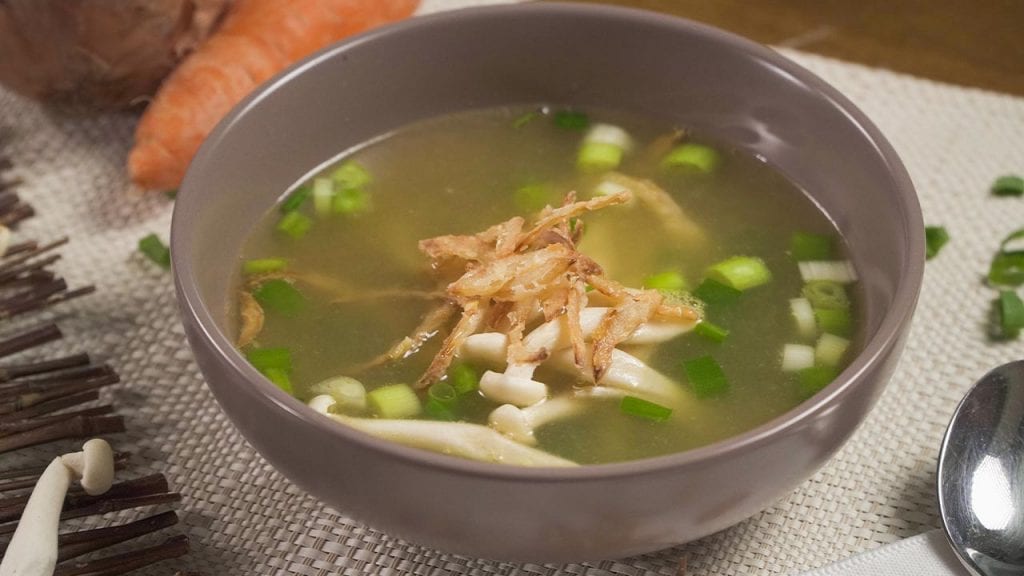 Copycat Benihana Onion Soup Recipe
How To Make Copycat Benihana Onion Soup
This Japanese clear soup recipe is a quick and easy dish to make for the family. It's an inspired Benihana onion soup dish that's made from a homemade broth, and then topped with fried onions and mushrooms. Serve this savory soup alongside other delicious entrees.
Ingredients
4

cups

chicken broth

2

cups

water

6

oz

large white onion,

half coarsely chopped, remaining half thinly sliced

1½

oz

carrots,

half coarsely chopped, remaining half thinly sliced

1½

oz

celery stalk,

chopped

½

tsp

salt

1

cup

vegetable oil

1

cup

milk

1

cup

all-purpose flour

1

cup

white beech mushrooms,

preferably swiss browns or button, thinly sliced

4

green onions diced

fried onions,

for topping
Instructions
Combine water and chicken broth in a pan over high heat.

Add the chopped onion, carrot, celery, and ¾'s of the mushrooms to the pan and bring to a boil.

Reduce heat and simmer for 10 minutes, until onions start to become translucent.

Heat 1 cup of vegetable oil in a small pan over medium heat.

Dip the thin onion slices into milk, then coat with the flour.

Fry the breaded onions until golden brown. Drain on a paper towel.

When the soup has simmered for 10 minutes, use a fine mesh sieve to strain the vegetables out of the broth and toss them out.

Pour the broth back into the pan and keep it over low heat.

Add salt and green onions. Stir to combine.

To serve: Add remaining ¼'s of the mushrooms into the bowl, pour broth, and add a few pieces of fried onion.
Nutrition
Sugar:

4g

:

Calcium:

76mg

Calories:

443kcal

Carbohydrates:

23g

Cholesterol:

4mg

Fat:

38g

Fiber:

2g

Iron:

2mg

Potassium:

339mg

Protein:

5g

Saturated Fat:

30g

Sodium:

796mg

Vitamin A:

995IU

Vitamin C:

16mg
Nutrition Disclaimer
Frequently Asked Questions
Is Japanese clear soup healthy?
Yes, it is light and low in calories, but not extremely nutritious so we recommend eating this dish in moderation. Since this soup is full of vegetables, it makes for a low-fat and high-fiber dish which is a good healthy soup option. You can also make this Benihana onion soup vegetarian friendly by switching out the chicken or beef broth with vegetable broth. Although, this will make your clear soup Japanese dish slightly less savory. But you can always add in seasonings like a bit of soy sauce, salt and pepper, fresh ginger, peanut oil, or even sriracha for some added kick.
Is Japanese clear soup the same as miso soup?
No, they are not the same. Both soups use different main ingredients which affect the color and appearance of the broth or soup. For instance, the key ingredient in making the miso soup broth is the miso paste made from fermented soybeans. This gives the miso soup a cloudy or almost opaque appearance. On the other hand, a Japanese clear onion soup has a clear soup base. So, what is clear soup? It's achieved by boiling and simmering together meat broth and vegetables, then straining and removing the solid ingredients. What is left is a clear liquid soup with mushrooms and onion garnishes.
Can I freeze this Hibachi soup?
Yes, you can! This Japanese soup freezes well; just make sure that you store it in an airtight container so it lasts for up to 3 months. When ready to consume again, thaw the soup first and then reheat using the microwave or stovetop. For the microwave, place on a microwave safe container and heat for 1 to 2 minutes on medium heat. If using the stovetop, place on a small pot over low-medium heat. Stir gently to warm it up and heat for about 5 minutes until hot. Feel free to top with more freshly sliced mushrooms or green onions.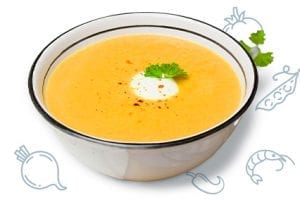 Conclusion
If you love Japanese soups and Hibachi restaurants, then this copycat Benihana onion soup recipe is just for you! Learn how to make clear soup at home using flavorful and inexpensive ingredients. Serve this with a main course or have it as is – we guarantee that you will be satisfied and filled.