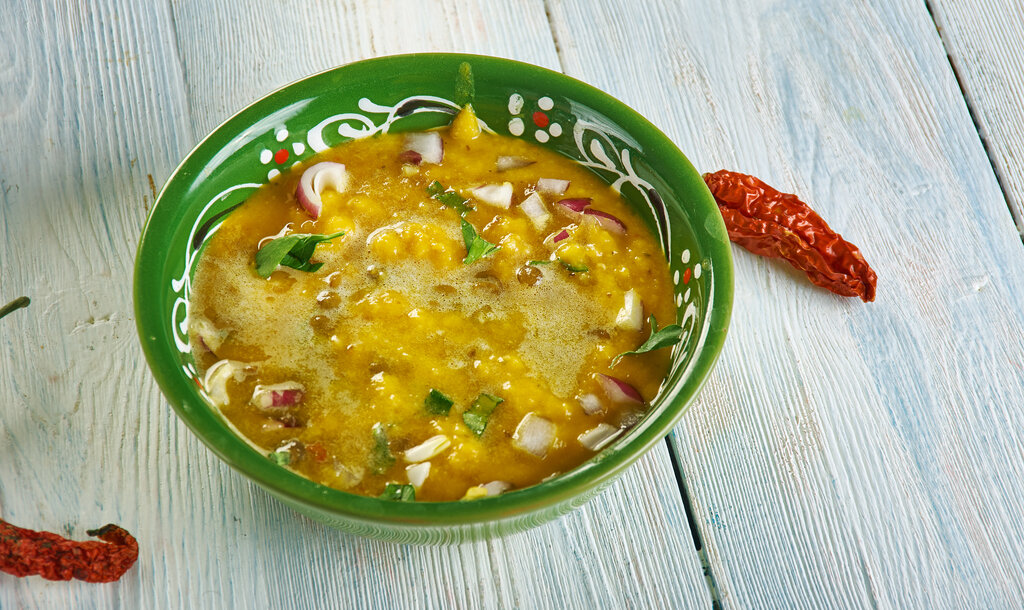 Lebanese Lentil Soup Recipe
Soups are great meal starters. Lately, my go-to soup follows this simple Lebanese lentil soup recipe that is so delicious and rich in taste. This Middle Eastern lentil soup, also known as Shorbet Adas, is packed full of green lentils and other vegetables such as carrots, celery, kale, sweet potatoes, ginger, and garlic. All of these ingredients are combined harmoniously in a large pot, and cooked in a delicious veggie broth with hints of cilantro and lemon juice for added flavor and tang!
I love making this soup because it's a vegetarian-friendly, and gluten free vegan soup. It's honestly the best lentil soup recipe for someone like me who wants to try out that healthy kind of lifestyle. The first time I actually tasted this Lebanese lentil soup was from a Mediterranean food stall in my local farmers market. It was so delicious that I decided that I should learn how to make lentil soup at home. Its savory and heartwarming flavors were something I wanted to try and recreate myself, and I found out that there are a lot of variations to this green lentil soup recipe.
One popular variation that I know of is the smooth, creamy-looking, red lentil soup version made with red lentils, vegetables, and sometimes with rice. My Lebanese lentil soup recipe, on the other hand, isn't really on the creamy side. Since I prefer munching on the tender vegetables to really appreciate the delicious broth that it's soaked in, I just ditch the immersion blender and forego the creamy texture for something a little different. You're welcome to try the other vegan lentil soup version, if you prefer a smooth texture for your soup.
My Lebanese lentil soup recipe variation uses green lentils instead of the red or brown ones. That's because I prefer a strong earthy and slightly peppery flavor for my soup. Aside from that, green lentils are firm in texture which makes them ideal for this non-creamy lentil soup version. Red lentils, on the other hand, are sweet and nutty in taste and they tend to get mushy when cooked.
As a result, my Lebanese lentil soup tasted amazing with the robust taste of the green lentils combined with the flavorful vegetables and broth. Each bite was so good that I even sprinkled a bit of crushed red pepper flakes as well for a bit of spice and heat. You can also try black cracked pepper as an alternative. I had a fun time making this soup and an even better experience while eating it with some bread! So, if you're looking for delicious green lentil recipes to try, I recommend giving this Lebanese lentil soup a try.
How To Make How To Make Lebanese Lentil Soup
Cook a hearty vegetarian dish with this Lebanese lentil soup recipe infused with lemon juice and packed with sweet potatoes, kale, and celery. Serve alongside pita bread or leafy salads.
Ingredients
1

lb

dry green lentil,

(2½ cups dry), rinsed

32

oz

vegetables broth,

(2 boxes) check labels for GF, (about 8 cups total)

5

cups

water

2

large carrots,

¼-inch diced

3

large celery stalks,

¼-inch diced

1

large sweet potato,

or butternut sqaush, ¼-inch diced, (10 oz peeled)

1

red onion,

chopped

1½

cups

fresh cilantro,

(1 big bunch or 2 small bunches), chopped

1

whole bulb garlic,

peeled and minced

2

tbsp

butter or olive oil

1

tsp

kosher salt,

to taste

1

tsp

ground black pepper,

to taste

1½

tsp

ground cumin

1

lemon juice

2

tbsp

fresh ginger,

grated, optional

6

cups

Lacinato kale,

(1 bunch), Swiss chard or any preferred greens

fresh parsley,

for garnish, optional

crushed red pepper flakes,

for garnish, optional
Instructions
Add the lentils to a large pot or Dutch oven and add the vegetable stock and water.

Bring to a boil, cover, and simmer for 30 minutes until tender.

Meanwhile, wash and separate the kale leaves from the stems. Cut the stems into small cubes and cut the leaves into large pieces.

In a medium skillet, melt the butter and add the garlic. Cook for less than 1 minute, (don't burn), then add the cilantro.

Mix it until it softens, then remove from heat immediately (the cilantro should stay almost raw green). Set aside.

Once the lentils are soft, add all the celery, carrots, sweet potato, onion, kale stems, and ginger and cook for 15 minutes until soft. Season with salt, pepper, and ground cumin to taste.

Once they become soft, add the mix of cilantro and garlic along with the lemon juice. Let simmer for 2 to 3 minutes.

Remove from heat and add the greens, cover the pot for 10 minutes, then mix the soup. Serve and garnish with fresh parsley and red pepper flakes, if desired.
Recipe Notes
For storing or freezing, let the soup cool at room temperature before freezing it. Transfer soup into an airtight container or freezer bags, and place in the freezer. The soup will last for up to 3 months. Defrost or let thaw in the refrigerator before reheating and serving.
Nutrition
Calories: 

230.08kcal

Protein: 

12.86g