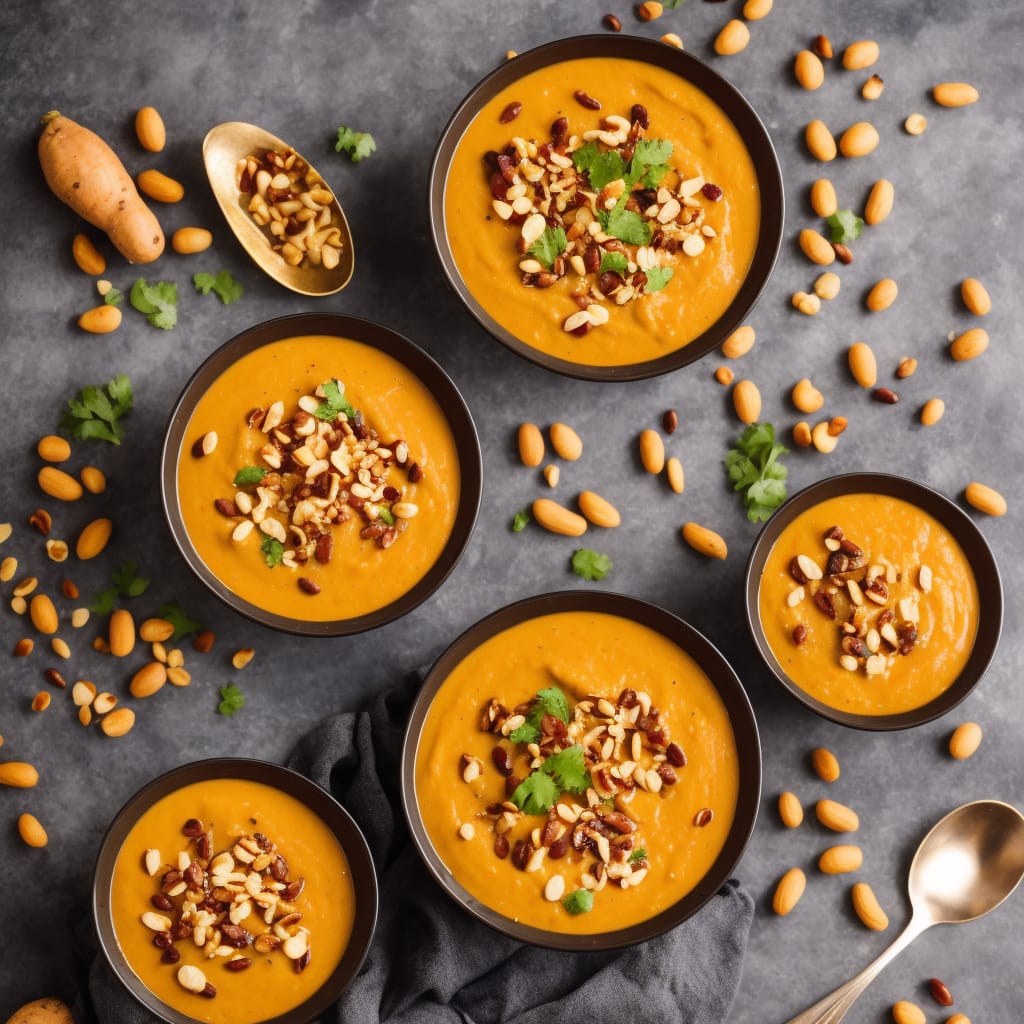 African Sweet Potato and Peanut Soup Recipe
How To Make African Sweet Potato and Peanut Soup
This classic and versatile dish is not one to miss in the dinner table! Make delicious, warm soup with our comforting soup recipes. You can enjoy this dish as a main course, side dish, or even an appetizer. If you're just learning the ropes around cooking, then soup recipes are a great place to start. Delve into our amazing soup recipes for something easy to make, but satisfying to eat. We guarantee you'll be wiping the bowl clean down to your last spoonful!
Ingredients
2 large sweet potatoes, peeled and chopped
1 onion, diced
3 cloves of garlic, minced
1 red bell pepper, diced
1 can (14 oz) of diced tomatoes
1/2 cup of peanut butter
4 cups of vegetable broth
1/2 tsp of ground cumin
1/2 tsp of ground coriander
1/4 tsp of cayenne pepper (optional)
Salt and pepper to taste
Chopped peanuts and fresh cilantro for garnish
Instructions
In a large pot, heat some oil over medium heat. Add the onion, garlic, and red bell pepper. Cook until softened, about 5 minutes.

Add the sweet potatoes, diced tomatoes, peanut butter, vegetable broth, cumin, coriander, cayenne pepper (if using), salt, and pepper. Stir well.

Bring the mixture to a boil, then reduce heat and let it simmer for about 30 minutes, or until the sweet potatoes are tender.

Use an immersion blender or a regular blender to blend the soup until smooth and creamy.

Taste and adjust the seasoning if needed.

Serve the soup hot, garnished with chopped peanuts and fresh cilantro.
Nutrition
Calories :

320kcal

Total Fat :

17g

Saturated Fat :

3g

Cholesterol :

0mg

Sodium :

1020mg

Total Carbohydrates :

35g

Dietary Fiber :

7g

Sugar :

12g

Protein :

10g