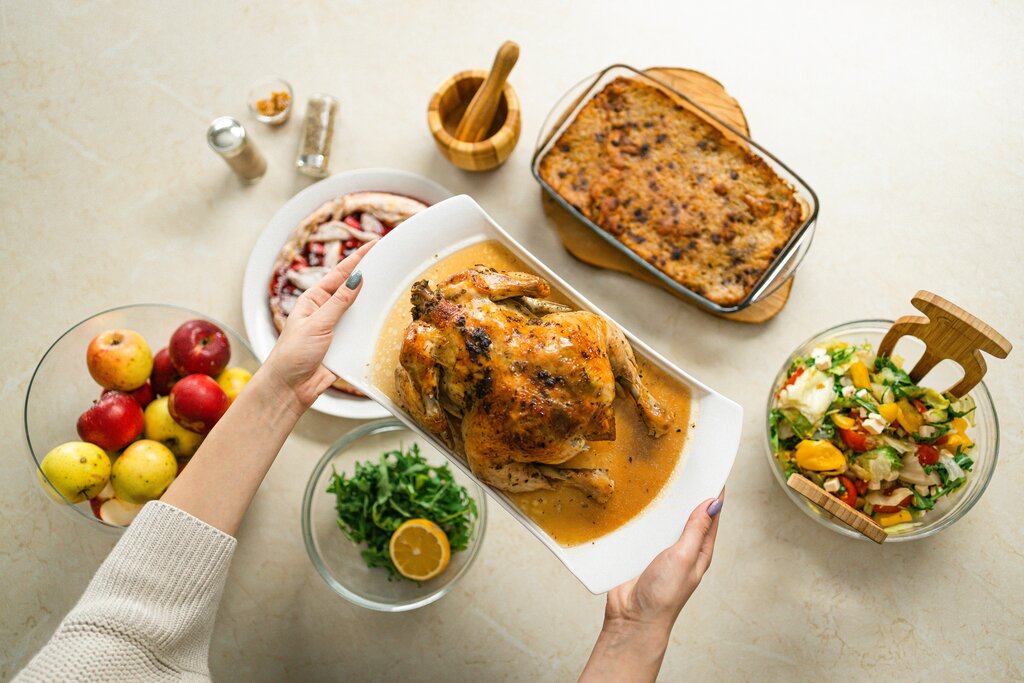 27 Best Side Dishes For Chicken To Try Now
If you're too tired to cook an extravagant meal for dinner, then there are amazing instant pot chicken recipes you can try to easily impress your family. But looking for the perfect side dishes for chicken? That's yet another story. Well, put all your worries aside!
In this article, we've gathered 27 easy chicken side dish recipes so you can have a wonderful dinner with your loved ones every night!
---
Healthy Side Dishes For Chicken
We bring you this list of healthy side dishes that will complete your planned chicken meals! All of these recipes boast delicious flavors while being nutritious. 
Butternut Squash
It's easy to see why this butternut squash recipe sits at the top of our list of healthy sides for chicken. The baked butternut squash and green beans are sautéd with butter and slivered almonds, adding flavor and texture. This vegetable dish also gets all slathered with maple syrup. With its combination of flavors, even your vegetables-averse kids will be asking for seconds! 
Recipe for Inspiration: Butternut Squash and Green Beans with Maple Syrup
Collard Greens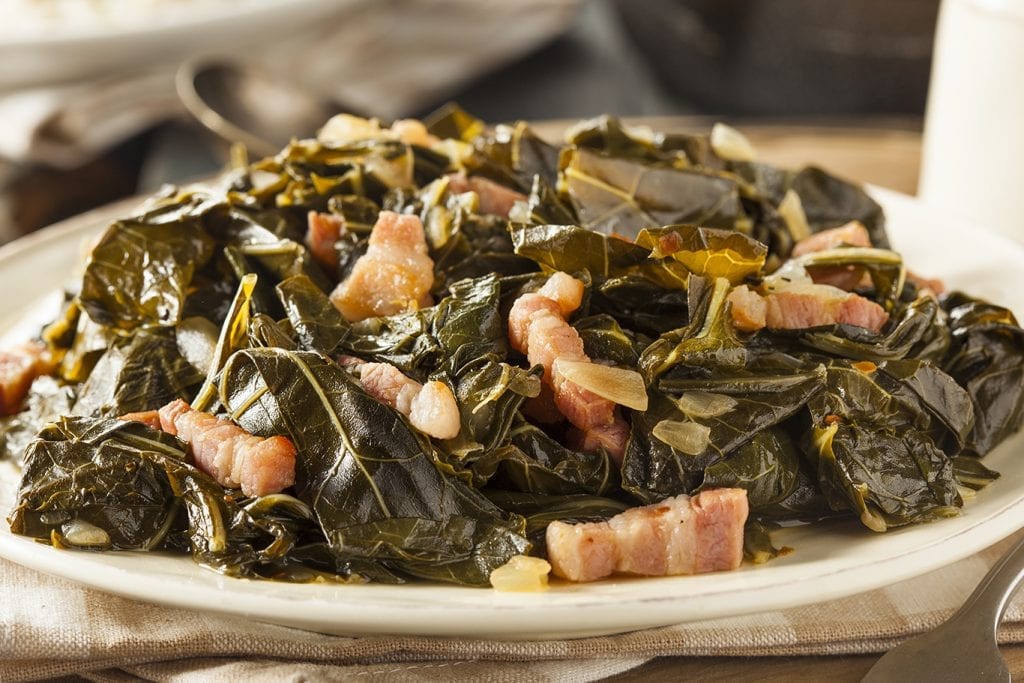 You need to balance your crispy, fatty bacon with some greens. That's exactly why we combine bacon and collard greens in this easy side dish recipe. Cooking these veggies with bacon, bell pepper, and garlic powder transforms them into an incredible dish. Believe us, bacon-fried collard greens sure are delicious and satisfying.
Recipe for Inspiration: Bacon-Fried Collard Greens

Looking for vegetable side dishes for chicken? Check out this roasted brussels sprouts recipe. While roasted veggies might not appear the most appetizing, they taste absolutely terrific, especially when cooked with flavorful seasonings. With just three simple ingredients and four easy steps, you are about to have one of the most straightforward side dishes that go with chicken!
Recipe for Inspiration: Roasted Brussels Sprouts
Roasted Carrots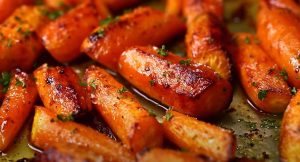 Still can't decide what to eat with your chicken? Here's another classic side dish that will amp up your weeknight dinners: roasted carrots. This recipe calls for only a handful of ingredients and needs only 25 minutes to prepare. Besides the easy meal prep, we also love the honey-garlic combination this food brings about.
Recipe for Inspiration: Honey Garlic Butter Roasted Carrots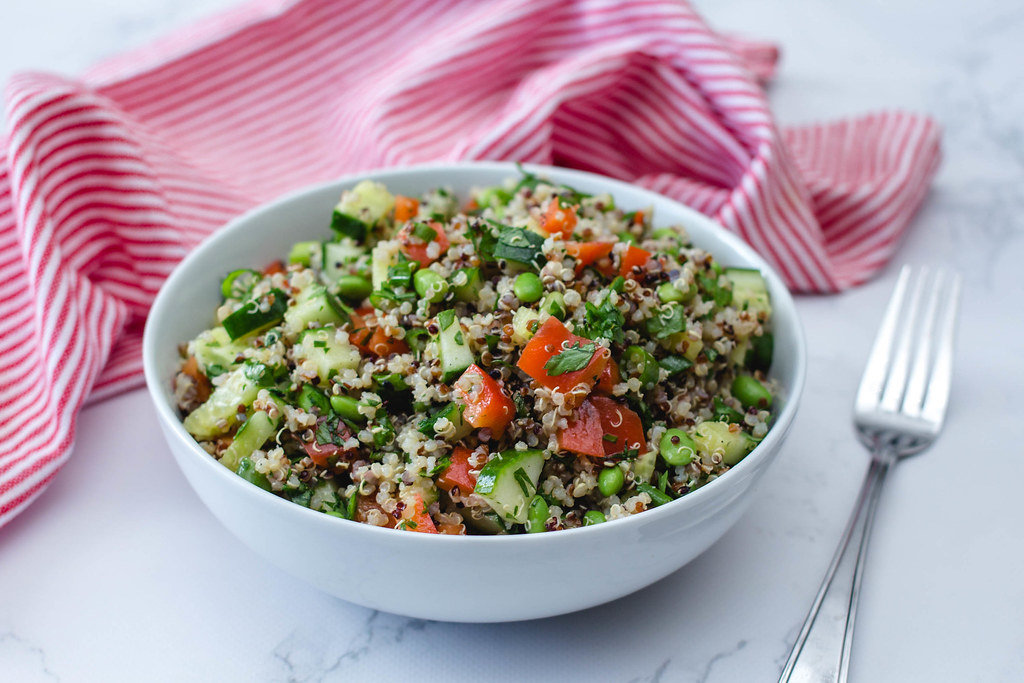 Colorful and healthy veggies covered in a refreshing dressing make for an excellent company for some succulent chicken dishes. Take this quinoa salad, for instance. We toss together the quinoa, chickpeas, cucumber, and red bell pepper and dress them up with lemon juice. In just 40 minutes, you will be enjoying the welcoming flavors of this salad alongside your chicken meal.
Recipe for Inspiration: Quinoa Salad
Green Salad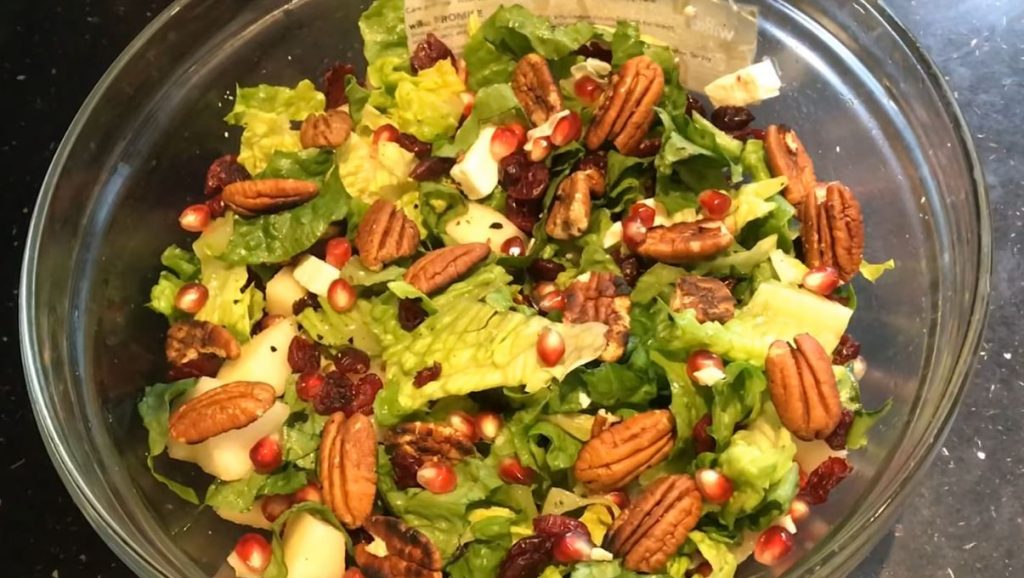 Sure, there are many easy side dishes for chicken. But this green salad, in particular, stole our hearts because of its unique flavors. We use fresh pomegranate, Bartlett pear, and Honeycrisp apple for the salad. Then, we cover the salad in a ginger dressing which is made of fresh ginger, apple cider vinegar, and yummy maple syrup.
Recipe for Inspiration: Pomegranate & Pear Green Salad
---
Side Dishes for Fried Chicken
Whether it's a game night or just an ordinary weeknight dinner, fried chicken is always present on the menu. Here's a list of great sides that will taste exquisite with this ultimate comfort food: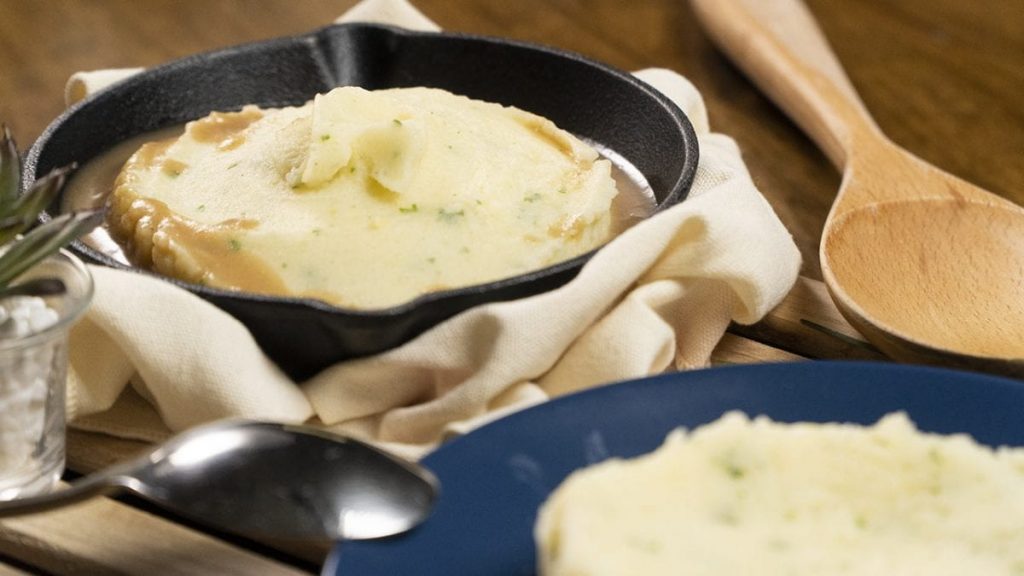 Out of all the simple side dishes for chicken recipes, mashed potatoes are perhaps the most popular. And while we are all fond of the usual creamy mashed potatoes, we gave it a garlicky spin with this Steakhouse-style recipe. Trust us, the creamy palate of this potato dish will complement just about any chicken meal, especially some crispy fried chicken.
Recipe for Inspiration: Outback Steakhouse Garlic Mashed Potatoes (Copycat)
Green Bean Casserole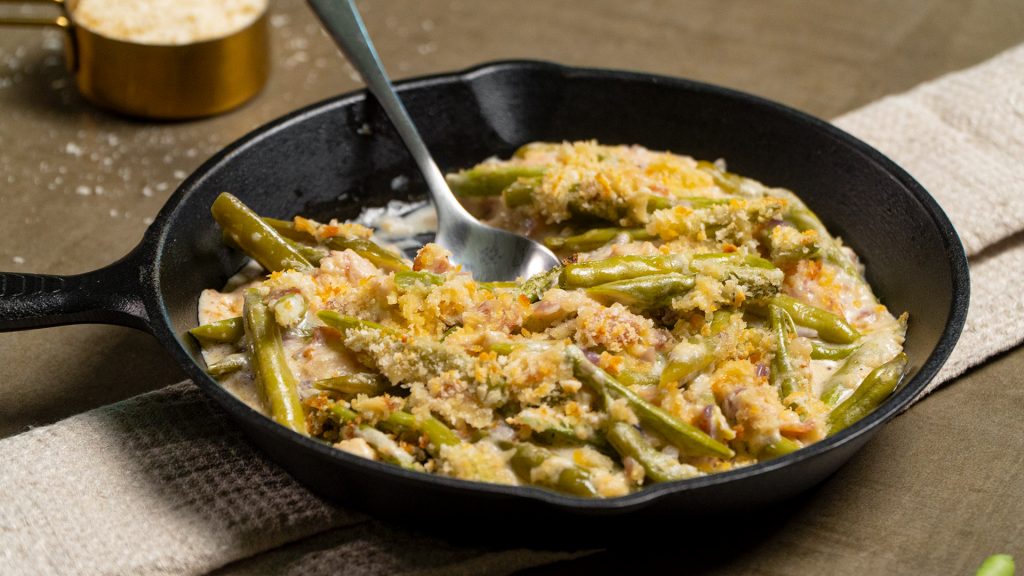 Are you scouring through the Internet trying to find the best sides for chicken? Try this easy green bean casserole recipe! Topping this creamy and rich casserole with panko or breadcrumbs takes the dish to a whole new level of deliciousness. Plus, it's ready to serve in less than an hour.
Recipe for Inspiration: Green Bean Casserole
Potato Salad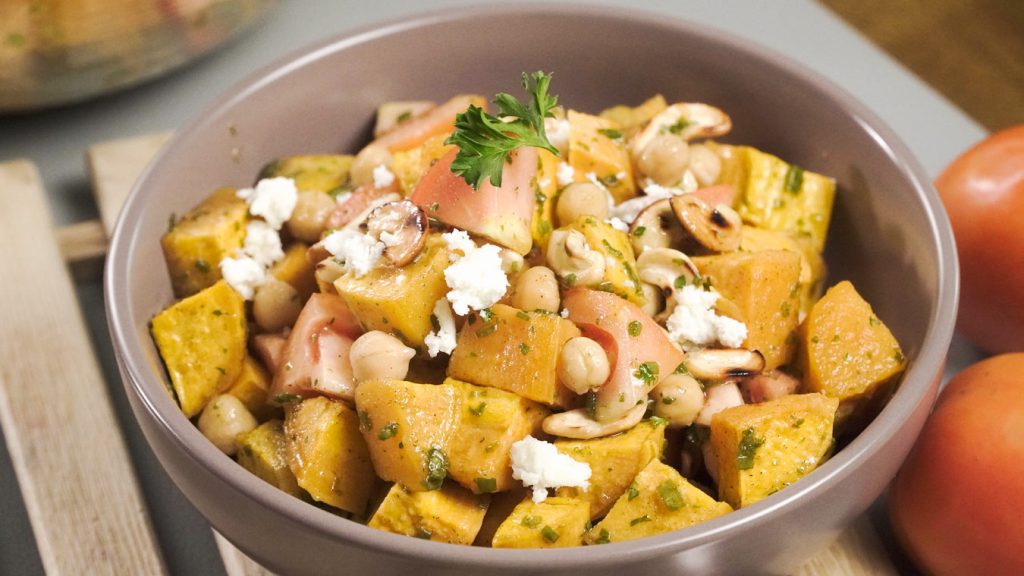 Potato salad is one of the great side dishes for fried chicken (if not the best). Not only does this recipe brims with palatable flavors, but it also looks appealing, thanks to its vivid colors and textures. We coat the sweet potatoes with apple cider vinaigrette, giving this delicious side a note of tanginess. Make sure that the potatoes are fresh and sliced in uniform sizes.
Recipe for Inspiration: Best Roasted Sweet Potato Salad
Scalloped Potatoes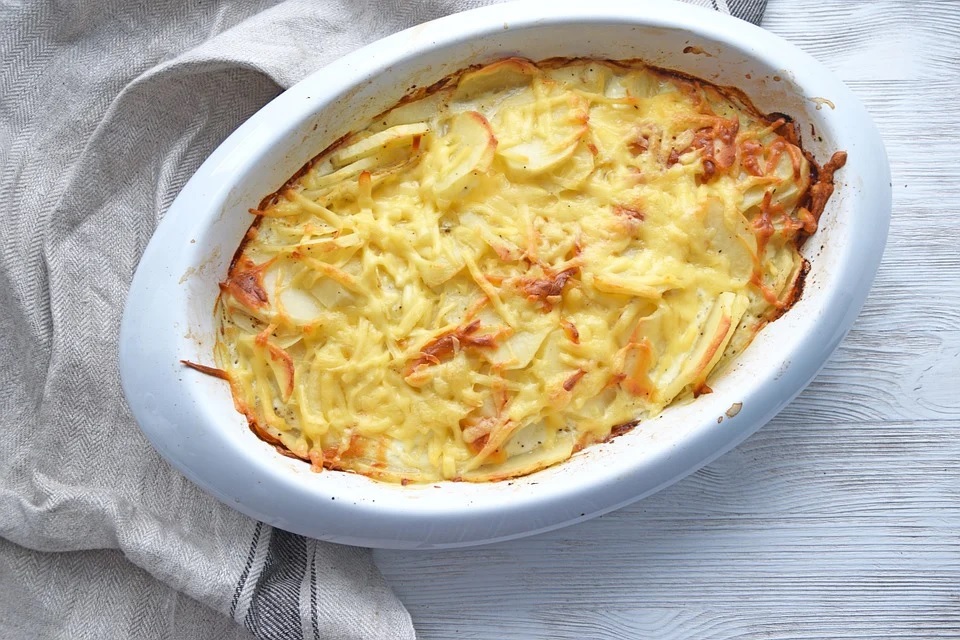 This starchy side dish is what you need to round out your chicken dinner. But know that these scalloped potatoes can also be the star of your dinner tables! We use milk and cheese for that rich and creamy goodness we all want in a filling side dish. Besides these two handy ingredients, you also need a few more foodstuffs like flour and onion to recreate this satisfying accompaniment for fried chicken.
Recipe for Inspiration: Scalloped Potatoes 
Broccoli Salad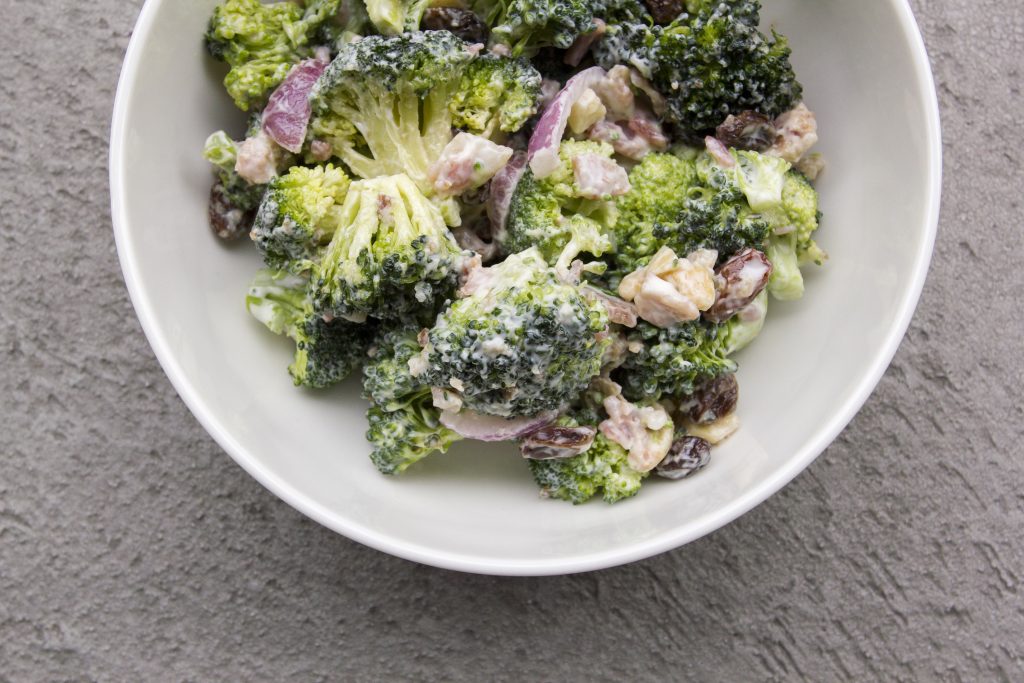 Broccoli is one of our favorite vegetables of all time, being an exquisite addition to many recipes. In this recipe, we toss together some roast beef and steamed broccoli in a flavorful horseradish dressing. And the result is maybe one of the most enticing sides for fried chicken that you must not miss.
Recipe for Inspiration: Broccoli Salad with Horseradish Dressing
Baked Beans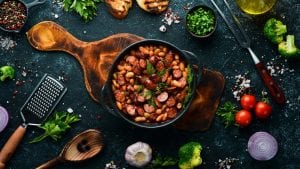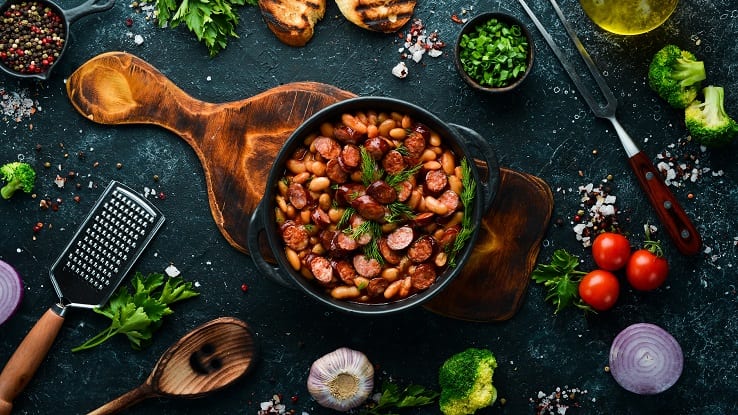 Are you wondering what goes with fried chicken during game nights? Try these baked beans and hot dogs to elevate your dinner game! Bring out some Worcestershire sauce and canned pork and beans in tomato sauce for that depth of flavors. It also has hints of sweetness coming from molasses and ketchup. If you want to be creative, top the dish with some shredded cheddar cheese. And if you love the sweet-spicy complement just like us, add a dash of hot sauce to this side dish recipe.
Recipe for Inspiration: Baked Beans with Hot Dogs
Fried Green Tomatoes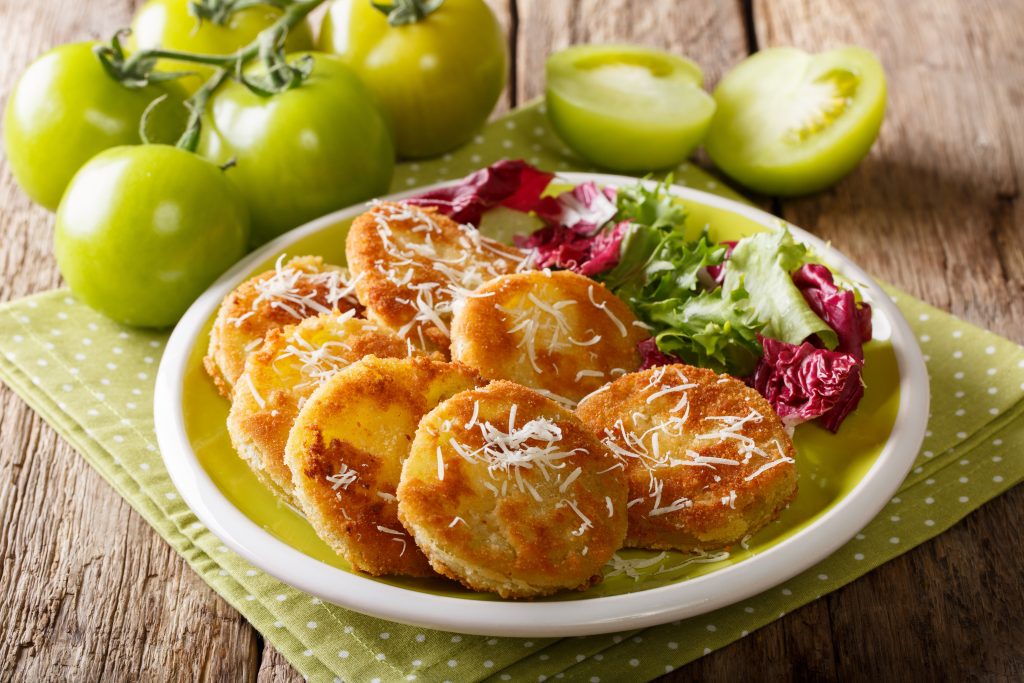 What better way to enjoy your fried chicken than with an equally crunchy side dish? This healthy dish might look too simple. But one bite of it is all it takes to change your mind because there is nothing ordinary about its taste. The secret to its crunchiness lies in the breading, which consists of cornmeal, breadcrumbs, and salt and pepper. Not to mention, preparing this side dish is a piece of cake! 
Recipe for Inspiration: Fried Green Tomatoes
---
Side Dishes for BBQ Chicken
What about some exciting side dishes to upgrade your chicken barbecue meal? Here are easy yet flavorful sides for chicken that deserve a spot at your tables at your next barbecue party:
Pasta Salad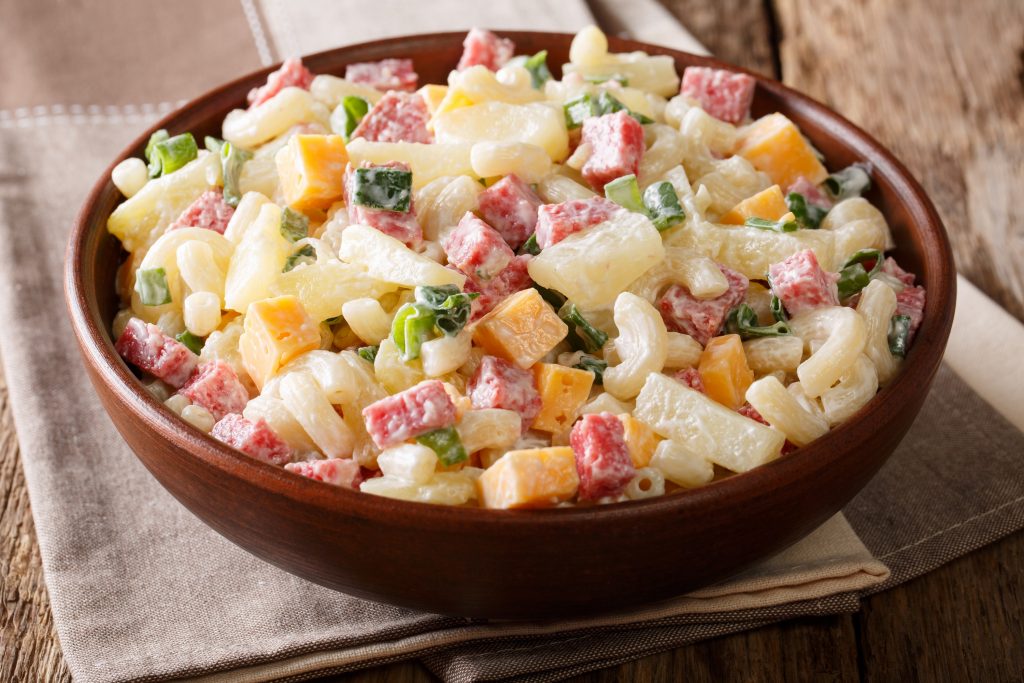 We believe salads don't have to be dull and ordinary. That's why in this pasta salad recipe, we throw together some pears, strawberries, and dried lettuce alongside the pasta. But it's the poppy seed dressing that takes this fruity dish to the next level. It's just a bonus that it only takes minimal effort and a few components to whip up this side dish.
Recipe for Inspiration: Fruity Pasta Salad With Lemon Poppy Seed Dressing
Potato Chips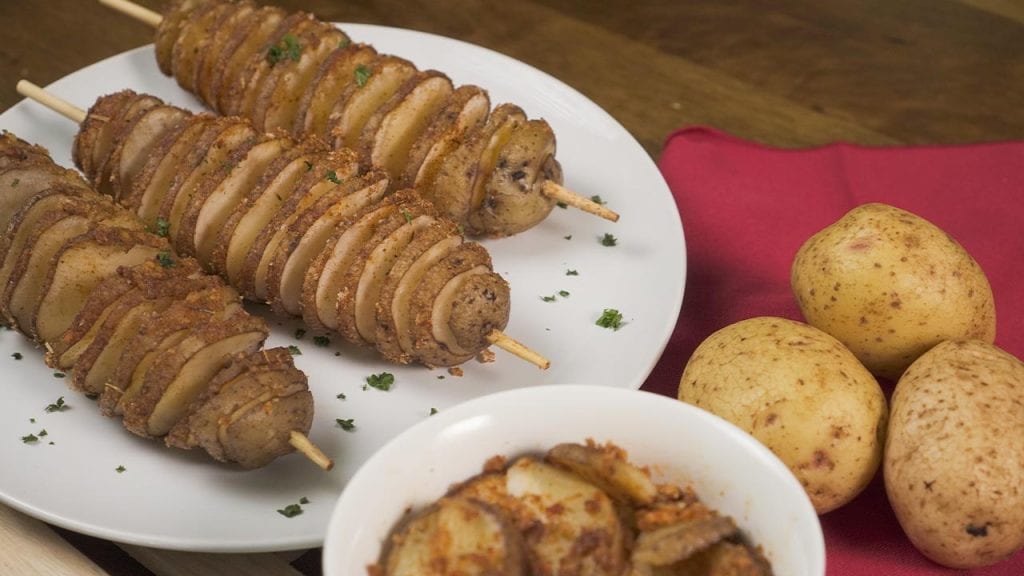 There's no more guessing what goes with BBQ chicken. We got the answer: this easy potato chips recipe! While you can buy this tasty snack in stores, making your own potato chips at home is a breeze. This recipe needs only a handful of ingredients and one hour or so of prep time. You can even garnish this with parsley for an exquisite presentation. Of course, potato chips won't be complete without flavorful dips. And we heard that barbecue and sour cream might be your best choice.
Recipe for Inspiration: Baked Spiral-Cut Potato Chips
Sweet Potato Fries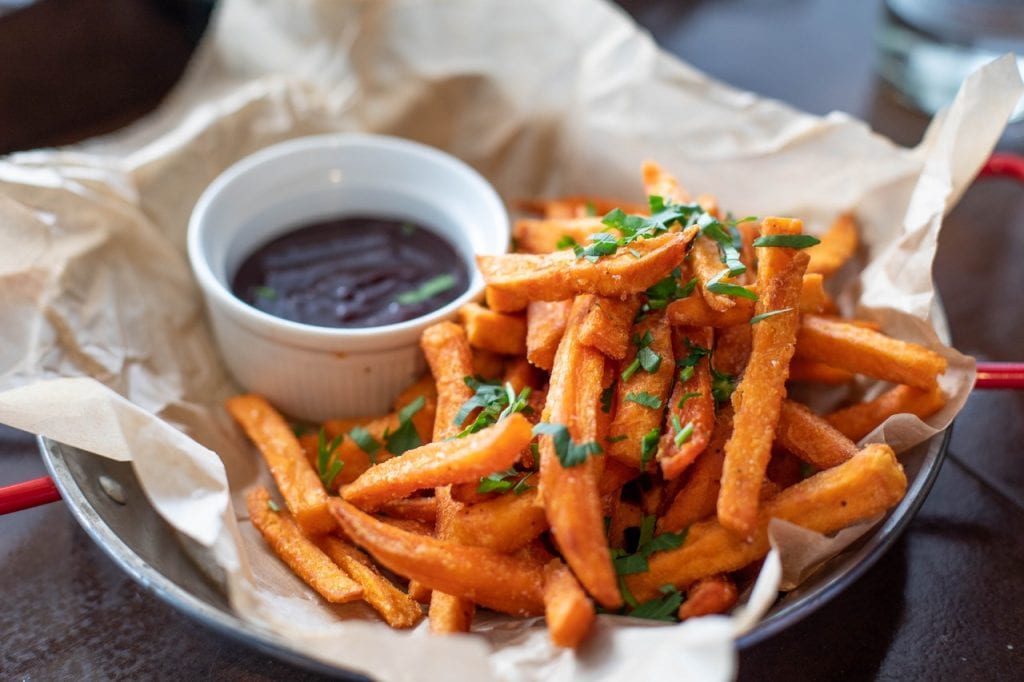 If you have hosted or been to many backyard parties, you can't deny that sweet potato fries are among the easiest to vanish at the tables. It's perfectly crispy and downright delicious, all thanks to the flavorful seasonings. As for us, we use sage, along with garlic, salt, and pepper to achieve its fresh and earthy flavor. After five minutes of prep time, these potato fries are ready to go in the preheated oven. 
Recipe for Inspiration: Sweet Potato Fries with Sage
Air Fryer Asparagus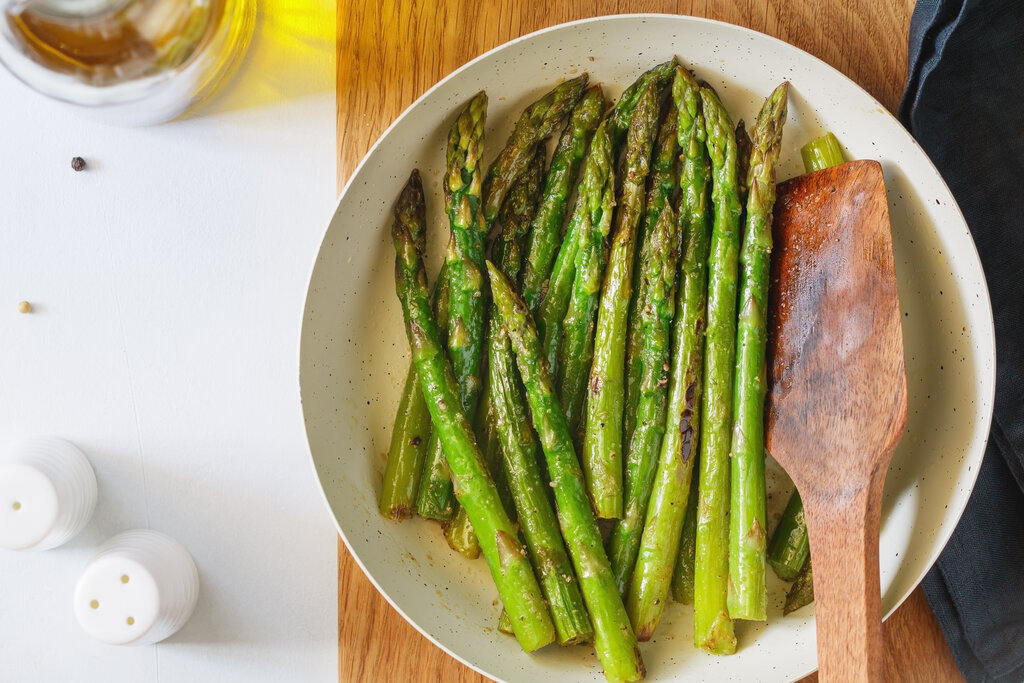 We all have a soft spot for asparagus, but perhaps you haven't thought of air frying this versatile veggie until now. Well, you should! This turns the veggies healthy, tender-crisp, and downright yummy! You have to coat the asparagus with olive oil and season it with salt and pepper. So, bust out your best Chefman air fryer for this simple recipe and prepare one of the best sides for barbecue chicken.
Recipe for Inspiration: Air Fryer Asparagus
Mexican Street Corn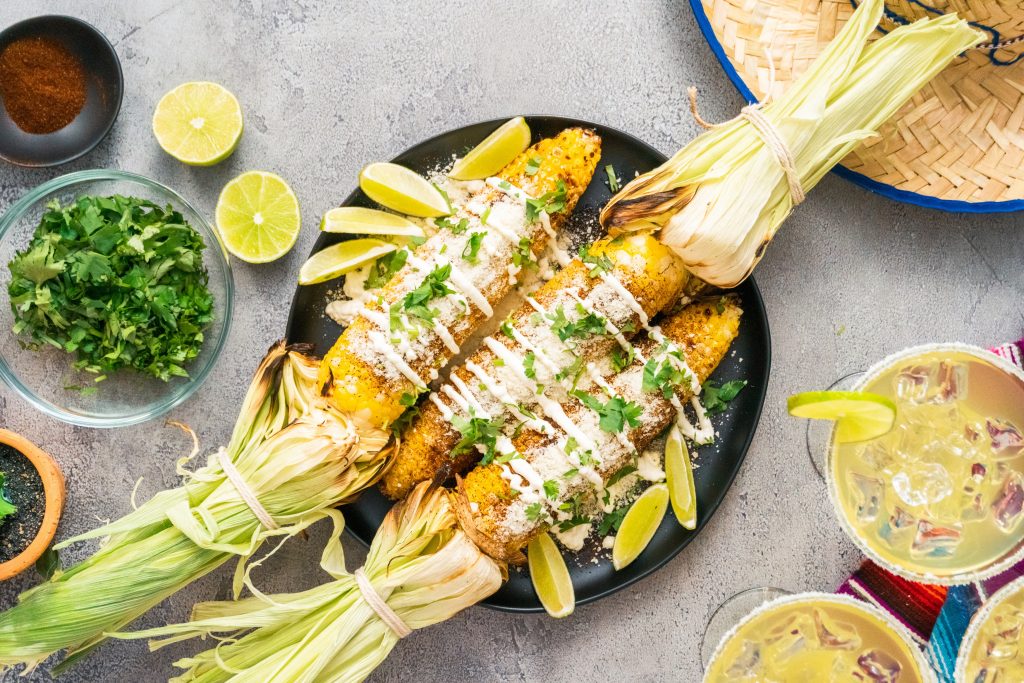 What else goes with BBQ chicken, you ask? This yummy grilled Mexican street corn, that's what! Grilled corn might sound nothing out of the ordinary, but this recipe hits differently. The trick here to win your guests' hearts is to slather the corn with a creamy mayo mix and roll it in cheese. Plus, this flavorful grilled corn is ready to serve in 20 minutes flat!
Recipe for Inspiration: Grilled Mexican Street Corn (Elotes)
---
Side Dishes for Grilled Chicken
Every chicken dish needs a side dish to turn it into a belly-filling meal. Below you will find classic side ideas to rich grilled chicken that deliver delicious flavors. You can whip up these tasty side dishes with no trouble while you got a marinated chicken sizzling away on the grill.
French Fries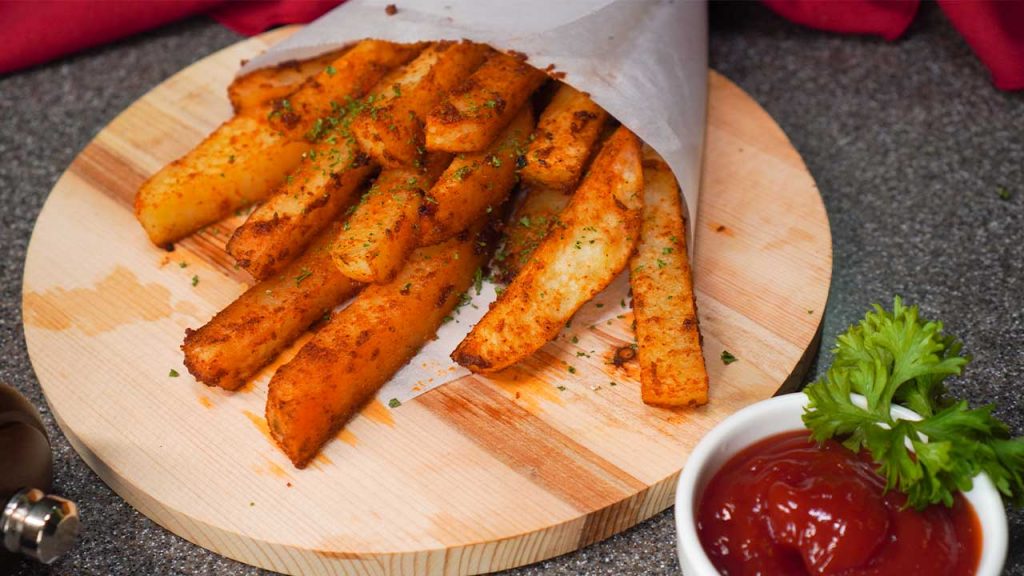 French fries are hands down among the great sides of grilled chicken. Now if you're tired of the regular fries, here's a new way to prepare this classic side dish. Inspired by Bojangles' recipe, we cover the fries with a flavorful spice seasoning mix which consists of green cardamom, chili powder, paprika, and other spices.
READ ALSO: 7 Best Cardamom Substitute Choices You Probably Didn't Know
Although any kind of potato will suffice, we use Yukon gold potatoes instead for its natural creamy-buttery flavor. 
Recipe for Inspiration: Bojangles Copycat French Fries
Caesar Salad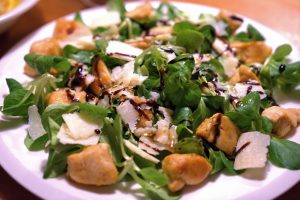 This salad recipe ticks all the boxes: refreshing flavors, easy-to-find ingredients, and quick meal preparation. That's why it is among our favorite sides for grilled chicken. If you want to give this dish a try, gather the lettuce, croutons, green onions, and cheese. Meanwhile, adding some walnuts results in a crunchy texture. But it's the drizzle of lemon juice dressing that just brings it all together.
Recipe for Inspiration: Walnut Caesar Salad
Roasted Potatoes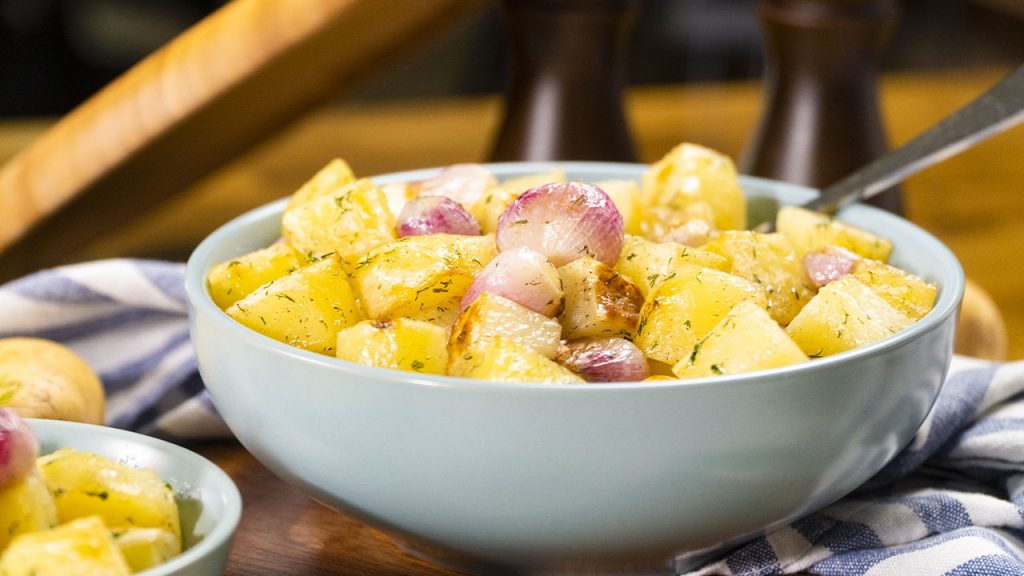 If you are a big fan of roasted sweet potatoes like us, include this easy recipe in your list of sides for your next cookout. Toss together the potatoes, shallots, and dill-infused oil, and bake them to perfection. Without too much effort, you will have something delicious to enjoy alongside some grilled chicken.
Recipe for Inspiration: Roasted Potatoes With Fresh Dill And Shallots
Potato Wedges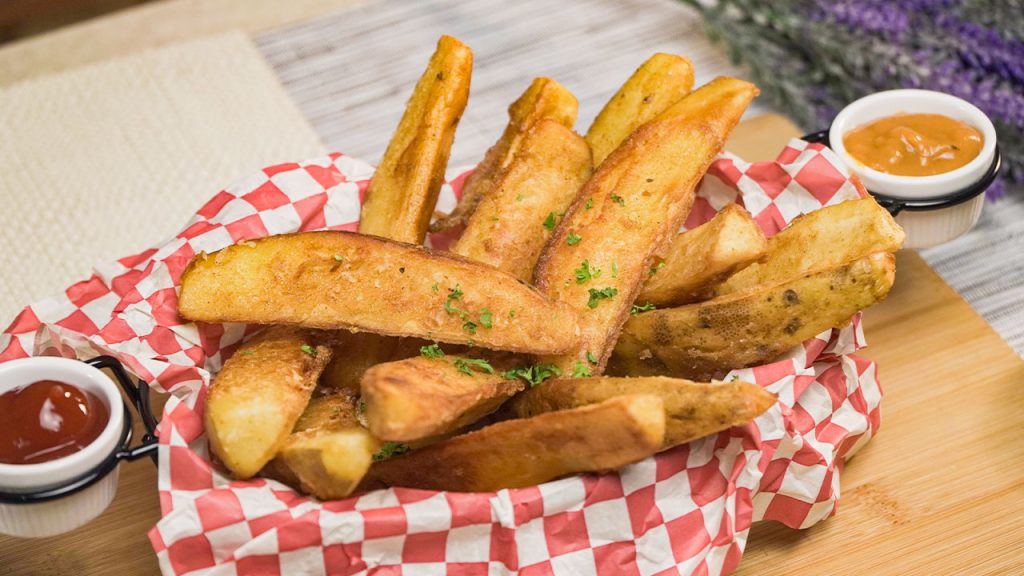 Sometimes thinking of what to serve with grilled chicken seems a bit of a task, considering you have many delicious options. But trust us when we say you can never go wrong with potato wedges. We season the potatoes with paprika, cumin, turmeric, and other flavorings. Then, we double-fry them to achieve that golden perfection.
Recipe for Inspiration: KFC Potato Wedges (Copycat)
Creamed Corn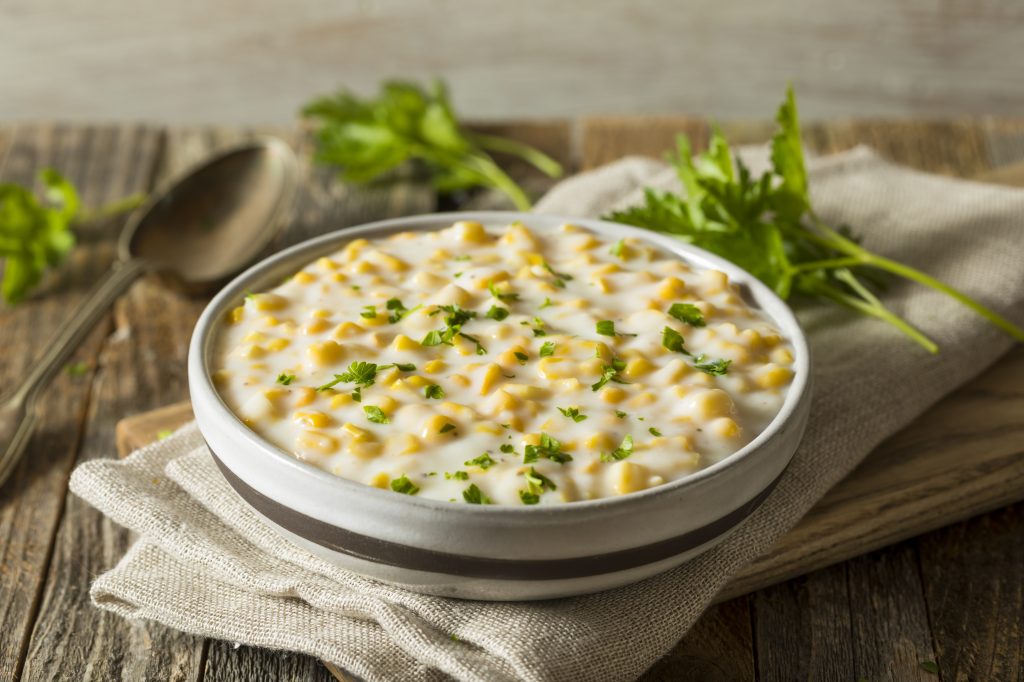 When searching for some delicious sides for grilled chicken, make sure to include this creamed corn on your list. While you can easily buy these in cans, making this ultra-creamy side dish at home is easy! Gather these three ingredients—ears of corn, butter, and salt—and get ready to whip up the simplest and easiest sides ever. By easy, we mean it's all done in just 25 minutes!
Recipe for Inspiration: Creamed Corn
---
Side Dishes for Chicken Wings
Baked or fried, chicken wings get plenty of love during game nights, cookouts, or backyard parties. Here are some flavorsome side dishes that pair perfectly with this crowd-favorite:
Baked Sweet Potatoes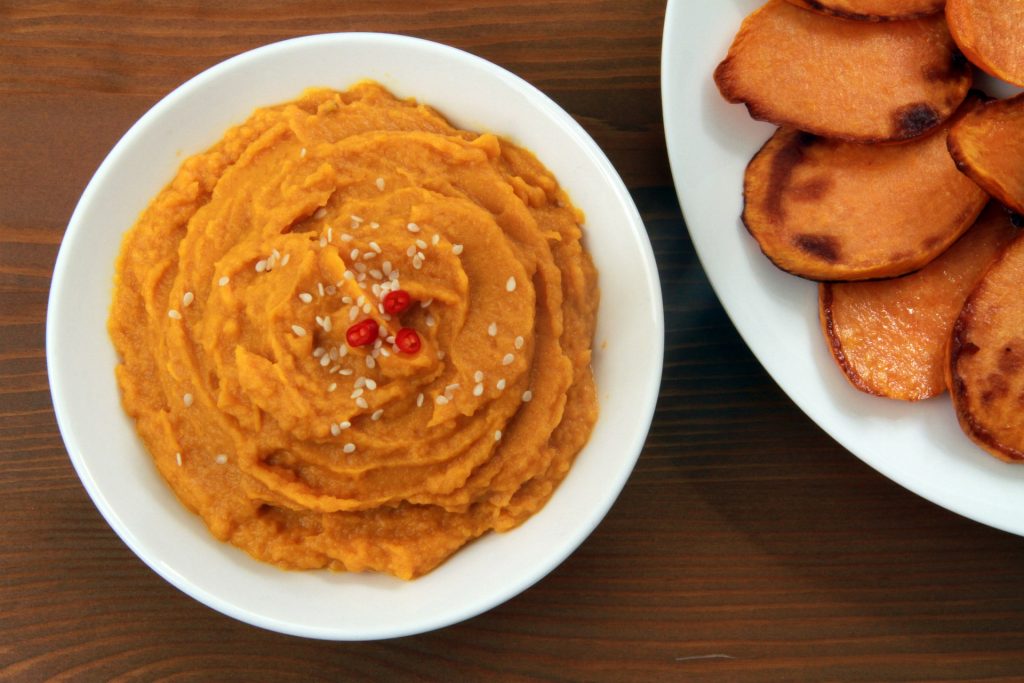 We will never turn down a plate of baked potatoes, especially when they are cooked with brown sugar, orange zest, cumin, cinnamon, and allspice. What's more, if they are baked twice and stuffed with sour cream and cilantro, right? In all honesty, this dish might sound like a lot of work. But fear not, as it's easy to follow and ready to hit the dinner tables after an hour or so.
Recipe for Inspiration: Twice-Baked Sweet Potatoes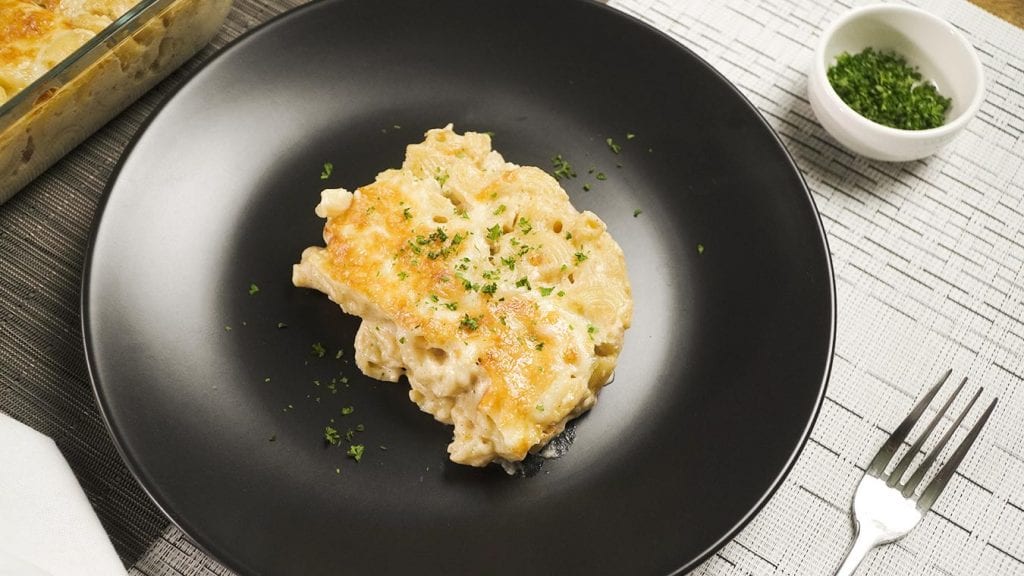 On the prowl for the perfect pair for your chicken wings? Consider your dinner rut solved with this creamy side dish recipe. If you are all about anything cheesy, then you will love this mac and cheese recipe as it uses scrumptious Monterey jack. Another fun bonus? It only takes 30 minutes to prepare this delicious side dish.
Recipe for Inspiration: Just Like Noodles and Company Copycat Wisconsin Mac N Cheese
Wedge Salad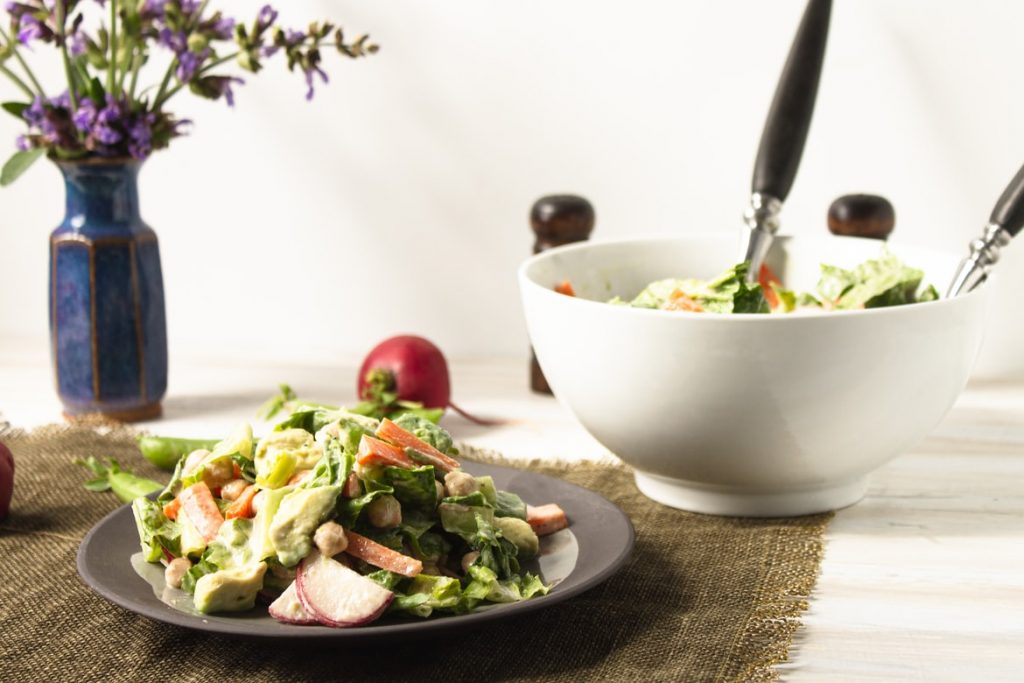 If you enjoy savory and cheesy flavors together, then you will love the combination of bacon and cheese in this delightful recipe. Apart from these two flavorful foodstuffs, lettuce and tomatoes also make up this refreshing salad. All of these are brought together perfectly by blue cheese dressing. Meanwhile, we use chopped chives for the topping.
Recipe for Inspiration: Chopped Wedge Salad
Parmesan Zucchini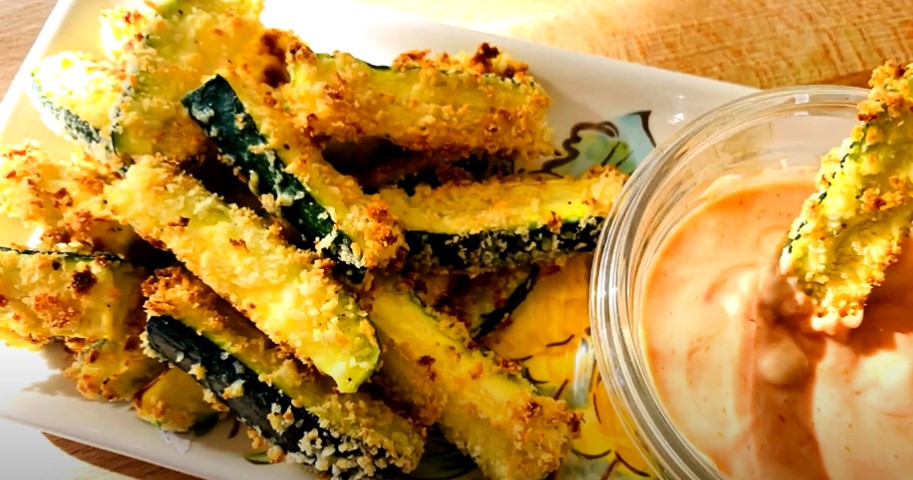 Crispy zucchini is just the perfect match for crunchy chicken wings. This side dish, all coated in Parmesan-flavored panko, is meant to be a scene-stealer. All you need is a couple of ingredients and 15 minutes!
Recipe for Inspiration: Crispy Parmesan Fried Zucchini