There was a great upheaval when KFC pulled out their fried potato wedges for the Secret Recipe Fries. Everyone wanted their wedges instead of the new KFC fries menu that KFC is now offering. Even we were disheartened when we saw that the popular restaurant discontinued the tasteful snack as it was one of the most beloved side dishes next to the mac and cheese. But don't fret! We're here to help you ease your cravings! We have recreated the KFC potato wedges with our own fried wedges recipe! Learn KFC's secret in making these scrumptious wedges by following the easy steps below.
Tips on Making KFC's Potato Wedges
We all miss having KFC wedges as a side whenever we order KFC's fried chicken. Not only does it make a perfect side for their chicken, but it's also utterly delicious on its own. Here are tips on how to get your homemade potato wedges to taste just like KFC's:
Soak the potato wedges in water

to remove extra starch. This will keep them fresh and perfect for frying later.

Deep frying is the only way to go.

Make sure that the potato wedges are entirely covered in

hot

oil so they won't get soggy. Deep frying also ensures that the wedges are crispy and cooked evenly. Remove the extra grease later using paper towels.

Double fry the wedges

by par-frying them. Fries and wedges come frozen and partially cooked when they arrive in restaurants. As we're making this at home, we have to partially fry and freeze the wedges, then fry them again to achieve golden perfection. Double frying is the reason why KFC has perfectly fried potato wedges.
If you're making these deep fried potato wedges, you can use the extra oil to make copycat KFC's original chicken or onion rings, so it won't go to waste.
We know everyone loved these skin-on fried wedges, so we'll show you how to make them at home for everyone to enjoy.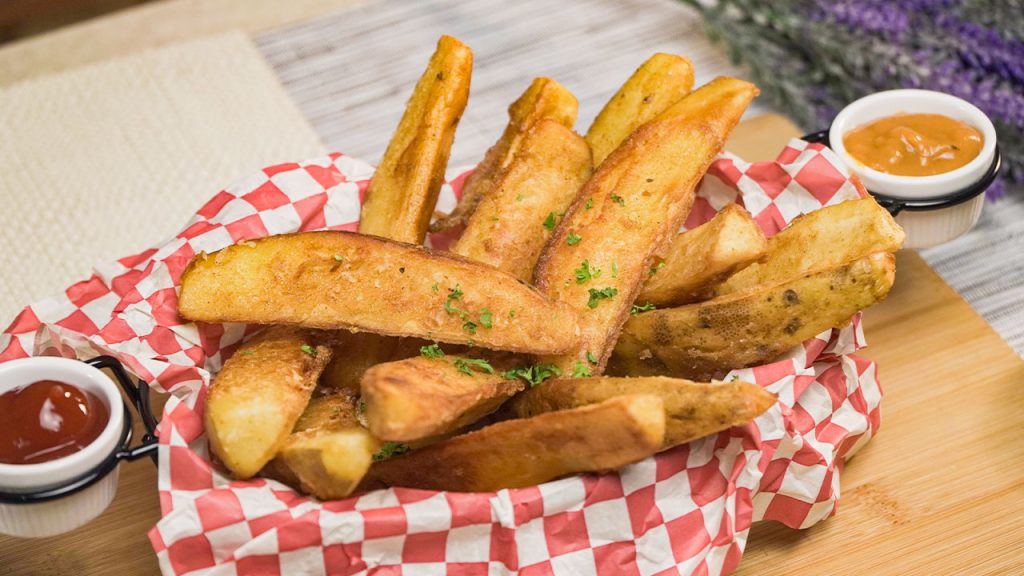 KFC Potato Wedges Recipe (Copycat)
How To Make KFC Potato Wedges (Copycat)
These KFC-inspired potato wedges are double-fried for a crispy outside and a soft inside. They are perfectly seasoned, evident from the tasty flavors of garlic, paprika, and more.
Ingredients
2

lb

potatoes,

cut into wedges

1

cup

beer,

of your choice, (up to 1½ cups), cold

1

cup

all-purpose flour

1

tsp

salt

1

tsp

MSG

1

tsp

dried sage

1

tsp

dried oregano

½

tsp

ground black pepper

½

tsp

cayenne pepper

½

tsp

paprika

½

tsp

ground cumin

½

tsp

ground turmeric

½

tsp

onion powder

5

cups

vegetable oil,

(up to 8 cups)

water,

for blanching
To Serve:
¼

cup

tomato gravy,

or dipping sauce of your choice

parsley,

for garnish
Instructions
Bring the water to a boil in a soup pot. Blanch the potatoes for roughly 5 minutes until tender but can still hold their shape.

Quickly dip these into cold iced water to stop the cooking process. Drain and pat dry. Set aside.

Prepare the batter. Combine the flour, salt, MSG, sage, oregano, cayenne and black peppers, paprika, cumin, turmeric, and onion powder in a large mixing bowl.

Gradually add the beer into the flour mixture and whisk until you achieve a consistency similar to pancake batter.

Dip the potato wedges into the batter. Allow to drip off any excess batter and place these onto a baking sheet. Ensure that the potatoes are inches apart from each other.

Freeze the potatoes to have the batter stick properly for roughly 3 hours.

When ready to fry the potatoes, preheat the frying oil to 375 degrees F. Deep fry the potatoes in batches for roughly 5 minutes until golden brown and crispy.

Drain onto a basket or plate lined with paper towels. Serve immediately with any dipping sauce of your choice and garnish with parsley.
Nutrition
Sugar:

3g

:

Calcium:

91mg

Calories:

3562kcal

Carbohydrates:

90g

Fat:

364g

Fiber:

9g

Iron:

6mg

Monounsaturated Fat:

42g

Polyunsaturated Fat:

6g

Potassium:

1399mg

Protein:

11g

Saturated Fat:

296g

Sodium:

799mg

Vitamin A:

218IU

Vitamin C:

61mg
Nutrition Disclaimer
Frequently Asked Questions
What kind of potato should I use for making potato wedges?
Yukon Gold or Russet potatoes are ideal for frying because of their high starch content, which means they only contain a small amount of water. This will give you a crispier fried texture. Although, when using starch-rich potatoes, you should soak them in water first to remove the unnecessary starch. White potatoes like Kennebec are also ideal for frying.
How to cut potatoes into wedges?
Lay a potato on its side, then cut lengthwise. Place potato pieces flat side down on the board. Cut them in lengthwise again. Flip the potato with the skin side down, then cut through the center to create wedges. Repeat for each potato.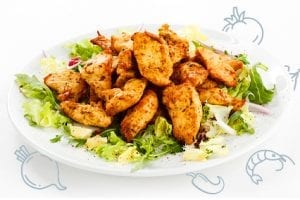 Conclusion
If you're missing KFC's potato wedges since its removal, then this recipe will satiate your mourning appetite! For sure, not only you will love these finger-lickin' good wedges, but the kids will, too.