Baked Spiral-Cut Potato Chips Recipe
Are you in a desperate craving for some potato chips but don't want the preservatives? Good news! You can actually create your own potato chip in the comfort of your own kitchen! With this potato chips recipe, the sky is the limit!
In this recipe, we'll show you how you can create your very own spiral-cut potato chips. Don't worry, it's going to be easy and hassle-free. All you need to do is follow these simple steps and voila! Instant potato chips recipe.
Serve this during the movie marathon or binge-watching with your favorite dip. We guarantee that this is better and healthier than the store-bought ones. If you're feeling a little bit experimental for your Friday night munchies, check out this pizza crisps recipe.
How To Make Baked Spiral-Cut Potato Chips
Ingredients
4

large

potatoes

3

tbsp.

salt

1

tbsp.

oil
Instructions
Wash and spiral-cut the potatoes.

Lightly grease a baking sheet and place the spirals with their sides on it.

Sprinkle the salt over the chips.

Bake for about 20 minutes, or until golden brown, at 425 degrees.
Nutrition
Calcium:

13mg

Calories:

97kcal

Carbohydrates:

19g

Fat:

2g

Fiber:

2g

Iron:

1mg

Potassium:

448mg

Protein:

2g

Saturated Fat:

1g

Sodium:

1751mg

Sugar:

1g

Vitamin C:

21mg
Commonly Asked Questions
How Long Can I Store Homemade Potato Chips?
To be able to maintain that good crisp quality in your baked spiral-cut potato chips, you must place them in an airtight container. Put this container inside the refrigerator and your homemade potato chips may last up to 3 weeks. However, we advise that you eat your potato chips immediately for maximum crispness.
What Are The Common Dips For Potato Chips?
Some people like their potato chips plain, some like it salted. But it's best if your potato chips come with condiments. It helps add flavor to the chips and goes well with the starchiness of the potatoes. The most common condiments used by people are barbecue and sour cream. Of course, there is a wide variety of condiments available in the market but we encourage you to create your own.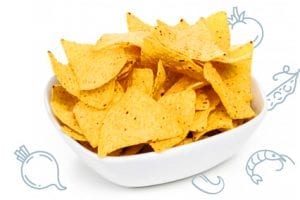 Conclusion
Potato chips are often associated with health degradation and that can't be denied especially the commercial ones. However, if you create your own potato chip at home, there is a chance that you can monitor your intake. This dish is delicious and simple to make, however, we also advise you to take it in moderation.