Domino's Copycat Chicken Wings Recipe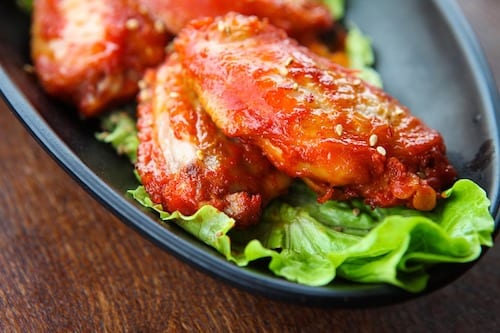 Craving for Domino's Chicken Wings? Well, we can't blame you. These wings are delicious and very flavorful. Furthermore, they're the perfect food to accompany your Friday night drinks with friends. 
Serve them as your main meal, or enjoy them as finger foods to accompany other dishes. There's no denying how versatile it can be at any party. In addition to being simple to make on your own, these wings are just as easy to eat as well! Thus, you really can't go wrong with this Domino's copycat chicken wings recipe.
Discover how you can recreate this signature Domino's dish at the comfort of your own kitchen by simply following these easy steps! Even beginners can do it!
How To Make Domino's Copycat Chicken Wings
Enjoy some Domino's-style chicken wings with this recipe.
Ingredients
36

pieces

chicken wing

1

tbsp.

coconut oil

1

tbsp.

salt

1

cup

flour

1 1/2

tbsp.

vinegar

1/2

tbsp.

paprika

1/4

tbsp.

cayenne pepper

1/8

tbsp.

garlic powder

1/4

tbsp.

Worcestershire sauce

6

tbsp.

hot sauce

6

tbsp.

butter
Instructions
Preheat oven to 425 degrees F.

In a bowl place the wings with oil, salt, and flour. Coat evenly.

Next, place the wings on an oiled foil-lined baking pan and bake for about 20 minutes.

Then, flip the wings over and cook for another 20 minutes.

Meanwhile, in a saucepan over medium heat, mix the vinegar, paprika, cayenne pepper, garlic powder, Worcestershire sauce, and hot sauce. Do this for about 10 minutes.

Finally, once the wings are cooked, dip them in the sauce and let them cool for about 10 minutes.

Serve with a side of barbecue sauce or bleu cheese.
Recipe Notes
Out of Worcestershire sauce? Use soy sauce instead! Mix 2 teaspoons of soy sauce, 1/4 teaspoon of lemon juice, 1/4 teaspoon of sugar, and just a dash of hot sauce to create your own homemade alternative. These measurements apply to every tablespoon of Worcestershire sauce.
This alternative can be a more accessible sauce for some. Additionally, it allows you to make adjustments in order to tailor the sauce according to your own preferences!
Nutrition
Calcium:

9mg

Calories:

226kcal

Carbohydrates:

18g

Cholesterol:

36mg

Fat:

16g

Fiber:

1g

Iron:

1mg

Potassium:

93mg

Protein:

4g

Saturated Fat:

10g

Sodium:

1463mg

Sugar:

1g

Vitamin A:

1265IU

Vitamin C:

12mg
Commonly Asked Questions
What goes with chicken wings?
There's no denying that chicken wings are great on their own. But, if you want something to offset some of the spice, you can serve them with some sweet potatoes to really complement the flavors of this dish. On the other hand, if you want some additional spiciness, you can enjoy your chicken wings with some stuffed peppers and really elevate those spice levels! Additionally, other popular side dishes for chicken wings include baked beans, nachos, fries, and onion rings.
What is the best sauce for chicken wings?
Besides the aforementioned bleu cheese and barbecue sauce, other dipping sauces can include a honey mustard dip, a sweet and tangy orange glaze, or a pineapple-based sauce for something sweet to go with your spicy chicken wings. Additionally, you can opt for a tomato-based dipping sauce for a little something different. The possibilities are endless!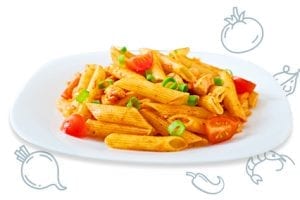 Conclusion
Serve these chicken wings on any day of the week! With this recipe, you'll be able to whip up delicious wings in no time. As a result, this recipe is sure to become a new favorite in your recipe book.
So, what are you waiting for? Try out this recipe for yourself! Without a doubt, these chicken wings are sure to wow everyone who tries it.