Today, we're bringing you a true superfood! This roasted sweet potato salad recipe is delicious, nutritious, and has vivid colors and textures that combine summer flavors on a single plate. The apple cider salad dressing gives it a pop of fresh tanginess. It's so easy to make and it pairs well with both fish and meat main dishes like glazed salmon and sirloin steak. 
Tips in Making Roasted Sweet Potato Salad
Whether it's for a picnic, a barbecue night, a special dinner, or just as part of a healthy diet menu, this will surely satisfy. Master this roasted sweet potato salad recipe with these helpful tips:
Use fresh sweet potatoes.

They should have reddish-brown smooth skin with no discoloration, mushy spots, odd growths, or traces of mold. 

Cut them in uniform sizes.

This will ensure that all the pieces will finish cooking at the same time.

Soak the sweet potatoes in lemon water after peeling and slicing.

Potatoes have a tendency to turn brown or black when exposed to air, and an acidic component helps prevent this. To make an acidic mixture, combine 3 tablespoons of vinegar or lemon juice with every 4 cups of water. Soak them in the mixture for a few minutes, then drain well before cooking.

Arrange them on a single layer with some space between each piece

to achieve maximum browning. If you want them extra crispy, take them out of the oven halfway through roasting and give them a toss.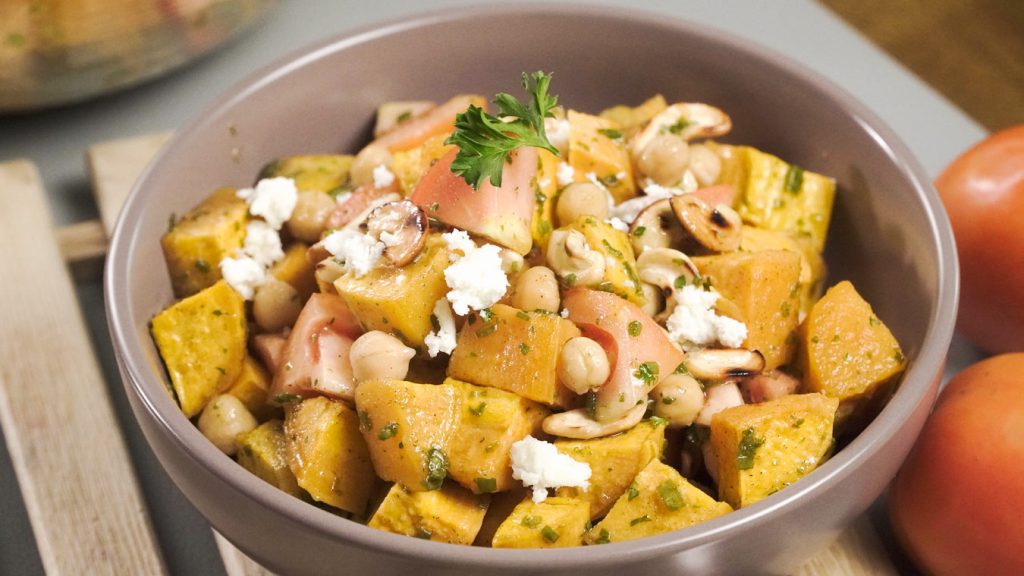 Best Roasted Sweet Potato Salad Recipe
How To Make Best Roasted Sweet Potato Salad
This all-around sweet potato salad brings a fresh, appetizing, and healthy salad to your table! Have this scrumptious bowl of salad any time of the day with your favorite dishes.
Ingredients
For Salad:
1½

lb

sweet potatoes,

peeled and cut into 1-inch cubes

⅓

cup

olive oil

¼

cup

cashew nuts,

roasted

½

cup

chickpeas,

canned and drained

¾

cup

fresh tomatoes,

cut into chunks (no need to deseed)

salt and ground black pepper,

for seasoning
For Dressing:
¾

cup

spring onions,

finely minced

¼

cup

fresh parsley,

finely minced

2

tbsp

honey

7

tbsp

apple cider vinegar,

or white wine

4

tbsp

olive oil

salt and ground black pepper,

to taste
To Serve:
⅓

cup

feta cheese,

Haloumi, or Paneer cheeses, packed in water, drained, and crumbled

2

tbsp

cilantro,

or parsley, chopped
Instructions
Preheat your oven to 360 degrees F. Grease and line your roasting tray with parchment paper.

In a mixing bowl, add the oil and potatoes. Toss to evenly coat the potatoes.

Season briefly with salt and pepper. Toss to combine.

Transfer to a roasting tray and roast for roughly 20 minutes, or until sweet potatoes are tender but still holds shape.

Transfer to a cooling rack and cool down your potatoes completely.
Dressing:
Combine all the ingredients and whisk until evenly incorporated.

Season with salt and pepper to taste and adjust accordingly.

Once the potatoes are cold, transfer them into a salad bowl.

Add the nuts, chickpeas, and tomatoes. Toss briefly to combine.

Add enough vinaigrette just to coat the vegetables evenly.

Garnish with crumbled cheese of your choice and chopped parsley or cilantro. Serve!
Nutrition
Sugar:

25g

:

Calcium:

200mg

Calories:

787kcal

Carbohydrates:

72g

Cholesterol:

15mg

Fat:

52g

Fiber:

11g

Iron:

4mg

Monounsaturated Fat:

35g

Polyunsaturated Fat:

6g

Potassium:

1145mg

Protein:

11g

Saturated Fat:

9g

Sodium:

330mg

Vitamin A:

33252IU

Vitamin C:

22mg
Nutrition Disclaimer
Frequently Asked Questions
What are good toppings for sweet potatoes?
If you're up for a little bit of a kick, load up your potato salad with red onion, finely minced garlic, and roasted red peppers. You can also use goat cheese, blue cheese, or cream cheese for a creamy touch. Grilled chicken and crispy toasted bacon would be great options for added protein.
Do you eat the skin of a sweet potato?
The skin of sweet potatoes is loaded with antioxidants and nutrients. Cooking with the skin on will actually boost the nutritional benefits of any dish it will be added to. It also gives an added flavor and texture. Just be sure to scrub it well to remove any soil that might have settled in its crevices since it is a vegetable that grows in soil.
Is it okay to eat sweet potato everyday?
Yes, it's safe to incorporate it into your regular diet. However, it should not be your only vegetable. Excessive eating of sweet potatoes can cause gas. The recommended serving size for an adult is 1 cup per day. It is still best to eat a variety of vegetables to fill your nutrition requirements per day.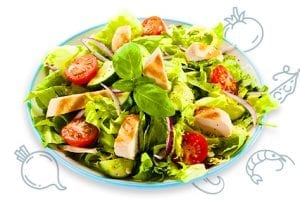 Conclusion
You'll never run out of ideas on how to make your sweet potato salad. Most of the ingredients are inches away from your fridge! Go ahead and make your own and pair it with your favorite savory dishes.