Make game days better with this lip-smacking baked beans recipe! It's slow-cooked and packed with sweet and luscious flavors. Everyone knows that anything with protein heightens game day spirits, and this recipe works nicely for it. Our baked beans recipe does not take too long to make and cook, so it should be great to serve as soon as the game starts. We promise it will be worth the wait, and your friends will thank you for it!
Our version of the baked beans and hot dogs is made with a simple combo of tomato sauce, molasses, and mustard. It's a strong blend, but its sweetness will make it just right for the kids to enjoy as well. Top it off with some shredded cheddar cheese or add a dash of hot sauce to incorporate some heat into it. 
Thinking of setting up a whole game–day meal? Fortunately, we have a ton of recipes that you can serve up with this plate. Try it out with our Bar-Style Boneless Buffalo Wings for more heat! If you're feeling like adding a dish also loaded with savory notes, cook up some Copycat Lone Star's Amarillo Cheese Fries and Dip. Your game days will be one belly-filling event to remember! Check out how to make our baked beans recipe today.
How To Make Baked Beans with Hot Dogs
Enjoy game days with our baked beans recipe! It comes with hot dogs, a mix of pork and beans and sweet tones of molasses and mustard.
Advertisement
Continue Reading Below
Ingredients
½

cup

onion,

chopped

½

cup

ketchup

¼

cup

molasses

2

tbsp

brown sugar

1

tbsp

mustard

½

tsp

Worcestershire sauce

40

oz

pork and beans,

in tomato sauce

8

pcs

hot dogs
Instructions
Combine the onion, ketchup, molasses, brown sugar, mustard and Worcestershire sauce in a medium bowl.

Add in the beans and mix until the ingredients are fully incorporated.

Place the mixture in a 2-quart casserole dish and bake at 300 degrees F for 1 ½ to 2 hours.

Lay hot dogs on beans and bake for 30 minutes longer.

Serve with a topping of cheddar cheese or a dash of hot sauce, and enjoy!
Advertisement
Continue Reading Below
Advertisement
Continue Reading Below
Frequently Asked Questions
What kind of hot dogs can I use?
You can use any type of hot dog that you prefer. Some that would work deliciously with this baked beans recipe are chicken or beef hot dogs. If you're feeling indulgent, you can even use sausages like Kielbasa sausages for a smoky and sweet flavor or a Bratwurst sausage for a more mild and gingery take.
What are some vegan-friendly alternatives for this baked beans recipe?
If you're a vegetarian and still prefer a filling game day meal, try using just one 40 oz can of beans without pork. In replacement of the hot dogs, you can add in some lentils or quinoa. Then top it off with some nuts of your choice for additional crunch!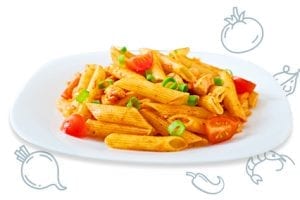 Conclusion
Cheer on your favorite team while filling your belly up with our baked beans recipe! Cook it hours ahead and serve it just in time for the big day. Your friends are bound to be scooping for seconds.
Advertisement
Continue Reading Below
Topics:
Advertisement
Continue Reading Below
Advertisement
Continue Reading Below