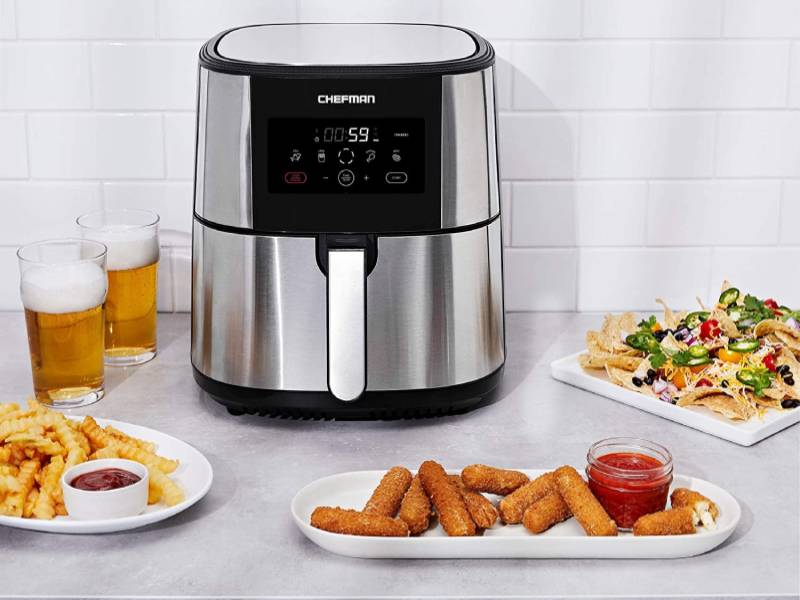 7 Best Chefman Air Fryer Models To Try
Enjoying crispy fried foods without oil seems like an impossible feat. But that's the thing of the past as an air fryer at home makes the impossible possible. Because of its innovative technology that circulates hot air to cook your food evenly, an air fryer is a versatile piece of kitchen equipment. It's not only used to fry but to toast, bake, and even roast meals as well. And when it comes to air fryer brands, trust that a Chefman Air Fryer can deliver on such versatility.
Chefman is one of those high-quality air fryer brands in the market. They have it all, from compact fryers to toaster ovens and dehydrators. Some even double or triple as all those in one machine, making it useful for any type of cooking. The hot air flow of the Chefman goes at high speeds thanks to their unique rapid air technology. This ensures evenly crispy and cooked food every time. So, whipping up a crispy fried chicken recipe has never been easier, and less oily, too!
Don't believe us yet? Keep reading to find out more about our top picks for Chefman's air fryers to see (and taste!) the difference.
Learn more about how to keep your fried chicken crisp and juicy in this guide on 5 Ways On How To Reheat Fried Chicken 'til It's Crispy.
Our Favorite Chefman Air Fryer Models at a Glance
7 Best Air Fryers by Chefman for Your Kitchen
Finding the right air fryer for tasty meals can be quite daunting. But worry not, for we've made a handy guide to compare air fryers that tailor to your everyday cooking.
Each purchase of Chefman's Air Fryer not only gives you a one-year warranty, but grants you access to Club Chefman. Exclusive for each purchase, you'll be receiving Chefman air fryer recipes that come wonderfully with your newly purchased equipment. That sounds like a great deal that comes with a quality product!
And so, here are the hottest air fryers by Chefman that are currently available in the market. We've selected them based on functionalities, durability, and overall customer air fryer reviews. You can rest assured that we're showcasing only the highest quality suited to your needs. Feel free to browse each Chefman air fryer review below.
What to Look For in a Chefman Air Fryer
Size
Air fryer sizes vary depending on your needs in the kitchen. Consider what might be best for those available in your home. Each model has an assortment of sizes that you can easily choose from. Chefman air fryer accessories also come into play with the size of each appliance. Will you need an air fryer with two racks like a convection oven? Or will a simple removable air fryer basket with your compact ones be more viable?
If you live alone or with a partner, perhaps a compact air fryer would fit well onto your kitchen counter. Or if you're cooking for your family, you might want to consider a family-size air fryer slash convection oven. Whichever size you choose to go, you're guaranteed a quality kitchen appliance for everyday use.
Controls and Features
Many air fryer recipes like this juicy air fryer steak dish will call for the simple function of cooking at a certain temperature. Others will give you an option to select the preset and timing of your choice. These are the usual quality air fryers that can easily air fry, roast, and bake.
But you may also consider how often you might rotisserie a chicken or dehydrate fruits. If you think you'll do them often, having an all-in-one air fryer like Chefman's convection ovens or oven toaster models is for you. They have presets, timers, and adjustable temperatures for your convenience.
Capacity
Chefman's models come in great capacities to yield the tastiest healthy meals. They have fryers that can cook up to 26 liters of food for home cooks that cook for their families. And they also have smaller, but powerful six-quart air fryers for your regular, day-to-day cooking.
Consider how often you would need to whip up a big dinner meal. If the answer is nearly every week, then perhaps an air fryer that can hold eight and above quarts will be handy. But if you're only serving for yourself or a partner, a good four to six-quart air fryer holds enough to serve one to two people.